Get The Best Insights For Your App Store Optimization Strategies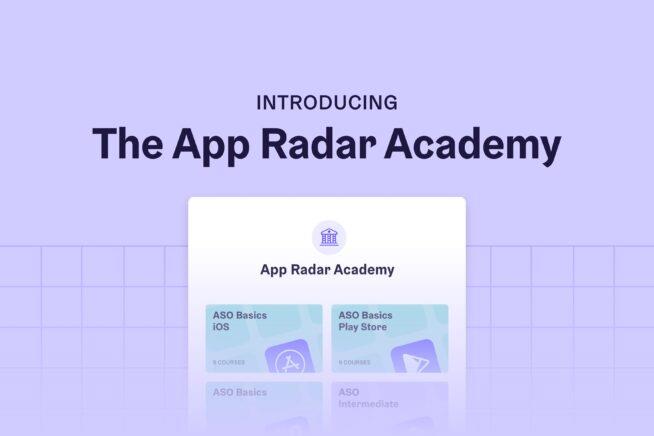 Within App Radar, you can boost your app store optimization strategies and scale up your app installs by working on your keywords, by finding out how optimized your app is, by localizing your app for several storefronts, and much more. We want you to make the most of your experience with us by using App Radar's full potential to boost your downloads. That's why we came up with a new feature that helps you in every step of your App Radar Journey: The App Radar Academy.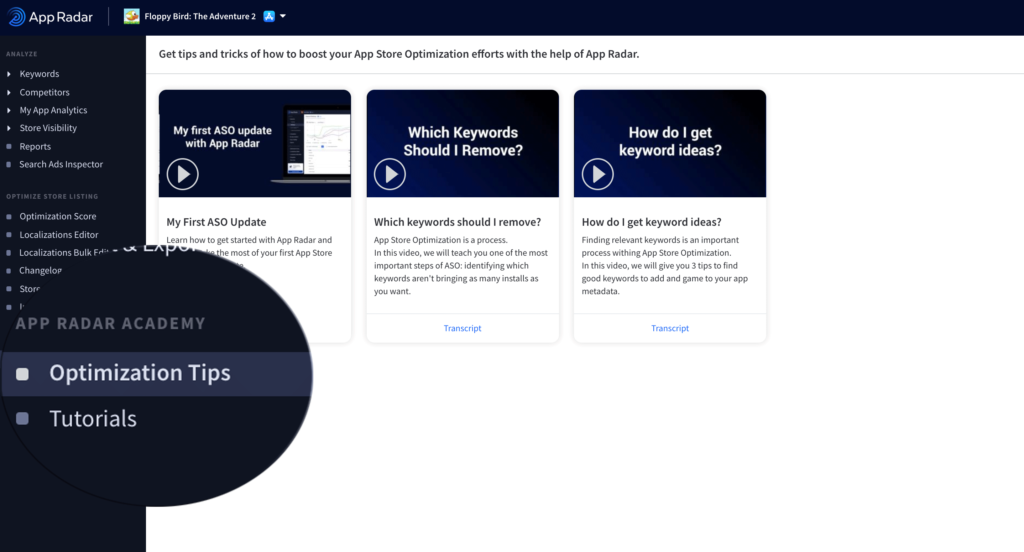 Get to know each feature of App Radar
Each feature within App Radar has a "Learn" button, and when you press it, you see a short video tutorial about the purpose of that feature and how you can use it. But, now, it's even easier to learn about our features. You find all our video tutorials in our sidebar, under the App Radar Academy umbrella.
In the Tutorials tab of our App Radar Academy, you will find:
Onboarding videos of each feature in App Radar
Video tutorials divided by topics
Every video has a short description of the presented feature
Narrated videos with subtitles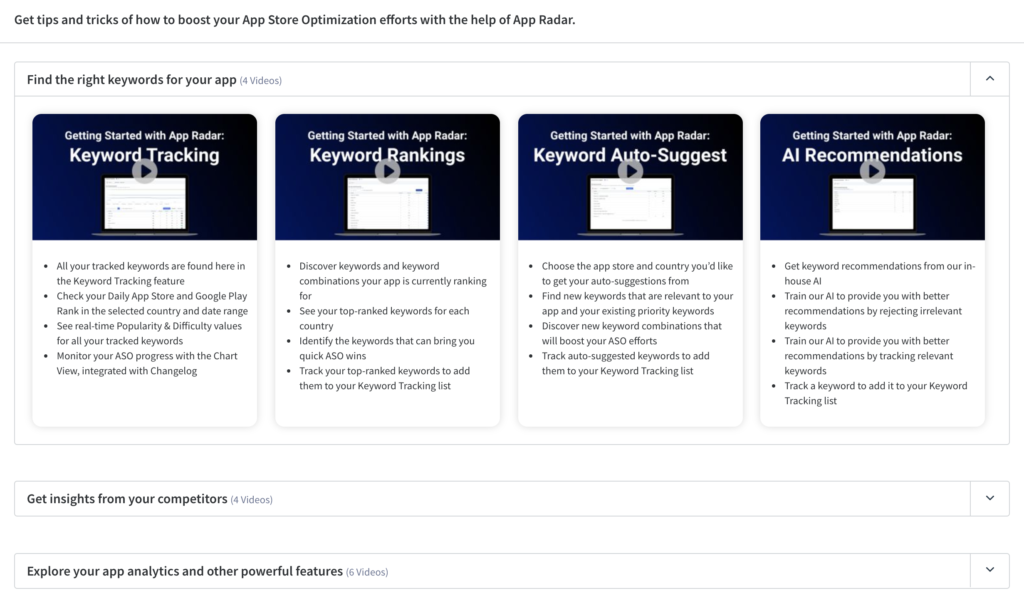 Become an App Store Optimization Pro
App Radar is a complete tool, which you can use in several ways and for different purposes. Maybe you want to find new keywords, perhaps you want to make changes in your metadata for various locations at once, or maybe you want to find out more about your competitors' strategies. It doesn't matter what you want to do. We are here for you, and we want to provide you with all the support that we can so that you achieve your set goals. That's why under the App Radar Academy umbrella, you will find our Optimization Tips.
In our Optimization tips, we go through different tips and tricks on how to optimize your app by using App Radar. Every month a new video comes live with a brand new tip for you. You can already get insights from our new feature. We have already filled it up with a complete video of how to do your first App Store Optimization update, as well as tips on how to decide which keywords you should remove from your metadata, and also on how to get keywords ideas.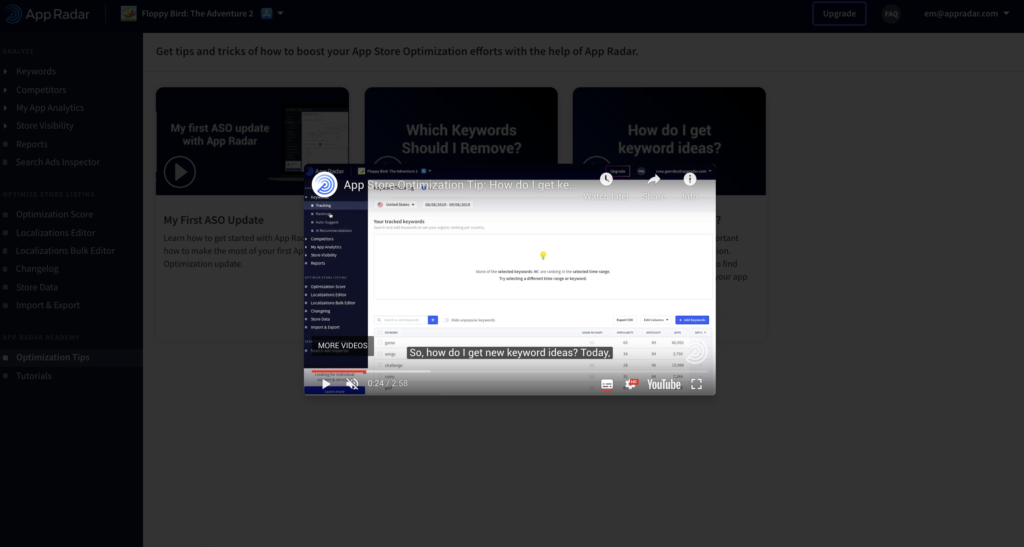 In the Optimization Tips of our App Radar Academy, you will find:
Hands-on videos about how to use App Radar
Tips and hacks to build your ASO strategy
Video Transcripts
Subtitled videos
Check out the App Radar Academy
Everybody that has an App Radar account always has access to our Tutorials e Optimization Tips videos. For each new feature, you can check out our Tutorials tab to learn more about it. And every month, there is a new powerful Optimization tip for you.
Have you got any suggestions or specific tips that you would like to see in our academy? Shoot us a message to [email protected]. We are always working to bring your app to the top of the game. Keep Optimizing.
Grow Your Apps with Less Effort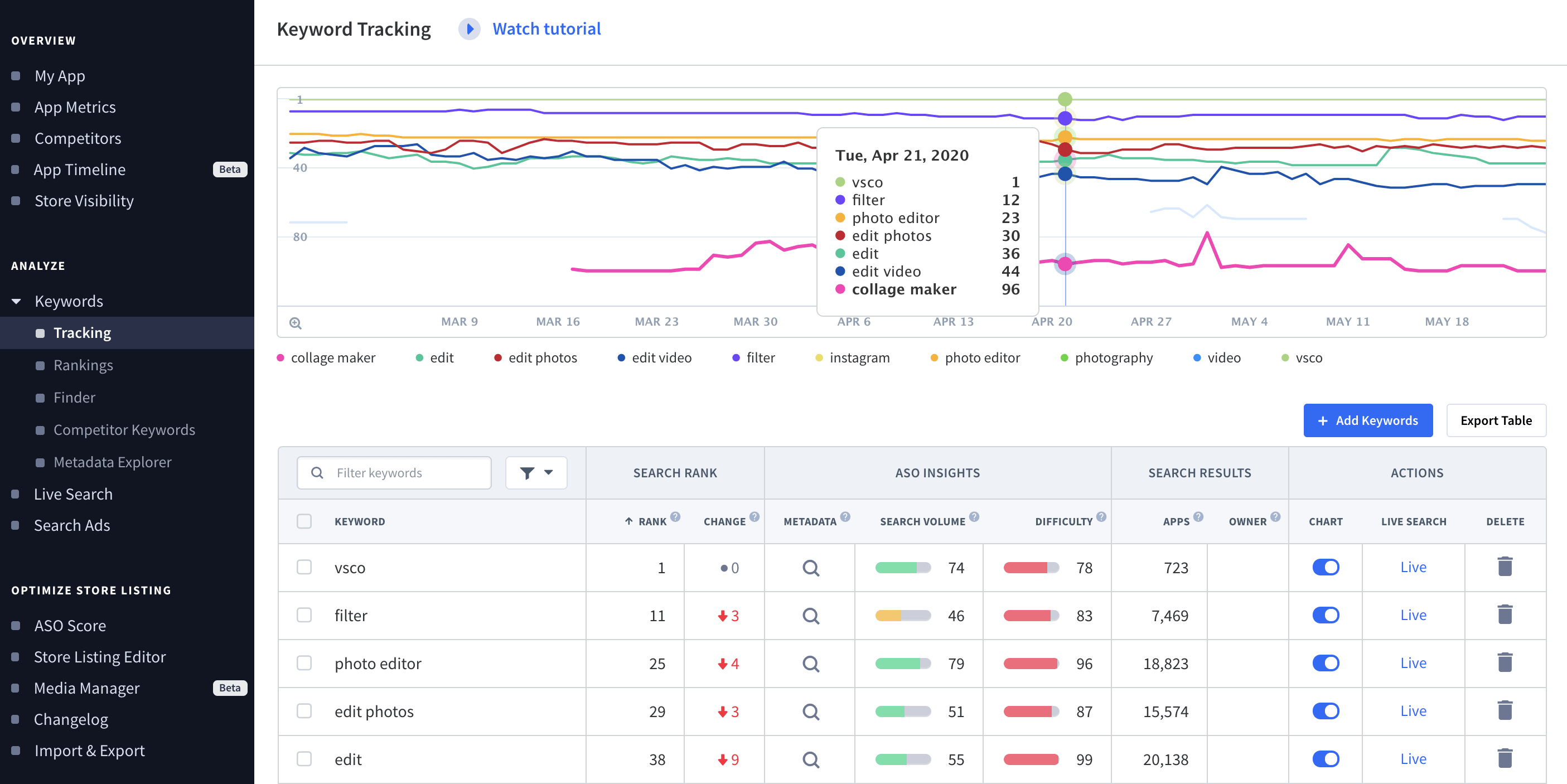 Find new keywords. Optimize all localizations. Spy on competitors. Track ASO changes.
Create a Free Account