App Ratings and Reviews Optimization
22 great ideas to improve app ratings and reviews in app stores!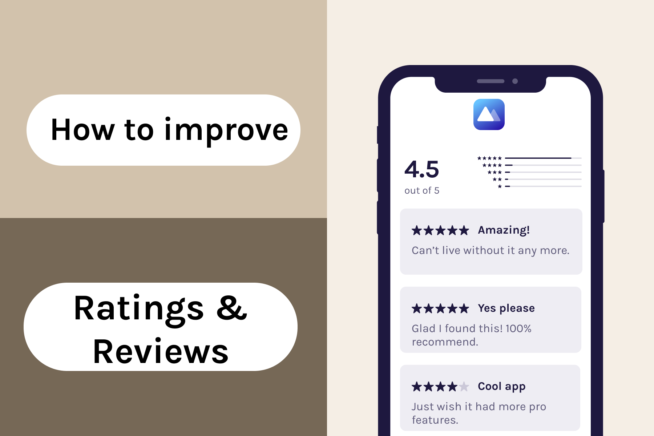 App ratings and reviews are the most important elements of successful app store optimization. They show what app store users think about the app and have a big impact on app conversion rates and significantly impact app downloads.
Ratings and reviews 101
In app stores, app ratings and reviews are key metrics of an app's popularity and quality. They are the feedback users provide about the app they have tried out and used.
App ratings are numerical values ranging from 1 to 5 stars, where 1 represents the lowest rating, and 5 represents the highest rating. On the other hand, app reviews are written feedback given by users as well.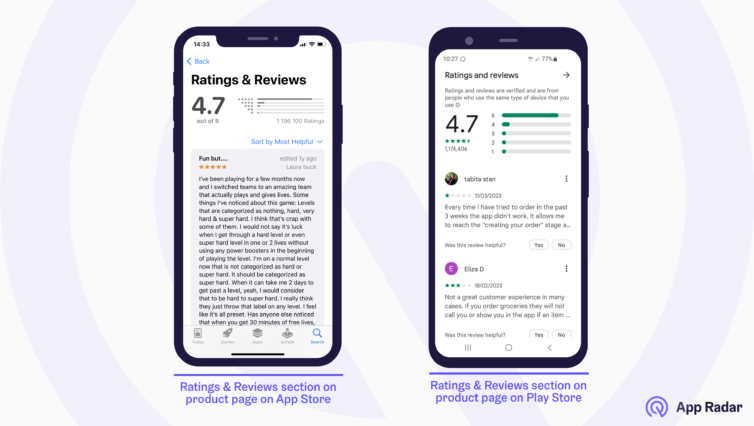 The ratings and reviews are publicly presented; anyone visiting the app store listing page can see the number of ratings and read the reviews. And app ratings are even more important - they are visible throughout the app stores in search results, recommended categories, and basically anywhere where the app name and icon are shown.
Why are app ratings and reviews important to ASO?
App ratings and reviews positively influence app store optimization in many ways. Improving app store rankings, keyword positions, and search visibility is almost impossible if you don't actively improve ratings and reviews.
Here are a couple of good reasons why it matters to work on app ratings and reviews.
More app search traffic
App store users can find your app in many ways, such as by performing a search directly in the store, browsing through store categories, clicking on an ad, or coming to the listing from a third-party website. Out of these paths, app store search brings the most downloads to any app.
And almost every time app users see your app name and icon, next to it will stand the average rating number. High ratings mean more trust, and they immediately tell people whether an app is likable. Or different words, the ratings show what app store users think about it.
Also, apps with higher ratings have a much more chance of earning top keyword positions.
More app Browse traffic
App browse traffic is the traffic an app gets when people browse different categories in app stores, such as Today, Games, and Apps in Apple's App Store and For you, Top charts, and Children tab in Play Store. Those recommendations are often called featurings.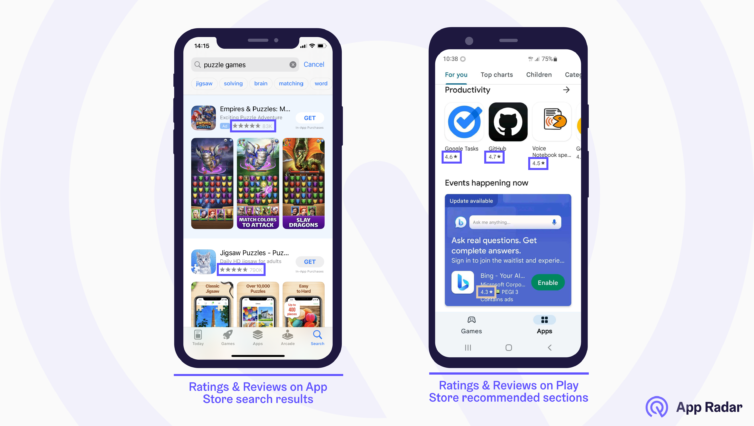 Google and Apple push apps that have many positive star ratings, and it is very hard to get featured without a good amount of ratings.
While app store searches bring the most visitors and installs, getting featured with a prominent spot can skyrocket store listing or product page visitors.
Higher conversion rates
Ratings and reviews influence app conversion rates because people can compare and evaluate apps easily and quickly.
In Google Play Store, every search result shows apps their average rating, which means that every user can compare the apps based on the average ratings they receive. In Apple's App Store, search results contain the average rating and how many ratings an app has.
And once people land on a store listing in Google Play or a product page in Apple's App Store, they can read top reviews that influence whether they will install the app.
In short - high ratings and positive reviews mean higher conversion rates and more app downloads.
Positive image and first experience
Positive ratings and reviews are unified metrics that help users navigate through thousands of apps in app stores.
Similar to how traditional brands communicate value and quality, apps do the same with ratings and reviews. If app store users see that an app has many positive reviews and a high average rating number, they will consider that app much more.
Again, ratings and reviews influence conversion rates and communicate app quality compared to other apps, which is strong social proof that the app is a great fit for users. Or in other words, ratings and reviews reinforce the app's brand image.
More trust
App reviews allow visitors of every store listing page to see what people like and don't like immediately.
The negative reviews allow us to see if an app has gameplay problems, if it bothers people with ads, and how app developers reply to comments. And positive reviews reinforce the intent of downloading the app by showing that the app is trustworthy.
More keyword rankings and indexing possibilities
If an app receives regular ratings and reviews, it shows Google and Apple algorithms that it is relevant for users. The number of ratings and user reviews in both stores influences the algorithms.
Google Play indexes the keywords in reviews, so if an app gets a lot of reviews where people use the category keywords, the app will get a boost in the search results. It will also help index keywords an app usually wouldn't rank for.
While Apple doesn't index keywords in reviews, it certainly pushes apps with many ratings and reviews.
Apple App Store vs. Google Play Store
Apple and Google have some differences when it comes to ratings and reviews. While they both make them an integral part of the user experience, some differences are worth mentioning.
Apple App Store
Every rating your app receives in Apple's App Store will be used to calculate the average rating of any app. If you don't like the ratings you received so far, you can reset them, and they won't be considered when you release the new app version. However, you can't reset the reviews.
In App Store, you will see only six reviews on the product page, which Apple chooses to show, and you can't control them.
As mentioned, Apple doesn't index keywords in user reviews, but that doesn't mean they are any less useful for user experience and conversions.
Google Play Store
The first important thing is that you can't reset your ratings like you can in Apple App Store. The only thing you can do is change your app rating if you change your mind or if you are happy with the app developer's response.
Compared to App Store, Google Play calculates app ratings differently. The ratings people give in Play Store using the current app version have higher weight than ratings given when people use older versions. The main logic behind that is that Google appreciates more the efforts that come with new app versions and updates.
Unlike Apple, Google shows more than 6 positive and negative reviews. So if you are an app owner with a Play Store listing, you better work on handling negative reviews.
Finally, as mentioned above, unlike App Store, Google Play indexes keywords in reviews. As an app marketer, you can reply to negative reviews using keywords that describe your app and get them indexed. Or, differently said, you can rank for keywords that Google Play sees in app reviews and not only for keywords in your metadata (app title, short description, and long description).
Why do users give negative reviews?
There are many reasons why app users write bad reviews in app stores. The users feel frustrated and dissatisfied with how an app performs and want to share their experience.
The most common reasons why people write negative reviews include the following:
Technical issues such as app crashes, freezes, slow performance, and anything that can lead to frustration and dissatisfaction
Poor user experiences like confusing in-app navigation, lack of vital features, or big elements that make users frustrated
Minor bugs and glitches can be frustrating enough for users to leave negative reviews.
False expectations when the app's marketing or description does not accurately reflect its capabilities which disappoints users that leave
Poor customer support when users have an issue with the app and do not receive helpful customer support
Inadequate updates because the app doesn't improve critical elements, which can frustrate loyal and passionate users
While most people will uninstall the app when issues like these happen, angry users will want to take it further and leave a public review.
Nevertheless, it is exactly those reviews that app developers need - they can address the issues, provide support, bring the users back, and prevent new negative reviews.
What happens if your app rating is low?
If your app has low ratings in the app stores, it can damage your app's potential and significantly limit its progress on Google Play and App Store.
Apps with low ratings will have lower conversion rates than high-rated apps and fewer downloads. Low downloads mean fewer users and even fewer ratings and review your app will receive in the future.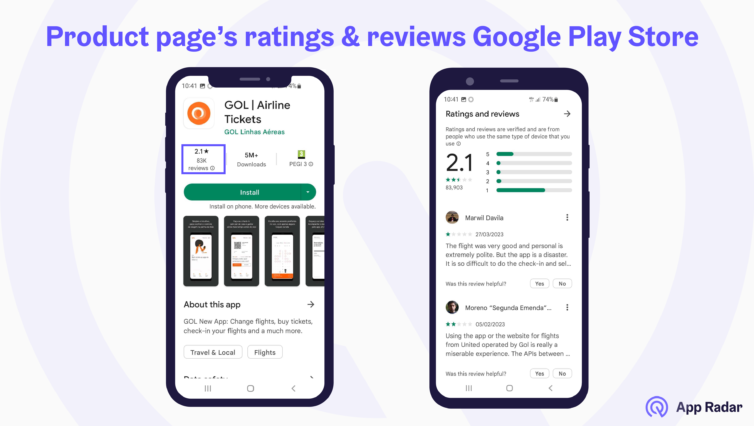 The chain reaction caused by low ratings negatively impacts search and browse visibility while dragging down everything you do around app store optimization.
Low ratings mean that getting featured in the app stores is almost impossible, further destroying the Browse (also called Explore) traffic.
Finally, without high ratings, your app will constantly struggle to reach high keyword rankings and simply perform badly in search, which will again impact your download numbers.
Addressing any issues causing negative reviews and improving the app's rating is vital to attract more users and to increase visibility in app stores.
How can you improve your app store ratings?
To improve app ratings, you should prioritize the activities that matter to app users, test different approaches and monitor your rating progress.
We strongly recommend exploring the following options when working on rating improvements.
Analyze app reviews to get competitor insights
Encourage and ask users to rate and review your app
Time your triggers
Mix different triggers and prompts
Make leaving a rating or review easy
Incentivize users
Respond to reviews on time and properly
Prioritize improving app quality
Monitor reviews and rating progress
Build a community
Understand how you can ask for ratings
Create an app rating and review strategy
Know which tools can help you
Use in-app reviews API for Play Store and SKStoreReviewController API for App Store
Update the app and release new versions regularly
Leverage other channels
Don't take shortcuts and buy reviews
Share support and contact info
Go after negative reviews
Report spam, offensive, and inappropriate reviews
Offer your help at visible positions
Try gamification tactics for more ratings and reviews
Let's examine each of them quickly.
Analyze app reviews to get competitor insights
The starting point of any improvement process is a thorough analysis of the current situation. So not only do you have to analyze the current feedback your app gets; you also want to check what app users think about your competitors.
The best way to get app competitor insights is by analyzing app reviews and getting feedback on what users find good and what they don't. App reviews provide real feedback from existing app users and what is even better - app reviews can be accessed and analyzed for any app in Google Play and Apple's App Store.
Encourage and ask users to rate and review your app
Remind users to rate your app by including a pop-up or prompt after using it a few times. The same is true for reviews - create specific rules that will trigger an app prompt after they have opened or used it for a certain amount of time.
Time your triggers
App triggers determine when you can show the user a rating and review prompt. They greatly impact whether you get or don't get that feedback. Triggering the prompt at the wrong time can be a wasted chance, but if you time the trigger right, you will have a much higher chance of getting the rating.
Don't ask for a rating too soon. Wait until users can use the app and experience its features before prompting them to rate.
Mix different triggers and prompts
There are many different triggers you can use based on how people interact with your app:
Usage triggers fire when a user performs a specific action for some time.
User journey triggers happen when a user comes to a defined location.
Update triggers can trigger after you want to announce a major app update.
Simple feedback triggers can fire on user demand, and users can leave them anytime after tapping, e.g., a feedback button inside the app.
The topic of app triggers can be quite tough to implement, so if you are just starting, find the most simple scenario that allows you to start collecting ratings and reviews. You will need help from your app developers to implement them and ensure that you measure trigger effectiveness.
Whatever you choose, ensure not to ask for a trigger at the wrong time and when users might ignore it.
Make leaving a rating or review easy
Always think about users and how they can share their feedback without wasting too much time. Provide clear instructions and a direct link to the review page in Play Store.
Incentivize users
Offer users an incentive to leave feedback, such as in-app credits or discounts. Just make sure you are not breaking Google's guidelines. Asking for a rating in exchange for something is fine, but you cannot ask for a five-star rating.
Respond to reviews on time and properly
Respond to positive and negative reviews to show users you value their feedback. It would help if you always thought about how to help users who took the time to write reviews.
Replying to user reviews is an opportunity to improve the public appearance of your app by showing that you engage with users and are trying to help them.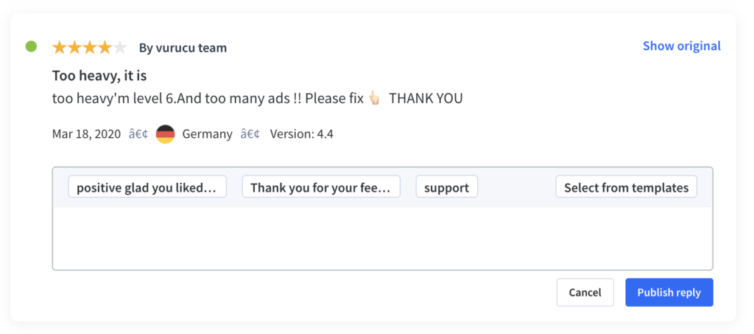 Unhappy users can push down your app ratings dramatically. For example, for every one-star review you get, you will need seven five-star ratings to reach a 4.5-star rating. So you need to take those seriously.
Remember, many potential users check reviews before deciding to download the app. While you can't avoid negative reviews, every reply you do shows that you care.
Prioritize improving app quality
Your app should have good quality or match the right user expectations. If people like the app, they will leave more positive reviews.
Check regularly your Android vitals to see if you have technical issues. Also, if people leave bad reviews and mention that your app is crashing or has technical problems, you want to address those as soon as possible.
If you are analyzing your reviews regularly, you will notice that some users also complain about in-app elements and experience. While this can be an expensive fix, making an app user-friendly, intuitive, and easy to navigate usually makes people happier and positively impacts app retention.
Monitor reviews and ratings progress
You can't improve what you don't measure. The same is true for ratings and reviews as well. Use Google Search Console and external ASO tools to check the ratings and reviews progress and how they impact your app store performance and rankings.
Build a community
You can create a community around your app where users can socialize and help each other. While this is only sometimes an option, if your app or a game has many users that are very passionate about it, think about how they exchange their experiences.
If people talk more about your app, they will be more engaged, attract new users and be more open to giving positive ratings and reviews.
Understand how you can ask for ratings
You can ask for ratings by being passive or active. Adding a "Rate the app" button somewhere in the app will allow users to rate the app at any time, but you probably won't get a lot of ratings. Nevertheless, the user experience will not be disturbed.
If you want to be more active, use previously mentioned in-app rating prompts and custom pop-ups. However, while those will get you more ratings, some users won't like the prompts ruining their experience. Therefore, ensure you don't ask for ratings when users are actively using the app.
Create an app rating and review strategy
App rating and review strategy is something that most apps don't have, but we highly recommend it. It would be best to have clear guidelines that tell how you will motivate your happy users to leave reviews and how to deal with and prevent negative reviews. 
In a nutshell, think about where, when, and how you can ask for reviews. The best way is to find the moments and app locations where you don't disrupt users and where users are happy enough to do you a favor.
Know which tools can help you
We already mentioned that Google Play Console is your go-to tool to analyze ratings and reviews in general.
Most of the ASO tools have some support for rating and reviews as well. For instance, App Radar integrates with Google Play Console, allowing you to filter ratings and reviews answer status, rating development, rating grade, tags, app version, and per country. Also, you can reply to any review in Google Play directly from App Radar using pre-made templates.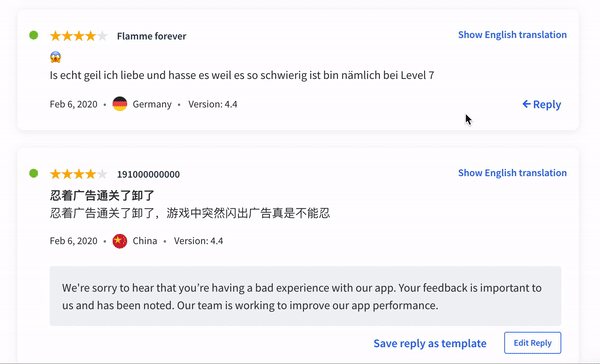 No tool is perfect, but by combining this feature with AI-powered App Review Summaries that allow you to analyze any app, you will get the most important information to actively work on and monitor the progress of ratings and reviews.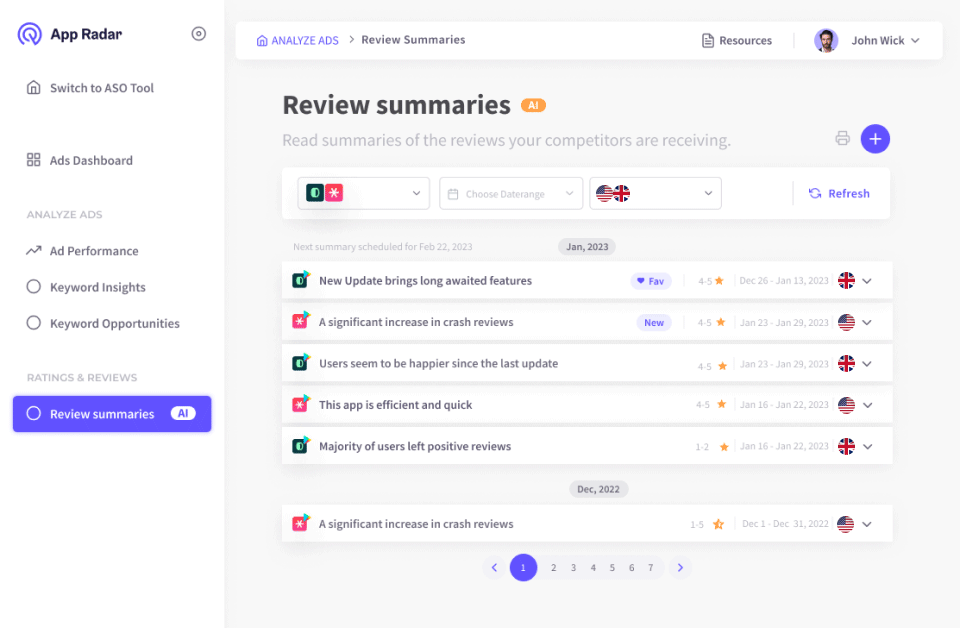 Save time reading tons of reviews word by word. Get weekly or monthly reports per any app on a global scale.
Try it out
Use in-app reviews API for Play Store and SKStoreReviewController API for App Store
Google Play's in-app reviews API helps you prompt Android users to submit ratings and reviews during the app or game usage. You can trigger the in-app review flow at any time, and if the user submits the rating and review, it will be immediately visible on your store listing page in Play Store.
You can find here the full Google Play in-app reviews API documentation you can share with your app developers.
App Store supports similar functionality for iOS apps using the SKStoreReviewController API. iOS developers can ask users to review their app directly in the app. The user is presented with a small popup that prompts them to leave a quick star rating.
Since users don't have to leave the app to give the star rating, they're much more likely to give one.
Update the app and release new versions regularly
If users complain about technical issues and bugs, you must address them promptly. And for that, you must request your developer team to fix the issues and release an app update.
If the new app version doesn't experience the issues, find all those negative reviews about technical issues and notify users that the issue is no longer there. And make sure to ask them to give you a better rating politely.
There is a big chance that users will appreciate your response and update their rating and review to a more positive one.
Leverage other channels
Other channels can help you get more reviews and the app's visibility. Some additional channels you can use to get app reviews are:
Email campaigns can help you send personalized emails to users who have downloaded your app and ask them to leave a review. While the conversion rate won't be high, you can combine this with different incentives to encourage more people.
Social media platforms like Twitter, Facebook, and Instagram can also be used to encourage users to leave a review and communicate why they should do it. The success you get will depend on how well you can encourage people to leave a review.
If you have contacts with influencers in your industry (app review sites, tech bloggers, gaming sites, etc.), run a promotion with them and see if there is a way to use other audiences to get more reviews.
Remember, whatever channel mix you use, make the process as simple and easy as possible for users to find and review your app.
Don't take shortcuts and buy reviews
Buying app reviews can lead to many negative consequences for your app in both Play Store and Apple App Store. Here are some reasons why:
Buying reviews violates app store policies. All app stores have strict policies against buying reviews, and violating these policies can even get your app removed from the app store.
Paid reviews often result in fake reviews that don't reflect the true user experience. This can mislead potential users and hurt app credibility.
Real users can write negative reviews if they feel deceived by fake reviews. This will impact your app's rating and visibility and, as a result, make it harder for new users to find your app and discourage them from downloading it.
If people notice fake reviews, that can damage your brand's reputation, as it can be seen as unethical and dishonest. With a bad brand image and loss of trust, your app revenue will decrease.
In short, buying app reviews is not worth the risk. Although it might work temporarily, the long-term effects won't last.
Share support and contact info
Sharing contact information with customers in app stores shows that you care about your users and are committed to providing them with a good experience.
For a start, it shows that you're responsive. By providing an email address or phone number, you're giving users a way to reach you directly and that you want to address any issues they may have with your app.
Users contacting you directly are more likely to provide feedback on your app. Any positive and negative feedback helps improve your app for other users.
Sharing contact information also means trust because people see you are a real business. More trust usually means more chances of getting more ratings and reviews.
Finally, addressing user concerns and providing a good experience helps retain users over time.
Go after negative reviews
Make improving negative reviews your top priority! Every user that leaves a negative review is most likely lost. But with some patience and an honest approach, you can change negative reviews to positive ones and keep those users.
Also, negative reviews and ratings are displayed publicly and often even highlighted. Working on negative reviews early on reduces the chance of losing new users because of bad feedback.
We suggest grouping negative reviews to see which people have small complaints and which users have big issues with your app. From there, balance the time you need to fix easy issues and those that can have a wide user impact.
Report spam, offensive and inappropriate reviews
Every app will have a fair share of grumpy and rude users that violate Google Play and Apple App Store policies.
In that case, you can report inappropriate content and review it directly in Google Play Console. Don't bother asking users for more information and trying to communicate with them - spam and rude content should not be on your store listing page.
The same goes for App Store. You can report a concern in your App Store Connect account and remove the review that violates Apple's terms and conditions.
Offer your help at visible positions
While most dissatisfied users will write a bad review, some might be ready to look for help if they are stuck with something.
First, you can offer live chat support for people currently in the app or game. You can link the chat to your FAQ or help section and help users find the answer instead of writing a bad review.
And on your store listing page, you use app descriptions or screenshots to communicate that you can support users with their issues. That way, when users have problems, they might solve them by themselves before writing a bad review.
Try gamification tactics for more ratings and reviews
Gamification strategies can also be an effective way to get more app ratings and reviews. Some of the proven techniques include:
Discount code or a free premium feature will motivate users to take the time to leave a review and share their experience with others.
Achievements or badges that users earn when leaving a review or sharing the app with others
Leaderboards that show the top reviewers or users who have shared the app the most to motivate others
Challenges or missions within the app that require users to leave a review
While gamification tactics might seem too aggressive sometimes, we recommend trying them out and testing to find those that bring new ratings or reviews.
Now it is your turn
Ratings and reviews are vital for app success. There is no doubt about that.
To improve them continuously and to push your app in app stores, you will need to actively work on acquiring more high-star app ratings and positive reviews and turning negative reviews into positive ones.
While this requires much work, the ideas outlined in this article work. Pick the ones that make the most sense for you and start implementing them.
And when you are doing this, ensure you have the right tools. You can analyze your competitor reviews and manage and track your progress with App Radar, while having a complete overview of other ASO metrics in one place.
Speed up your app store review managment with App Radar
Sign up for a free trial today and get powerful insights to help you level up your app in Google Play and Apple App Store.
Learn more