?NEW? App Store Advertising (ASA)
Google App Campaign: Learning the Basics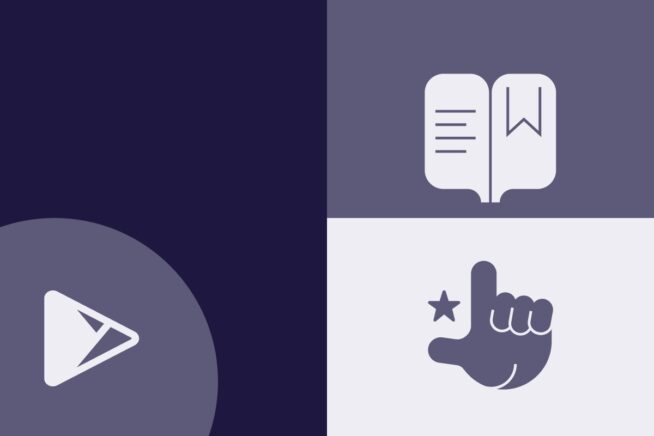 Google App Campaign, also known as Google AC, provides both iOS and Android developers with the opportunity to advertise their mobile apps and games to a worldwide audience.
Google AC is a specific advertising option made just for mobile app developers and marketers. Best of all? Google AC ads are relatively easy to set up. Here is everything you need to know about running a successful app advertising campaign with Google AC.
Advantages of Google App Campaign
There are several advantages of Google AC. First of all, Google owns a wide range of online products. As a result, your ads will be run across multiple platforms and optimized for different screen or device sizes. When you set up a Google AC ad, Google will automatically run your ads on their largest channels, including Search, Google Play, YouTube, Google Display Network, AdMob, and Discover on Search.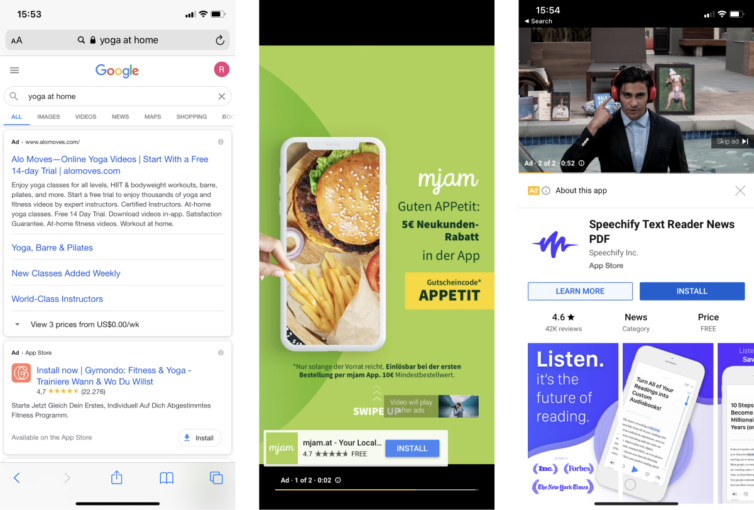 Secondly, Google AC was created to make advertising easy for mobile app developers and marketers. Instead of creating an individual ad, Google will choose the best combination for you. And instead of having to monitor and adjust your ad parameters continually, Google will do it for you as well. We'll talk more about this later.
Third, gaining new users and boosting app revenue can be quite challenging in today's saturated mobile market. Many have claimed that the mobile app industry has become pay to play. Although organic growth, especially through App Store Optimization, is crucial, paid user acquisition is helpful to truly skyrocket app growth. Google AC is one of the best ways you can do so.
Alright, it's time to learn how you can set up your own Google AC ads.
How to Set Up a Google App Campaign
Google AC works differently than traditional Google Ads. You won't be creating individual ads. You'll actually provide Google with a bid and budget, languages and locations, and text. Google will pull your feature image, app icon, star reviews, and amount of installs from your existing app store listing. It will then mix and match all of the mentioned assets to find the best combination for each channel. Therefore, there are many possible variations, and Google will automatically generate the ads best fitting for each channel.
Conversion Tracking Setup
If you have been running ads for a long time, you are probably familiar with conversion tracking. If not, trust me, it's not as scary as it sounds!
Conversion tracking is a process that enables you to identify which ads are driving a specific event, trigger a particular action or generate the most traffic and/or revenue. Your campaign goals determine the best traffic.
Google AC allows you to track the following conversions:
Downloads from Google Play
First opens
In-app actions, such as purchases
You can set up conversion tracking for your app ads importing events from Firebase or a third-party app analytics provider like Adjust or AppsFlyer.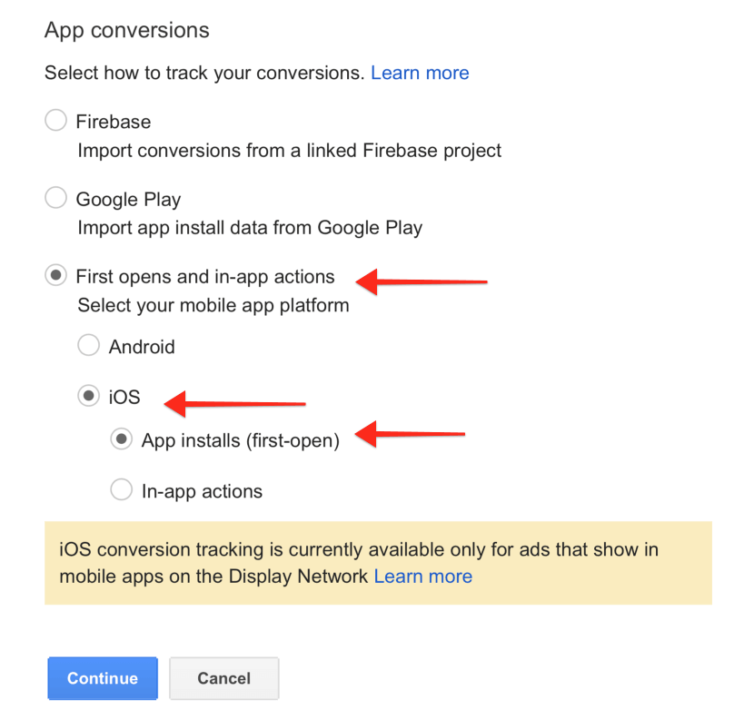 Conversion tracking can play an essential role in running successful Google AC and optimizing whatever goal you have set yourself. Without it, you won't have the data nor the insights needed to determine what changes can be made to make your app ads even more effective.
Now you're ready to set up your ads.
Campaign Type, Location, and Language
To get started:
Go to Google Ads;
Click Campaigns;
Create New Campaign;
Select App Promotion.
Afterwards, you will be asked to decide between 2 types of campaign subtypes: App Installs or App Engagement. Installs means you are aiming to gain new users, whereas engagement means you want users to take an in-app action. Your choice here will also influence how you want Google to optimize your app ads, which we'll cover in a bit.
Then select the app you want to run ads for by searching the app, publisher, or package name.
Next, you'll tell Google in which locations and languages you'd like to have your ads shown. Google won't translate your ads, so ensure that the ad assets, creatives, and copy, are localized before going live. Advertising is much more effective when presented in the viewer's native language.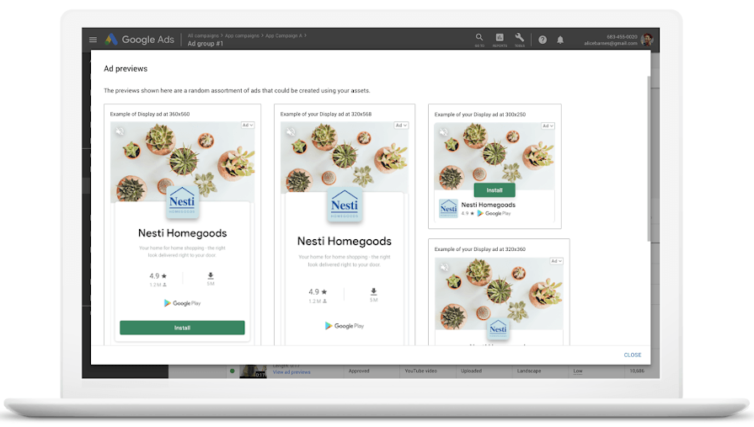 Bids, budget, and campaign optimization are up next. Ready?
Bids, Budget, and Campaign Optimization
In Google AC, you'll set an average daily budget. Keep in mind that it is an average, not a limit. That's because Google will use the number you input to guide their campaign optimization. You are able to control, to a certain extent, how Google optimizes your ad campaigns.
There are three main campaign optimizations that you can set for your Google AC ads.
Increase App Downloads
When your priority is bringing in new users, set your optimization goal to increase app downloads. Google will adjust your bids and show ad elements, according to which ones drive the most app downloads.
Get Users to Take an In-App Action
To earn higher value users, you'll want to set your optimization goal as an in-app action. You can tell Google which in-app event you would like it to recognize as the goal. Then Google will adjust your bids and show ad elements according to what triggers that in-app event.
Drive In-App Action Value
For an in-app action value goal, Google will focus on bringing in users that provide the most value over time.
Google states that this type of bid "should be the average conversion value (for example, revenue) you'd like to get for each dollar you spend on ads. This is called the target return-on-ad-spend (Target ROAS). If your goal is to ensure that users spend $0.5 of in-app purchases during the conversion window for every $1 of ads you spend, you'd set a target ROAS of 50%."
Writing the Best Ad Copy and Choosing Effective Ad Creatives
Google uses existing app store listing elements, such as feature graphic, app name, and app icon, in your ads. Consequently, your app store listing should be optimized for organic conversion before any paid campaigns are set live. Furthermore, you will have to specify additional foundational ad elements.
This should include at least:
Two headline ideas
One description idea
One landscape image
One portrait video
One landscape video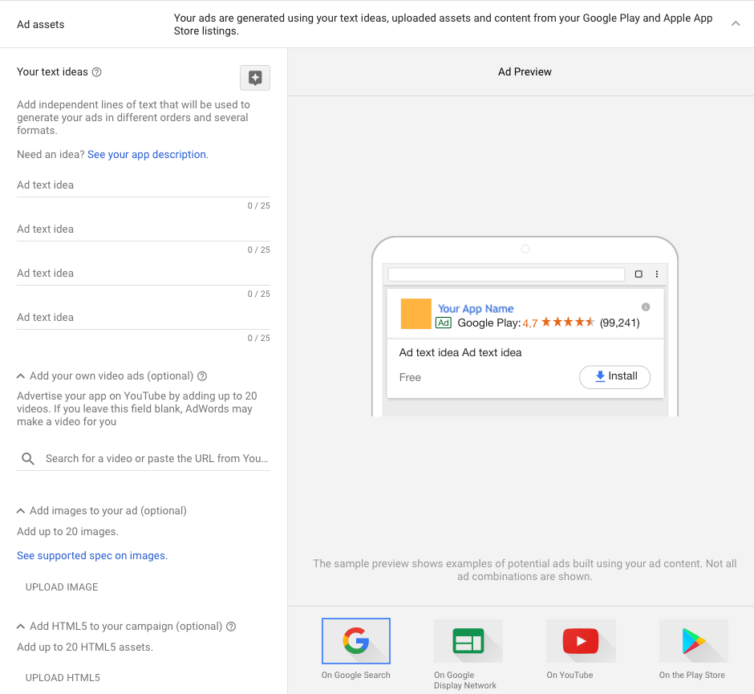 Depending on your app and advertising strategy, you may also need to provide HTML5 assets.
Google will automatically mix and match all elements to create ads for their different advertising channels and then optimize according to your campaign optimization goals. Remember, people are drawn to visual aspects more so than textual. Focus on creating eye-catching images and videos that clearly show the benefits of your app.
Guidelines for Google Ad Campaigns
Google requires that advertisers comply with the policies described here. You must familiarize yourself with these requirements for the places where your business operates. Google uses a combination of automated and human evaluation to ensure that your ads comply with their policies for prohibited content and practices, restricted content and features, and editorial/technical areas like quality standards. For example, there are individual advertising policies for:
Adult content
Alcohol
Copyrights
Gambling and games
Political content etc.
If you don't follow the policies of Google, your assets can be rejected, or your whole ad account could be suspended.
Further Optimizing Your Ads
Although Google will do much of the optimization for you, make an effort to monitor your ads and push changes when needed. For example, update your ad creatives if you have just released a new feature or are running a holiday promotion. It's always better to be extra vigilant when it comes to getting the most out of Google AC and paid user acquisition.
Still unsure where to begin? We're here to help! Contact our app marketing consultants, and we'll create an effective and custom app advertising strategy for you.