Google App Campaigns
The ultimate guide to Google App Campaigns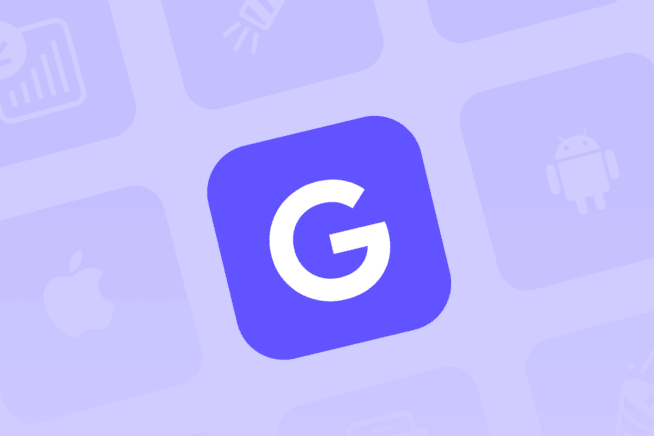 Google app campaigns (formerly known as Universal app campaigns or UAC) are a paid advertising channel that helps app marketers push their mobile apps to a specific target audience. App campaigns are a part of the Google Ads campaigns, which means that they rely on Google's vast platform for serving the ads.
As an app marketer, if you want to grow your app and expand your target audience, you must focus on organic and paid channels. Google Play app store optimization methods and tactics will ensure your app is properly optimized. However, because many advertisers push their apps and influence app store listing positions, organic growth potential has limitations.
This guide will walk you through all the details you need to know to start promoting your app with Google app campaigns. At App Radar, our daily job is to grow apps with paid user acquisition using the methods we describe in this article. We also have dedicated articles if you want to dig deeper into app campaigns, so make sure you check those.
Let's start with a basic introduction first and then dive into the specifics of each app campaign type.
How do Google app campaigns work?
App campaigns work a bit differently than other Google Ads campaigns. Google first requires that you provide a couple of mandatory assets - text, budget and starting bids, images, video, and HTML5 assets. Google will mix and match your assets and create relevant ads. You also don't need to provide any keywords because the algorithm will rely on the Google Play search terms relevant to the category your app is targeting. In other words, the text assets that you provide for Google app campaigns should include relevant keywords because those will influence search on Google Play.
App store optimization efforts build the base for a successful campaign. Google app campaigns will also take the keywords you use to optimize your app's store listing.
After that, Google will use those assets to serve them across different channels:
Google Search Network - includes Google Search and search partners (e.g., YouTube)
Google Play - search results, related apps, and suggested apps
YouTube
Google Display Network - Gmail, mobile websites of news and blog sites
AdMob
Google Discover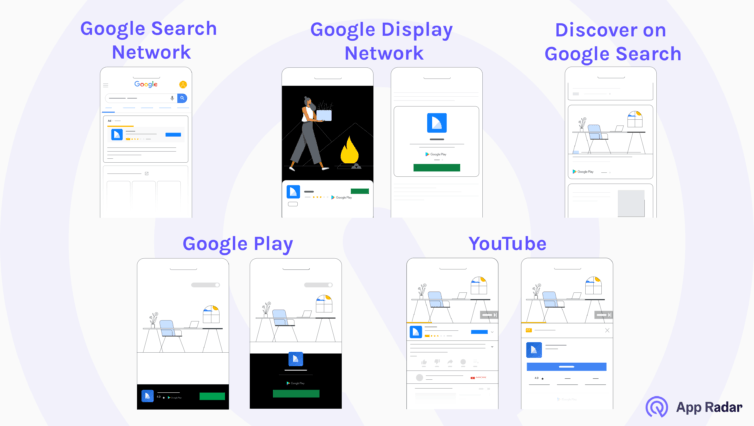 One of the biggest benefits of app campaigns is the huge audience and the channels Google uses to promote the apps. If you properly set up your campaign and align your marketing goals and app value proposition, you have a great chance to reach the right type of audience.
There are three types of campaigns that you can use.
App install campaigns - used to get people to install your app
App engagement campaigns - aimed at the existing user base if you want them to complete a specific in-app action
App pre-registration campaigns - available to Android users only, they target people to sign up for your app that is in the pre-registration phase in Google Play
Let's look at each campaign type and how to get the most out of them.
App install campaigns
App install campaigns are the most common campaign types used to drive the installs of your app. As an app marketer, you have an option to set your bids and targeting manually or use Google Ads to automate your target and bidding. Also, the install campaigns you run can focus on the valuable users that have more likelihood of performing a specific action. Android and iOS apps can use app install campaigns to build a user base with advertising.
There are a couple of important elements that Google uses when creating and serving app install ads:
The ad's location (Search Network, Google Play, YouTube, etc.)
Type of the ad (banner or interstitial ad)
The content of the ad (app icon, description text, app store rating)
The action after clicking an ad (link to the app store or direct app install to the device)
Depending on the ad location, Google can show your ad when people use terms relevant to the category or match Google Play search terms. Or Google Play can show your ad to people interested in similar apps. And for the users browsing through YouTube, those users that are the best match for installing your app will see your ad.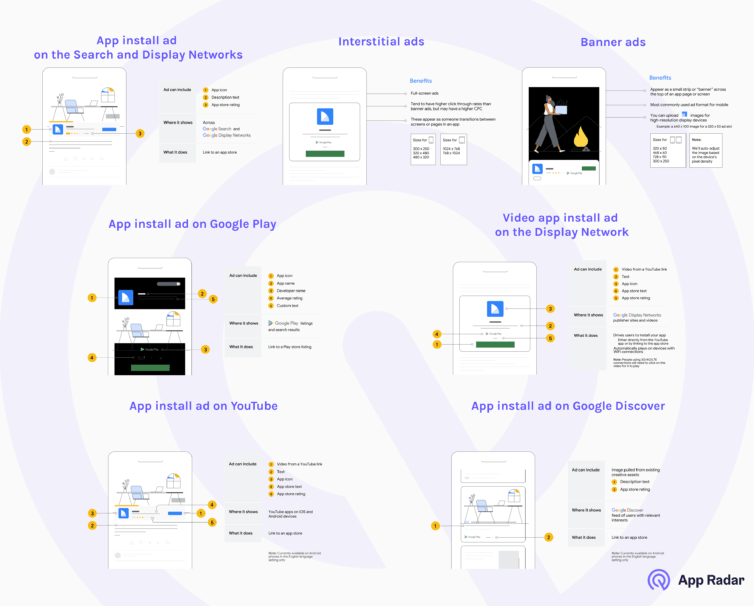 Google can also decide which elements of your Google Play store listing it will show. To get the most out of your install campaigns, you need to ensure that your Play Store listing is properly created. In other words, the elements you use to optimize your organic store listing will also be used for app install campaigns.
Finally, once people click on the ad, they will be taken to Google Play Store or Apple App Store, depending on the type of app you are promoting. But there are situations where users can install the app directly after the ad click, such as the video install ads on the Display Network.
To sum up, app install campaigns are relatively easy to set up and run. Remember that every app campaign needs monitoring and bidding optimizations if you are not getting the results you planned.
Make sure you align the install campaigns with your goals, expectations, and how much bidding control you want to have. You will want to determine your target CPI (cost-per-install) and decide if you want to set it up, or you will use Google to maximize the conversions for your budget.
App engagement campaigns
App campaigns for engagement target users who already have your app installed on their devices. Unlike the app install campaigns, the app engagement campaigns are generally trickier to set up and implement.
The main reason why you would want to run engagement campaigns is to motivate your users to complete a specific in-app action. The actions can be purchasing premium items (if you promote a game), reminding people to visit your app more frequently, or simply promoting a live event. App engagement campaigns can also be used for promoting Android and iOS apps.
Google requires that your app already has a minimum of 250.000 installs, deep links installed, clicks attribution, defined audience list, and compliance with remarketing privacy and EU user consent policy.
If you can satisfy all these requirements, you can move to the next steps and start working on the assets for your engagement campaigns. At the very least, you need to provide some text for your campaigns, but those campaigns will be more effective if you invest some time in generating high-quality images and videos.
A very important aspect of app engagement campaigns is setting up the conversion window properly. A conversion window is the time frame used for recording a conversion after a user interacts with your ad.
Finally, you will need to create an audience list to target with your engagement campaigns. Specifically, you need to choose if you will target all users, recently inactive users, active users, or users that have completed some actions already. Google gives you an option to be very specific about the targeting, which means you can choose the exact actions used as the main segmentation criteria.
Once you have your campaign up and running, you will want to use the best practices to optimize your results. These optimizations include
having up-to-date and optimized Google Play Store listing
linking the accounts
bid adjustments
conversion window modifications
asset testing
geo-targeting
Evaluating your performance is critical if you want to get high ROI and grow your app value. The bottom line is that app engagement campaigns are the best way to grow your app once it has already received some momentum in the app stores.
Google app campaigns for pre-registration
The third and last app campaign type you can use to promote your app is an app campaign for pre-registration in Google Play. Two main things differentiate app campaigns for pre-registration from app installs and app engagement campaigns:
App campaigns for pre-registration are used for promoting Android apps only
They have one specific goal, which is the promotion of the app that is in the pre-registration phase
It is important to differentiate between a pre-registration campaign in Google Play and app campaigns for pre-registration. Pre-registration is a campaign you set up in the Google Play Console when you want to launch an android app with limited geo availability. That way, app marketers can test an app in specific markets before the official launch in the Google Play Store.
App campaigns for pre-registration are aimed at promoting pre-registration campaigns in Google play. The most important metric you want to track for this type of paid campaign is CPpre or Cost-per-pre-registration, and the target cost metric is tCPpre.
After the users click on your campaign ad, they will be sent to the Google Play Store to pre-register for the app before the official launch. Once you pre-register your app, you will have to publish your app within 90 days.
When launching your app campaign for pre-registration, the best practice is to think about the rewards and value you can offer to people who register for your app. The more value you can provide to early sign-ups, the more successful your app campaign will be.
If you expect that your app will be popular, make sure you start with the pre-registration on time and use the full 90 days to attract as many users as possible.
Conversion tracking for Google app campaigns
Setting up and understanding your conversions is essential for the success of your app campaigns. Relying on wrong or false data can easily influence your goals and ROI.
We have already covered the three app campaign types that you can run. A dedicated article goes deeper into conversion tracking for app campaigns, so we are briefly converting the most important elements of conversion tracking in this section.
Whatever the campaign you are running, the first thing you want to do is associate the main conversion with their cost:
App install campaigns focus on installs and CPI or cost-per-install
App engagement campaigns focus on in-app action and CPA or cost-per-action
App campaigns for pre-registration target pre-registration signups in Google play and CPpre or cost-per-pre-registration
The next thing you need to understand properly is the conversion window, which we already briefly covered in this article. App install and engagement campaigns have different conversion windows settings. Based on your goals and audience behavior, you will want to specify conversion windows for click-through conversions, engaged views, view-through conversions, and post-install conversions.
At App Radar, we work directly with clients on various app campaigns, and we know how important conversion windows are. Ensure that you understand when you need to apply shorters vs. longer conversion windows. Furthermore, you can use Days to conversions and Conversion lag reporting tools in Google Ads to decide how long your conversion window should be.
When discussing conversions for app campaigns, you need to know that Google uses different attribution sharing models for app campaigns. We encourage you to explore the official documentation if you run different app campaigns simultaneously.
Get a reward for your enthusiastic education!
Use coupon 'STUDYBONUS' to get 30% OFF on any plan at App Radar's app growth platform for one whole month.
REDEEM CODE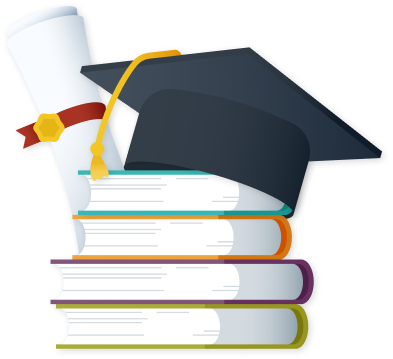 App campaigns ad formats and assets
At the beginning of the article, we mentioned that Google takes your assets in text, images, and video and then uses them to create ads across Google properties. A dedicated article covers everything you need to know about ad formats and assets for app campaigns, but let's quickly mention the most important aspects in this part.
General asset types for app campaigns and per ad group include:
Headlines - up to five of them with max. 30 characters per headline
Descriptions - up to five of them with max. 90 characters per description
Video - has to be hosted on YouTube, but Google may take the video from your app store listing. You can upload up to 20 videos.
Images - supported formats are .jpg or .png with the max. size of 5MB. The maximum number of images you can upload is 20.
HTML5 - needs to be uploaded in .zip format, no more than 40 files and max 1MB size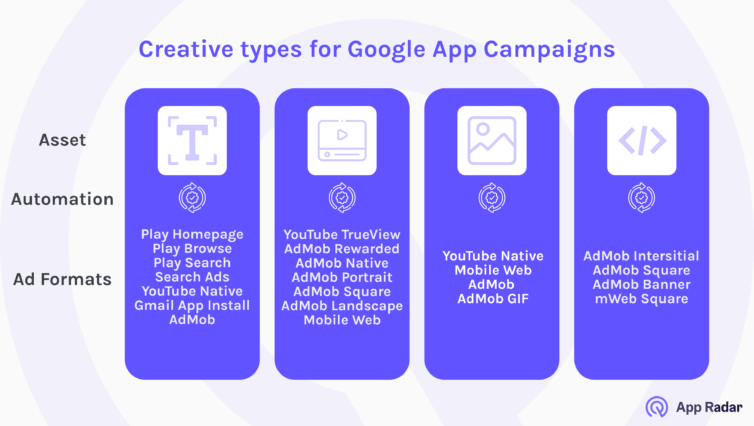 Google gives you some suggestions and guidelines to follow when working on app campaign creatives. In short, you should follow the same approach that you usually follow when working on app store listings and optimization of your creative assets:
Align your ad creatives with your brand goals, values, and identity
Always keep in mind your app campaign goals when working on the creatives. Your call-to-actions will be different if you go for installs, in-app purchases, or retention improvements.
Keep related creatives together in the ad groups. If you target RPG game enthusiasts, you don't want to mix the creatives with the audience that looks for puzzle games.
Upload the maximum number of assets for each asset type to ensure Google can use them optimally across its properties. The asset quality should be as high as possible.
Localize the ads - Google doesn't translate them automatically.
Look for assets that can trigger audience engagement - an obvious element, but ask for some feedback before launching an app campaign.
Use asset reports to identify low-performing assets and replace them on time.
There are two important asset reports that you can use during and after the app campaign setup - performance rating and ad strength reports
Performance rating shows how one asset performs compared to other assets you use in your app campaigns based on its average daily cost. The ratings for your assets can fall into five different categories - Learning (in review), Low (lowest performance relative to your other assets), Good (good performance relative to your other assets), Best (one of the best performances relative to your other assets) and Unrated (the system can't rank it). Your goal is to replace the low-performing assets with those that have better ratings.
The ad strength report provides feedback based on the types and number of assets you provide during the ad creation process. You can get five different strength ratings - Incomplete, Poor, Average, Good, or Excellent. With that in mind, ad strength is mostly used to track how well your ads are covered with assets and creatives.
We are closing this section with the final advice - always check, test, and improve your ad creatives.
Best practices for Google app campaigns
You can use numerous tactics and best practices with your Google app campaigns. Google documentation is sharing their suggestions, but once you get some experience running app campaigns, you will probably find additional elements that work the best for you.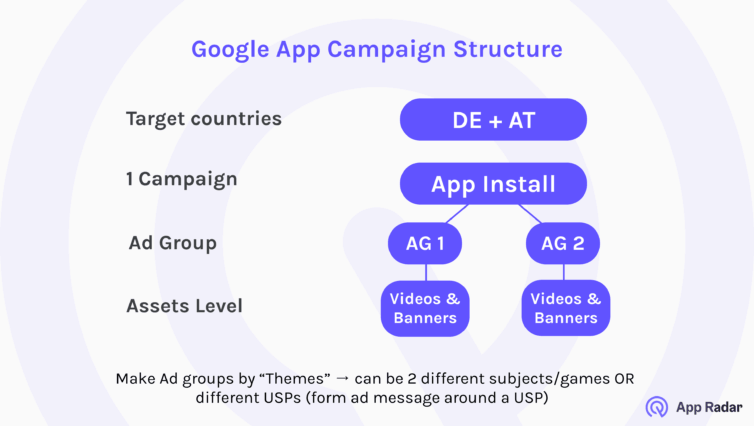 Every app campaign is different, so our first advice is to always look for opportunities to improve your main KPIs and campaign ROI. If something is working for you, try to understand what it is. If you fail to reach your goals, do a good analysis to find the root cause of why your app campaigns are not performing the way you wanted to.
Before starting with campaigns, the first and very important piece of advice is to link your Google Ads and Google Play accounts. You won't need to add a remarketing tag to show ads to your users. Also, you don't need to add conversion tracking code to track, e.g., purchases.
We often mention the importance of goals, and we can't emphasize how important it is to think about them. Think about your internal goals and align them with the app goals - do you want to drive installs, push user activity or build awareness for your app in the pre-registration phase? Each goal requires thinking about your target audience, budget, bidding strategies, target CPI, CPA, or CPpre.
The next step is to set up conversion tracking to track app installs, in-app actions, and pre-registrations. There are different ways you can do it that we describe in the app campaigns and conversion tracking article. If you haven't already, we will quickly mention that you have to use either Firebase; supported attribution partners, conversion tracking and remarketing API, or track conversions with Google Play.
Having a great set of assets is essential for Google app campaigns. The best advice we can give you is to upload as many assets as possible, that is, use the limits that Google Ads gives you. Uploading the maximum number of images, videos, and text headlines will allow Google's machine learning system to test and choose the highest-performing version for you. And as we mentioned before - focus on the asset quality. Clear and compelling texts, engaging and powerful videos focused on the first 5-10 seconds, and high-quality images.
Depending on the focus of your campaign, ensure that you align the messaging. For instance, if you have a news app and your campaign is optimizing for install volume, use something like "Never miss the important news."
And if your campaign is optimizing towards in-app actions, you might want to use a CTA like" Sign up for free today and get a 20% discount".
Always have your goals in mind and focus on metrics that matter to you. The budget and bids you set need to reflect those goals. You will have to increase your bids and budget if you want to get more conversions and vice versa, decrease your target bid to get more ROI. Note that if your conversions happen on average, e.g., 20 days after users click on your ads, you will want to wait at least 20 days before evaluating your campaigns.
Work on systematically optimizing your campaigns. Google's machine learning system needs to learn first to get the best results. The more conversion data Google Ads collects, the better the results you can expect. Also, if you are going for app installs, don't make too big changes to your CPI bids - this might confuse Google and deliver worse results. Our recommendation is to increase bids incrementally and review the results step-by-step.
Finally, remember that different campaign types have different audiences. Google's algorithm can find differences in people likely to perform in-app actions vs. those that will only install your app. If you want to switch your campaign focus from installs to in-app actions, don't use the same audience for that. Start a new app campaign that focuses on your new goal with a new audience type.
Closing thoughts on Google app campaigns
Finding what works best for your app campaigns won't come overnight. Be ambitious, but also be patient.
Start by understanding the type of app campaigns you can use and how they can help you with your business and marketing goals. If you are starting, app install campaigns are the best choice. If you have a solid user base and want to manage and monetize your app, go for the app campaigns for engagement. And if you are launching a new app that you want to test with a limited customer base in some countries, go for the app campaigns for pre-registration.
Whatever the campaign type you choose, you will need to comply with Google Ads policies and best practices if you want to get the ROI you expect. Conversion tracking is a must and will require some in-house resources to set it up properly. Creative assets can make or break your campaign - high-quality assets will grab your audience's attention and increase your conversions. And following best practices will ensure that your app campaigns bring you value consistently.
If you need help with getting started or improving your existing campaigns, get in touch with App Radar's app marketing services team. We are working with big advertisers from all over the world, and we create and run successful campaigns daily.
Or, if you already have in-house teams that run app campaigns and are looking to combine app store optimization and paid user acquisition, check App Radar's app marketing tool.
Discover What App Users Want 10x faster with AI Review Summaries
Save time reading tons of reviews word by word. Get weekly or monthly reports per any app on a global scale.
Learn more