Apple introduced Custom Product Pages (or CPPs in short) in the App Store with the launch of iOS 15. Apple discontinued its Creative Set tests and CPPs were the replacement feature that app publishers had been waiting for.
Custom Product Pages allow you to create similar versions of your default App Store product page but with slightly different elements that highlight specific app content, features and elements.
The idea behind CPPs is to provide a consistent message and product page design between the traffic source and the landing page. As a result, the users will understand the message more clearly, and convert better, and app marketers will decrease user acquisition costs in App Store.
Let's dive in and check how you can use Custom Product Pages to optimize your app's user acquisition and improve the App Store user experience.
What are Custom Product Pages?
Custom Product Pages are different versions of your main product Page in the App Store. You can create up to 35 custom product pages per app with different app screenshots, app preview videos, and iOS promotional text.
Every CPP you create will be different from your default product page and have a unique URL. That URL can be integrated with paid campaigns such as Apple Search Ads and the URL can be used as the landing page to target certain keywords.
Custom Product Pages can't be accessed organically but only through their specific URL included in the paid app campaigns or curated selections such as the Today tab, Games, and Apps.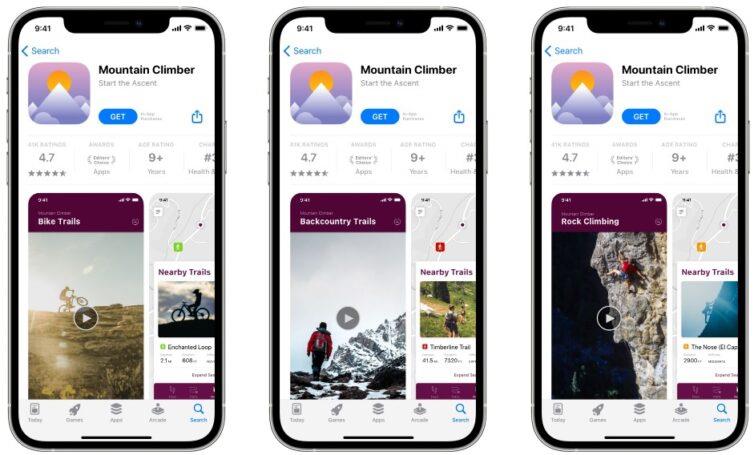 In a nutshell, CPP allows you to align your ads messages, creatives, and audiences with the corresponding landing page. If users click on the ad about fitness equipment for women, the landing page will contain content that matches that search intent.
App marketers and ASO professionals can use the custom URL to drive people from any traffic source that supports link embedding. This traffic source can be a website, email newsletter or anything similar.
Custom Product Pages provide lots of functionality, but to get the most out of them, you must stick to Apple's guidelines and align them with the traffic sources' requirements.
Sounds interesting? We think so too, so let's look at what typical issues CPPs can solve.
What problems do Custom Product Pages solve for app marketers?
Custom Product Pages solve two big challenges:
They match the target audience with a customized landing page
They allow app marketers to improve their acquisition costs and optimize the performance of a particular traffic source
Target audience match
Normally, your main product page in App Store attracts people from organic search, paid ads, referrals, and so on. The problem is that showing the same product page to users with different search intents is often not the optimal user journey.
So regardless of the traffic sources that users come from, they would always see the same product page. And that product page would always include the same screenshots, videos, and app descriptions, without any possibility of customization.
With Custom Product pages, you can have a copy of your main product page, but you can change screenshots, app preview videos and promotional text. The customization allows you to better match the traffic source with the landing page and be a better fit for your target audience.
Lower user acquisition costs
Custom Product Pages can cut down the acquisition costs because you serve the users the product page with a higher chance of converting. In terms of app metrics, this can mean either lower cost per install (CPI) or higher return on ad spend (ROAS).
As long Custom Product Pages support your KPIs and align with your marketing approach and bring you cost savings, they should be an integral part of your Apple app store optimization strategy.
In short - CPPs help you increase conversion rates in App Store and decrease acquisition costs, meaning that you optimize your budget.
How and when to use Custom Product Pages?
Now that we know which problems CPPs solve, let's check different usage scenarios. Any opportunity that allows you to show multiple messages to multiple audiences is a good use case for CPPs.
There are no limitations to how you can use Custom Product Pages, but typical use cases help you to:
Show new or different app features to users with different user intents. E.g., fitness apps might want to run one campaign for weight loss and another for muscle gain.
Target geographically different users that use the same App Store localization language, such as German-speaking audiences in Germany vs. those in Austria and Switzerland
Target specific demographics like running shoes for men vs. running shoes for women. Or you can target different age groups.
Show seasonal campaigns to only one audience segment, such as a certain sale campaign, special promotions, or timely offers to eligible users
Test new product features and show them to new or existing users
Measure the efficiency of offline campaigns, such as billboard QR codes that send users to a CPP
Keep consistency with your ad campaigns and show the same set of messages. This is useful when you want to push a certain character throughout the campaign. Or when you want to retarget only existing app users and show them your new features.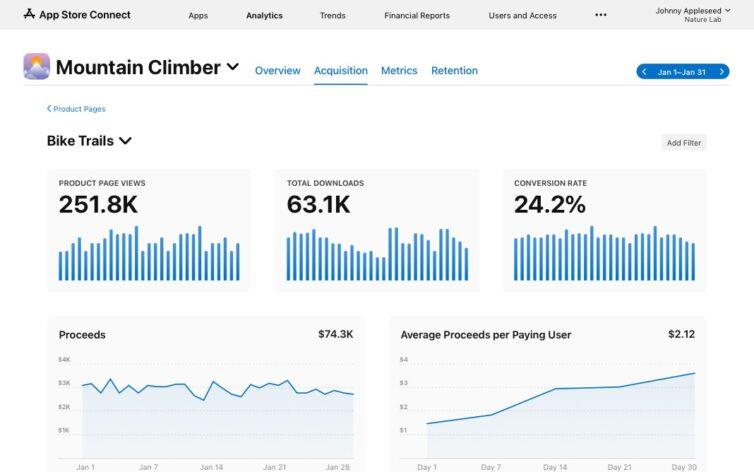 Whatever you communicate to a specific user group via ads or another traffic source, you should continue sharing those exact elements on your CPP. If you have an app for learning languages, you can show "Learn English" to people in one country and "Learn Spanish" to people in another country and create CPPs for each marketing campaign.
We have mentioned that CPPs are used with paid ads, but you are not limited to paid campaigns. Whenever the source of traffic allows you to add a custom URL, you can attach a CPP URL to it.
CPPs can also be used with new Apple Search Ads placement on the Today Tab, which is pretty expensive. Nevertheless, if your budget allows you to go after this placement and you want to target only specific aspects, then CPP will help you be more focused on your paid campaigns.
Differences between CPPs and PPOs
Custom Product Pages were launched together with Apple's Product Page Optimization feature, and some app publishers struggle to understand how exactly they are different. We have already talked about their differences, but let's quickly summarize the most important differences here:
Custom Product Pages are copies of your main product page focusing on different features or app content. You can access them only through their dedicated URL and integration with other traffic sources, which means they can't be accessed organically.
Product Page Optimizations are visible organically, but they also attract all traffic sources (paid, web, email). They are used primarily for A/B testing and to find the best product page version for all users. The traffic PPO receives splits between other testing variations (if you have more than one) and the main product page.
CPPs goals are to improve the effectiveness of specific traffic sources and push the conversion rate. PPO is used to A/B test creatives to optimize your main product page, not specific traffic sources.
While CPPs are not an A/B testing tool, they can be used to test ASO updates instead of PPO. However, in this case, you need to use CPPs for a limited time, monitor the progress closely, and stop them once you are satisfied with the result. This advanced method requires you to monitor and evaluate the results by yourself closely and based on your experience. CPPs don't come with statistical significance and reporting, unlike PPOs. Furthermore, to use CPPs for ASO updates-testing, you need to provide a budget to pay for the installs, which might be costly in some cases.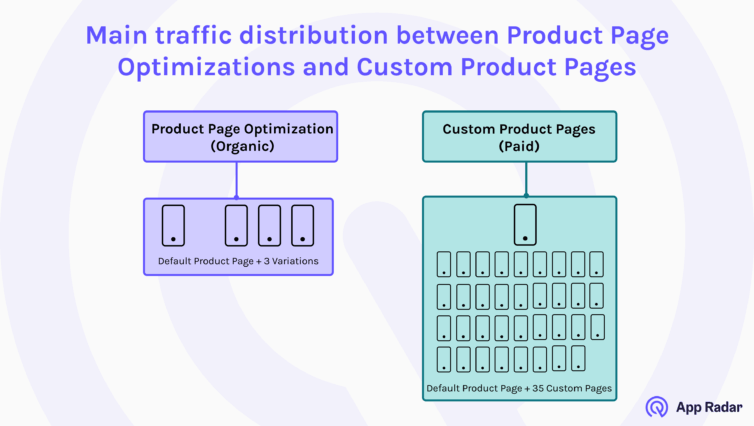 Launching a CPP campaign
You can launch a CPP campaign from the App Store Connect menu. The process is simple and similar to other App Store options. All you need to provide is the following:
CPP reference name
choose if you want to start from scratch or use the existing main product page as the template
Add your screenshots and/or preview video
Insert the promotional text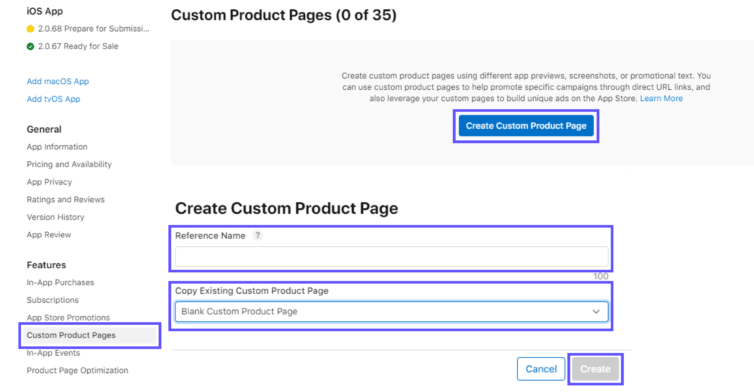 There are a few things to remember when planning a CPP campaign:
CPPs need to pass the Apple review. Generally, you should expect to wait 24 hours before Apple approves it and it goes live.
Custom Product Pages need to be submitted separately from the app submission.
Plan multiple submissions simultaneously if you want to launch a Custom Product Page, Product Page Optimization, and In-app Event. You should submit them all together to save time.
Custom Product Pages and Apple Search Ads usage
An important functionality of Custom Product Pages is that they can be used with Apple Search Ads. The integration of CPPs in Search Ads is at the ad group level.
As an app marketer doing paid campaigns, you can create ad variations that send the traffic to a Custom Product Page instead of your default product page. At the same time, you can mix CPP and specific devices, languages, and preview elements in the Search Ads interface.
Until recently, Apple Search Ads users struggled with scaling generic and non-branded keywords because often they weren't relevant enough to the main product page of an app. Now that Custom Product Pages integrate with Apple Ads, you can make the user funnel more relevant and match your ads to different user intents.
And because App Store users will find your ads relevant, the conversion rates from non-branded and generic keywords will increase. As a result, you can bid higher, get a higher impression share for those keyword types and scale your Apple Ads performance.
It is also important to note that thanks to the app previews when running Apple Ads, the users will see the app preview (app screenshots or preview video) from your Custom Product Page and not from your default product page. This will have a big impact on your conversion rates.
Finally, Apple Search Ads allow you to have the default ad that leads to your main product page and CPP ad in the same ad group. However, this works only if you target users who haven't updated to iOS 15 or later. The pre-iOS 15 users will see your default product page, while iOS 15 and later users will see your CPP. If this is the case, you can compare the performance of both ads.
Many app marketers want to use CPPs with Google app campaigns. This option is not available at the moment, but there are some indications that this could be available in the future. Currently, Google Play supports app campaigns and Custom Store Listings, but only for a limited number of app publishers.
CPP and Facebook Ads
Facebook ad integration was released in September 2022 and allowed the use of CPPs with Facebook ads for mobile apps. Since Facebook is a large ad network and massively used by performance managers and ASO teams, Custom Product Pages will be a vital component of mobile user acquisition.
We know from experience that marketing teams dedicate a significant share of their budgets to Facebook advertising. The CPP and Facebook integration will ensure app marketers collect more data and, similar to Apple Search Ads, decrease user acquisition costs on Facebook.
Some external app marketing agencies, including our App Radar services department, have already noted that the conversion rate from impressions to installs is significantly higher since including CPPs in their ad portfolio.
Benefits of Custom Product Pages for app store optimization
Apple Search Ads and its Custom Product Page feature can also help you to cause a bigger impact on your ASO strategy. Running campaigns in ASA can help you to push organic traffic, improving the visibility and presence of your app within the App Store.
So how do Custom Product Pages help with ASO? Well, if you run Apple Search Ads on keywords that lead users to your CPPs, there is a chance that you will improve your keywords conversion rates, get more impressions and impact your organics. Since your app is getting more downloads from certain keywords, their organic positions will likely increase.
Also, if you get more downloads, you can improve your category rankings, which will reflect in more Browse traffic (if your app gets featured or recommended to users outside of the search results in the App Store.).
Additionally, you can leverage the insights you receive from CPPs and use the best-performing keywords from your Apple Search Ads campaigns to improve your ASO performance, using these keywords in your metadata. If certain keywords seem to be relevant to your app and have the potential to bring you more downloads, why not include them in your app metadata and descriptions
Custom Product Pages vs Custom Store Listings
Custom Product Pages are often compared with Google Play's Custom Store Listings. CPPs had some functionalities that Custom Store Listings didn't have, but Google Play added new options in May 2022.
Custom Store Listings have caught up with the missing features, and now you can create up to 50 custom listings in Google Play, compared to 35 in App Store and Custom Product Pages.
Moreover, Custom Store Listings allow the user to customize the app's name, icon, descriptions, and creative assets, which would enable truly customizing the app's product page or store listing. CPPs don't allow you to customize metadata and icons, which is a big limitation.
Google Play also introduced a dedicated URL to Custom Store Listings, which means you can combine them with Google app campaigns. In-App Store, you typically combine Custom Product Pages with Apple ads.
Both features work similarly and come with dedicated analytics. Still, because Custom Store Listings offer more customization options, they seem to have an advantage over Custom Product Pages.
Also, Custom Store Listings allow you to target different markets within a language group. E.g., you can create a separate custom store listing for the German language in Austria and have the main store listing in German for Germany. The Austrian custom store listings will be visible to organic users that live in Austria (assuming they have that kind of setup on their smartphone). At the same time, Custom Product Pages can't target organic users in a specific geo-location in that way.
CPP challenges and limitations
No product feature is perfect and the same goes for Custom Product Pages. There are some limitations that the user community has noticed so far.
Custom Product Pages target only a small part of the traffic. If you want to use CPPs to test certain features, it is very challenging to do so because there is no way to know if a certain CPP performed better than others. Although CPPs aren't meant to be used for A/B testing, some people will use them to overcome the challenges of Product Page Optimizations. So if you want to use CPPs for A/B testing, you need to set them up properly and monitor their progress actively.
Custom Product Pages are limited to which things you can customize. It is nice to adapt app screenshots, videos, and promotional text. Still, it would be much better to customize metadata and app icons since they also play a big role in conversion rate optimization.
CPPs still can't be used with Google app campaigns. Although this functionality depends on Google Play, in late 2022, it is still impossible to combine CPPs and Google Ads. However, we expect this to change in the future.
The review process can take some time. Similar to Product Page Optimization, all new CPPs have to go through a review process, which can be annoying.
Potential limitations could also include cannibalization with external traffic and metrics reported by App Store Analytics and external platforms since Apple implements different privacy and tracking settings.
Overall, the CPPs limitations are not something that should prevent you from using them regularly. Nevertheless, it is important to understand when and how to use them.
Things to remember about Custom Product Pages
Custom Product Pages are a great way to appeal to different audiences and adapt your creatives to various traffic sources. It is an important feature that app publishers will use mostly to optimize their Apple Search Ads, Facebook Ads and other paid campaign types.
While CPPs are not limited to paid campaigns, most app marketers will likely use them to optimize their paid user funnels.
We still have to wait and see if Google Ads will become compatible with Custom Product Pages, but CPPs will likely be consistent with the most important ad networks sooner or later.
So how do you get the most out of CPP opportunities? Add them to your ASO and paid strategies mix and start testing them. Because we know that it takes some time to find a model that works the best for your app, we suggest you get in touch with App Radar's app marketing team and talk to us to bring you the highest return for your investment.