LiveOps is another tactic that can help app marketers improve their app growth by getting more brand exposure across the Play Store. According to Google Play, the LiveOps feature will allow app publishers to push in-app events, offers, and big releases to different user groups from different countries. As a result, the app marketers will "improve their engagement, monetization and lifetime value".
LiveOps was in beta until recently, but registration was closed when writing this article. We expect that Google will soon release the new feature to all Play Store users, which means it is a perfect time to learn more about this new feature and how you can use it to grow your app.
What is Google Play LiveOps?
Google Play claims that "LiveOps is self-service merchandising units in the Play Store that surface limited-time events, offers, and major updates for your app or game". In a nutshell, Google Play LiveOps is Google Play's version of Apple's In-app events.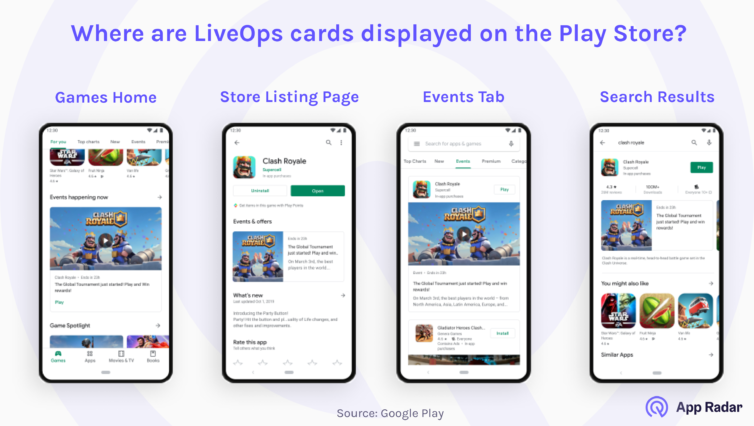 App marketers should mainly use LiveOps to improve user engagement outside of the app and work on retaining the users. Other goals could be special discounts, sales and promotional deals. Google Play can show them to current and new potential app users.
Where is LiveOps visible in Play Store?
LiveOps is still in beta, and currently, the feature is being used by a closed group of apps. Once it goes completely live, Google Play users can see and experience LiveOps across Play Store.
| | |
| --- | --- |
| LiveOps location in Google Play | Geographical availability |
| Apps tab | Globally |
| Games tab | Globally |
| Events tab (under the Games tab) | Only available to Australia, Brazil, Canada, France, Germany, Hong Kong, India, Indonesia, Italy, Japan, Korea, Mexico, Russia, Taiwan, Turkey, UK, US |
| Search results | Globally |
| Store listing pages | Globally |
| Special Offers tab | Selected geographies |
Avaialbility of LiveOps features accross Google Play and across the world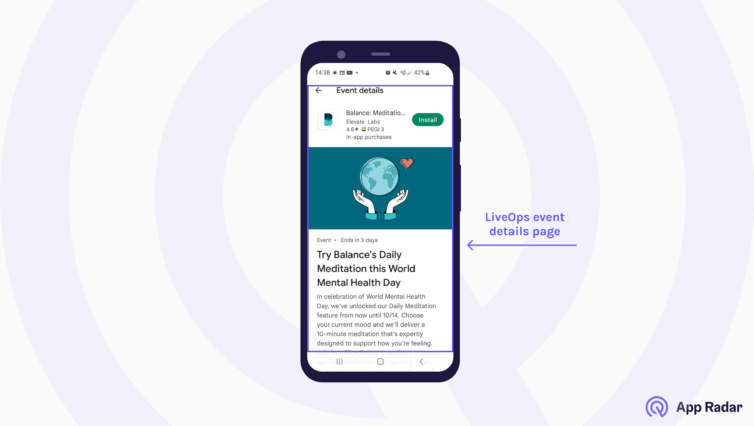 We have no doubts that LiveOps will be a very used feature and that many app marketers will experiment with it once it officially launches.
What types of LiveOps will be available?
Before using the LiveOps cards, you should understand the options available. If you want to get the most out of it, you must choose the correct category.
Currently, the following LiveOps cards are available:
Offers - discounted offers or even free items attractive to your target audience. You will need to choose this option if you offer giveaways, store-wide discounts, bundles, and first-time order discounts. Offers will have a time limitation of up to 28 days or indefinitely for some users.
Events - this type of LiveOps car is time limited for the app or game events happening at a particular time. The main requirement is that no offer should be attached to the Event card, and a time limitation of the event is required.
Major update - targets significant new features and announcements for a new piece of content like TV series, movies and game releases. Major updates will be limited for a maximum of one week and can be tied to the release of a new in-app purchase.
In addition, there are two more LiveOps cards available only for Games:
Crossover - includes a crossover between games and IP collaboration events. Again, you should choose the Offers tab if it contains any special offers.
Pre-registration announcements serve users who have already pre-registered for a game. In a case like this, the announcement will show new content, game demo, milestone rewards and release information to the pre-registered users.
Who should you target with LiveOps?
Now that you have a basic understanding of how to use LiveOps, we can start thinking about different possibilities and how you can improve user engagement and your Google Play Store optimization.
For a start, Google Play can show LiveOps cards to users that already have installed an app that uses the LiveOps feature. But it can also be shown to users that already have installed your app.
Users that don't have installed an app that uses LiveOps cards
Once non-existing users land on the store listing page of an app that uses the LiveOps feature, they will see a typical overview with general information.
However, once those users scroll down, the LiveOps card will be visible above the "Rate this app" part. So the LiveOps card doesn't interfere much with a standard user experience.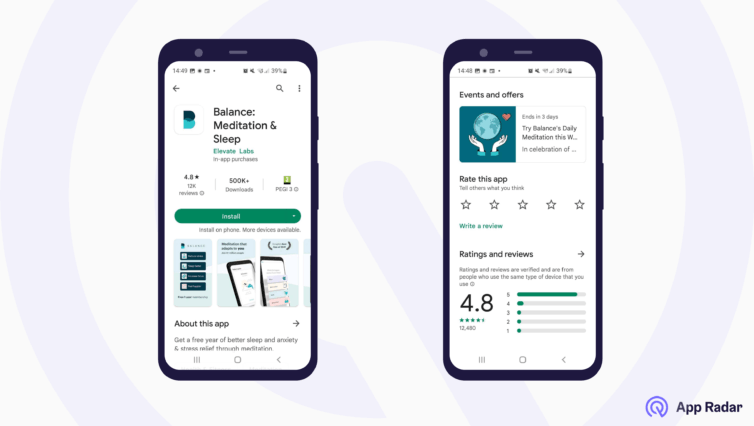 Users that have installed an app that uses LiveOps cards
If a user has the app installed on their device, the next time they visit the app store listing page, they will see the LiveOps card far above, pushing screenshots far below.
Existing users will be more exposed to the LiveOps offer or event. However, it questions whether a typical user would return to an app's store listing page if they already have the app installed. Although the LiveOps card is very present in this case, the effectiveness of this tactic seems to be limited.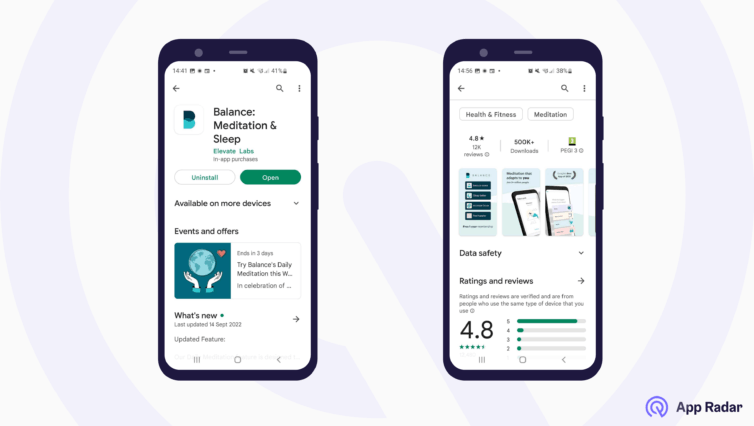 When should you use LiveOps?
There are many different occasions when you want to explore LiveOps, and the time will show which of them is the most effective. Based on our experience with Apple's In-app events, we would suggest considering the following use cases.
Special promotions, sales or any kind of discount opportunities
If one of your marketing tactics includes store promotions, regular discounts and other price tactics, LiveOps can be a great tool to get more exposure and increase sales. You can tie LiveOps to an anniversary, holiday, celebration, or special event. It doesn't matter if you manage a game or a regular app. LiveOps can be used for any kind of special promotion.
Push gaming tournaments and events
If your game is a part of online competitions, you can use LiveOps to attract game players that want to compete for a special prize or achievement. Use a LiveOps card to communicate clearly what the winner or participants of the tournament or event receive for joining in.
Challenge users to work on a specific task
You might run a game that is not really into live tournaments and events. In that case, you can offer a specific challenge and reward the most successful users with premium prizes. For instance, if you have a chess app, you could give free subscriptions to the first 100 players that successfully solve a chess challenge.
Offer loyalty rewards for premium users and improve app retention rate
Another potential use of LiveOps cards is offering premium and valuable rewards to your existing users. If you know that most of your app users use it for one month and uninstall it after that, you want to offer something that keeps them active — for example, a new feature or exclusive reward when they complete more gaming levels.
LiveOps requirements and recommendations
To start using LiveOps cards, you will need to provide some information about your Android app in Google Play Console and satisfy the requirements for visual assets.
Let's have a quick look at them.
Information for creating a LiveOps event
The things you will need to provide include the following:
Event name and type
Offer type - you can distinguish between an offer and other LiveOps cards. If you select the offer, you need to choose one offer type that includes discount, value add, free reward, subscription trial or any other type of offer.
Countries and regions that you target with your event
Start and end date times - a LiveOps event has a maximum of 4 weeks, but it can have a continuous duration (e.g. offers for new users) or be only one week long when you want to push major updates or pre-registration announcements.
Preview event - selected by default, but you can choose whether you want to show your LiveOps event before its official start date.
Priority - you will use this option when you want to prioritize between multiple LiveOps events.
User eligibility - you must choose whether you want to target all or new users only.
Text and graphical assets requirements - LiveOps vs Apple In-app events
Google Play will ask you to provide additional assets to your new LiveOps event. Since we now know that LiveOps is similar to Apple's In-app events, we can look at what we need to provide to Google Play and what to Apple's App Store.
The table below summarizes the essential requirements and compares them with App Store.
LiveOps information type
Requirement and guidelines
Google Play character requirements or image types for LiveOps
Apple App Store requirements for In-app events
Event name
Name of the event
No restrictions
Max. 30 characters
Tagline
Descriptive and specific to your event
Max. 80 characters
Max. 50 characters
Description
Should be as relevant and expressive as possible
Max. 500 characters
Max. 120 characters
Images
Relevant to the event and helps users to visualize the event
Primary: 1920x1080 px, 16:9 aspect ratio;
Square: 1080x1080 px, 1:1 aspect ratio
Event card: 1920x1080 px, 16:9 aspect ratio;
Event detail page: 1080x1920 px, 9:16 aspect ratio
Video
Not required, but highly recommended
YouTube video, but without monetization and ads
Supported, includes extensions: .mov, .m4v, .mp4, no longer than 30 seconds

Comparison of Google Play LiveOps and App Store's In-app events requirements
Since we are comparing Google Play and App Store, let's also look at the main differences between LiveOps and In-app events.
Event Detail
Google Play LiveOps
iOS In-App Events
Event type or badge
Offer, event, major update, pre-registration announcement, crossover
Challenge, competition, live event, major update, new season, special event
Number of events
Currently no maximum limit
No more than events at the same time
Maximum duration
- 7 days for major updates and pre-registrations
- 4 weeks (events, crossovers)
- unlimited (offers)
31 days maximum
General comparison of Google Play LiveOps and App Store's In-app events
Best practices for LiveOps events
Although the LiveOps feature is relatively new to Google Play, it makes sense to include it in your marketing strategy and make it an important part of your app marketing.
Here are some of the best practices we suggest for LiveOps events.
Integrate LiveOps with the marketing calendar and marketing events
LiveOps feature is perfect for complementing your traditional marketing campaigns and efforts. If your online business is up for a big update and runs special offers and events, LiveOps can be an additional channel where you can communicate all that and get more exposure. So check if LiveOps can extend your marketing activities with LiveOps.
Check competitors
If you are unsure how to set up LiveOps, you can always check what your competitors are doing. There is no need to over-engineer this step - simply take a quick look at your competitors' store listings, and if they run LiveOps, check how they are doing it. Or look at similar apps and try to understand how they approach it.
Implement the experience from Apple's In-app events
Apple launched In-app events before LiveOps with iOS 15. If you are also working on Apple's App Store optimization, try to understand the best practices from the App Store. For instance, look for apps that use In-app events and try to understand which messages iOS apps communicate through In-app events. This is not the same audience as Google Play, but you can still implement the fundamental principles.
Monitor performance and improve
LiveOps events have dedicated metrics to check your success with it. Like you monitor analytics from other channels, you must focus on some critical metrics for LiveOps:
Viewers - counts only cards where Open, Update or Install buttons are displayed.
Converters - users who click on the event's Open, Update, or Install button
Conversion rate - The percentage of converters compared with total viewers
Experiment with different offers
You might not have a lot of success with every LiveOps event. But that doesn't mean you should stop using it. Try to test and experiment with different offers to find the one that works and brings you the best results.
Test creatives
One of the most critical things with app store optimization is app creatives testing. So, just like you would test app screenshots and graphics, you should apply the same approach to LiveOps. Mix different creatives and check their performance - they can heavily influence your conversion rate from viewers to converters.
Be specific about what you offer and why
Finally, be specific about your offer or event. If you are providing discounts for certain goods and for a limited time only, make sure to communicate it clearly so that the event viewers quickly understand what it is all about.
Final words on the new LiveOps feature
Google Play will soon release LiveOps events to all app developers in Google Play, and we are looking forward to having another app growth tactic we can use. It is still early to say how popular and effective LiveOps will be, but we expect that many app marketers will use it.
Like other app store optimization tactics, LiveOps will need some time to grow and prove itself, but it is a good step toward optimizing user engagement. Start understanding how it works, familiarize yourself with Google Play guidelines and experiment with different events.
And if you are just starting with app store optimization, you will first have to work on your basics. We suggest looking at App Radar's app store optimization academy and preparing your app marketing strategy.