App Store Optimization Basics
How Often Should You Make App Updates?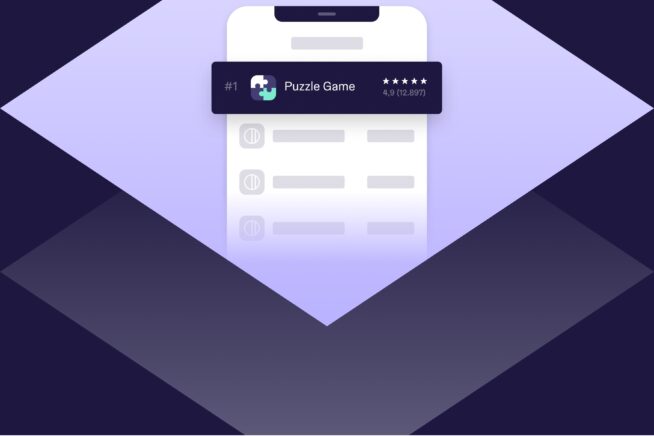 App Store Optimization is a continuous and iterative process. App store rankings and trending keywords are changing from day to day. To keep up with the fast-paced nature of the app industry, you have to be flexible and agile with your App Store Optimization strategy, releasing app updates frequently. In this lesson, you'll learn exactly how to do that.
Tracking Keyword Rankings in App Store and Google Play
Tracking your keyword rankings in the App Store and Google Play is simple. By now, you probably have an App Radar account and are already familiar with the Keyword Tracking feature. If you're new to App Radar, then go ahead and make a free account before moving forward in this lesson.
In the Keyword Tracking feature you'll see the keywords that you are tracking and their respective search volume and difficulty values. You'll also be able to see your app's current rank for that keyword word and changes to the rank position, if any. It's crucial to your App Store Optimization strategy that you keep a close eye on your keyword rankings. Small changes from day to day are normal to see. What you don't want are extremely volatile changes for drops from the top 10 positions.
Again, the app industry is fast moving, so keyword rankings move quickly. You can set up app ranking reports in App Radar that will be delivered to your inbox or Slack channel. That way you never miss a change and can react quickly if there was any negative impact.
Cycling Out Old Keywords and Implementing New Ones in App Updates
In past chapters, we mentioned that you should cycle out lower search volume keywords and replace them with higher search volume ones. Now the question is when should you do so.
We're going to split this up into 2 groups:
App Store Optimization Updates for New Apps
It's known that when your app first gets published in App Store and Google Play, their ranking algorithm gives your app a little boost. You'll get the chance here to rank for keywords that would usually be "out of your league" for being a new player. Do everything in your power to take advantage of the boost.
You'll want to launch your app using keywords that have a high search volume. Aim for anywhere between 30-60. It's unlikely that you'll start ranking for anything in the 80-90s range. Also, mind the difficulty values. At the beginning, due to the boost, you can also use higher difficulty keywords. Remember to track any keyword you've used in the Keyword Tracking feature.
After about 1-2 months the boost will no longer be active. Here's where some decision making comes in. Look at your keyword rankings. Is your app ranking for any of the initial keywords? If yes, move on to analyzing their search volume and difficulty values. When these are both high, above 30, keep them in your app store listing.
Additionally, it's always a good idea to double check the relevancy of the keywords by seeing which apps appear in the search results using the Live Search option.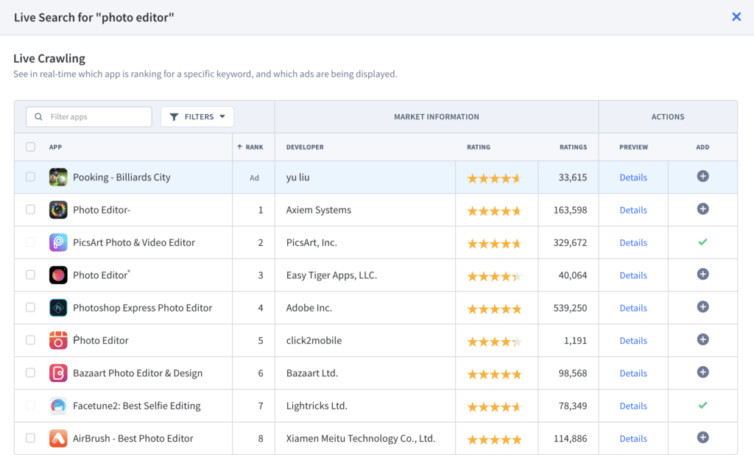 Now you'll want to remove any keywords with really high search volume and difficulty values that your app does not rank for. It'll be extremely challenging for a new app to rank for these from nothing. Instead, cycle in lower search volume and difficulty ones. You'll have a way better chance of ranking. Remember, it's better to rank high for many different keywords, than to rank a bit lower for 1 really good keyword.
The first few times you perform these updates, you might feel uncertain about your choices. But, don't worry! App Store Optimization requires a bit of trial and error. Once you get going, try to update your app once in one or two months.
App Store Optimization Updates for Existing Apps
So your app is already published in the App Store or Google Play. It's probably already ranking for some keywords. The first thing you should do is to check which keywords your app is ranking for.
The Keyword Rankings feature in App Radar shows you every keyword your app is already ranking for. You can also do the same for competitors to get new keyword ideas.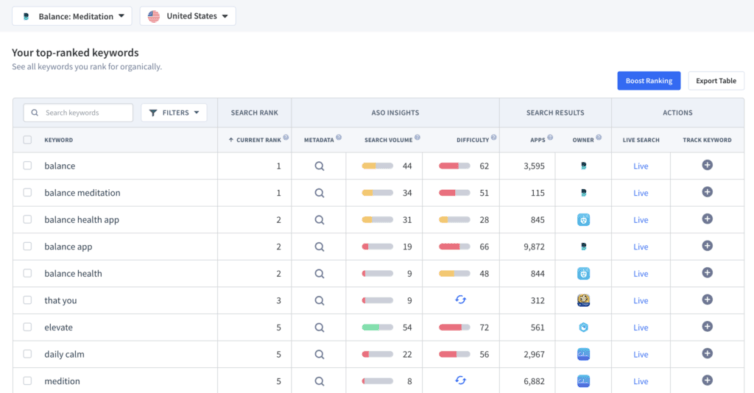 Okay, now you know which keywords your app is ranked for. The next step is to check if they are all good ones. Do this by analyzing the search volume and difficulty volumes. If your app is ranking for a lot of keywords, you have the flexibility to throw out any low search volume ones. That way you can cycle in more popular keywords.
Existing apps should continuously cycle out low search volume keywords and cycle in high search volume ones. And don't forget about double checking the relevancy. The keywords you use have to be relevant to your app.
Try for App Store Optimization updates every 1-2 months. This will keep you ahead of the competition. In addition, the App Store and Google Play function slightly differently. In general, ASO specialists suggest to do ASO updates for Google Play Store in 6 to 8 weeks and for Apple App Store in every 4 weeks.
Updating App Store Listing Visuals
App Icon
Your app icon should not change frequently. It's how your app is recognized. You don't want confuse people who are trying to find your app by looking for the icon they're used to.
App Screenshots
Trends in the app stores and app industry evolve rapidly, especially with all the technological advances that we have today. As a result, design trends also come and go just as rapidly. You never want to fall behind your competitors. It's better to stay a step ahead and that includes your app screenshots. You never want your app to look old or outdated. Ensuring that your app screenshots are designed to match societal trends and preferences will help you drive downloads and dominate the competition.
App Preview or Promo Video
The same goes for your app preview or promo video. There are just as many trends in video editing as there are in design. A preview video that looks like it's been made in the early 2000s or even 2010-2015 won't cut it. You have to work to remain on trend and updated. People will not download an app that seems outdated.
Making App Updates in App Radar
The easiest way to manage your app store listings and publish frequent updates is with App Radar. App Radar enables you to track app store rankings, find keywords, and implement them in your app store listing. You can also upload app screenshots and reply to user reviews. Any change that you make to your app store listing can be published directly to App Store Connect and Google Play Console.
Publish Updates to App Store and Google Play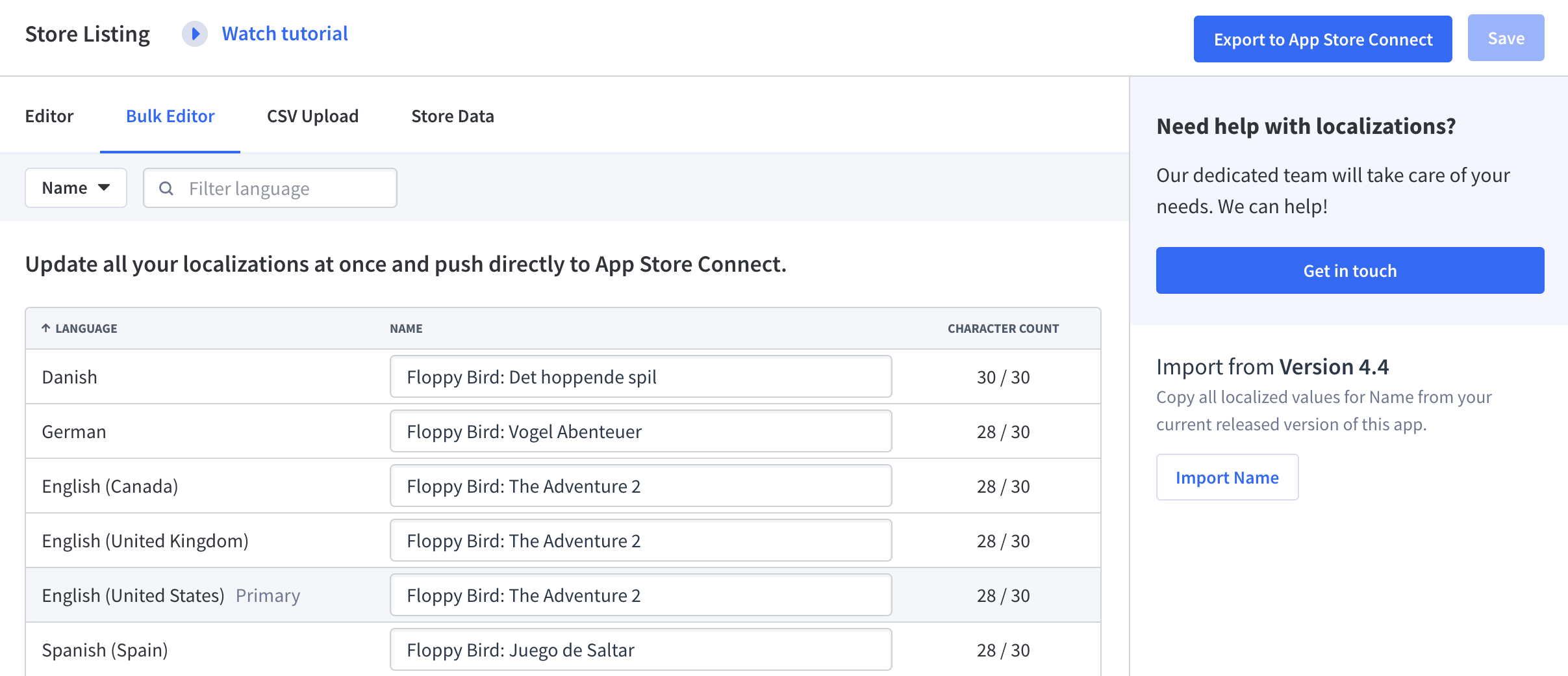 Make changes to your app store listing and localizations. Publish the changes from App Radar directly to App Store Connect and Google Play Console.
Create a Free Account