App Keyword Optimization
What is App Keyword Search Volume?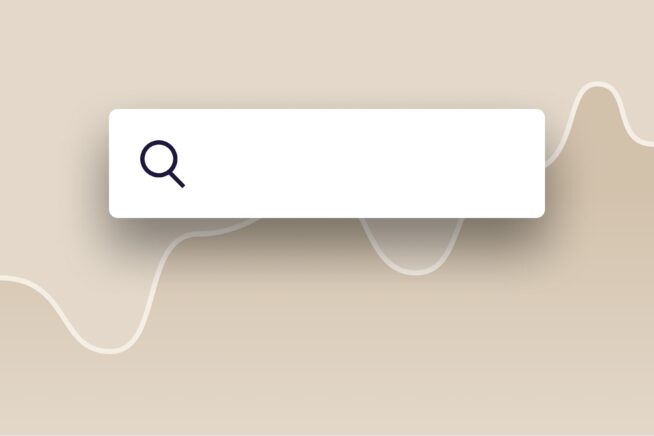 Your App Store Optimization (ASO) is affected by several factors. One of the main factors is your app keywords and their search volume. Let's get into it.
Why are Keywords Important?
Keywords are the search terms that people use to find new apps in the app stores. It's the words people type into the search bar when looking for an app. Keywords are critical to your App Store Optimization strategy because you want to rank high for the right keywords. That way people who are trying to find a specific type of app, find yours.
Keyword Search Volume is Even More Important
So yes, keywords are important. But what actually makes a big difference in your app's growth and app store visibility is your chosen keywords' search volumes.
What is Keyword Search Volume?
Keyword search volume shows you how many people are searching for that keyword. In other words, it's how popular the keyword is among mobile users. In App Radar, you can see this value for all of your tracked keywords.
If a keyword has a search volume of:
5, it has a negligible search volume. Basically, no one is searching for this term
100, it has a seriously high search volume. Basically, everyone is searching for this term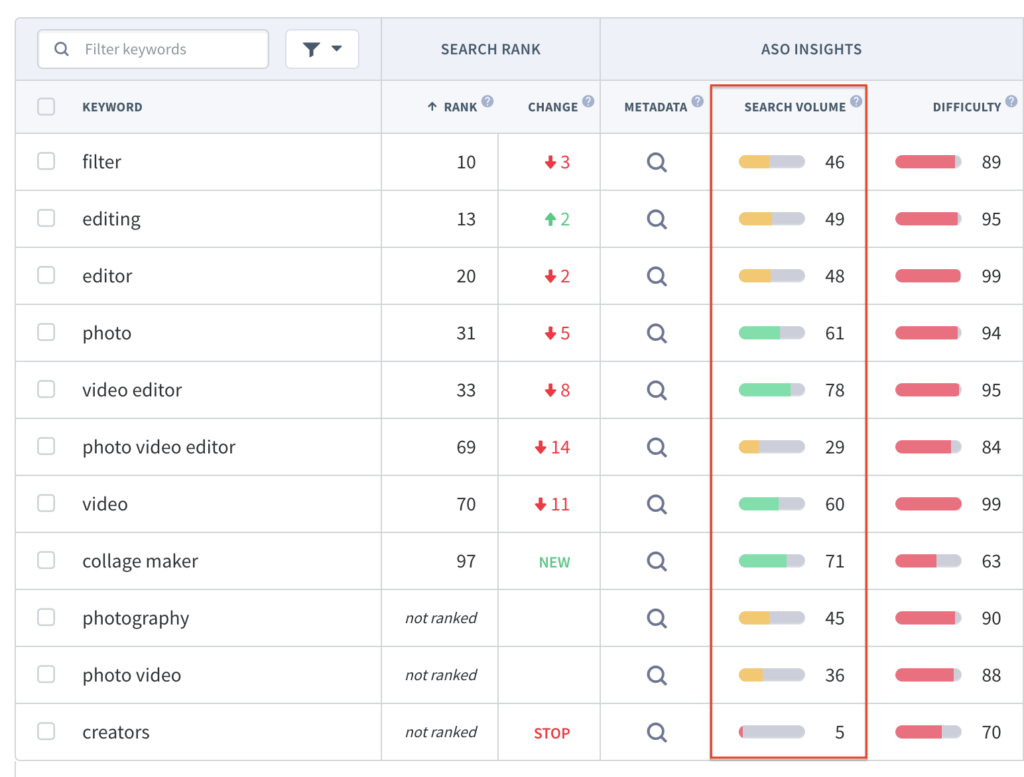 At App Radar, we rely on accurate and reliable data. That's why we pull keyword popularity values directly from Apple.
How Keyword Search Volume Affects Your App Store Optimization Strategy
So let's say you're choosing keywords to implement into your app store listing. Let's also say you have a travel app that allows your users to find, book, and check into hotels.
You start thinking about keyword ideas and come up with the following terms:
Hotel
Booking
Travel
Find hotels
Book hotels
Cheap hotels
Luxury hotels
Vacation
Travel planning
That's a good place to start. These keywords are directly related to your app and its functions. Remember, putting in irrelevant keywords will only harm your ASO and app store rank.
The next step is to track these keywords in App Radar. If you don't have an account, you can create one for free here.

You'll be able to see not only each keyword's search volume but also their difficulty and your app's rank for that keyword.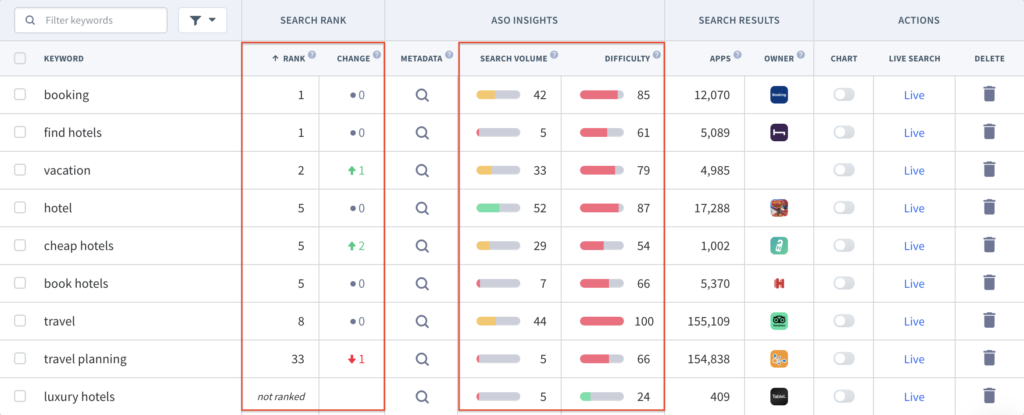 You can already see here that there are highly popular and highly unpopular keywords.
For example, "travel" has a search volume value of 44. That means many people are searching for this term in the app stores. The same goes for the term, "hotel", which has a search volume value of 52. These are the keywords you want to use.
However, you also see that the combination or long-tail keyword of "luxury hotels", is showing a search volume of only 5. That means nobody is really searching for this keyword in the app stores. This is a long-tail keyword that you do not want to use.
Using Only Higher Search Volume Keywords
The reason you don't want to use keywords with a search volume value of 5 is that these are the terms no one is searching for. That means even if your app is ranking high for these keywords, it won't get any impressions.
Implementing higher search volume keywords will ensure that your app ranks for and is seen by more app store visitors. When you're just at the beginning, meaning you have a new app, aim for achievable keywords. These may be terms with search volume 8-50 instead of 50-100.
Higher search volume keywords will also be more competitive. So start small and work your way up. You can use the Live Search feature in App Radar to see which apps are currently ranking for that keyword.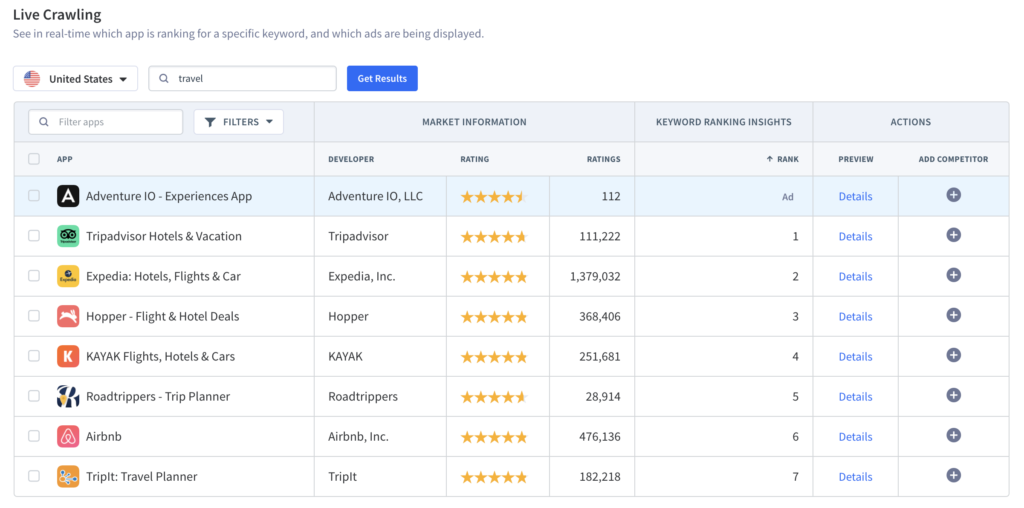 Another value that will give you a good signal of whether or not you'll rank for a keyword is the difficulty. We'll go over keyword difficulty in the next chapter.
See Keyword Search Volume
Find out if people are searching for your keywords in App Store and Google Play
Create a Free Account