Acquiring new mobile users requires various channels and tactics. However, you need to know that your app store listing is the last and most crucial step in convincing users to download your app or game.
A poorly-optimized product page wastes budget for all your marketing activities. At the same time, a well-optimized listing (also known as a product page) can significantly impact your game's visibility, conversion rates, and overall success. So, to ensure your bottom of the acquisition funnel is optimized, you need to create a high-performing app store listing.
In this article, we'll guide you through the 5 steps framework to create an effective app store listing for your mobile game.
What is an app store listing?
An app store listing refers to the presentation of a mobile app or game on an app store platform, such as the Apple App Store, Google Play Store, Huawei AppGallery, etc. It's the product page of your mobile app where potential users can discover, learn about, and ultimately decide whether to download an app on their mobile devices.
An app store listing typically includes the following elements:
The app icon is a small image that represents the app. It's the first visual users see in search results, the product page or home screens of their devices once the app is installed.
App name/title is the app's name, which should be concise and indicate the app's purpose or content.
The app description is a textual overview of the app's features, functionality, and benefits. It provides users with information about what the app does and why they should consider downloading it.
Screenshots and videos are visual media like screenshots, gameplay videos, and app previews that showcase the app's user interface, gameplay, and key features.
Ratings and reviews are user-generated ratings and reviews that provide social proof and feedback about the app's quality and performance.
Additional information includes the app's developer information, version number, release date, size, and compatibility with different devices and operating systems.
Updates are information about recent updates, bug fixes, and new features introduced in the app.
App store listings are a crucial marketing and promotional tool for app marketers. They are communicating the value and functionality of their apps to potential users.
Framework for creating high-performing app store listing
Just full-filling fields like app title, description and upload screenshots wouldn't be enough to optimise your app store listing and make it high-performing. Creating a high-performing product page includes the framework of the following steps:
Market research
App Store Search Optimization
App Store Conversion Rate Optimization
Analysis
Optimization & Scale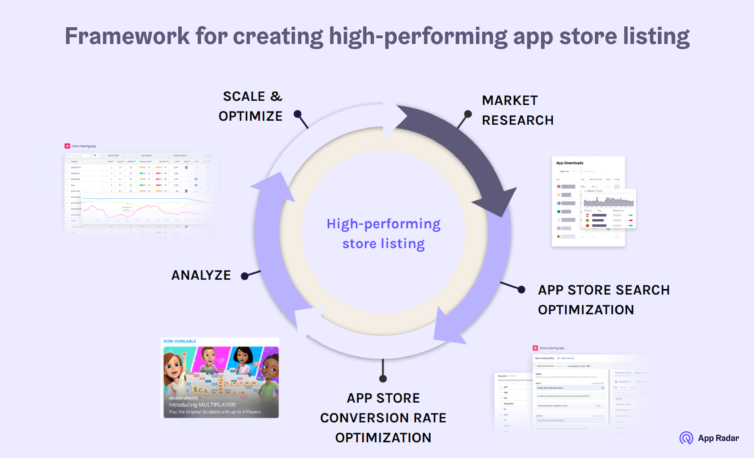 Let's dive deep into these steps and define the main goals and activities.
Research the market beforeoptimising your app store listing
Knowing your audience and market is essential to creating an app store listing that converts. It lets you talk with your game users in their language (tone, expressions, etc.) and helps identify your app market position across countries. Therefore, digging deeper into the market will help your app to stand out.
To be more specific, your activities at this stage of the framework should be around the following key points:
Identify your app market position across countries. Look at the app download numbers of your app competitors in different countries. It will help you to discover emerging players and competitive threats.
Analyze category rankings and uncover game trends. App Radar's Category Ranking feature will help you compare your app and your competitor's rankings in your main categories.
Unleash competitors' ASO & ad strategies by analyzing their metadata and app store visuals. You no longer need to review all your competitors manually; add apps to your competitor list and get an overview of their store listing data in one dashboard. Also, make sure to analyze listings of different locals.
Remember that your main goal is to identify and apply winning patterns to your app marketing strategy.
Optimize your app store listing with relevant keywords
As a next step, use relevant keywords on your store listing. By integrating keywords into your app metadata, your app will have a high chance of being discovered by mobile users.
You can start by building up a keyword backlog for your game category. Make sure that you identify focus keywords with a decent search volume. Moreover, keywords need to describe your game genre and theme in the best way, but don't start with too competitive keywords in the beginning.
Once you finish your keyword backlog, implement target keywords in your store listing with your next metadata update. Remember, app store algorithms need some time to see your changes. Therefore, don't do metadata updates too often and don't expect immediate results. Ideally, update your store listing metadata every 4 weeks.
To analyze later how implementing keywords in metadata performs, you need to set up keyword tracking. It is easily can be done with App Radar's Keyword Tracking tool.
Tip: You need a solid ASO foundation to maintain a stream of high-quality users across various channels.
Optimize your app store conversion rate
Once you are done with the textual elements of your metadata, it's time to make sure you use appealing creatives on your store listing. There are some general rules that you need to follow to create convertible creatives:
Let your screenshots show what your app does. Show your in-app screens and focus on the main features and benefits for the users.
Put the main features in the first 3-4 screenshots. Most people will notice the first screens and likely scroll through the rest. Be strategic about the key messages and start with the most impactful message.
The screenshots need to build a story or guide people through their jobs. If an app is about car sharing, it should show the users what happens before, during, and after sharing a ride.
Think about different target audiences. Do you want to focus on one market, one language, or multiple user groups? If you want to go global, you will need to localize your app for the maximum impact.
Point out essential keywords in the screenshot headlines by making them bold or in different colours.
Trust is vital for improving installs - add a trust-builder screenshot to one of the first three screenshots.
Also, the Apple App Store and Google Play Store have different creative sizes and guidelines. So make sure your app store listing creatives are aligned with App Store creatives guidelines and Play Store guidelines.
Besides following all the guidelines and general rules for creatives, the best way to find out what visuals work the best for your target audience is to do a systematic A/B testing of creative assets (Screenshots, Video, App Icon, Feature Graphic).
Your main goal with A/B testing is to identify high-performing concepts. In other words, which creatives bring the most clicks and installs. You can track your conversion rates before and after changes by setting up testing monitoring. As a result, you can find out what visual concepts convert potential users better and scale your app downloads.
Pro tip: use Custom Product Pages to provide a personalized user journey, improve conversion rates and lower acquisition costs. 
Analyzeapp store optimization
After all your ASO efforts, your app store listing might already look good and drive much more app downloads. However, analyzing what works and what doesn't is essential to keeping a high-performing app store listing.
Remember, if you can't measure it, you can't improve it. To make sure you evaluate key results and build the basis for the next iteration, focus on the following key activities:
Monitor the ASO impact on keyword rankings, installs and conversion rates.
Include impact factors in your analysis (app health, ratings & reviews, app releases, etc.).
Use Google Play Benchmarks to evaluate your performance compared to peers.
Compare the performance across channels & understand the organic/paid correlation.
Create a standardized reporting structure.
The best way to ensure you constantly analyze your app store listing performance is to schedule monthly app marketing reporting sessions with your team.
Optimize and scale your ASO strategy
Now that you've thoroughly analyzed your app store listing's performance, it's time to roll up your sleeves and optimize it for growth and relevant traffic. Here are some key activities you should consider:
Identify which ASO changes move the needle. Push relevant keyword rankings by changing the keyword density and/or position within your store listing page. Keep testing different creative concepts to understand better which high-performing keywords and messages work the best.
Start advertising on native channels (Apple Search Ads, Google App Campaigns) and explore its individual impacts.
Transfer learnings from your ads to your app store product page (ASO update). You can adjust keywords, messages and creatives based on findings from your text ads (what drove clicks and conversions).
Conquer new markets by identifying which countries have the highest potential (based on market fit, revenue, etc.). After that, localize your whole app store listing & in-app experience for those countries.
Leverage (new) store features. App stores offer different possibilities to feature apps and customize user journeys. For instance, you can create a customized user journey through custom product pages on the Apple App Store or engage existing and new customers with in-app events (iOS)/ promotional content (Google Play).
By implementing these strategies, you'll be on your way to creating a high-performing app store listing that attracts users and drives meaningful growth for your mobile game.
Checklist and action steps for your app marketing strategy
App store listings are a crucial step in the mobile user acquisition funnel. Therefore, creating a well-optimized app store listing and constantly optimizing it is essential for attracting new users and increasing downloads. Remember that it is not a one-time task. App store listing needs to be updated regularly to scale your app growth.
Here are summarized action steps that can help you create a high-performing app store listing:
Reverse engineer competitor performance:

Put weekly blockers to your calendar to research trends in the app market. Present one app case study per week to your team. Learn from the best examples.

Put App Store Optimization as a priority of your app marketing efforts:

Update your store listing metadata every 4 weeks.

Optimize conversion rates through regular creatives testing:

Set up an A/B testing plan for the next 3 months.

Create a standardized App Marketing Reporting:

Use benchmarks for KPI goal setting.
Schedule a monthly report sessions with your team.

Optimize & scale your app marketing strategy:

Do more of what is working well & analyze why things aren't working. Try to find ways to make them work or skip it.
Scale through a combination of organic & paid user acquisition, leveraging localization & new store features.
Also, remember that you can always reach out to App Radar's services team to get support with creating your high-performing app store listing.
Need Help Growing Your Apps?
Get in touch with our app marketing growth team to discuss the right solutions for your mobile app business
Contact Us Today