The right plan for your app growth
Get started with App Radar today and enjoy a 7-day free trial with no charges during this period.

Available payment methods



Pay monthly
Pay annually
2 months for free
If you're unable to use a credit card for our services, no worries! Just contact our customer success team and they'll set you up with a free trial.
We also offer a free plan for those starting out with App Store Optimization.
It includes 1 user access to the tool, 2 competitor apps, 20 keywords & monthly replies.
Customers worldwide trust us





More Features
Features

20

750

3000

8000

20

150

500

1000

2

50

500

1000

1

3

5

10

APP STORE PERFORMANCE
(Metrics for Google Play Store, Apple App Store for all countries)

Performance Dashboard

(Overview of main KPIs)

App Health

(Incl. crash rate, uninstalls)

App Metrics

(Compare store listing impressions, views, installs across countries and sources)

App Store Performance Report

(Incl. app metrics and keyword ranking movements)

Conversion Rate Analysis

(Incl. sources, countries and update history)

ADS PERFORMANCE
(Metrics for Google App Campaigns & Apple Search Ads for all countries)

Ads Dashboard

(Compare ad impressions, clicks, conversions, ad spend, CPC)

Correlation of organic and paid installs

Conversion rate analysis

(CTR and conversions rates across all active campaigns by channels and countries)

Ad Copy Generator

(AI-powered ad copy suggestions for Google & Meta Ads)

Use AI-powered Ad Copy Generator to write high-converting ad copies for Google App Campaigns & Meta Ads.

Ad Performance Report

(Incl. ads performance and organic/paid correlation)

COMPETITOR AND MARKET DATA

Competitor Category Rankings

Compare your and your competitor's rankings in your main categories.

Competitor Suggestions

(Powered by AI)

Competitor Creatives for all countries

(Incl. app icon, screenshots, preview video, feature graphic for Apple App Store, Google Play and downloading them in bulk)

Featurings

(Incl. competitors and alerts for all countries)

Quickly see when and where your app has been featured in the App Store.

Competitor Comparison

(Incl. their rankings for keywords)

Competitor's Metadata

Analyze competitor's store listing metadata to get inspiration for your metadata optimization. See competitor's keywords and their density in the app description.

Competitor Metadata Updates

(Use our App Timeline to see their update history)

Competitor Download Estimates

(App & Developer Downloads for Google Play Store)

Compare download numbers of any app

Download Trends

(Discover the most downloaded apps and games per category)

KEYWORDS DATA

Keyword Tracking Dashboard

Keyword Finder - Autocomplete

Search Visibility Score

(Measure the real impact of ASO and know how your organic visibility compares to competitors.)

Keyword Rankings of My Apps

(Incl. historical data)

Keyword Rankings of Competitors

(Uncover which keywords competitors are ranking on and your app is not)

Keyword Movements (Winners & Losers)

(Identify keywords with the biggest increase or decrease in rankings)

Tracking Suggestions

(Powered by AI)

Metadata Explorer

(Identify how often competitors use certain keywords in the metadata description)

Analyze your and your competitors' app store listings and keyword strategies

Keyword Auto-Translation

(Automatic English translation for any language displayed next to the original word)

Keywords Library

(Access to database of keywords for various countries with specific filtering options)

ADS INSIGHTS

Competitor Ads per Keyword

(Check the keywords your competitors are running ads on in Apple App Store and Google Play Store powered by our AI)

Ads Inspector

(Identify top bidders per keyword for every language)

Share of Voice

(Spot which competitors have highest ad spend per keyword)

Advertiser Score

(Discover which apps get the highest ad visibility per country)

ASO WORKFLOWS

ASO Score

(Automated evaluation of your store listing for different countries)

ASO Recommendations

(Actionable suggestions for your store listing improvements)

Store Listing Editor

(Update metadata & create new iOS versions without logging into Google Play Console, App Store Connect)

ASO Updates

(Edit multiple store listings and put them live within the same patch)

Changelog

(History of metadata changes for your app)

CSV Upload

(Import metadata worksheet)

App Timeline

(Track your own and competitor ASO updates in a calendar view)

See updates done by you and your competitors. By clicking on the bubbles, you can see what has changed in that update.

REVIEW MANAGEMENT

AI Review Summaries

(Powered by AI)

Get a summary of the reviews your app and your competitors' apps are receiving.

Ratings Charts

(Historical data according to the plan)

Tagging reviews

(Easily categorize user feedback)

Pre-saved templates for replying to reviews

Customization of templates

REPORTS AND ALERTS

Daily Keyword Rankings Alerts

Slack Integration

Be notified in Slack about your daily keyword ranking, app metrics, new app reviews, and when your app will get featured in the App Store.

Featurings & Review Alerts

Google Ads Performance Report

Apple Search Ads Performance Report

CHANNEL INTEGRATIONS

Support & Service

Onboarding Call

(Personalized 45min call)

Personal Product Expert

(1x quarterly calls)

Dedicated Growth Manager

(1x monthly consulting call)

Create account
Start free trial
Start free trial
Start now
Frequently Asked Questions
Which payment methods do you accept?
You can pay with a credit card (VISA, Mastercard, and American Express) or with PayPal.
When do I get charged?
You will be charged at the beginning of your billing cycle (monthly or yearly). If you are in a trial, you will be charged at the end of your trial, unless you cancel your subscription within your trial period.
Do you charge VAT?
The prices shown on our website do not include VAT. If your business is located in Austria, we will charge 20% VAT. If you have an address in another EU country we will charge the local VAT, except you provide us with a valid VAT ID (reverse-charge system). For all non-EU countries, we do not charge VAT (reverse-charge applies).
What is the refund policy at App Radar?
App Radar does not provide refunds or credits for any partial months of use of the Tool. Exempt from this is if a Contractual Partner cancels their (billable) account within 24 hours after registration and requests the refund via email to
[email protected]
In this case, App Radar will transfer back payments of the Contractual Partner within 30 days.
Do you have a free trial?
Yes, of course! We completely understand that you want to check the functionality of our tool and the quality of the data. Therefore, you can start a 7-day free trial of any plan. Be aware that before you can start a trial, your billing information needs to be entered and verified. Afterward, your 7-day free trial will begin right away. If you forgot to cancel your trial by the 7th day, your chosen payment method will be automatically charged.
Can I pause my account?
It is not possible to pause an account. You can downgrade it to a free plan, but then you will lose the additional slots you might have filled up in your paid plan.
Get in touch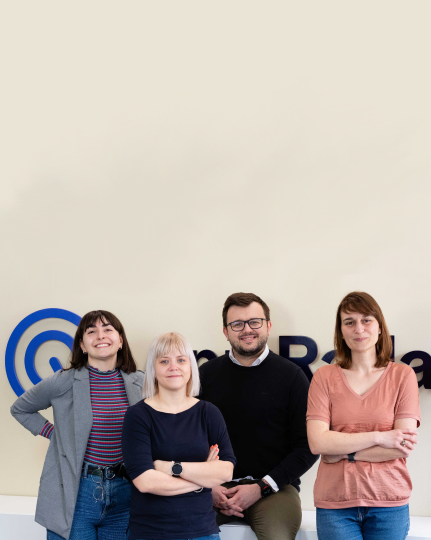 Get additional expertise beyond just a tool licence
Want someone experienced to analyze your app performance and run your ASO and ASA? Need more know-how for your team? There are many reasons to hire App Radar as your partner. Contact us to grow your app and mobile games smarter.
Learn more