One of the constant struggles for app store optimization professionals is ensuring that store listing visitors in Google Play find, install and keep their app. The first step in converting those visitors to users is localizing your store listing to target users based on their preferred language and location.
However, this can be challenging for apps that want to highlight elements on their app page specific to a particular country. For example, a food delivery app available in the German language may want to show different restaurants in its screenshots for users in Austria compared to users in Germany.
But can you personalize and adapt your main store listing for multiple audiences and segments in the same country? Yes, you can, by using Google Play's Custom store listings feature.
This quick and simple guide will show you what Custom store listings are, how they work and how you can personalize your main app features for a specific target market. This will help you to be more precise, relevant and appealing to your different audiences. And as a result, your app localization activities will be more effective and your Google Play store optimization will improve.
Let's dive in!
What are Custom Store Listings in Google Play?
Custom store listings is a Google Play feature that allows you to adapt your Android app store listing for specific user segments. Using this powerful feature, you can create a Custom store listing targeting particular audiences in selected countries.
Google offers developers the ability to create Custom store listings, which allow them to create alternative product pages for their app by uploading specific assets and text. This feature is designed to give marketers the ability to target users in specific countries or app install states with more accuracy, using specific offers and value propositions. For example, Custom store listings can target pre-registered users or users in particular countries. This feature aims to provide a more personalized and targeted experience for users.
The main point behind a Custom store listing is to show it to different users and so improve your app install conversion rate. Every Custom store listing also has a unique URL that you can use for, e.g. email or other campaigns.
Custom store listings upgrade and more powerful options in Google Play
Google Play allows you to create up to 50 Custom store listings, giving app marketers plenty of opportunities. Until May 2022, Google Play users could create only 5 Custom store listings and the significant change benefits apps with many localizations.
Google Play also introduced new features that enable app publishers to reach the target segments more quickly and efficiently. Two significant updates are worth mentioning:
Deep linking URL targeting. Each of your Custom store listings can come with a URL that you can share with your target market whenever and wherever you want. This option is similar to how Custom Product Pages in the App Store work.
Integration of Custom store listings with Google Ads campaign. With this option, you can navigate your Google ads users directly to your Custom store listing, which provides a wealth of opportunities. Instead of showing duplicate Google Play listings to all users, you can fine-tune your paid campaigns and match your Google app campaigns and the landing pages. Again, this feature is also similar to how Apple Search Ads can be used with Custom Store Pages in App Store.
Note: at the time of writing this article, the option to integrate Custom store listings with Google ads is only available to some app publishers. To read more about the feature in general, take a look at the official Google documentation on Custom store listings.
How do Custom Store listings work?
Google Play shows Custom store listings to users in a specific location that you choose. App publishers most often localize their apps to different languages. Users see the app version based on their device language and region preferences.
However, if you want to target countries that don't have their own language localization in Google Play but share the primary language with other countries, you will find this challenging.
For instance, the German-speaking audience in Switzerland will most likely have German as a default language on their Android app. There is no localization language for Switzerland in Google Play, which means that this German-speaking audience will see the same content that people in Germany see.
If you want to target and adapt your app screenshots and descriptions for Swiss residents, Custom store listings will solve your problem. In a nutshell, your Custom store listing page is an alternative store listing page visible only to users based on their store country or app install state.
Taking it back to our example from above - if you have a sales promotion that targets only Germany, you can have a Custom store listing with sales details that target only Germany. Your regular German localization will still be visible to German-speaking people in Switzerland, Austria and other countries.
The same model can be used to target Austrian-based people only. You can create a Custom store listing that only people in Austria see, while all other users that have German as their primary store country language and live in other countries will see the default German store listing.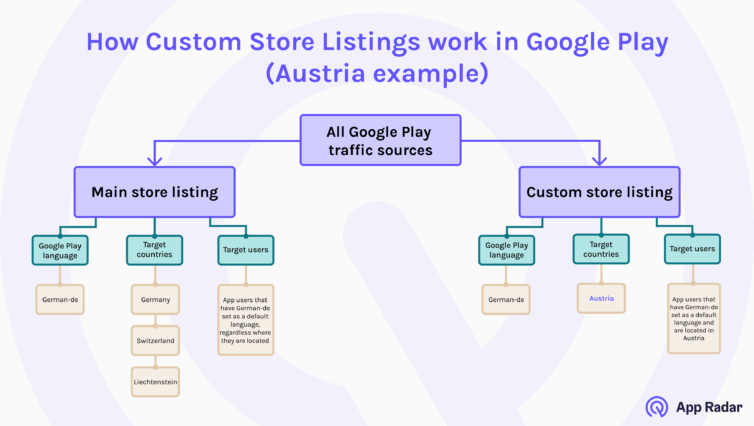 Which app elements can you customize?
Custom store listings allow you to customize every main app listing page element. That means that for each Custom store listing, you can add the following:
The things that you can't change and that will stay the same as they are with your main store listing are your app's category, contact details, and privacy policy.
Custom store listing benefits
The possibility to customize any element of the main store listing and to target users based on their location makes Custom store listing a unique feature.
The most significant benefit is that you can differentiate between countries and provide app users with a more targeted and personalized experience. Or simply said, you can tailor your app's listing for specific countries within the same locale.
For example, a marketer can create a Custom store listing for Argentina that is different from the one for Colombia, which is part of the "Spanish - Latin America" locale. This allows marketers to promote country-specific offers without the risk of those offers being visible to users in other countries.
Custom store listings can also target users in different install states. Currently, Google Play only allows developers to use Custom store listings to target countries or regions where an app is pre-registered. This will enable developers to maintain a different store listing in countries where the app has been released or is in closed testing.
Limitations
There are some limiting factors to Custom store listings, but we don't think they should prevent anyone from using this functionality.
One limitation is that you can't use multiple Custom store listing pages in one country. In cases when one country has a high priority with your app marketing efforts, you need to carefully decide how you will create your customized listing. If you have en-US as your primary default localization language in Google Play and want to create a Custom store listing for the USA only, you won't be able to add additional Custom store listings that target the USA.
Furthermore, if you target two countries with the same Custom store listing, you must provide the translation because Custom store listings are not automatically translated. For example, if you target Argentina and Brazil with one Custom store listing with Spanish as the default language and you don't provide Portuguese translation, the Portuguese audience will see the Spanish version. While this is not a limitation per se, it requires you to plan carefully and take some time to create visual assets and metadata for all countries you target.
Another potential limitation is that Custom store listings still don't offer all app publishers the possibility to target Google app campaigns. However, since Google announced this option officially, we expect it to be available to all app marketers in 2023.
How to create a Custom store listing in Google Play Console
Creating a Custom store listing is pretty simple. The first step is to log in to your Google Play console account and navigate to the "Custom store listings" tab under the "Store presence" section. Once you click on that tab, you will have a menu similar to your main store listing.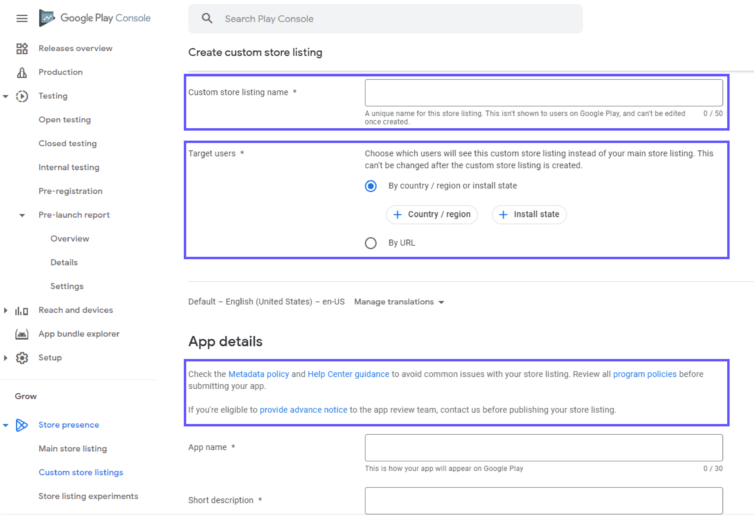 There are a couple of things you need to provide here.
A Custom store listing name can be anything you want, but we suggest picking a name that gives you enough information about your target country or context.
Target users - here, you can choose your target country, install state (you can select only pre-registered users if you choose this), or if you want to create a unique URL parameter for your listing.
App details, just like you would do for your main store listing - write app metadata and upload the app icon, mobile and tablet screenshots, feature graphic and optionally, app video and Chromebook screenshots
Filling out all this information takes time, so you should reserve some time to do it properly. Now is the time to think about localization elements that matter to your target audience:
Specific language that local audiences use
Keywords and terms that differentiate from the same speaking language in another country
Symbols, cultural differences and other visual elements that should be a part of customized screenshots
Good advice is to approach the setup of your Custom store listing just like you would approach the creation of your main store listing and other localization. That means paying attention to market and keyword research, audience specifics, app store optimization and finding the angle that resonates with local users in your customized listing targets.
Let's now look at different use cases and examples of Custom store listings.
Use cases and examples
As we mentioned, anytime you want to target a specific country and create a Custom store listing that only the audience in that country sees, you can and should use this feature.
So what kind of targeting combinations can you do? You can be creative with this, but you will find the following scenarios most common:
Use Custom store listings to target the same language users in one country. For instance, if you know that many people in the Philippines have English-US as their primary setup language on their Android device, you can create a Custom store listing for English-speaking people in the Philippines. And all other people globally with an en-US setting on their phone will see your main store listing.
Use Custom store listings to target multiple countries at the same time. For example, you want that all users that have Spanish-419 set globally see your main store listing, but you want to highlight specific features for Mexico and Brazil. In that case, you can choose Mexico and Brazil as your target countries and add specific assets and translations for the localizations in Mexico and Brazil, including Portuguese-BR and the default Spanish-419 (for Latin America). Now users in Mexico and Brazil that use either Spanish or Portuguese will see your customized store listing, and the rest of Latin America will see the main store listing.
The most straightforward use case is when you create a Custom store listing that can be accessed only through the specific URL. So every time you have a chance to send people to a custom URL, you use the one for your Custom store listing. There are no limits to how you can use this - any channel that allows link embedding can use this option.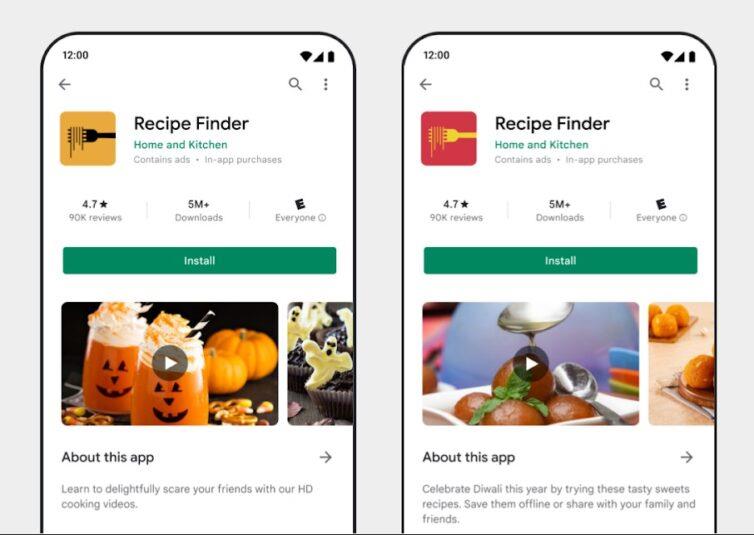 One important thing to note is that you can combine Custom store listings and Google Play Store listing experiments. This option is available if you want to do A/B tests on a specific segment, such as one country. For that to work, you must select your previously created Custom store listing in the Store listing experiments menu in Google Play Console.
Remember that if you want to run an A/B test targeting a Custom store listing only, you probably need to run that test longer than usual to get statistically significant results.
Custom store listings vs custom product pages
If you have been using Apple's Custom product pages before, you probably noticed that these two features are similar. However, they also have some differences, so let's quickly check how they compare.
Feature
Google Play Custom store listings
Apple's App Store Custom product pages
Maximum number of pages that can be created in one app
50
35
App elements that can be customized
- title
- short and long description
- icon
- feature graphic
- screenshots
- video
- screenshots
- video
- promotional text
Review time by app store
Up to one hour
Up to 24 hours
Traffic sources that can be targeted
All traffic sources - organic, paid and referral
Only paid traffic
Country specific targeting
Yes
Yes
Integration with paid channels
Yes, with Google app campaigns, but currently not available to all app publishers
Yes, with Apple Search Ads and Facebook Ads
Dedicated URL
Yes
Yes
Overall, Custom store listings give app marketers more options and flexibility to target specific traffic sources and countries than Custom product pages. While Apple's feature is valuable, we still miss the possibility of customizing all app elements in the store listing.
Get a reward for your enthusiastic education!
Use coupon 'STUDYBONUS' to get 30% OFF on any plan at App Radar's app growth platform for one whole month.
REDEEM CODE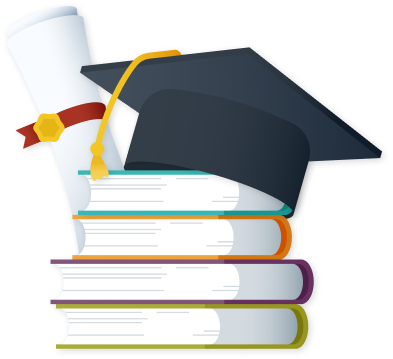 Are Custom store listings worth the time and effort?
We highly recommend Custom store listings to all app marketers that have their app listed in Google Play. And for Android apps that have many language localizations and many app users globally, Custom store listings can bring massive uplifts in organic traffic.
While they require careful planning and the creation of additional store listing elements, Custom store listings are the best way to show targeted messages to users in a specific market and language.
Although Custom store listings are powerful, they are not easy to manage and require that you either have a good in-house team or work with experienced partners. If you want to outsource the planning and implementation of Custom store listings to an external partner, we highly recommend contacting App Radar's app marketing agency. They have extensive experience with Google Play app store optimization and will help you get more app downloads and users.