App Store Optimization Basics
Improving App Ratings and Replying to User Reviews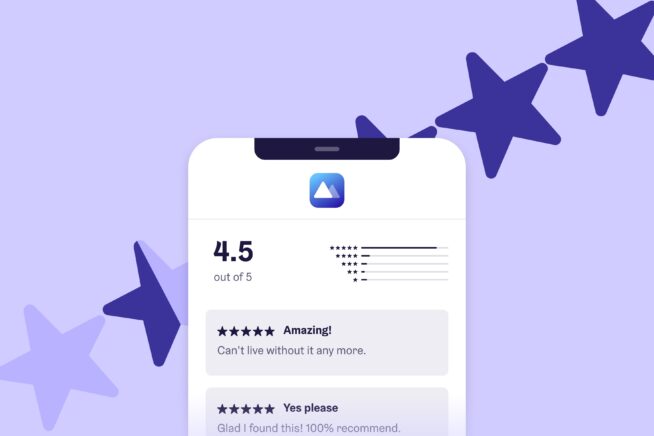 App ratings and reviews are vital to your app's success in Google Play and App Store. People use ratings and reviews to decide whether they should or should not download an app.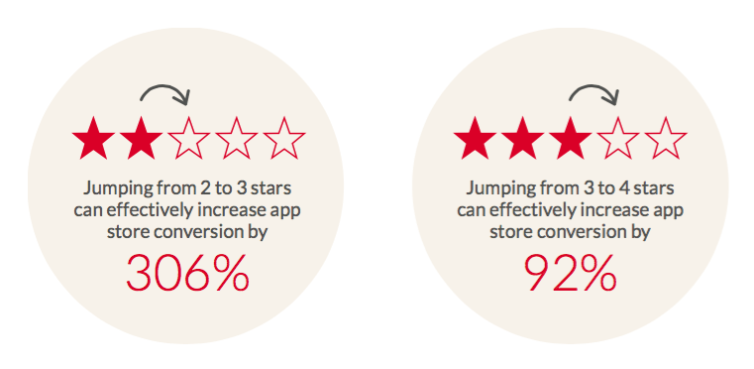 To make sure you're on the right path with your app growth, we've prepared a thorough guide to App Store and Google Play ratings and reviews. App ratings and reviews have a different impact on Google Play Store optimization and Apple App Store optimization. Read on to find out how you can leverage your app reviews for accelerated app growth.
Why App Ratings and Reviews Matter
App Ratings Affect People's Decision to Download Apps
App ratings and reviews matter a lot when it comes to user acquisition. They play a massive role in a person's decision to download an app. Apptentive research shows that mobile users won't even consider downloading an app that's rated lower than 3-stars. Moreover, 79% of people will read at least one review before they install an app.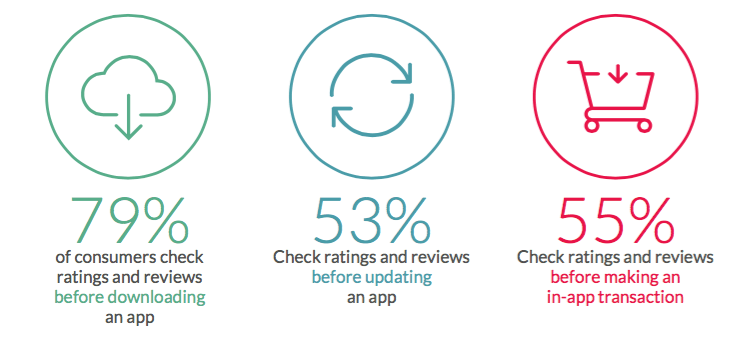 App Ratings and Reviews Influence App Store Rank
You need not only positive ratings and reviews, but you also need a large number of them. Ratings and reviews influence another important user acquisition factor: the Google Play and App Store ranking algorithm. That's right, your app rating and reviews largely affect your app store rank. Why?
Well, imagine that you are Google or Apple. You want to curate the best products for your customers. By highlighting a low-rated product or an infrequently rated one, you're telling your customers that you don't care about the quality of the products in your store. The Google Play and Apple Store algorithms think in this way. Getting a steady flow of positive ratings and reviews needs to be a big part of your App Store Optimization strategy. You'll rank higher, increase app store impressions, and convince more people to download your app.
Furthermore, your app has a better chance of being featured in Google Play and App Store when it has good ratings and reviews. The apps featured in the App Store editorial story, How to Work Out at Home" had a collective average of 83,000 ratings at 4.7 stars.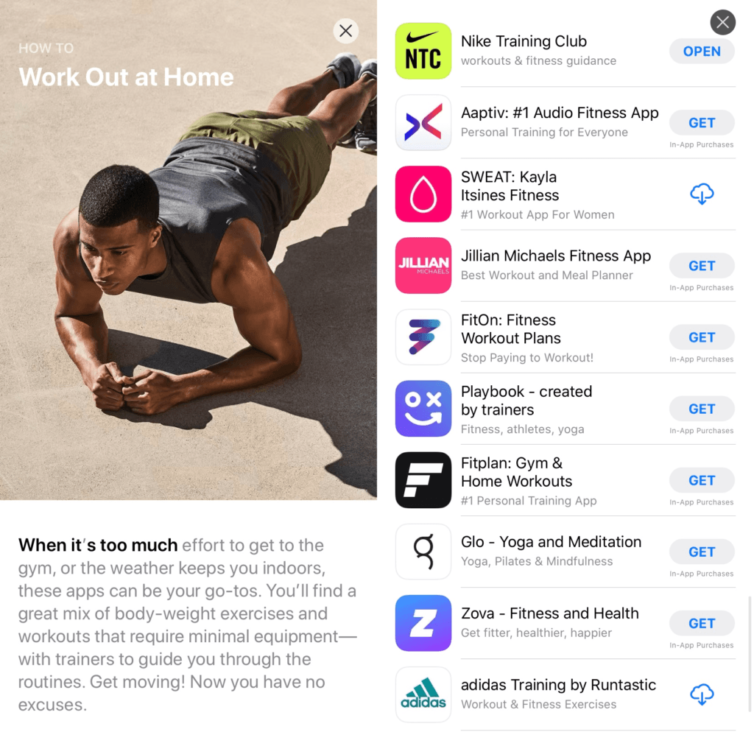 App Ratings and Reviews Contribute to Your App Branding
Another reason that app ratings and reviews are so important is they contribute significantly to your overall app branding. When your app has positive user feedback, new users will be able to trust your brand more quickly and with less friction. Your current users are providing social proof that reflects well on your app.
In addition, how you respond to your app reviews shows people the type of communication you prefer to use with your users. Is your tone friendly? Do you use specific phrases or even hashtags that match your app brand? All of this contributes to increasing brand awareness.
There's no right or wrong brand for your app. However, there is a right way to go about finding it. You should be asking questions like:
What problems does my app solve
What is our mission statement
Why do people prefer us over our competitors
What values do we stand for
Who is our target audience
These questions will lead you into establishing an app brand that has a recognizable tone and voice. You have the chance to strengthen this voice each time you reply to a review. Try using reply templates in App Radar to keep your responses consistent and on-brand.
Stay on Brand and Respond to User Reviews Faster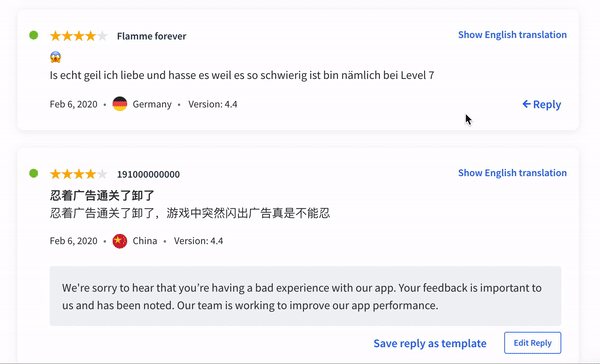 Create reply templates that match your app brand's tone of voice and overall branding.
Reply promptly to keep users happy.
Create a Free Account
Additionally, Google saw that developers who respond to their user reviews experience a +0.7 boost in their app rating.
How to Improve Your App Store Ratings?
Ask users to rate your app
Your Google Play or App Store star rating is made up of all the past ratings that your app has gotten. Naturally, the first step in improving your app store ratings is to get more of them. The more ratings you have, the less volatile your average star rating will be. In addition, apps with a large number of ratings rank higher in app stores.
The best way to get more ratings is just to ask your users. Send them a push notification or pop-up while they're engaging with your app. Be sure not to interrupt any of their activity or catch them at the wrong moment. Happy users are more likely to leave positive ratings.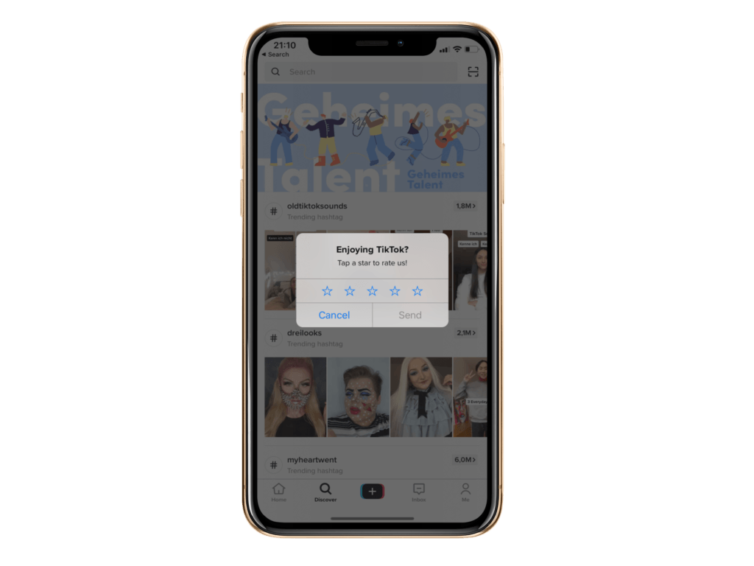 Release Frequent App updates
Your app ratings should reflect the improvements each time you release updates. You know that the changes you've made and the problems you've fixed are working when your app ratings increase or improve after an update.
Carefully track your app ratings. If they were to get worse or decrease in number following an update, you need to react fast. Read through your newest reviews to see what users didn't like about the latest update and work quickly to amend the issues. It's never too late to rescue your app store ratings.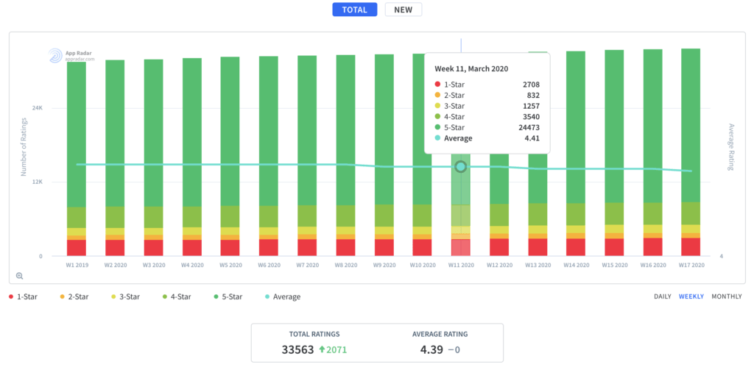 Google saw that developers who respond to their user reviews experience a +0.7 boost in their app rating. Also, users who get a developer response to their review tend to change their initially negative rating into a positive one.
Making Replying to App Reviews Simple
Sign up for App Radar
Create Free Account
Bad reviews and ratings can be disheartening for anyone who has put a lot of work into developing and publishing an app. That's one way to look at critical feedback. However, that outlook is not especially helpful when you're trying your best to improve and grow your app.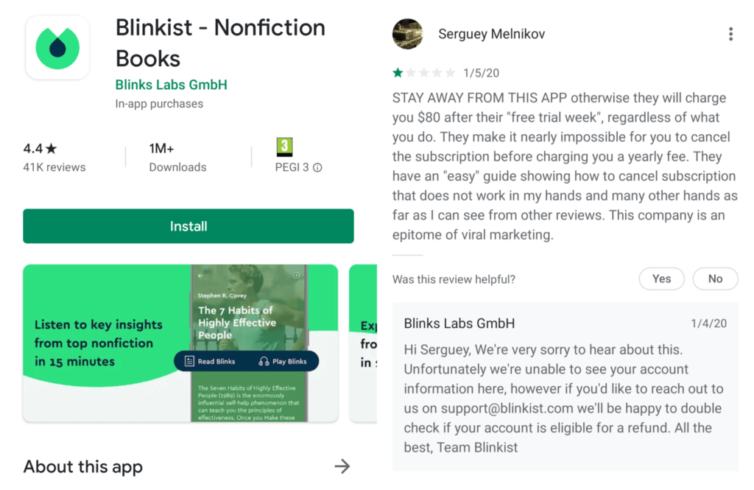 Note down what your users want to be improved and make these priority fixes for your next app update. Once you've released the new features and bug fixes, go back to your app reviews and let your users know that you've solved the problems they were facing. They are likely to appreciate your attentiveness and revise their report.
How to Leverage App Store Reviews?
Get feature ideas from users and find bugs faster
Getting user feedback for your app can be a challenging task. People either don't respond to your emails asking for feedback or are just sick and tired of feedback surveys. They are probably also not randomly stumbling on or purposefully heading to the feedback submission tab in the app. There are other ways to gather user feedback, one of which is app store reviews.
In your app reviews, you'll see that users, whether they're happy or unhappy with your app, will mention features that they like and ones that they don't. Furthermore, they'll also ask you to implement new functionalities. These feature wishes are precious to your app development roadmap. It guides your development in the direction that serves your audience.
Manage, Analyze, and Reply to App Store Reviews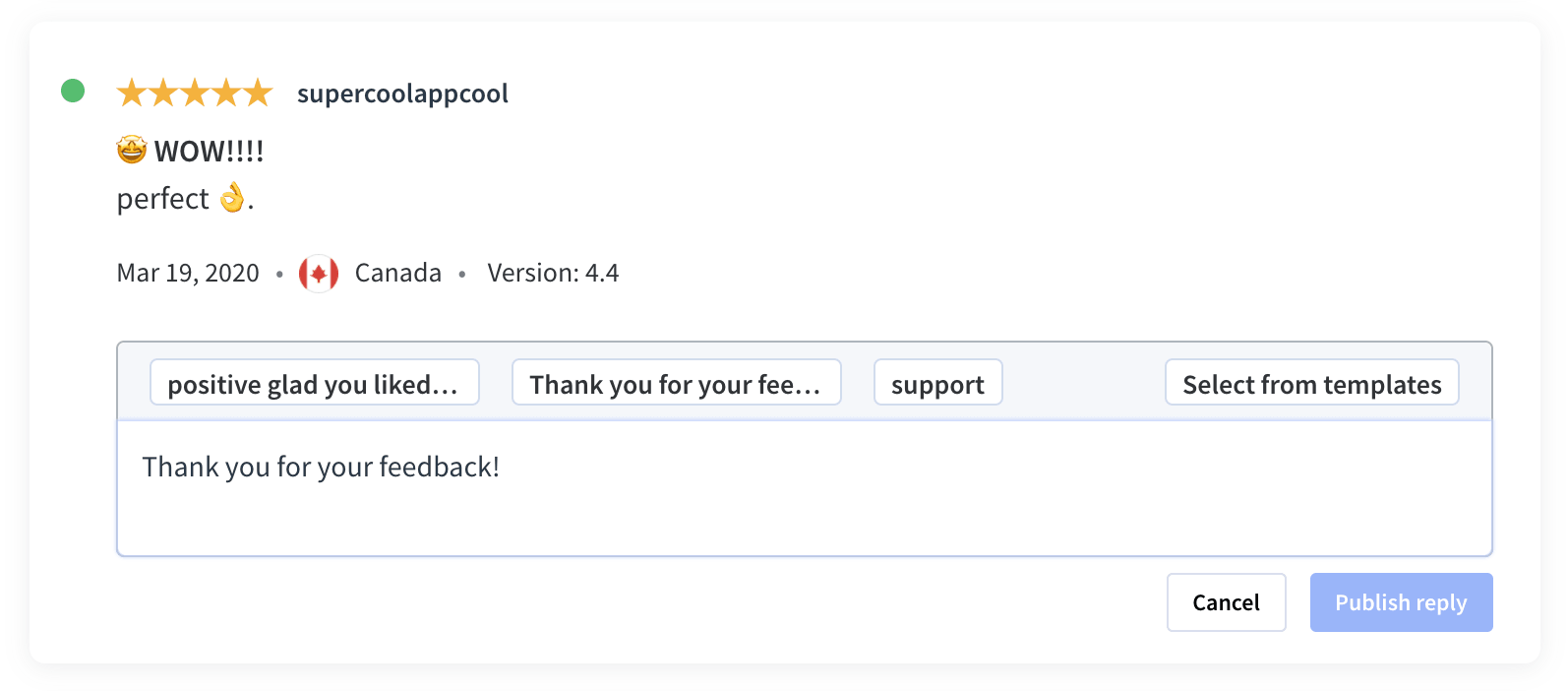 Easily reply to App Store reviews.
Respond even faster with reply templates.
Track how your star ratings changes over time
Create a Free Account
By analyzing your reviews and scanning for feature wishes, you prevent your team from wasting time developing a capability that users will end up hating or not using.
Notice how Icy Ropes was doing quite well last year. The users were enjoying the app. More recently, its players have been leaving extremely negative reviews, complaining about too many ads. Icy Ropes hasn't replied to any of the feedback. You instantly see that they moved from making a game their players loved to caring only about driving revenue.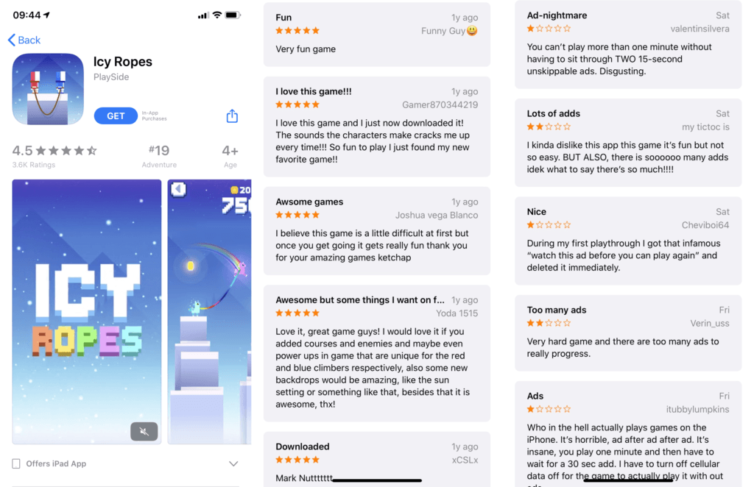 By not listening to its players, Icy Ropes has begun to lose its long-earned user base.
Listening to your users is the best way to produce an app they'll love.
Increase user engagement and gain new users
Your app reviews are the perfect place to have a 2-way conversation with your users. Start treating the space as such as you'll increase user engagement and gain new users.
People love knowing that they are being listened to and that their opinions matter. When you reply to their user review, you tell them that you are paying attention. You also reassure them that they are an essential part of your app and that their feedback is directly being applied to the development process.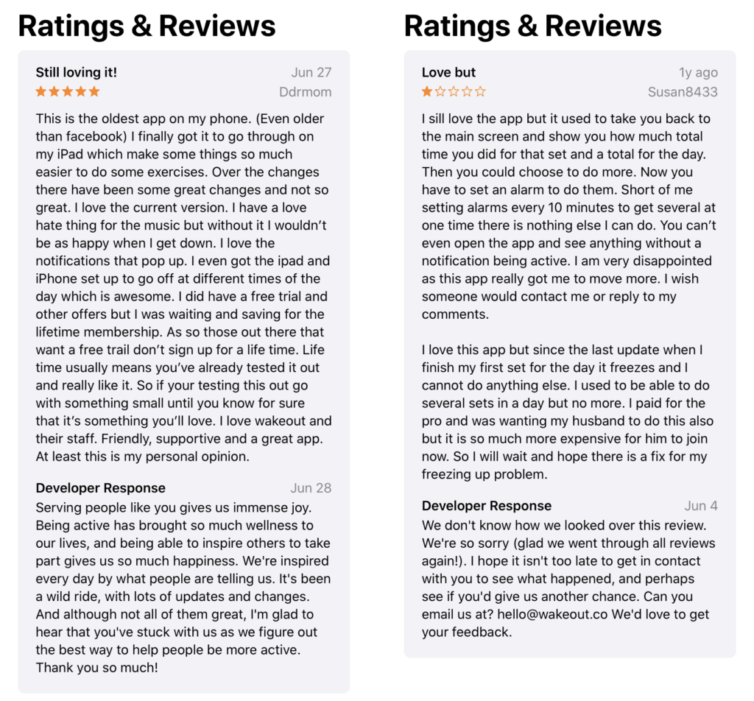 The more your users feel like they're a part of your app development journey, the more loyal they'll become.
Get featured in the app stores
Google and Apple feature apps that make them look good. After all their brand names are on the app stores. So the apps that they curate need to reflect well on their brands at the end of the day.
Both Google and Apple like to promote apps that have not only a large number of ratings and reviews but ones that are positive. In this way, they curate only the best of the best apps for their store visitors. No one wants to put a bad product on the shelf.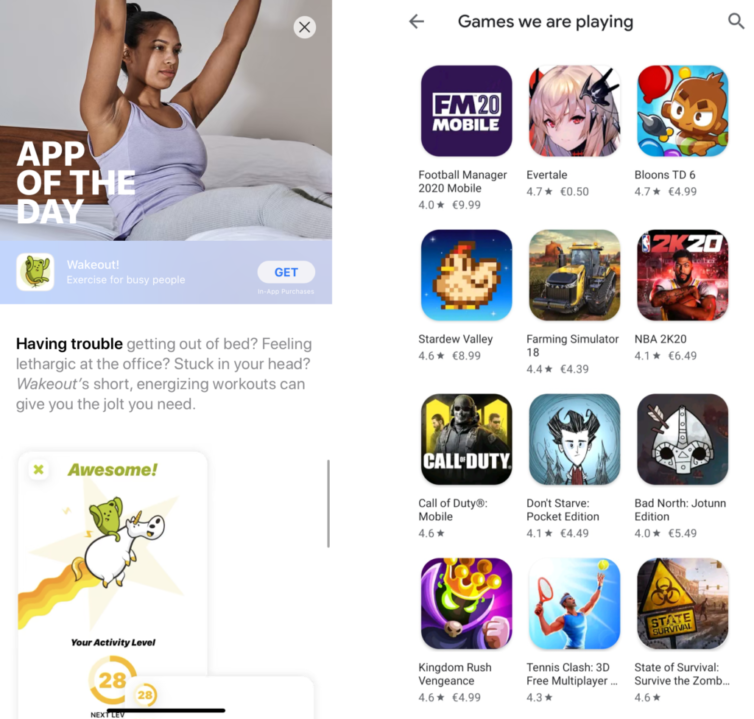 But there's good news for you. All of this means you can use your app store reviews to improve your chances of getting featured and, as a result, an exponential increase in app store impressions.
The goal is to increase the number of ratings and reviews while keeping user sentiment positive.
Find new app keywords and rank higher in the app stores
Believe it or not, app user reviews are a goldmine for keyword ideas. The aim of keyword optimization in ASO is to use search terms that people are using to search for your app. An effective keyword strategy doesn't rest purely on search volume and difficulty values; you also have to understand how your target audience behaves when they search in the app stores.
Your current users will use specific words and phrases to describe your app in the reviews. Examine reviews that come from users who are return users. These are people who say they come back to your app time and time again, they love your app, or they've recommended your app to their friends and family. Feedback along these lines signals that these users are entirely in your target audience.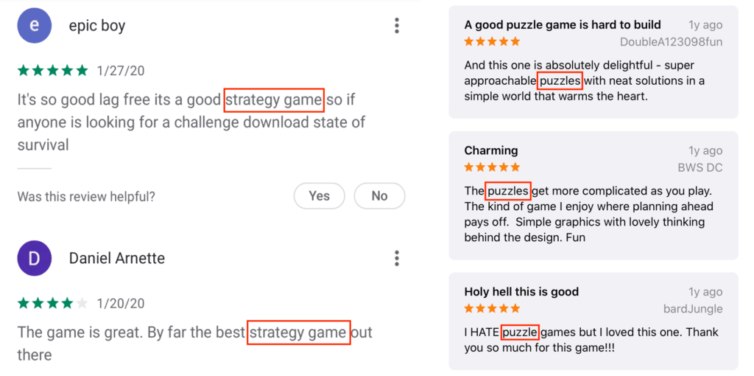 Extract relevant keywords from their reviews and include them in your keyword list the next time you make an ASO update. Using App Radar's ASO Tool, you can still analyze the search volume and difficulty of these terms to double-check their viability.
Take Advantage of Your Competitors' Reviews
At first, reading through the user reviewers of competitor apps sounds senseless, like a waste of valuable time. But, stop and think for one second. It's not. What can you get from combing through competitor apps' reviews? A lot, let me tell you.
Users will inevitably complain about something, no matter how good an app is. If there isn't a bug, then there's a missing feature or one that can be improved. Now, this is where you benefit.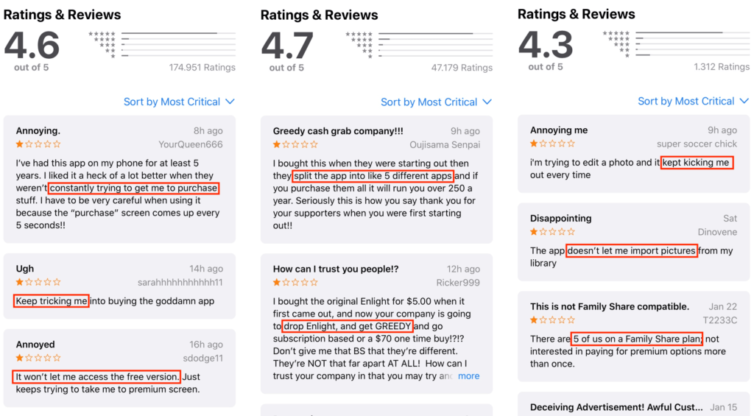 So these complaints are, naturally, found in your competitors' app store reviews. Good thing they're public! You can freely read through all the user feedback without your competitors knowing you're doing so. Take all the criticism or notes for improvement that they received and apply them to your app.
You've now filled a gap in your app niche while building a product that's precisely what your target audience wants. Watch the downloads roll in.
How to Understand Your Customers From App Ratings and Reviews in the App Store?
Categorize reviews based on positive and critical
First, you have to get organized. To get started, categorize reviews by most positive and most vital.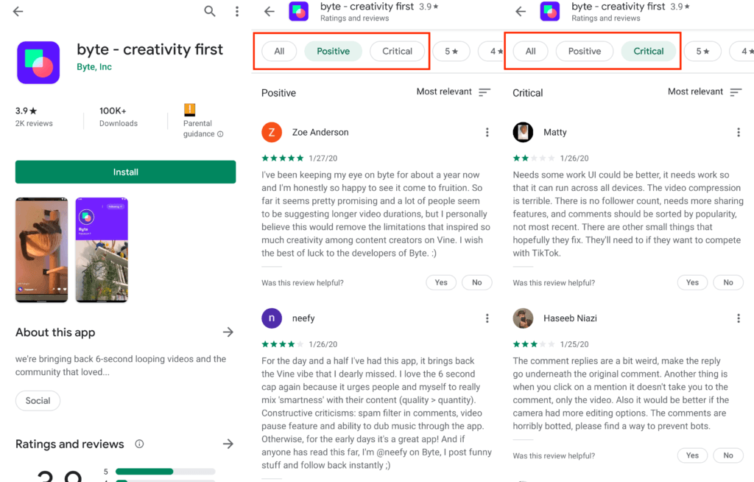 In the App Radar, you can also sort through your app reviews by filtering for star rating. This way, you'll be able to tackle the most critical feedback first and work your way to the positive ones.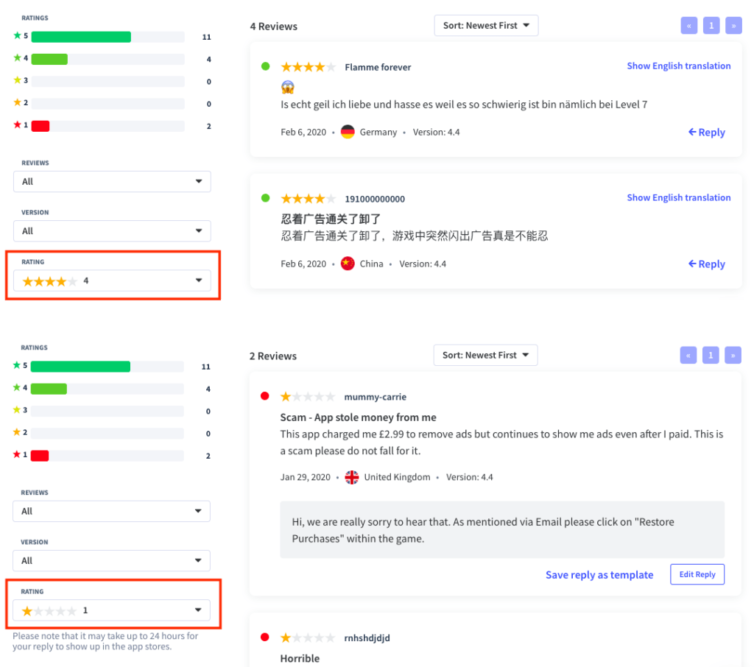 Focus first on fixing the bad, then work towards improving the good. Your users will notice the work you're putting in. Furthermore, Google Play and App Store won't rank your app if it's not performing well. So app performance truly matters when it comes to app success.
And don't forget, just because a feature is well-loved today doesn't mean it won't be outdated tomorrow. Go ahead and bask in the flattering compliments, you deserve it. But getting stuck there will be the end of your app's success. There's always something to improve because technology and societal trends are forever advancing.
Ask for more information when needed
Sometimes users won't give enough information in their reviews. They state a vague claim, such as, "there are so many bugs." This is your chance to jump in and have a real conversation with your user.
Let them know you're sorry for the problems they're experiencing and then ask them to send you further details so that your team can fix the issue. Give the user a support email that they can contact you at. Mention any other attachments that will help your team solve the problem, like screenshots.
Peak did exactly that when responding to a user's review about how her experience with their app had been less than satisfactory.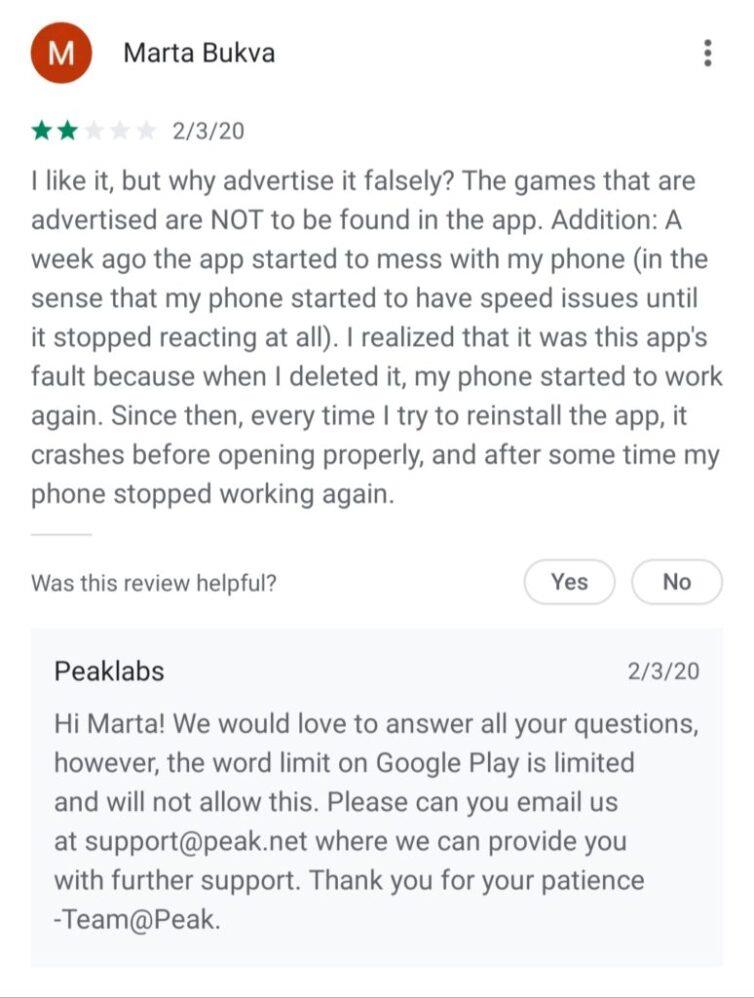 Moving the conversation off of the app stores allows you and the user to speak more freely and get into more in-depth details about how you can continue making your app better. Also, by having a conversation with your user through email, you can discuss user details that should remain private such as username and other account information.
Translate reviews that are not in your native language
Apps available worldwide get user reviews in many different languages. Pay attention to reviews that are not in your native language! They bring diverse opinions that can ultimately help you build a better app.
Translate their review, and once you've crafted a response, translate that back too. Try posting the response in both languages. The user will undoubtedly appreciate the time you took to speak their language.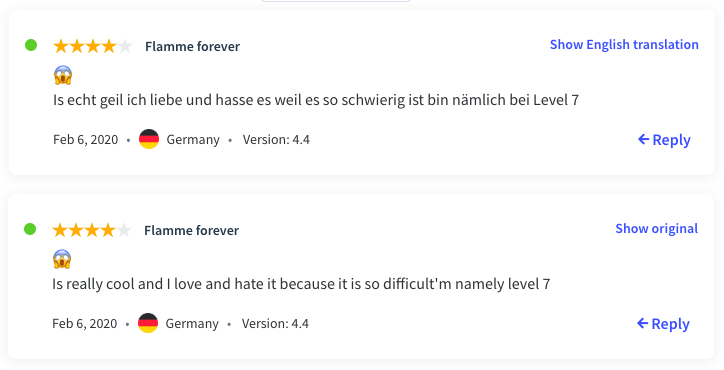 You can translate any app user review into English with App Radar's Ratings and Reviews Management Tool.
Manage, Analyze, and Reply to Google Play Reviews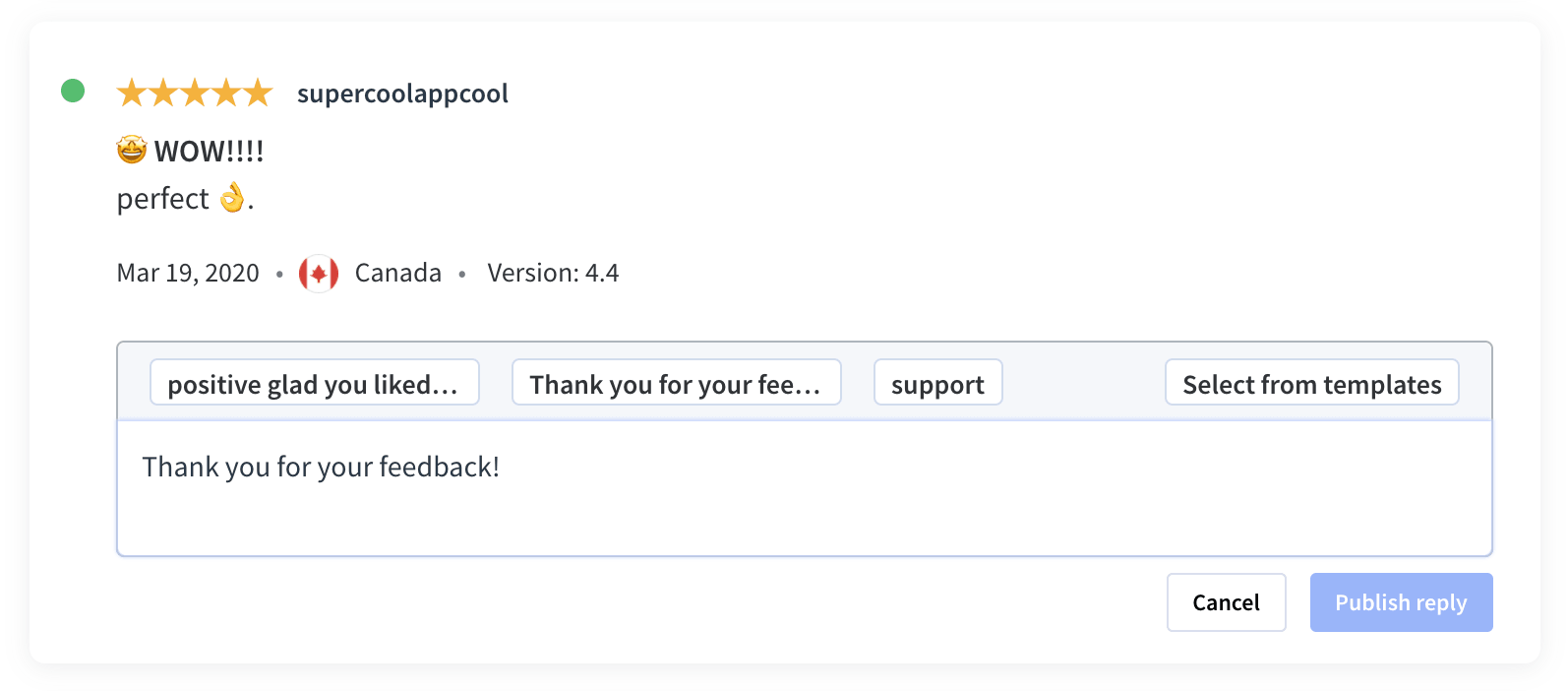 Easily reply to Google Play reviews.
Respond even faster with reply templates.
Track how your star ratings changes over time
Create a Free Account
In addition, reviews left in foreign languages help you further localize your app store listing. Due to differences in cultural preferences, screenshots that work well in one localization may not work at all in another. Your app user reviews are gold when it comes to finding out what users in different countries respond well to.
Note down features that users like and those they dislike
Users will blatantly tell you what other features they want to see. Take note of this every time you see the request. Then you'll see which function is in the highest demand, making the creation of your app development roadmap 10x easier.
Features that are developed in this way are better received and frequently celebrated by users. That's because before you even step into building it, you already know that a majority of your current users clamored for it.
Recognize the language and keywords they use to describe your app
App reviews are one of the best places to find new app keywords. The words that your users use to describe your app in the reviews are probably also the ones people use to search in the app store. You are getting insights into people's app store search behavior directly from your app store listing.
These keywords are incredibly lucrative because they come not from you but from your audience. And that's who your App Store Optimization strategy is geared to. The goal is to figure out what terms people use to search for an app like yours and rank high for them to increase app store visibility.
Aside from keywords, you can utilize app store reviews to analyze how your users speak. Discover colloquial and slang phrases they are using and then implement these in your app. When you talk like your audience does, you connect with them better, and they are more likely to become loyal users.
Difference between the Apple App Store and Google Play Store Review Management
Keywords in Google Play Reviews count for App Store Rank
Google Play, being born from Google, still functions as a true search engine. Your app can be ranked for keywords that are not found at all in your App Name, Short Description, or Long Description. How is this possible?
One reason is your app's Google Play user reviews. Working similar to a web search engine, Google indexes all descriptive words on your app store listing, including the ones found in the user reviews. And this can work tremendously to your advantage. When replying to Google Play reviews, sneak in your priority keywords in your responses. But careful not to go too crazy or else you'll end up with keyword-stuffed replies that sound ingenuine.
Now you're wondering what about the Apple App Store. Can I use this keyword hack for my iOS apps? Unfortunately, we have bad news for you. Apple, unlike Google, does not index any keywords found in the App Store reviews. However, you are given an additional keyword field when editing your app store listing. Use the area to input keywords that are not already in your App Name and App Subtitle.

The App Radar ASO Tool allows you to easily edit your app store listing and add keywords to the iOS keyword field. Indicators next to each keyword let you know whether the term is a strong or weak choice. While editing, you're able to see keyword rankings and popularity in the sidebar helper.
Billing and downloading issues go to Apple for iOS apps
Apple enjoys centralizing its products. It's no different for iOS apps and the App Store. Every subscription and published app first goes through the App Store team. That also means that Apple, not you, will be handling any billing or downloading issues that users are experiencing. What a weight off your shoulders, right?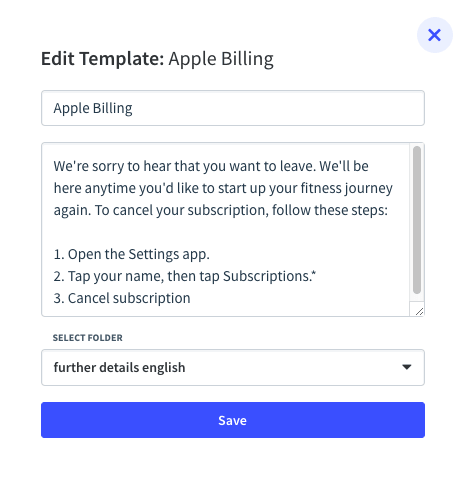 Ensure that you give the user clear instructions on how to contact Apple concerning subscription refunds and related issues. You can create a reply template in App Radar to address common billing problems.
By making this process frictionless for them, you're getting the user that much closer to increasing their initial negative app rating.

Highlighted reviews for apple
Apple tends to highlight about six reviews on the app listing page. These reviews could be from yesterday or even a year ago. As an app developer or publisher, your worst fear is probably having negative user reviews being featured here. But, it is not detrimental as long as you're on top of the damage control.
Look at these two app listings.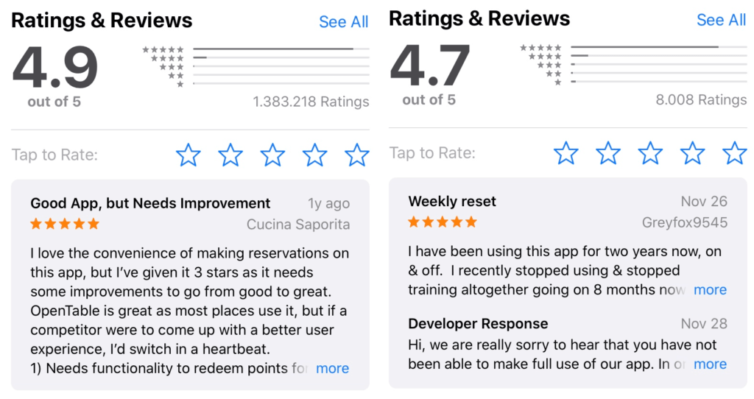 They both show positive reviews, but one has a developer response, and the other does not. Immediately people are drawn to the app with a developer response. A reply shows that updates are continually being made, and an attentive team is behind the app, making it a much more appealing choice.
Now, look at these.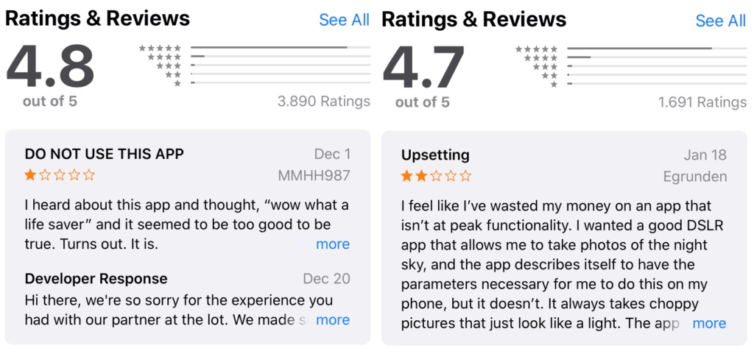 The negative review is less drastic when there is a developer response. Curious App Store visitors will be interested in what the app developers have to say in response to a user's complaint. A good reply that explains why the problem occurred or ensures that the team is working to fix it equals out the criticism.
Most positive and most critical review for Google
Google also highlights apps but in a different way. They show the most positive and the most critical review. There's no way to get out of a negative user review showing on your Google Play page. People can also filter for critical reviews. So it's even more important that you're replying to every Google Play review. People want to see that you care not only about favorable opinions but also cynical ones.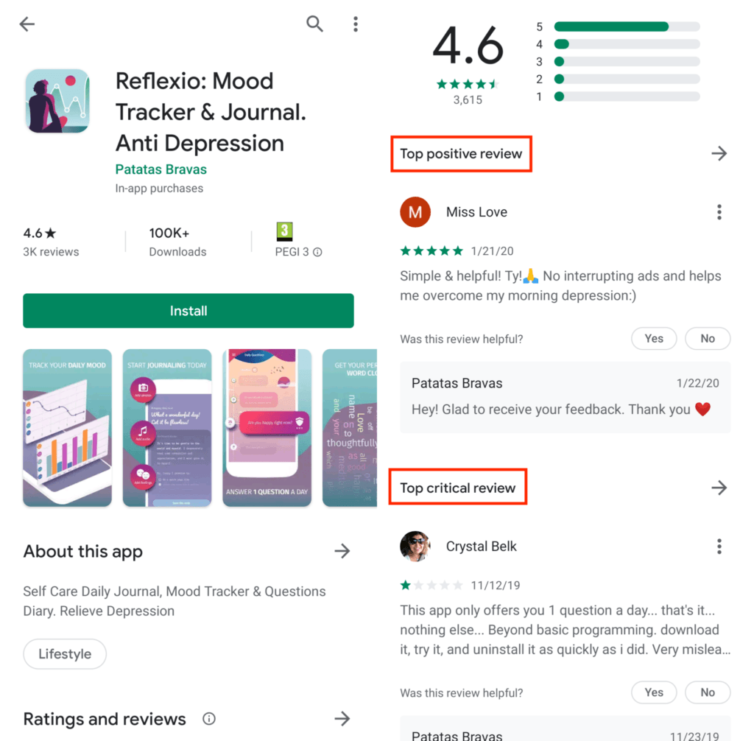 How does Google Play Star Rating work?
Google i/O 2019 announced a change in the average rating algorithm
At Google i/O in 2019, Google decided to change the way its algorithm calculates the overall app rating. Before, every rating your app ever received was included in the overall app rating, with equal weight. Then Google realized that this was an unfair and skewed measurement. It didn't help app developers who worked hard to improve their app, which was not great in the past but doing much better now.
The update is advantageous for all app brands. Now the overall app rating gives more weight to ratings made on the current app version. So it better reflects the current state of the app.
Consequently, as an Android developer or publisher, you should think about releasing updates more frequently. As users become increasingly satisfied with new updates, your app ratings will quickly improve.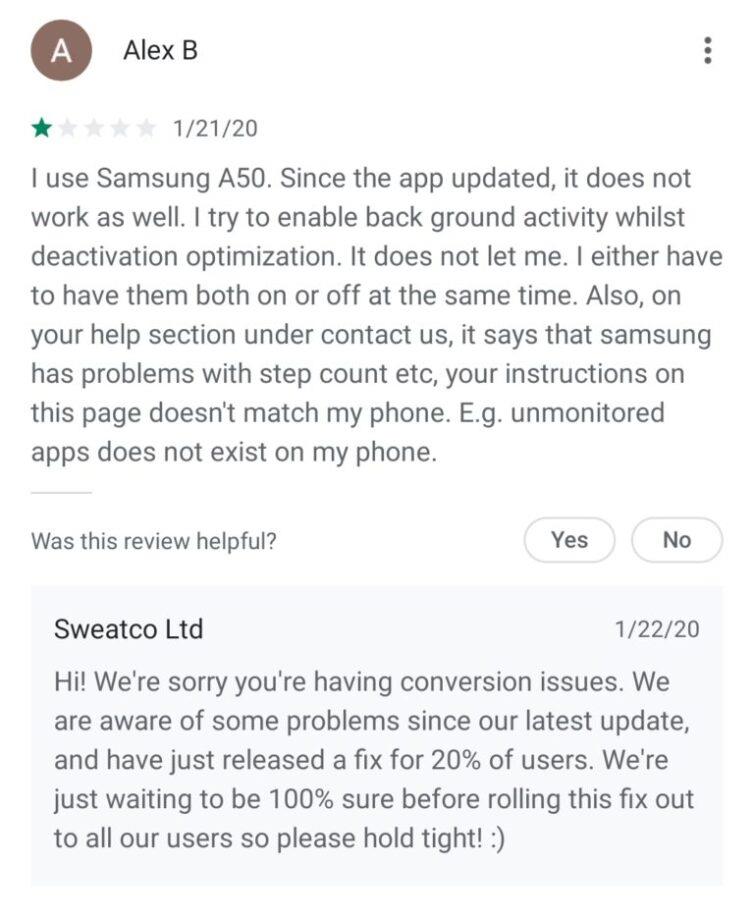 Besides, users can only rate an app once. But they can change their current rating. So be sure to let past reviewers know that you've released an update and would like their opinion on the changes.
How does App Store Star Rating work?
Reset average rating with every update only in the Apple App Store
Your overall or summary app rating in the App Store works similarly. Every rating that your app receives informs the summary rating. There is, however, one major difference. Apple allows you to reset your summary app rating. What does this mean?
If you believe that the rating does not accurately reflect the current state of your app, you can reset it. This option is available every time you push a new update to the App Store Connect. All ratings for prior versions will no longer be considered when calculating the summary rating. But, old user reviews will still be visible. Resetting does not hide these.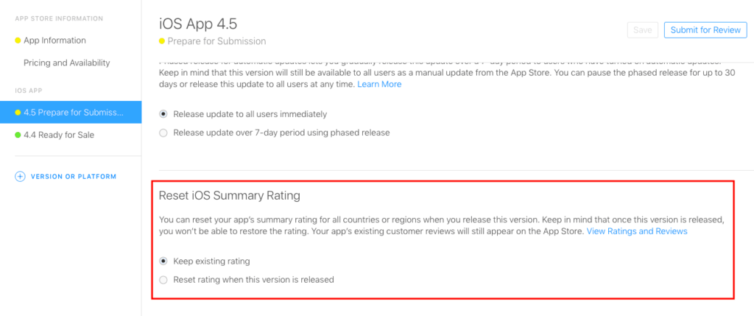 Moreover, the rating you see in the App Store is specific to the territory. So you can reset ratings in one territory and leave another be.
Google Play does not reset your average rating with new app updates. This feature is only available for iOS apps in the Apple App Store.
Workflow for Managing Your App Ratings and Reviews
Required Roles for App Store Connect and Google Play Console
There are required roles that you'll need to be able to reply to and manage your Google Play and App Store reviews.
In App Store Connect, you'll need to have an Admin or Customer Support role to view, sort, and respond to reviews.
For Google Play, you need to have the right to respond to user reviews and report inappropriate reviews. Without this right, you'll still be able to view your reviews, but you won't be able to reply.
Set a time to read through reviews
Keeping track of answered and unanswered reviews can get confusing. Set a time in your workday to sit down and sift through your reviews. This is also a good time to categorize them into most positive and most critical to get the most out of user feedback.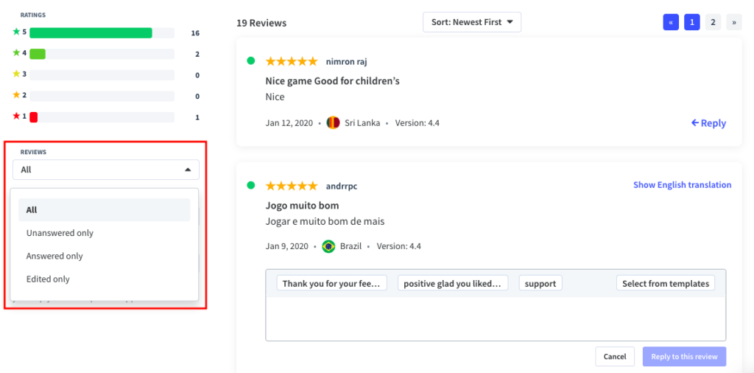 Rather than manually going through all of your reviews, you can filter for all, answered, and unanswered in App Radar. Doing this ensures that you are not overlooking any user feedback. There's valuable information in every review.
Know when your app gets new user reviews
You can also set up review alerts. App Radar will send you a notification via email or Slack whenever you receive a new review. That way, you'll never miss the chance to talk to your users.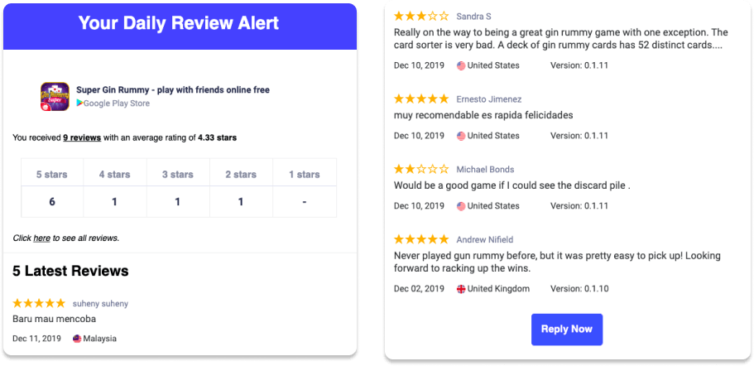 App developers, publishers, and marketers often see reviews that echo the same compliment or complaint. It's cumbersome to retype the same responses over and over again. Instead of wasting your time, you can use App Radar's reply templates.
Your App Radar account comes with ready-made templates that cover common topics seen in user reviews. Aside from those, you can create your own and save past replies as well. Follow our do's and don'ts of replying to app store reviews when you're creating reply templates.
In addition, templates allow you to stay on-brand and build a strong brand voice in your app store reviews. When you talk to your users in the same tone and wording style, they'll start to recognize the voice of your app brand. This increases brand awareness and gets people to trust your app from the get-go.

Templates are great, but we know you also hate receiving responses that sound crafted by a bot. People like to talk to people. That's a fact. So leave room in your templates to add in that extra human aspect. Whether it be a smiley emoji or thanks from "your name," your users will appreciate it.
Google Play Beta Feedback program
Google Play has a special open beta program that is available to its developers. You can release features and versions to a specific group of beta-testers before officially launching it in Google Play. Android users can opt-in to give your beta version feedback. Their feedback is not public and not displayed on your app store listing page.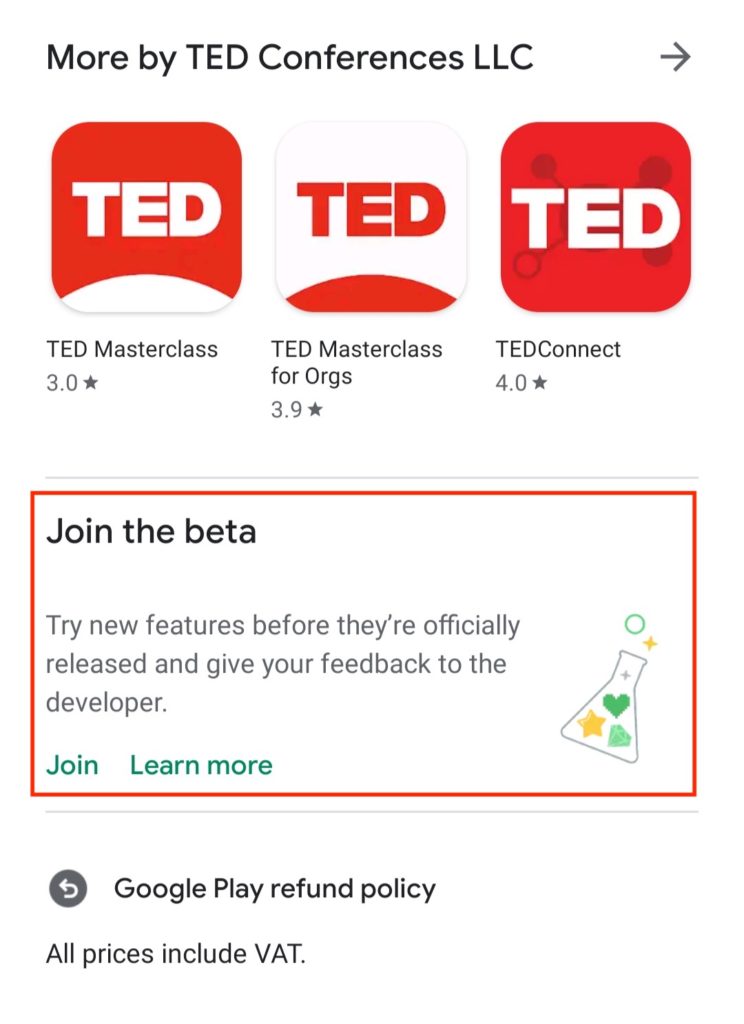 The open beta program is especially beneficial when you're unsure how your users will react to new changes. Because the feedback for your beta is private, there is no danger that negative feedback will harm your normal app growth.
Use the beta to tackle all criticism before releasing the update to the public. This way, you ensure that the new update brings in more positive ratings than negative, ultimately helping you towards app success.
Track How Your App Ratings Evolve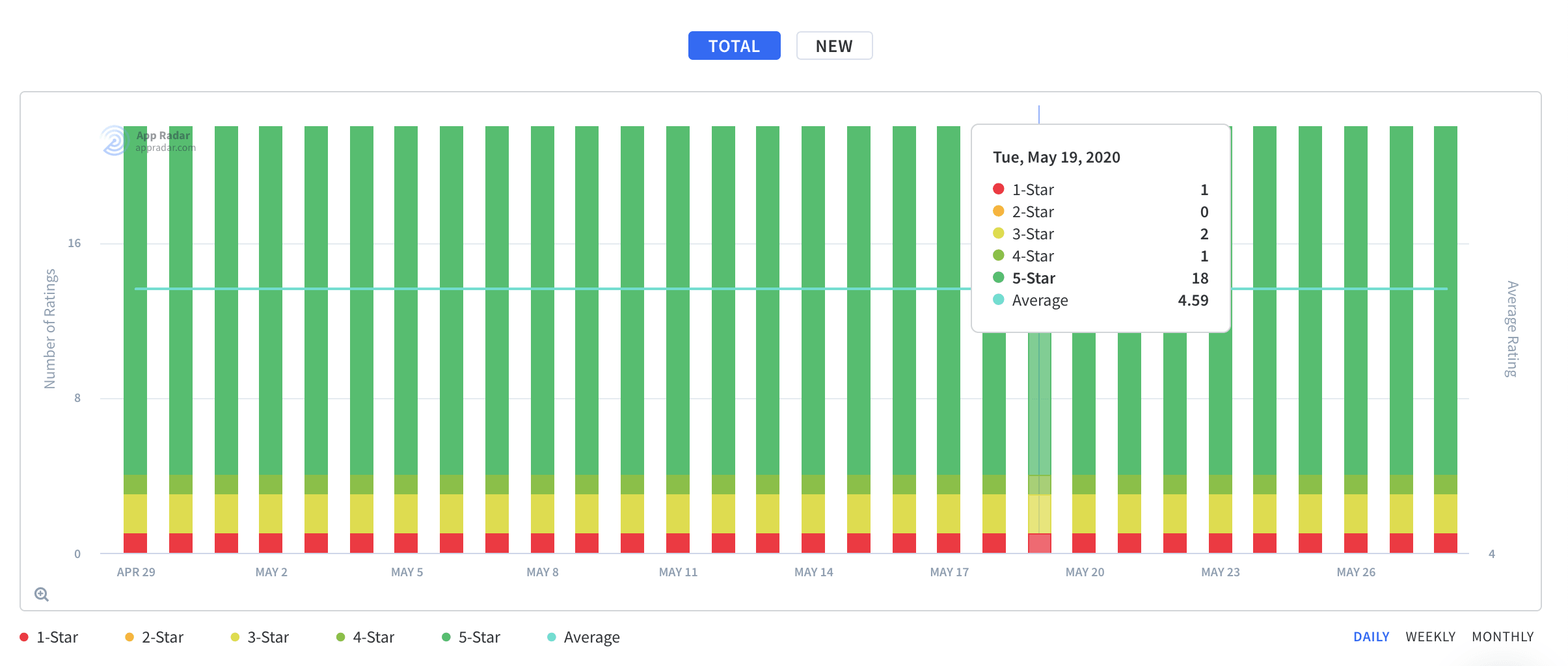 Identify when app updates have a positive impact on your app ratings.
Reply to reviews to improve app ratings.
Get more app users.
Create a Free Account