App Store Optimization Basics
What is App Conversion Rate Optimization (CRO)?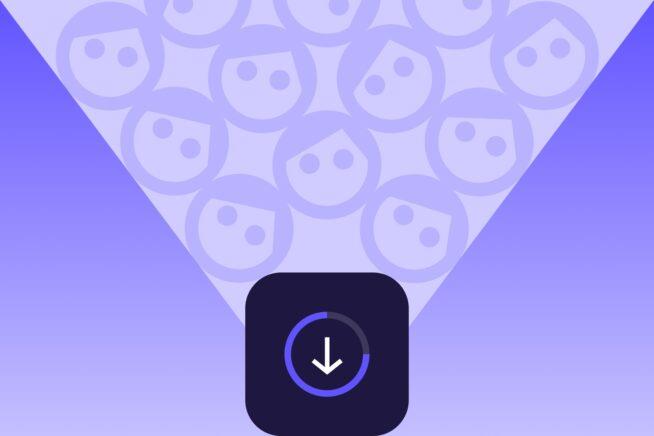 App Store Optimization (ASO) involves more than keywords. It also includes conversion rate optimization. What is app conversion rate optimization (CRO)? You're about to find out.
App Conversion Rate Definition
Let's start with the basics: defining conversion rate. Conversion rate is the percentage of users who move from point A to point B in their user journey. For apps the important conversion rates are:
Impression to store view
Store view to install
Impression to install
Install to sale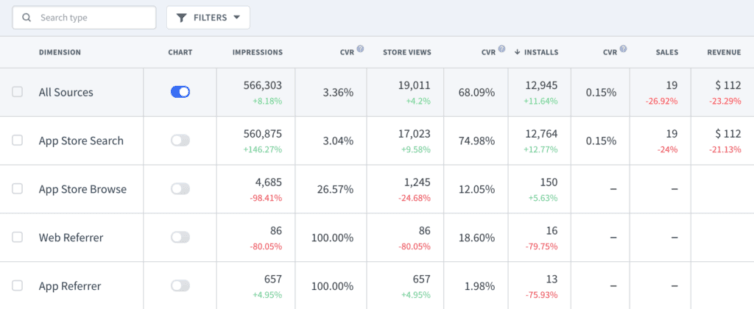 An impression occurs when a person sees your app in App Store or Google Play search results.
A store view happens when the person clicks into and views your dedicated app store listing.
An install is when a person downloads your app.
Lastly, a sale is when the user makes a purchase within your app, whether that's an in-app purchase or subscription.
How Does App Conversion Rate Affect App Store Ranking
In the past chapters, we focused on ranking for keywords to increase app store visibility. However, keywords are not the only factor that Apple and Google take into account when ranking your app. Conversion rates matter too because they tell Apple and Google that people are enjoying your app, which means your app is high-quality. App Store and Google Play also need to appeal to their customers by showcasing great apps.
App Store and Google Play will look at apps with low or decreasing conversion rates as insufficient for high app store rank. They do not want to offer their customers bad products.
App Download Velocity Effects App Store Rank
One of the determining factors for app store rank is download velocity. Download velocity is the number of installs your app gets within a certain time. The higher the velocity, the higher your app will rank and the more success you will have with Apple App Store ASO and Google Play ASO. That's why popular apps that bring in tons of downloads a day are always featured and on the top charts.
How to Increase App Conversion Rate
Now you understand what app conversion rate is and why it's important. I'm sure you're wondering how you can increase your app conversion rate?
Well, this is where app Conversion Rate Optimization comes in.
App Conversion Rate Optimization(CRO)
App Conversion Rate Optimization involves every element of your app store listing. Let's go over them
App Icon
Your app icon is the first thing people see when they find your app. As a result, it's extremely important in forming a first impression and many people will download apps based on their first impression. First, design it to reflect what your app is about but don't go overboard with excessive text and graphics. Keep it simple and easy to recognize. Also, make sure it matches your brand's color scheme as it will be the main representation of your app brand.

Optimizing your app icon will take some testing. To test your app icon you'll want to run an A/B test if possible. Focus groups are also great for this. As a last result, you can simply ask friends, colleagues, and family for their input. All you have to do is make at least 2 variations of your app icon and test them on these audiences. The one that people gravitate to is the winner.
App Name
Your App's Name is the next field people will look at since it sits next to the icon. Aside from your brand name, you'll have other keywords in this field. With every update try to optimize the keywords you place here. Cycle out low search volume ones for high search volume keywords. This way you attract even more traffic. Also if the search term people used to discover your app is in your App Name, people's attention will be automatically drawn to your listing. That's because it's perfectly aligned with what they were looking for.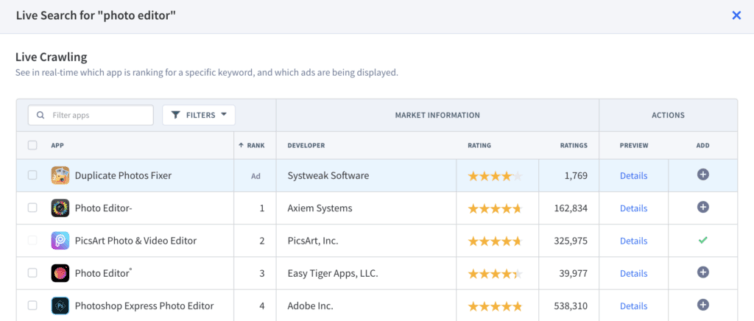 You can find new keywords and update your App Name in App Radar's Store Listing Editor. Any changes can be published directly to App Store and Google Play from your App Radar account.
Publish Updates to App Store and Google Play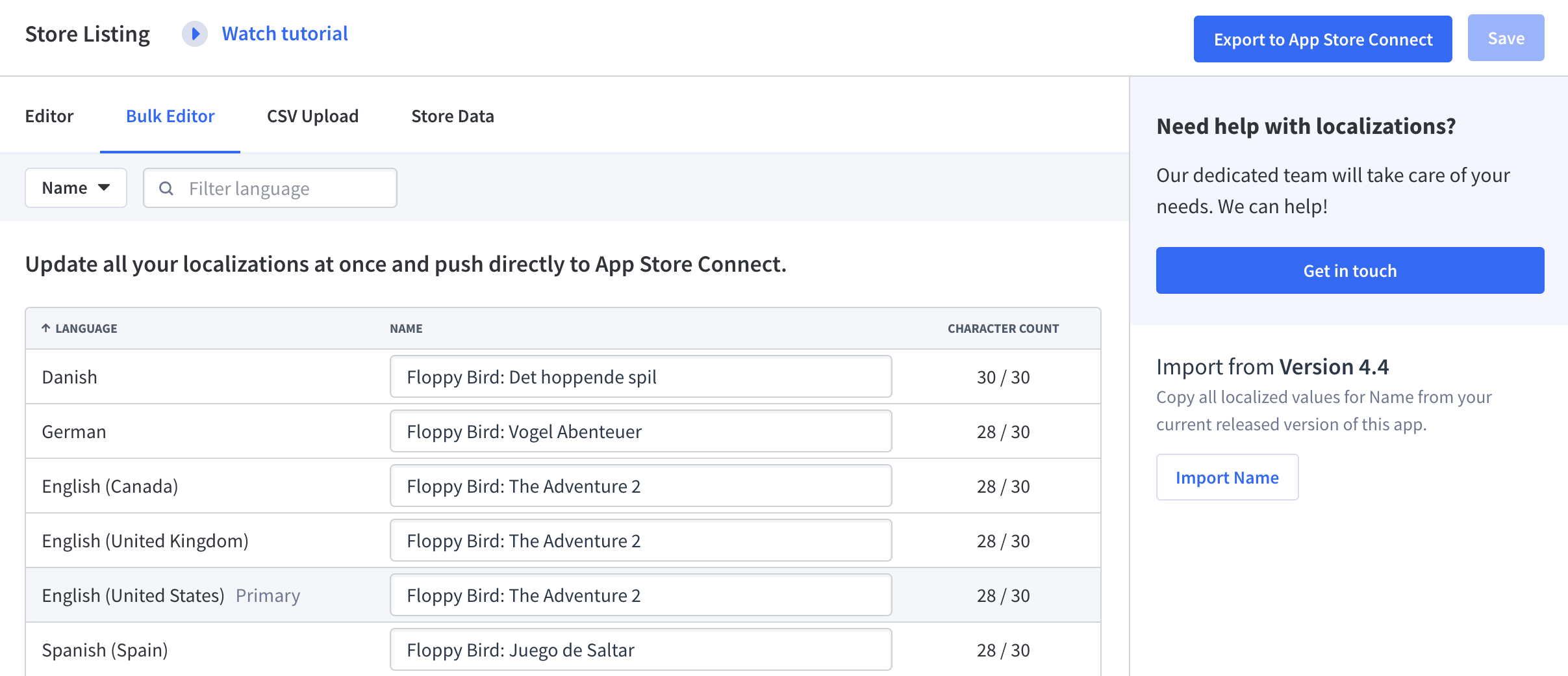 Make changes to your app store listing and localizations. Publish the changes from App Radar directly to App Store Connect and Google Play Console.
Create a Free Account
App Screenshots
App screenshots are essential to driving up your conversion rates and download velocity. People look at the app screenshots to decide if they like an app or not. They'll be judging not only your features but also the UX/UI. Aim for a clean and clear design not only in your app but also in your screenshots. Don't forget to place short texts in the screenshots to describe what features you're highlighting. Ensure you're explaining the value and benefits people will receive when they download your app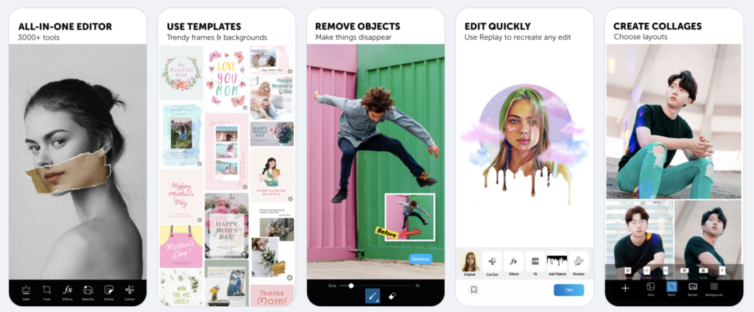 As with the app icon, A/B testing and getting input from friends or focus groups about your screenshots is a great way to truly optimize their conversion potential. Google Play Store listing experiments are a native A/B testing tool that you can use to improve conversion rate and test Android app elements. And Apple's Product Page Optimization is the native A/B testing tool for iOS apps.
Preview or Promo Video
Not every app needs a preview or promo video. You can test whether you get more app downloads with or without a video. The results may surprise you.
However, most mobile games and paid apps will benefit from having a preview or promo video. It gives people a chance to really see what your app is about before crossing that pay barrier. They'll be more likely to spend money on your app if they already know what to expect.
Consequently, your app preview or promo video has to include the most appealing and engaging features. Always emphasize parts of your app that your target audience will find most exciting.
App Description
Honestly, not very many people will read through your app's description. But that's not a reason to ignore it or leave it totally unoptimized. In particular, for Android apps, the description needs to be filled with keywords.
Writing a description that converts well can take some practice. It has to be written in your brand's voice using colloquial language that your target audience would understand. That way you can really connect with your users.
Furthermore, if you're having any kind of special promotion or campaign you can certainly advertise this at the top of your app description. Keep the most compelling information closest to the top because people will be more likely to read it. Elaborate on the features that you showed in the app screenshots.
Any required information, such as in-app purchases and subscription disclosures, should be placed closer to the bottom.
Ratings and Reviews
Last but certainly not least, your app ratings and reviews highly influence app conversion rate. People trust other people's opinions. It's no different with apps. Research even shows that mobile users will not even consider downloading an app with a lower than a 3-star rating.
It's crucial to keep your app ratings high, meaning at least above 4 stars. You can do this by replying to user reviews. Users like to know that you care about their feedback. They'll also give you feature ideas and identify bugs that you might have missed in their review. The fastest way to reply to user reviews is by using templates. You can create your own templates in App Radar that match your brand's voice and tone, which helps to strengthen your app brand.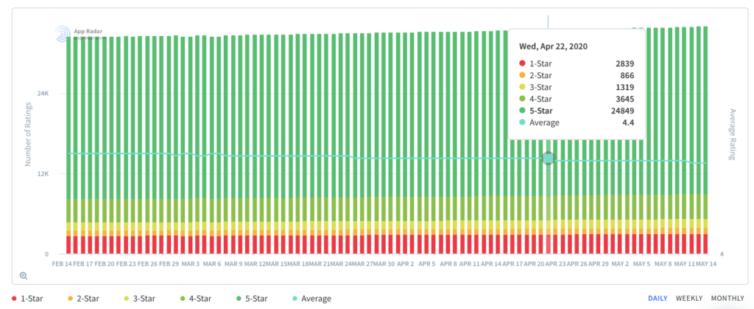 Another way to improve your app rating is to ask your users to leave a rating and review while they're using your app. Timing is key. You want to prompt them after they've accomplished something in your app. They'll be feeling good and more willing to leave a positive review.
App Conversion Rate Optimization Helps Increase Return on Ad Spend
Conversion Rate Optimization doesn't only help your app store rank. It also ensures that you're getting the most out of your app advertising spending. Every ad that you place, whether it's a billboard, social media campaign, Apple Search Ads, or Google App Campaign, lands the user in your app store listing. If your app store listing is not optimized for high conversion, you'll lose the user after they've clicked on your ad. And that also means losing money.
As you can see, Conversion Rate Optimization is essential to both organic and paid user acquisition campaigns and thus, to your overall app growth.
Monitor Global App Downloads
Sign up for App Radar
Create Free Account