How to use Apple In-App Events (IAEs) to increase your organic visibility?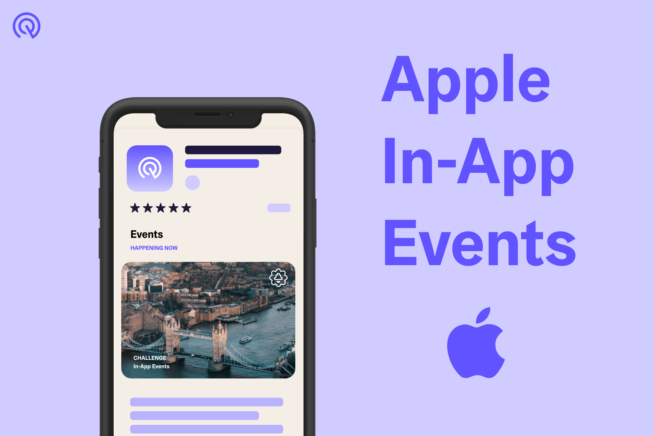 In-app events were launched on 27th October 2021 as a powerful feature that comes along with iOS 15. What are in-app events and how can you benefit from implementing them in your app marketing strategy? Let's find out!
This article looks into the following topics:
What are in app events and why to use them?
How to configure the events in App Store Connect?
Metadata for Apple in app-events - do's & don'ts
How to measure their performance?
What are Apple in app events?
In-app events are timely events within iOS apps - such as competitions, movie premieres, live-streamed experiences, and more. In other words, they're any activity that a user takes after installing an app. So to clarify, in-app events don't have to be live events.
As a new feature of iOS 15, in-app events became available on 27th of October 2021 and can get discovered by customers right in the Apple App Store on iOS and iPadOS.
These events appear across the App Store as event cards that include images or video, the event name, and a short description. Clicking on the event card then leads to the event details page which provides a longer description and notes if an in-app purchase or subscription is required to participate in the event. The event details page can be shared with others and the user can also set up a notification from the App Store when the event starts.
The launch of in-app events also brings along new submission guidelines for the App Store, for which account owners need to register.
There are 3 main reasons why to use in-app events:
Reach new users
Keep current users informed and engaged
Reconnect with previous users
By tracking in-app events, you have a detailed overview of post-install activities inside your app. Read more about the impact on your organic UA that in-app events can have -below!
Examples of in app events
Registration
Purchases (IAP)
Completing a tutorial
Reaching a certain level
Social share
Challenges
Competitions
Note: A repetitive activity that happens frequently (daily task or reward) isn't a good candidate for your in-app event submission. Also, a price promotion will be unlikely to get approved when it doesn't introduce any new content, features, or goods.
Where are in app events shown?
In-app events appear across the Apple App Store as event cards. They are on your product page, which displays all of your currently published events, as well as in search results where the event card appears along with your app. Users can also search for in-app events directly. As a search result, the event card will show along with your app.
Additionally, in-app events are shown in editorially curated selections and personalized recommendations on the Today, Games, and Apps tabs.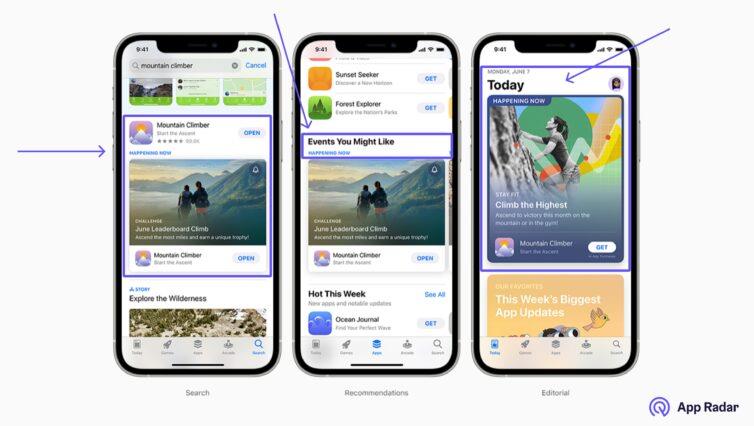 How to configure in app events in App Store Connect?
The new App Store submission experience allows you to include up to 10 in-app events in one submission. However, an app can have up to 5 events published on the App Store at one time. You can submit in-app events without needing a new app version and the submissions are said to be reviewed within 24 hours.
For implementing the in-app events, you need to log in to App Store Connect. Then, as you create the event, you need to:
Enter reference name (visible only in App Store Connect)
Fill in event information, including metadata
Select an event badge and regional availability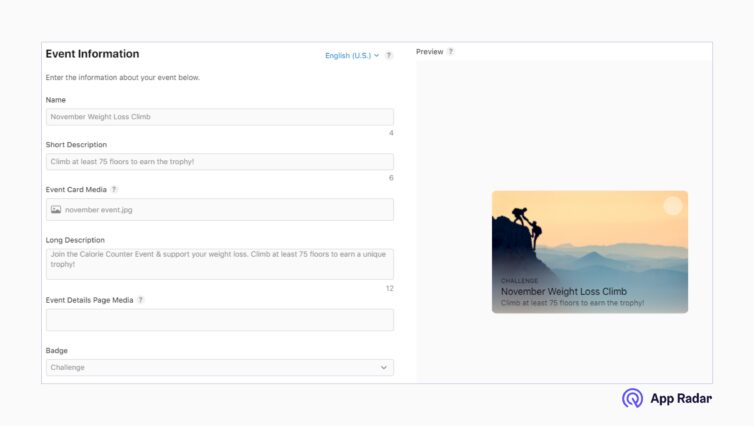 Optimize your in app event details
As you set up your in-app event, you also have to add event details.
Event availability. Select your event start and end date. Your in app event can last up to 31 days and be promoted up to 14 days before start date. You can choose to have your event available only for specific regions for specific dates.
Event deep link. This link takes your users who tap "Open" on the event card or details page to the event content within your app. It's recommended to use a universal link or custom URL. Avoid using URL shorteners.
Event purpose. Choose the option that best fits your event's purpose: appropriate for all users; attract new users; keep active users informed or bring back lapsed users.
Event priority. Events are listed chronologically based on the soonest start date displayed first. Marking an event as high priority will make it appear ahead of normal priority events.
Event cost. This will indicate if an in app purchase or subscription is needed for participation.
Note: Regardless of the event purpose, your published events are discoverable on the App Store by all users.
Writing in app event metadata
You'll need to include an event name with 30-characters and a short description with up to 50 characters. This information is on your event card. You can provide more information with up to 120 characters long description which will be displayed on your event details page.
More about this is below!
Apple in app events image and video sizes
You can add an image or 30-second video that represents your in app event across the App Store.
| Media type | Supported extensions | Aspect ratio | Min size/resolution | Max size/resolution |
| --- | --- | --- | --- | --- |
| Event card image | .jpg, .jpeg, .png | 16:9 | 1920x1080 px | 3840x2160 px |
| Event card video | .mov, m4v, .mp4 | 16:9 | 1920x1080 px 30 fps or 60 fps | 3840x2160 px 30 fps or 60 fps |
| Event detail page image | .jpg, .jpeg, .png | 9:16 | 1080x1920 px | 2160x3840 px |
| Event detail page video | .mov, .m4v, .mp4 | 9:16 | 1080x1920 px 30 fps or 60 fps | 2160x3840 px 30 fps or 60 fps |
Image and video specifications from Apple for the in-app events.
Selecting in app events badge
As part of submitting your in-app event(s), you need to select an event badge. This is important because Apple is likely to use your event badge to make personalized recommendations to its store visitors. The badge selection includes:
Challenge: activity encouraging the user to achieve a goal. E.g. a fitness challenge in a workout app
Competition: activity making users compete against one another to win rewards. E.g. a battle between players to win the most matches
Live Event: real-time activity that users can experience simultaneously and they receive new content, features or goods through it. E.g. a sports match or live streamed concert.
Major Update: significant new features, content, or experiences (bug fixes are not included here). E.g. the launch of new game mode
New Season: new content, storylines, or media libraries. E.g. a new season of a television show
Premiere: first-time availability of content/media. E.g. newly released movies
Special Event: limited-time events. E.g. an event featuring a collaboration
Metadata for Apple in app events - do's & don'ts
It's important that your event metadata accurately reflects the in app event and is specific to the experience. Apple will consider the metadata on your in app event cards to determine if and where to show it in search results and editorial content. In other words, Apple is likely to consider the keywords you use in your event name and short/long description.
| Metadata | Do | Don't |
| --- | --- | --- |
| Event name | Choose a unique name that's up to 30 characters long and written in the title case. This should be the actual name of the event. | Avoid generic terms or describing the type of event; avoid using call to action or tagline; Avoid using all capitals or multiple punctuation points. |
| Short description | Summarize your in-app event in up to 50 characters written in sentence case. | Don't include specific prices in your metadata. Including specific pricing will lead to rejection by App Store Review. |
| Long description | Provide more information about your event in up to 120 characters written in sentence case. Use proper capitalization and punctuation. | Avoid using all capitals and don't use excessive punctuation marks. Avoid claims that can't be verified, such as "the best" or "#1," as well as extra words, such as "game event." |
| Event card and event details media | Use an image/video that represents your event. Videos autoplay and repeat, so aim to create a seamless loop. Consider using video in order to provide users with a more dynamic preview of your event. | Avoid using text or logos in your media, especially if they include your event name or app name. Don't add borders or gradients to your media. |
Do's and don'ts from Apple for the in-app events
Note: Preview your provided media in App Store Connect. This way you'll know how it'll look like in an event card and event details page.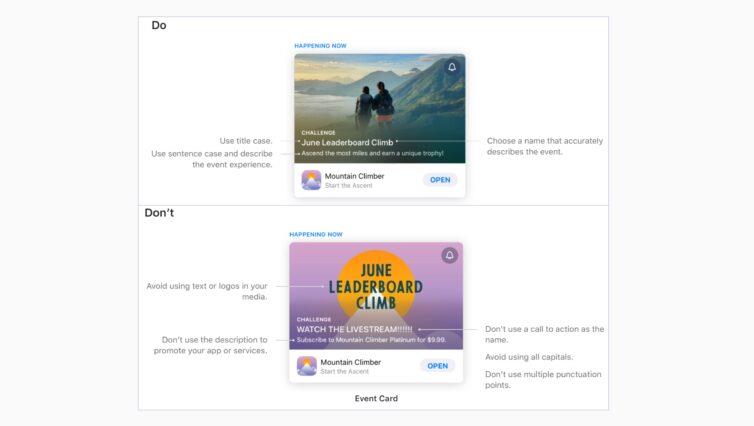 Measuring in app event performance
You can check the performance of your published in-app events in App Analytics in App Store Connect. This helps you to understand:
Which events attract the most users by looking at downloads per event
Where do users find your events by viewing acquisition sources
How attractive your event marketing is by viewing event impressions, details page views, app opens and notifications that have been setup
How will in app events impact ASO?
Using in-app events creates the opportunity to increase your app's visibility. You'll be able to get:
More visibility in Search: the keywords used on your event cards function the same as the metadata on your app store listing. Namely, it's indexed and increases your visibility as your event cards will appear in search results when users search for specific events (e.g. a new movie release).
More engagement with existing users: in app events can be a way to maintain your visibility among the existing app users. When users who have already downloaded your app, search in the App Store for events like yours, they'll see your event cards instead of the screenshots.
More visibility through exposure in Today, Games, and Apps tabs: in app events also appear in editorial and curated collections in the Today, Games, and Apps tabs which can boost your organic visibility.
Check out our first learnings about iOS 15 new features and its impact on app marketing.
Summary of Apple in app events
In-app events are a new feature launched in October 2021. You can add this to your app marketing strategy to boost your organic visibility. Once you start making use of this channel, you'll be able to attract new users as well as re-engage with the existing ones. Now let's get to work! And if you need any helping hand - reach out to our app marketing consultants.