App Ratings and Reviews Optimization
How to create an app rating and review strategy for great app store optimization (ASO)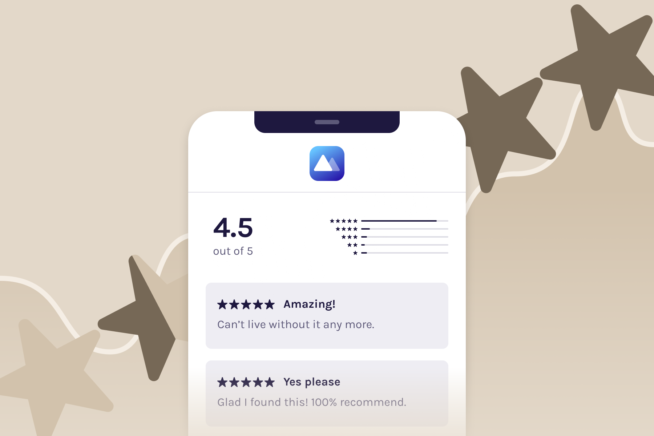 When deciding which app to install, users often turn to ratings as a quick and easy way to gauge the quality of an app. But the reality is that an app rating lower than 4 stars mean that most users won't even consider an app in Play Store or Apple App Store. And apps with 4.5 stars could potentially lose out to a competitor with a higher rating.
While app store optimization is fundamental for apps that want to reach high keyword rankings and get app downloads, people can still complain about their user experience. Sure, having proper metadata and screenshots in place is important, but if you receive good feedback from the app users, your app store performance will improve.
So to avoid receiving user feedback that can limit your app conversion rates and low user retention, you need to be smart and develop an app rating and review strategy upfront. Not only will you improve your app store optimization and app performance, but you will also improve your users' satisfaction and avoid potential issues on time.
Ready to boost your app with world-class tips and tricks? Great, let's start.
Why every app needs a rating and review strategy
One of the most important reasons every app needs a rating and review strategy is that apps evolve and must adjust how they nurture their relationships with their users.
New and young apps will always try to get as many high-star app ratings as possible. More mature and established apps will want to keep those ratings and high averages to differentiate themselves from competing apps, to get featured as often as possible, and to maintain high conversion rates.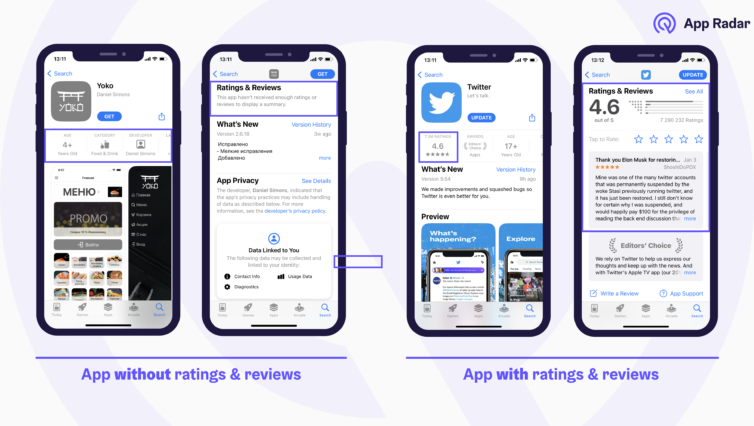 The reality is that most happy users don't rate apps, but unhappy ones will want to share their bad experiences with other people. The rating and review strategy will ensure you change bad reviews into positive ones while encouraging satisfied users to share their feedback.
A good strategy will always consider how happy users can be heard while at the same time defining tactics to deal with negative reviews and communicating with dissatisfied users.
What does every app rating and review strategy need to have?
Having an app feedback strategy means defining how to ask for app reviews and deal with existing negative reviews.
Dealing with negative reviews
When talking about existing and negative reviews, you should consider a couple of essential questions:
What kind of negative feedback does your app receive, and how does it influence your app ratings?
What topics do app users address in their feedback and reviews?
How will you reply to user reviews and persuade them to change their feedback? A generic answer is a faster solution but often doesn't motivate people to contact you.
To address the negative feedback, you must first understand what topics your users mention. And there is no better way to do that than with App Radar's AI-powered App Review Summaries.
You can select any Android or iOS app and get a detailed report on what users think, what they want, what potential improvements you can add to your app, etc. And the same you can do for your competitors and check if there are some things that they do better than you.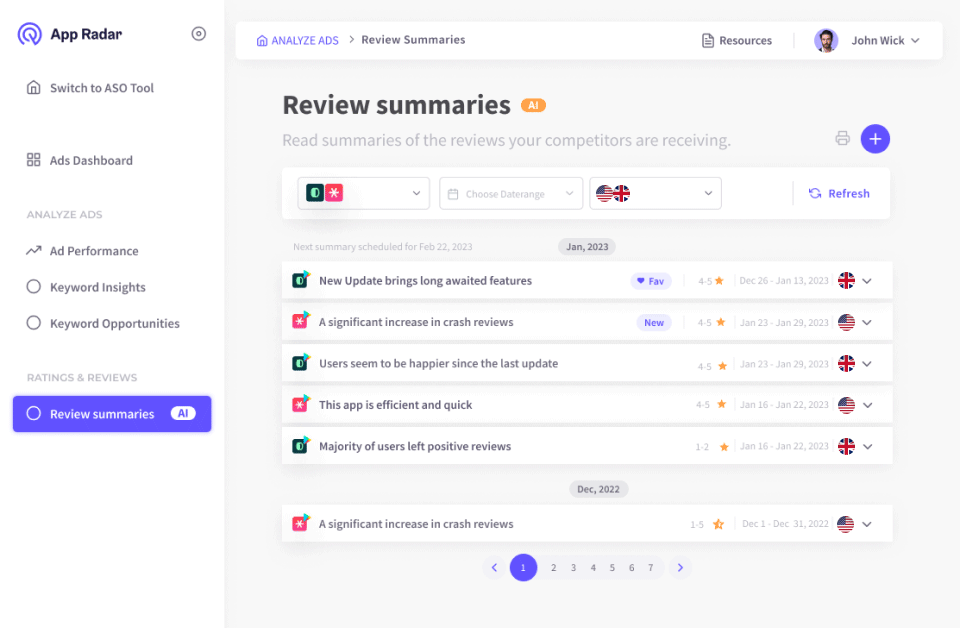 Save time reading tons of reviews word by word. Get weekly or monthly reports per any app on a global scale.
Try it out
Asking for app review
Asking and motivating your existing users to review your app and leave their feedback is the basis for your review strategy. It doesn't need to be complicated, but you need to start by answering three main questions:
Where do app users spend most of their time in your app? Which screens bring the most usage satisfaction to your users?
When is the best time to ask for a review? Ideally, this is when users feel happy and are not actively using a feature or playing a game.
How will you ask for a review? The answer to this question includes the definition, design, and implementation of app prompts or triggers.
Start by talking to your team and collecting the information from the people who have access to app analytics and know your users. After gathering that information, you can proceed to the next steps.
Two main approaches when asking for a rating and review
If you want more app ratings and reviews from your users, you must ask for them. And when doing that, you can be reactive or proactive.
Being reactive means waiting for people to tap a button and leave a review alone. Assuming you have done your research and have an idea about the app screens where you could ask for a review, you simply find a position where you can add a button that says "Rate us."
The advantage of the reactive approach is that it is not aggressive towards users and feels native in the app interface. This won't disrupt the user experience, but you probably won't get many users rating your app since most users aren't motivated enough to rate your app while using the app.
The other approach is proactive, where your app triggers an app prompt or a pop-up to ask people to rate the app proactively. The prompts are an aggressive approach that interferes with regular app usage, which is why you want to use those when people are done with their core actions and are pausing further app usage.
Reactive vs proactive
The approach you will use depends on different factors. If your app has a high churn and low retention rate, consider using their time with it and actively ask them to rate it.
However, a passive approach is better if you have many loyal users in your user base and you don't want to bother them and disrupt their existing app usage.
The other factor you need to consider is how many development resources you have. For instance, a custom app prompt requires more implementation time. While app prompts aren't hard to develop, you still need to ask internal staff to implement and test those features. And if you plan A/B test different app prompts (more on that in the following sections), the development resources will also have to increase.
If you are low on the resource side, it makes more sense to research third-party solutions that can integrate with your apps, such as Firebase or Leanplum.
Tools that help with executing the strategy
Tools make our life easier, and the same applies when working on app ratings and reviews. Plenty of options exist, so make sure you pick the right tools on time.
For a start, first-party tools have the most reliable data, and you should always use them. You need to use Google Play Console for Android apps, and for iOS apps, you need App Store Connect.
Both platforms can show you details about your reviews and ratings per country, app version, lifetime averages, number of users, benchmarks, etc. Google Play Console is especially useful for using multiple filters and breakdowns for analyzing your ratings and reviews performance. 
While Play Console and App Store Connect are very useful, they are not ASO tools, and they can't give you the full picture if you are working in parallel on ASO and paid UA for your app. A third-party tool like App Radar can integrate with both platforms and show you important ratings and reviews data and templates you can use to reply to users directly. Because App Radar is an app marketing platform, it is easy to navigate back and forth between ASO, paid UA, and ratings and reviews reporting.
Black hat review activities
Suppose your app doesn't get many reviews and ratings or has a low average rating accompanied by negative feedback. In that case, you might consider black hat activities to enhance your ratings and reviews.
Such activities may include giving users in-app rewards in exchange for a five-star rating or using paid services that provide fabricated and fake reviews.
Manipulating ratings and reviews could result in removing your app from app stores. Once removed, it takes a lot of work to return to the stores, which is the worst possible scenario.
If you notice strange and weird reviews left on your app store listing page, the best way to deal with them is to report them to Google or Apple and avoid getting a penalty.
App prompts and triggers
Once you decide to actively ask your users to rate the app and leave a review, you will need to start working on the app prompts and when they are triggered.
A good trigger will show an app prompt at the right time and increase the chance of getting a review. Showing an app prompt at the wrong time is a chance wasted, which is why you want to plan this carefully.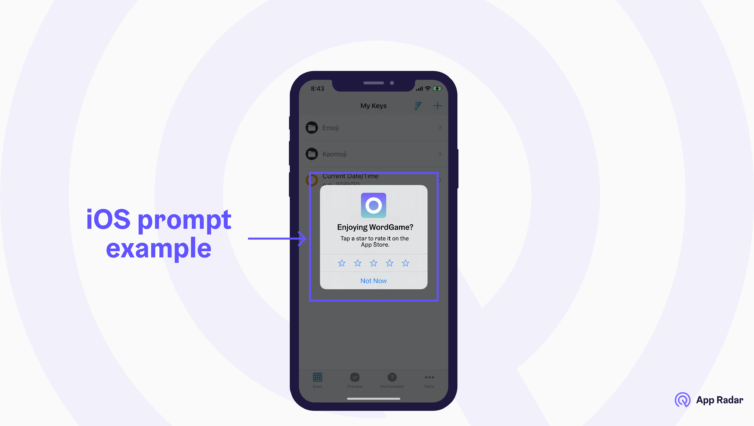 While you can use many different triggers, there are a couple of the most common ones you should consider. In the end, select the most sense for your app.
Usage-based triggers
Usage-based triggers are the simplest ones that occur after a user does a specific action a certain number of times or for a certain time. If you are starting with app prompts, usage-based triggers are a great starting point.
For instance, you can show your desired prompt to users if they have the following:
Launched your app at least 15 times
Tapped 50 times a certain button in the app
Seen a specific screen 30 times
Bought at least three items
Made an entry in the "high score" list
Used the app for at least four hours
Played at least the first five levels of your game
The advantage of usage-based triggers is that they are relatively easy to set up and define while targeting a wide audience and happy users.
So if you want to start implementing them today, think about which actions your users take the most and which activities they spend most of their time on. Once you define them, you can start planning when exactly you will show your app prompt and ask for a rate and review.
Personalized triggers: you don't need to show the same rating prompts to all your users. Google Play shows different app ratings based on the device type and registered country. That means, if you know that Android users in some countries see low ratings in Google Play, you can target only your app's users in those countries. Or, differently said, you can personalize triggers and prompts only for those countries where you want to improve app ratings and not target all countries.
Funnel and journey triggers
Every app user goes through different stages, popularly called user funnels or journeys. The idea behind this strategy is to activate a trigger after a user completes a series of actions and comes to a specific location in the app.
For example, you can show these kinds of triggers when users:
Reach a certain game level after five unsuccessful attempts
Complete a purchase of a product from a specific category after using a specific payment option
Watched a movie or a tv-show after signing up
Triggering app prompts based on the user funnel is a more advanced tactic than usage triggers. However, it works well if you have an in-depth understanding of your user base and their behavior.
When not to use triggers
Occasionally, you don't want to ask people to rate your app. That is because they will probably ignore your prompt or even give you a bad rating.
For instance, you don't want to ask for a rating and review if users:
Complained about the app crashing and asked for a support
Just downloaded your app and haven't used it enough to evaluate it
Have recently (in the last 30 days) received and seen one of your app prompts
Being invasive to your users can only harm your app. Don't go after user feedback at all costs and exclude the users that are not yet ready to rate the app.
Other situations to collect ratings and reviews
You don't have to stick blindly to usage or funnel triggers. These strategies work, but many apps require too much work and resources.
Let's say you have a big app update - you can let your users know about it and then ask for a rating. Once you announce the feature, ensure your users read about it and ask for a rating and review.
Whatever makes sense to you and doesn't irritate your users, consider it as an option.
How often can you show app prompts to users?
You might think you can show app prompts whenever you like, but that is different. Or at least not regarding system-based prompts (more about that later).
There is a limit by Google and Apple on how often you can show a system in-app rating prompt. Google allows you to show your users an app prompt once per month, while Apple is more strict and allows only three prompts per app for 365 days.
This means you must carefully plan how and when to show the prompts. If users use your app every few months, you should trigger the prompt more often.
You also need to consider the type of your users - if they pay to use your app, they most likely don't want to be bothered by app prompts. In that case, you might want to show the prompt every six months.
Finally, if your app rating average is high and reviews are very positive, you can show app prompts once a year, but few apps have such a strong market position.
Expert tip: Server triggers allow more control over your app prompts. With this setting, you can update the triggers without relying on app updates that are under the user control. With rating prompts and triggering logic stored on your servers, you can decide e.g. if you will show a prompt on the home screen every 10 or 20 app launches, and for different countries. To make this possible, talk to your app developers and make sure to mention Firebase Remote.
How to design your prompts
Not all prompts are the same. If you want your app users to rate your app after you show them your prompt, you need to think about the design, messages, and how you will implement the prompts.
Let's consider the most important elements if you want your prompts to work. You can choose from two prompt options - using system vs. custom prompts.
System in-app prompts
System in-app prompts are offered to app developers if they want to display a small pop-up inside their Android or iOS apps. Using system prompts, the users can rate and review the app without leaving it, and their feedback will automatically be sent to either Play Store or Apple App Store.
On the other hand, as an app developer or marketer, you can't control how the prompt will look or which message it will contain - you can only control when you want to show it.
System in-app prompts are easier to implement than custom prompts; they don't require extra effort from the app users, and the feedback is automatically sent to the app stores. Nevertheless, there are no customization options, and Google and Apple set many elements.
The other option you have is a custom prompt. Custom prompts give you complete control over the content, appearance frequency, and message. The big disadvantage is that users must make an additional step and rate and review an app directly in one of the app stores.
Custom prompts
Custom prompts should be used if you want to have full control over your prompts. They require more development work, but you can customize their content, appearance, design, and how often you want to show them.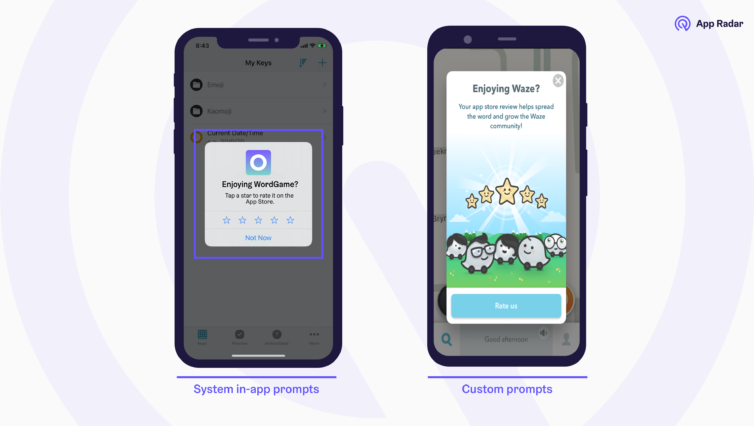 On the other hand, users must leave the app to rate in one of the app stores. Many users will drop off along the way; that is, they won't be ready to make an extra effort and write their review in Google Play or App Store.
When deciding which type of prompt to implement, you probably need to experiment with both options to see which results best. System prompts are easier to use and give feedback to an app. Custom prompts have far more flexibility but require more development time, and users need to leave the app to finish giving feedback.
Prompt gating: a very popular option that many apps use is prompt gating. When using this approach, you first ask users how they feel about your app (e.g., if they would recommend it, how much they like it, etc.). And if the users give positive feedback, then you ask them to rate and review your app. It is unclear if this approach is against Google and Apple guidelines, so using it with custom prompts is best. However, remember that using prompt gating with custom prompts significantly stretches the rating funnel since users also need to hand over the feedback in the app stores. Another option is asking people how they feel about the app and then triggering a prompt a few days later.
Designing your prompts
How you design custom prompts will make a big difference if you plan to use custom prompts.
Nicely designed and appealing prompts can grab attention and ensure more engagement. Remember, users need to like the prompt and be ready to leave their rating and review in the app store after clicking it. The design factor is there to make the prompts feel less invasive and encourage people to give feedback.
Suppose you have the resources to add animations or custom graphics made by your design team. In that case, you will have much higher chances of attracting users' attention and increasing the probability of users tapping the prompt.
Prompt tone and voice
The prompt text must be compelling but short and understandable so users can quickly understand what you want them to do.
Ideally, you want to ensure that users who see the prompt feel valued and unique. Don't be aggressive and ask people nicely to help you.
If the prompt is connected to the action the user just did, refer to it. If someone bought something from your app, use that fact to show your prompt after the purchase. For example, if you have a game where users can buy power-ups, you use it to say something like, "Great power you just got. Would you mind rating us to let other players know about it"?
In your prompt, ensure that each rating and review helps other people or the community.
Think about user experience. Custom prompts require a lot of steps for users. Don't ask too many questions if you want to land a rating. Reduce the number of steps that users have to take. And leaving your contact information next to the prompt is important as well. If users want to contact you and discuss potential issues with your app, you should encourage them instead of writing a negative review.
Tracking strategy and prompt success
The last step that your app strategy should define is how you will track its effectiveness.
At a minimum, you should always look at how your app ratings and reviews evolve, on which devices, in which markets, and what users think about the app.
You can do all that with App Radar - tracking the ratings and reviews of your app while checking the user sentiment and improvement suggestions they mention in the reviews. The before-mentioned app review summaries feature is perfect for getting actionable insights while saving time and energy.
To analyze the success of your prompts, you must establish metrics that make the most sense based on the type of triggers you are using.
For example, while you can't measure if a certain user left a positive or a negative review, you can measure what users did before they rated your app. The other options include measuring the behavior of users that rated your app with or without doing a specific action before that and similar.
What matters is that you know the typical user journeys, design and insert the right prompts, and try to understand which action before tapping the prompt could influence that tap most. Certain app screens can play a much bigger role in leaving app ratings than others.
Now it is your turn to create your app strategy
There you have it. You now know what app rating and review strategy is and why it matters for any app. Try to use the suggestions from the article to think about your users' journey, how you will deal with negative reviews, and how you plan to ask happy to rate and review your app.
With that said, make sure that app review and rating management is an essential part of your app store optimization process. Head over to App Radar pricing and try out the platform for free for 7 days - and get more ratings and reviews for your app.
Speed up your app store review managment with App Radar
Sign up for a free trial today and get powerful insights to help you level up your app in Google Play and Apple App Store.
Learn more