Analyzing your app store keywords and ranking then setting up a keyword set builds the solid foundation you need to launch your app growth. As with any foundation, it has to be strong and involves preparation.
Although the analyzing process may seem overwhelming at first, it is only half that bad once you break it down into sections. This is exactly what we did in this app store optimization guide.


So keep on reading and learn how to build a winning app store keyword strategy!
Topics you will learn about in this course:
Before diving deeper into this topic, make sure you are familiar with all the ways your app can be found.
If you understand how people search and behave in the app stores, you can minimize your ASO efforts.

Dive Deeper:
What is App Store Optimization?
4 Ways to Get More Organic App Installs

So, how do people discover apps?
When it comes to app discovery, we could split people into roughly two groups. Those who know what they are searching for and those who don't. Some refer to these two types as discovering apps by search or discovering apps by browse.
Those who know what they want, use either brand names or specific keywords. In contrast, the other group tends to simply browse for potential Android or Apple apps.
There are many ways to browse the stores. People who are interested in a specific type of Android or Apple apps can discover your app by browsing the categories, top charts or if it is featured. Both stores also give you suggestions for similar apps you already have installed on your phone.

Dive Deeper:
How to Get Featured on the App Store
See When the App Stores Feature Your App


Another way people might discover your app is through app and web referrers. This means users come to your app page through a link in another app or webpage.
When making sure your app is found, you should consider search, browse and referrer discovery channels.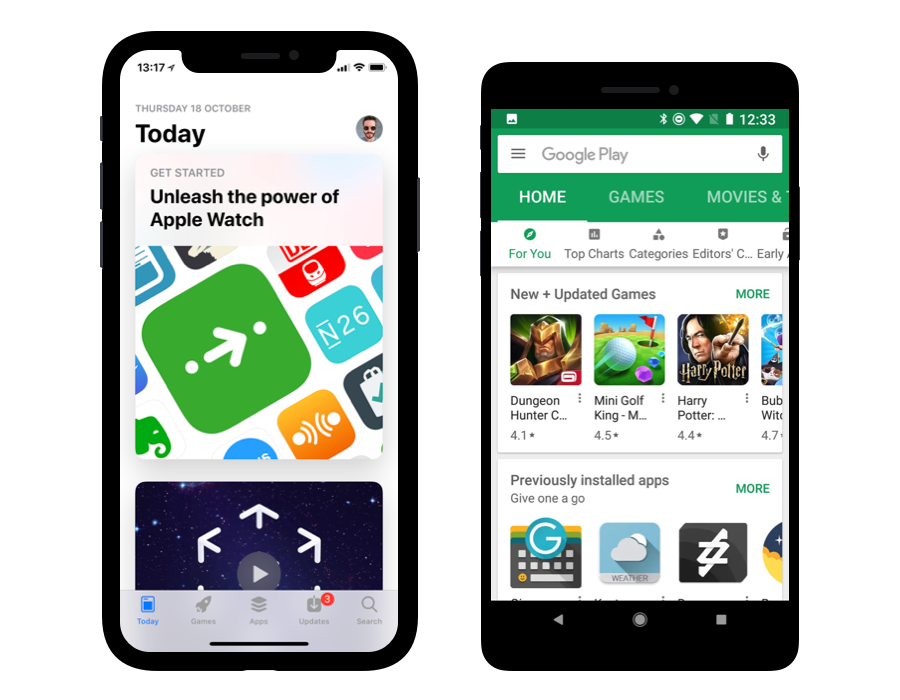 Let's start with app store search. By many, this is considered as the largest discovery channel for apps. In order to be found by search, your app needs good keyword rankings.
App Store Keyword Rankings Explained
Similarly, as with SEO, the keyword ranking refers to the position of your app in the search results for a specific keyword.



Say you have health & lifestyle app and you want users to find your app when they type in "healthy lifestyle coach" in the app stores. If your app appears first in the search results, this means your ranking for this specific keyword is #1. If your app doesn't appear at all, you are currently not ranking for it.
Although this may seem straightforward, there is more to app store ranking than just the position. But let's start first look into why app ranking stats are important.
Why is keyword ranking important?
Continuing with our health & lifestyle app example, if you are not ranking for a keyword you want, you are basically not found by the users. And not only that, but you are also getting fewer installs. Users usually download the apps that appear on the first page and tend not to scroll through all the search results.
Don't let your app be unseen. Keep an eye on your rankings for important keywords.
How does app store keyword ranking work?
App store search results vary from country to country
This means that you get different results for the same keyword if you search from a different country or territory. Imagine two users are searching for a "Running App" − One from the US and one from the UK. Even though both use the same English search phrase, one is looking for an app in the US App Store while the other one is using the UK version. They may see apps in a different order or even completely different apps.

Your rankings can differ depending on the country or territory. Make sure you check your rankings for all relevant markets.


Search results depend on the store
On the other hand, the reason behind different results is different app store ranking algorithms (Google Play & Apple App Store). We covered the ranking factors for iOS and Android apps in our previous chapter, but feel free to refresh your memory: More on App Ranking Factors.
Your keyword rankings can change quickly
Even if you are happy with your rankings at the moment, there is a catch. Your app rankings may change faster as you think. Depending on how competitive the market is and how many people are bidding on a specific keyword, you may experience sudden changes. It is recommended to check your rankings daily. With App Radar, you can receive information on ranking changes for countries worldwide directly into your inbox.
How to check your keyword ranking
For years there was never a reliable way to find out your keyword rankings. Obviously, you could try typing in your relevant keywords manually and scroll through the results until your app or game appears. But knowing that the results differ daily and from country to country, this would be a very tedious task.
Luckily, you can avoid all this by choosing an appropriate ASO tool such as App Radar. Powered by artificial intelligence, App Radar allows you to check your keyword rankings daily. And the best part: you can do that for countries worldwide and for Android & iOS apps.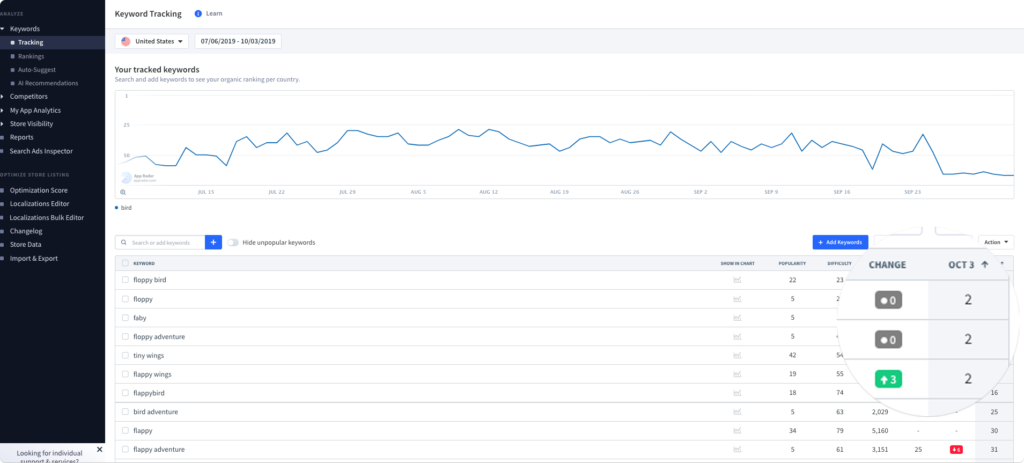 Which keywords are your app ranking for?
Check out keyword rankings on App Radar
Create a Free Account
How to analyze your app keyword set
Identifying your keyword rankings is just the beginning. The next step is to analyze your keyword set. Besides your current ranking, there are other aspects to consider when analyzing and choosing your keywords. We listed them for you below:
Keyword Relevance
Whether you are a complete beginner or already familiar with ASO, this is a factor that should be in the back of your mind at all times. Your app keywords should relate to your app. If you use keywords that aren't relevant, people may have false expectations and are more likely to uninstall your app – simply because they don't get what they are searching for.

Dive Deeper:
How to Improve App Retention Rate with Organic Installs
How to Find Your Target Audience for Mobile Apps


Make sure that your keywords are relevant and describe the main functions of your app.
Keyword Popularity
Keyword popularity tells you how popular a keyword is within the app stores. This is an indicator of how many searches a keyword gets. Generally speaking, you should opt for the one with better popularity because it should bring you more traffic, right? Well, this is not always the case. If a keyword is too popular, you might not even stand a chance to rank for it. That is why we recommend starting off with longer keywords (mid- or long-tail) which are less competitive and more targeted. Afterward, you can gradually work your way up to shorter keywords.
Where to find keyword popularity information?
A good indicator of popularity is Apple Search Ads. Apple App Store now provides Search Ads for 49 countries.

Dive Deeper:
What are Apple Search Ads?
5 Apple Search Ads Best Practices


One way to find popularity data is to set up a campaign and keyword set on the Apple App Store. Alternatively, you can find this data in the App Radar ASO Tool. Scores are based on a scale from 5 to 100 and are based on search ad data provided by Apple.
As a rule of thumb: More popularity for a keyword means more traffic for it. However, 10 more popularity points difference may not always bring the same results. An upgrade from 10 to 20 will not increase the downloads for a keyword by a lot, but going from popularity 45 to 55 will bring way more downloads.
Keyword Difficulty
In short, keyword difficulty indicates how difficult is to rank for a specific keyword. Similar to popularity, this is a metric to consider when analyzing keyword. Currently, this data is not provided by the stores. However, there are a few marketing tools, which can help you with that. App Radar provides a Difficulty score ranging from 1 to 100.
In general, if the number is high you can expect this keyword is difficult to rank for. Another indicator for Keyword difficulty would be the number of apps ranking for a specific keyword available in the App Radars Keyword Rankings feature.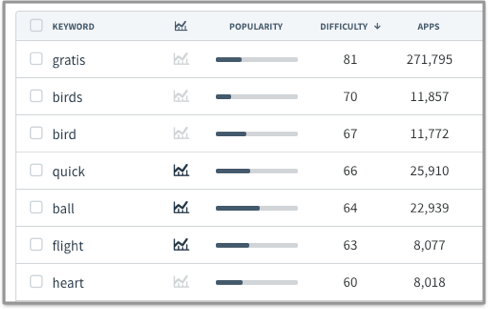 Keyword tracking
Since keyword rankings can change rapidly, it is a good idea to track the ones that are important. This way you don't miss a ranking change and make sure to take action if your rankings drop.
The most convenient way to track your keywords is to use an ASO tool. Our App Radar ASO Tool offers a sleek interface to track your rankings and see how they improve over time. This allows you to reduce your keyword research, check your daily ranking positions in the Apple App Store, Google Play Store or Apple Tv Store.
With App Radar, you can track your keywords for countries worldwide and get informed of ranking changes.
Checklist for Keyword Analysis
Determine your current keyword rankings
Make sure your keywords are relevant
Add relevant keywords you already rank for to your set
Focus on mid- or long-tail keyword rankings first
How to find the best app store keywords for your mobile app or game
Now that you know your rankings and have added the relevant keywords to your trackings set, it's time to move forward. Let's dive into how to set up a winning keyword set.
There are a few basic steps to follow in the process.
Researching Keywords
Prioritizing Keyword
Targeting Keywords
Measuring and Monitoring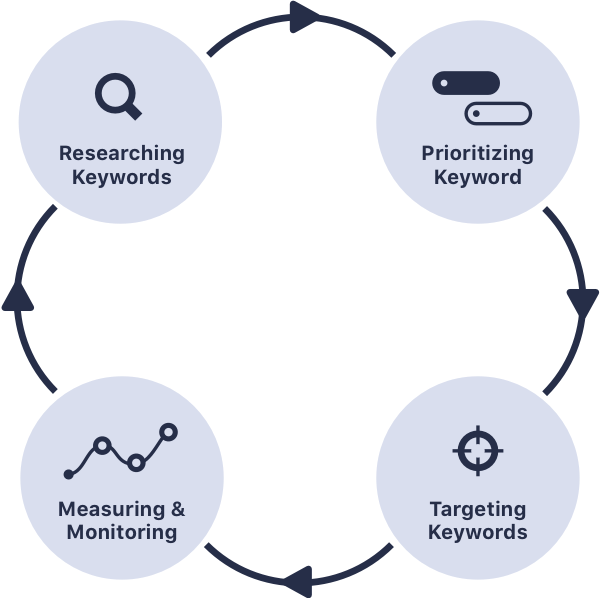 First things first: Researching App Store Keywords
Keyword Research is about defining, for which search terms your app should be found and adding them your tracking list. This is a very important step, so make sure you invest enough time into it.
Let's start with the easiest and obvious task first: Add your brand keywords to your app keyword rankings. This includes your company name and its variations. You should track these across all countries that you are active in.

Your brand keywords are the core of your app store keyword set.

Diver Deeper:
What is Brand Protection
Why ASO Becomes More Important Everyday for App Developers


At this stage, we recommend you build your keyword set for your main language and build up an initial keyword set for that language. We will start optimizing for other languages in another course.
How to find other app store keywords to track?
Brainstorm keywords describing your own app and features.
Usually, an app has a certain goal, as well as a genre. Consider what makes your product unique and make a list of keyword ideas. As we mentioned in the chapter before, remember to stick to keywords that are relevant for your app. If you are running short on ideas, ask your friends or colleagues how they would search for your app and how they would describe its features.
Add "sub" genres to your keyword set.
Those are keywords that people search for, but are officially not a part of the primary or subcategory in the stores. If you have a game, consider including keywords such as an idle clicker, shooter, football manager, golf, basketball, crafting game, one-touch, two-player game or similar keywords that apply to your game. Remember that you can simply start off by going go for the long-tail keywords first if you cannot compete with the big players in the industry yet.
Read through reviews and comments
Look at the review and comment section in your store and note the words your users take to describe your app. Alternatively, you could also check out the user comments of your competitors. Since those are the users you want to reach, try to adapt your keywords to their style of communication.
Use AI Keyword Suggestions
With features like AI-Recommended Keywords provided by the App Radar ASO Tool, you can save time on keyword research. It automatically calculates potential keywords you could add to your tracking list according to your current app information and competitors in the app stores.
Check out Competitor Keywords
You can also get new keyword ideas inspirations from your competitors. To check what keywords your competitors are using you can use features like Keyword Explorer. This way you simply add a competitor to your list and let the artificial intelligence do the work for you.
Remember that keyword optimization is an iterative process. Great rankings usually won't come overnight with a single app update. This means that your initial keyword set may change over time, which is completely normal! So don't worry, we will cover further optimization steps of your keyword set in another course.
Grow Your Apps with Less Effort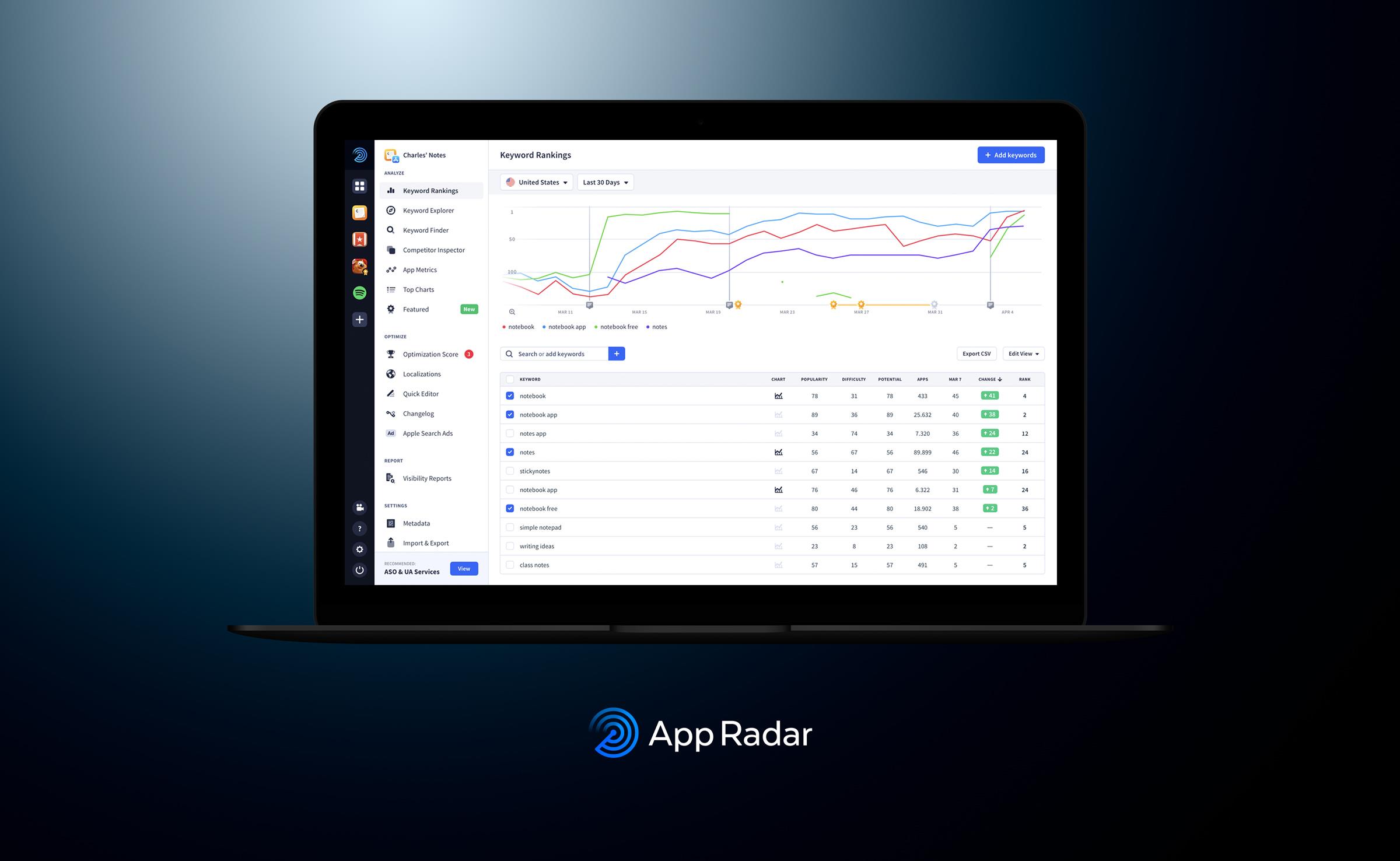 Find new keywords. Optimize all localizations. Spy on competitors. Track ASO changes.
Create a Free Account
What is App Store Top Chart Ranking
Now that you know all about app store keyword ranking, it's time to take a look at another important part of the app analysis process: Top chart ranking.
Similarly, as with keyword rankings, top chart ranking refers to the position of your app in the top charts. There is a top chart for every primary Category (i.e. Games, Books) and Subcategory (i.e. Strategy for Games or Comics for Books) in the app store.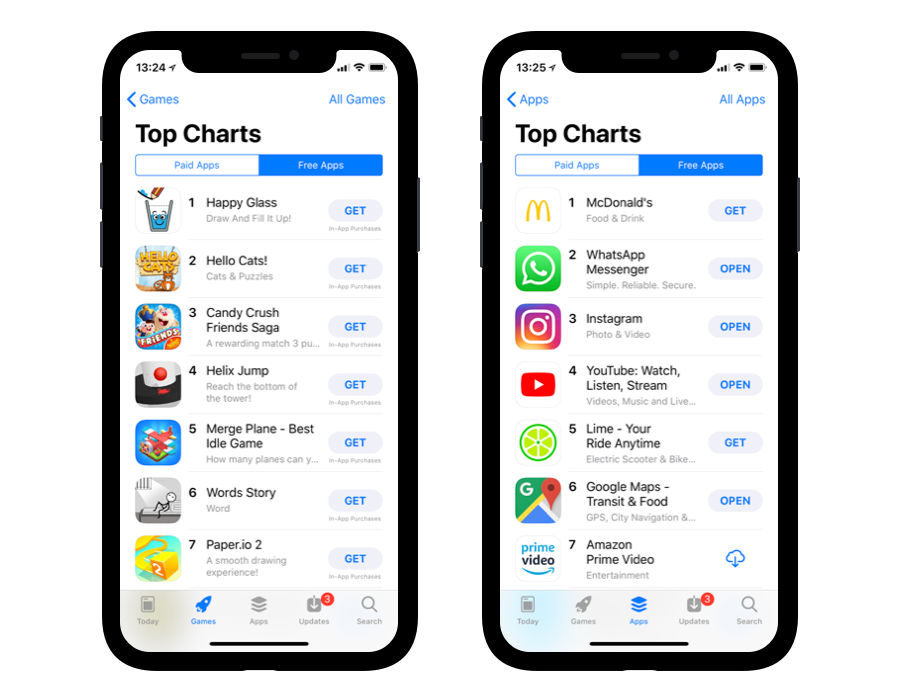 When your app is featured in a top chart, it has a greater chance of being found by users who browse the stores. Therefore, categories help users discover new apps that fit their interests. Consider this as another way to get more organic downloads and higher revenue.
How does app store chart ranking work?
Making your way up to the top charts is not an easy process and doesn't happen overnight.
The most crucial factor when reaching top charts is the number of installs.
There are certain benchmarks for every category. This means your app has to reach a certain amount of downloads to make it to the top chart in a certain category. Although this data is not officially provided by the app stores, you can find such marketing insights on marketing platforms such as Reflection.io.
Apart from the number of installs, many people argue that are further factors affecting your top chart rankings.
We summarized them for you below:
Good rating reviews
Apps featured in top charts tend to have good reviews of about 4 stars.
A high number of rating reviews
Top chart apps have usually been rated by a lot of users.
Frequent updates
In general, top chart apps are usually frequently updated.
Similarly, as with keyword rankings, the higher your app ranks in a top chart the better. Usually, people don't browse through all the apps in the top charts but focus only on the ones at the top.
Free, Paid & Grossing Apps
Roughly speaking, the apps in every category or subcategory can further be divided into paid free and grossing.
Free: Apps that can be downloaded for free with most downloads
Paid: Apps you have to pay for with most downloads
Grossing: Apps with highest revenues (including both, free & paid apps)
Analyzing top chart rankings
When analyzing top chart positions, there are certain aspects that you have to consider. In essence, they share many similarities with keyword rankings:
Top chart rankings differ from country to country.
can change quickly
depend on the app store
can reflect seasonal trends
can be based on new features an app store released
Since we already talked about those factors in the chapter keyword rankings, we are not going into detail again. One interesting thing to consider, however, is the seasonality. This means that certain apps are more popular during a certain season. A great example would be travel apps: people tend to download & use such apps more during the high season in late spring and summer.
Since rankings are very dynamic we recommend you check the days in top charts and your average rank for relevant categories regularly.
Obviously, the longer your app is in the top chart, the more downloads it will get. You can find information on which top charts you are ranking for with ASO tools. To get a better overview of the keyword ranking changes, you can monitor your positions in the top charts with tools such as the App Radar ASO tool.
How to gain an edge over app store competitors
Since around 700 apps are released into the app stores every day (Source: Business of Apps), you can be certain that your app has competition.
When preparing an ASO strategy, you should keep an eye on your competitors. In a nutshell, competitive analysis is about identifying your competitors and finding out how to beat them.
Let's start off with the obvious question, how do you know who are your competitors?
We suggest you try answering the following questions:
Which apps provide similar features and content as your app?
Which apps rank for the same app store keywords as you?
Who is competing for the same app store keywords rankings as you?
Who is dominating the top chart rankings in relevant categories?
Luckily, also artificial intelligence can help you answer those questions. You can identify your competitors with no virtually no effort with Competitor Suggestions provided by App Radar. This AI-powered tool searches the app stores for all the apps that share the most similarities with yours so that you don't have to. It also allows you to add them to your competitors' list, which enables you to keep an eye on them at all times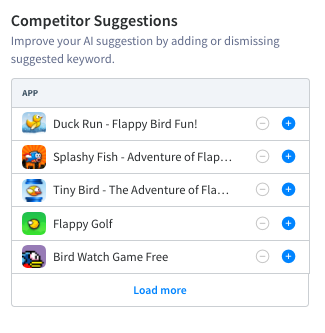 Make sure you know your competitors. Features such as Competitor Suggestions and Search Ads Inspector by App Radar can save you time on research.
Best practices in analyzing your competitors
Now that you know who are your competitors, your work is not done yet. In order to gain an edge, you have to perform a competitor analysis.
Make sure you do a quick check of your competitors by trying out the app and looking at the website and social channels of the app. This allows you to gain an overview of what you are up against.
We recommend you start off looking at competitors who are three steps ahead, not those who are ten steps ahead. By doing that, you narrow down the competition. A good idea would be to set up milestones you want to achieve and have a separate set of competitors for each milestone.
Remember that competitor analysis is a broad subject. In this course, we will only focus on the basics when analyzing your competitor store data.
1. Narrow down your competitors
Take a look at the number of downloads & reviews your competitor app have. If your competitor is a game such as Angry Birds you may want to look further. Focus on those apps or games which you can realistically beat with your marketing strategy. The final number of competitors you want to analyze is up to you, but anywhere between 5-10 would be a good starting point.
2. Look at user feedback
Take into account what users say and pay attention to negative feedback an app gets. This way you get a feeling about the points and demands of your potential users. Try to learn from that and avoid the same mistakes. If the users from a competitor complain that the app is hard to navigate, this is a sign that your user base prefers an interface that is neat & clean. Use information like this to your advantage.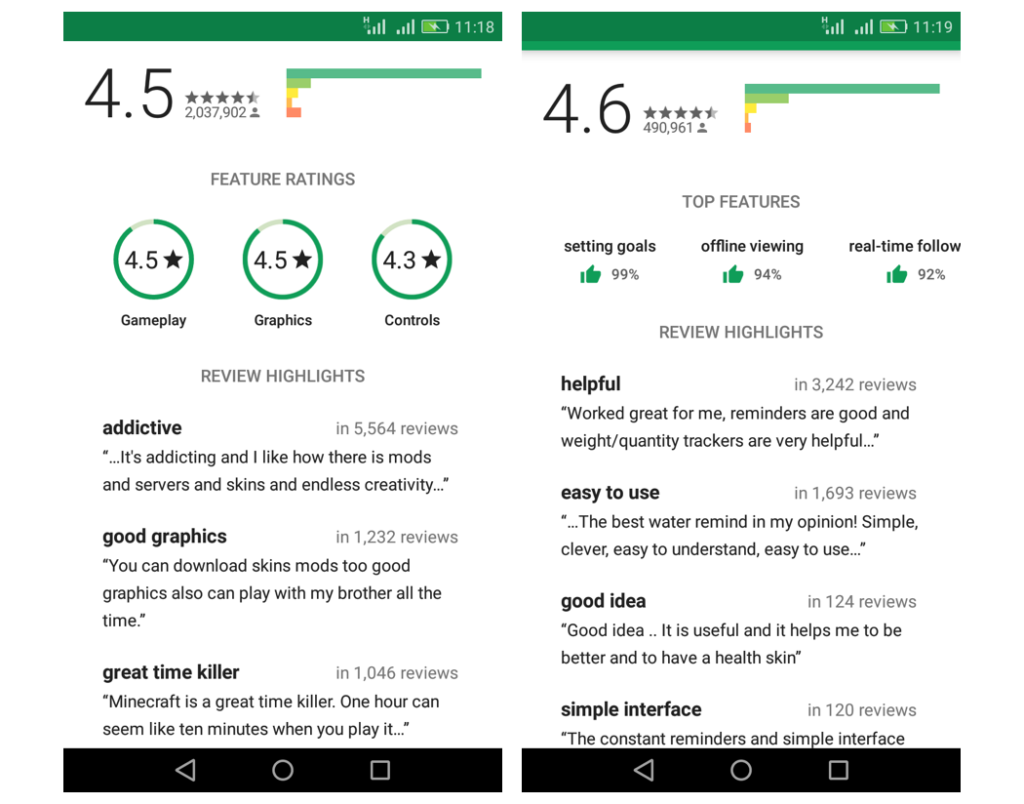 User reviews can be a good indicator of what your targeted user base looks for in an app.
3. Do a competitor keyword analysis
Find out what keywords your competitors are focusing on and how they rank for them. The App Radar Free ASO Tool is one of the tools which provides this valuable information. Features such as Competitor Rankings reveal all the keywords your competitors are ranking for. This is an easy way to find new keyword ideas and can help you decide which keywords you want to include in your set.
You can even identify new growth possibilities by checking out top keyword rankings for a specific country. This especially valuable for your overall marketing strategy: instead of just figuring out where your potential users are via trial and error, you can learn from your competitors.

Dive Deeper:
5 Best Ways to Reach Your Target Audience
How to find app keywords
5 Biggest Mobile App Marketing Mistakes to Avoid

4. Compare App Store and Google Play Keyword rankings
At this stage, it is also a good idea to compare your keyword rankings with your competitors. This can easily be done with a Competitor Inspector feature. It allows you to identify your keyword potential and can in often prove to be a quick win. Let's say you have a healthy diet app and your competitor ranks for "meal calorie counter" #1 and you #8.
The next step would be to check where this keyword is used by your competitor: does it appear in the description but not in the title? This is your chance; add it to your title and improve your rankings. We will cover this topic in more detail in the Course: Optimize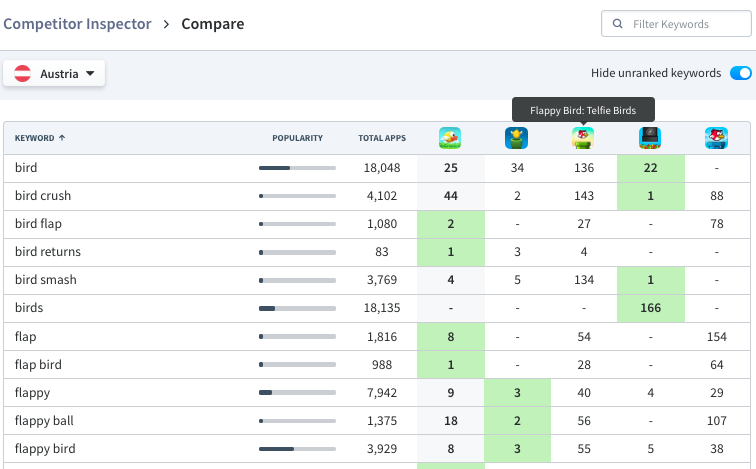 An example of a Competitor Keyword ranking comparison with App Radar. Under the App's Icon, you see the ranking for a specific keyword. A green cell in the table indicates a better ranking for a specific keyword.
Checklist for Finding App Store Keywords
Analyze your app store keyword rankings
Add relevant app store keywords you rank for to your tracking list
Check your top chart rankings
Identify & Analyze your competitors
Which keywords are your app ranking for?
Check out keyword rankings on App Radar
Create a Free Account