How To Optimize Your ASO Keyword Strategy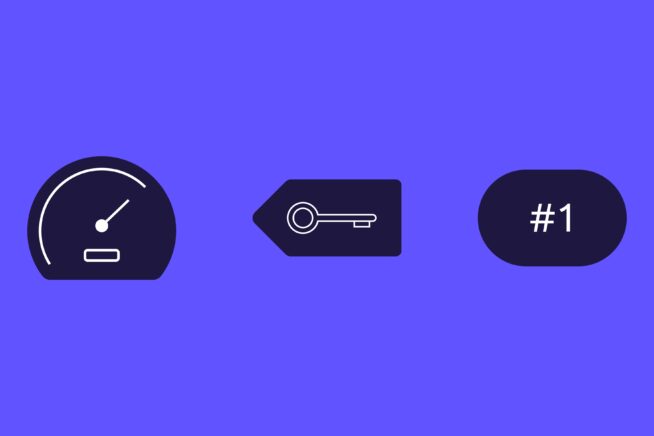 About 67% of app downloads come from organic app store search. This means people tend to search for a specific app using some generic search terms in the app store. At the same time, app stores are steadily growing. In order to get your app discovered and downloaded, you have to develop a sophisticated keyword strategy for your ASO.
Research Relevant Keywords
Keywords are one major factor in App Store Optimization, as customers use keywords in various combinations to search for your app. So the most important action to take when you start your App Store Optimization is keyword research. This means you research, analyze and place selected keywords on your app page to maximize the chance to get found by potential customers.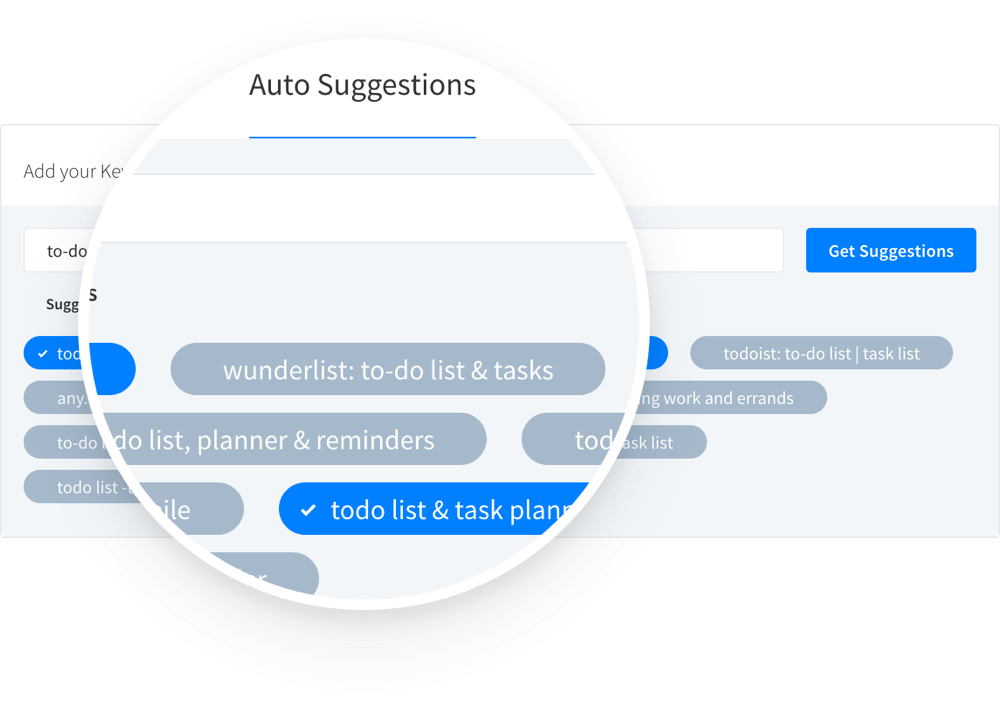 Where to find keyword ideas?
There are several sources where you can get ideas for your keyword set.
Do some competitor research and analyze which keywords they use.
Read review comments and analyze which words your users take to describe your app.
Do some very short brainstorming with friends or colleagues. Let them consider when and how they would search for your app.
Use Keyword Suggestions Feature by App Radar ASO Tool. It shows you frequently used search terms based on the keyword entered in the search field. Create a free App Radar account today!
Another popular tool for keyword research is Google's keyword planner. It shows you how frequently a specific keyword is used for google search per month and gets you an idea of what's trending on the web.
Consider App Store Search Behaviour
To optimize for search results, it's important to understand how users are searching. ASO is often named as "App Store SEO" or "mobile SEO". Both ASO and SEO follow a similar concept. But when it comes to keyword optimization, you have to consider the difference between app store search behavior and online search behavior.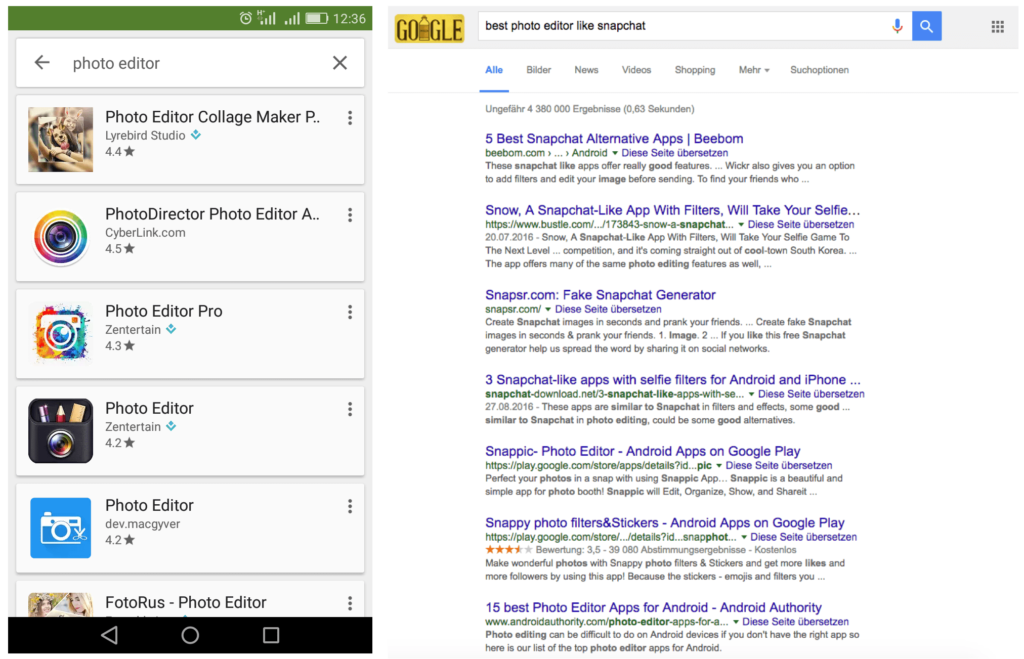 While as online search queries commonly consist of various keywords and phrases, searches on the app store are preferably short and generic. The majority of app store search queries consist of several words expressing some functionality of the app. Also, searches for particular brand names are very likely in the app store, as users often intend to find a specific app. They are commonly looking for an app that serves their needs and have a specific idea in mind.
Can I boost my app's visibility in search results via advertising? Apple is trying to improve a user's search experience in the App Store. With Search Ads, iOS developers should get the opportunity to advertise their app based on keyword search.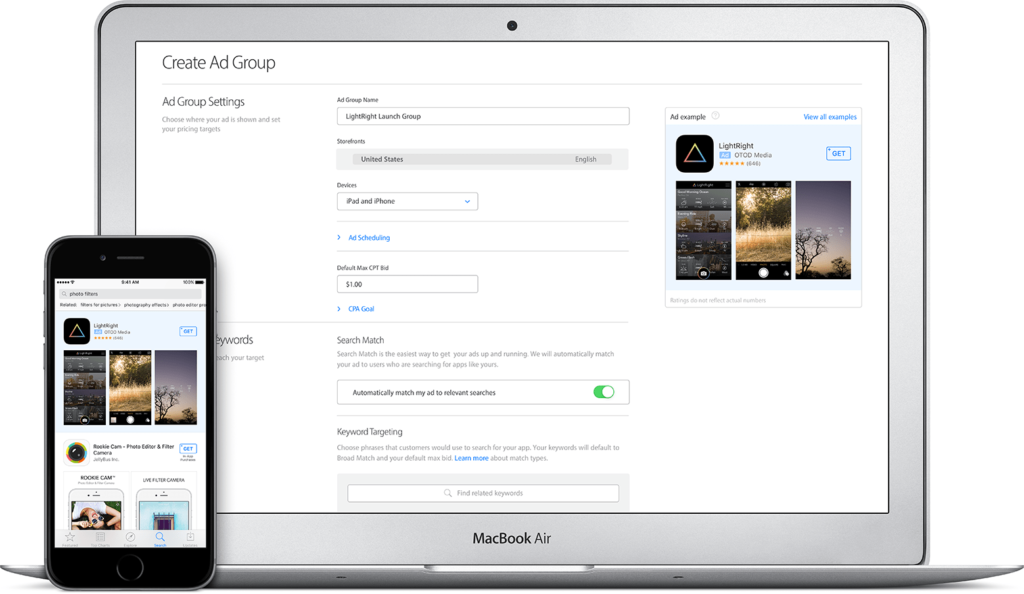 Find the right Balance between Keyword Popularity and Competition
The heart of a good keyword strategy is a solid base of relevant keywords matching with your app. At the same time, your focus keywords should show the right balance between competition and search volume.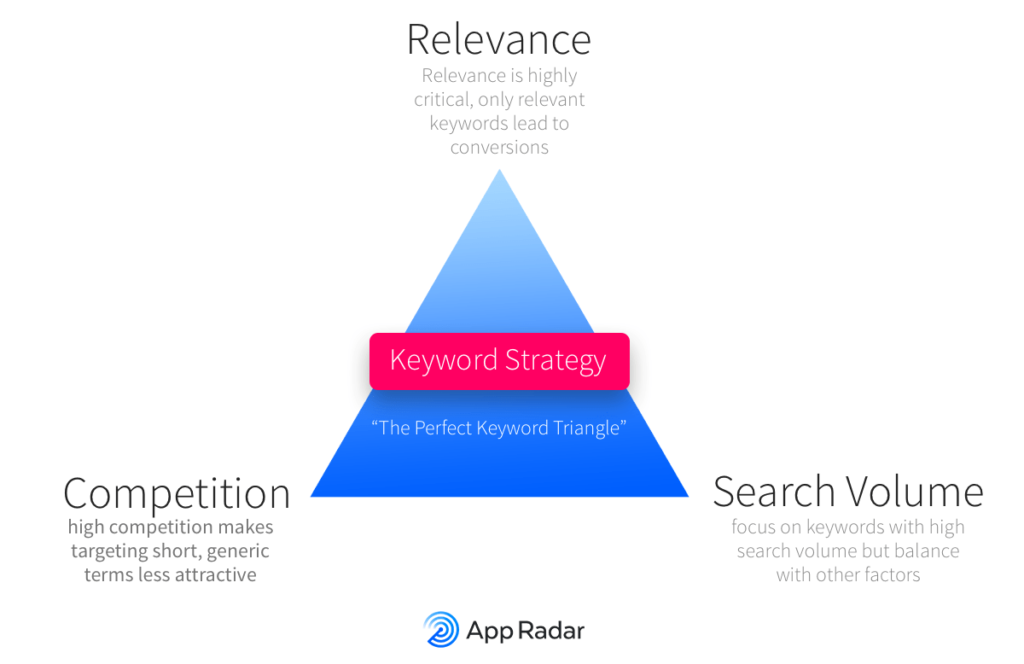 Users show a higher request for very generic terms like "shopping" or "messenger ", known as short-tail keywords. However, competition for those keywords is considerably high. Due to their general meaning and broad usage, they will be relevant and desired for various other apps. Including rather specific search terms lets you face lower competition and a greater chance to get your app downloaded. Furthermore, combined or specific search terms show a higher intention of the user to download an app. Having a good keyword strategy implemented means, you can acquire those people for your app.
Choose Your Keywords Wisely for App Store
It's crucial to regularly optimize your keyword strategy, especially for your Apple App Store listing. In iTunesConnect, the space for keywords is limited. App Name and Keyword Field are relevant factors for the ranking algorithm but limited to 30 characters (App Name) and 100 characters (Keyword Field).
Know which Keywords work well and which do not
In order to optimize your Keyword Strategy, you have to know which keywords work good for you and which do not. With App Radar ASO Tool you can track ranking results based on specific keywords. It shows you how your app ranks for a keyword and whether it lets your app decline or rise in search results. Look up your statistics within the online dashboard or get it delivered straight to your inbox or slack channel.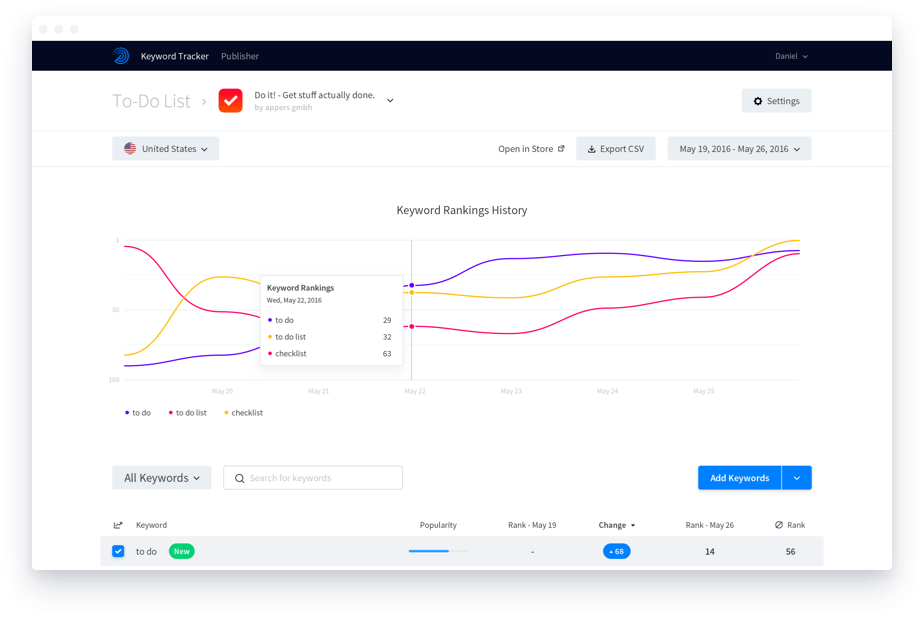 Also, compare how else is ranking for a specific search term and how popular it is in the App Store. This helps you get an overview of your app store performance and gives you a feeling of how to further optimize your ASO Keyword Strategy.
Grow Your Apps with Less Effort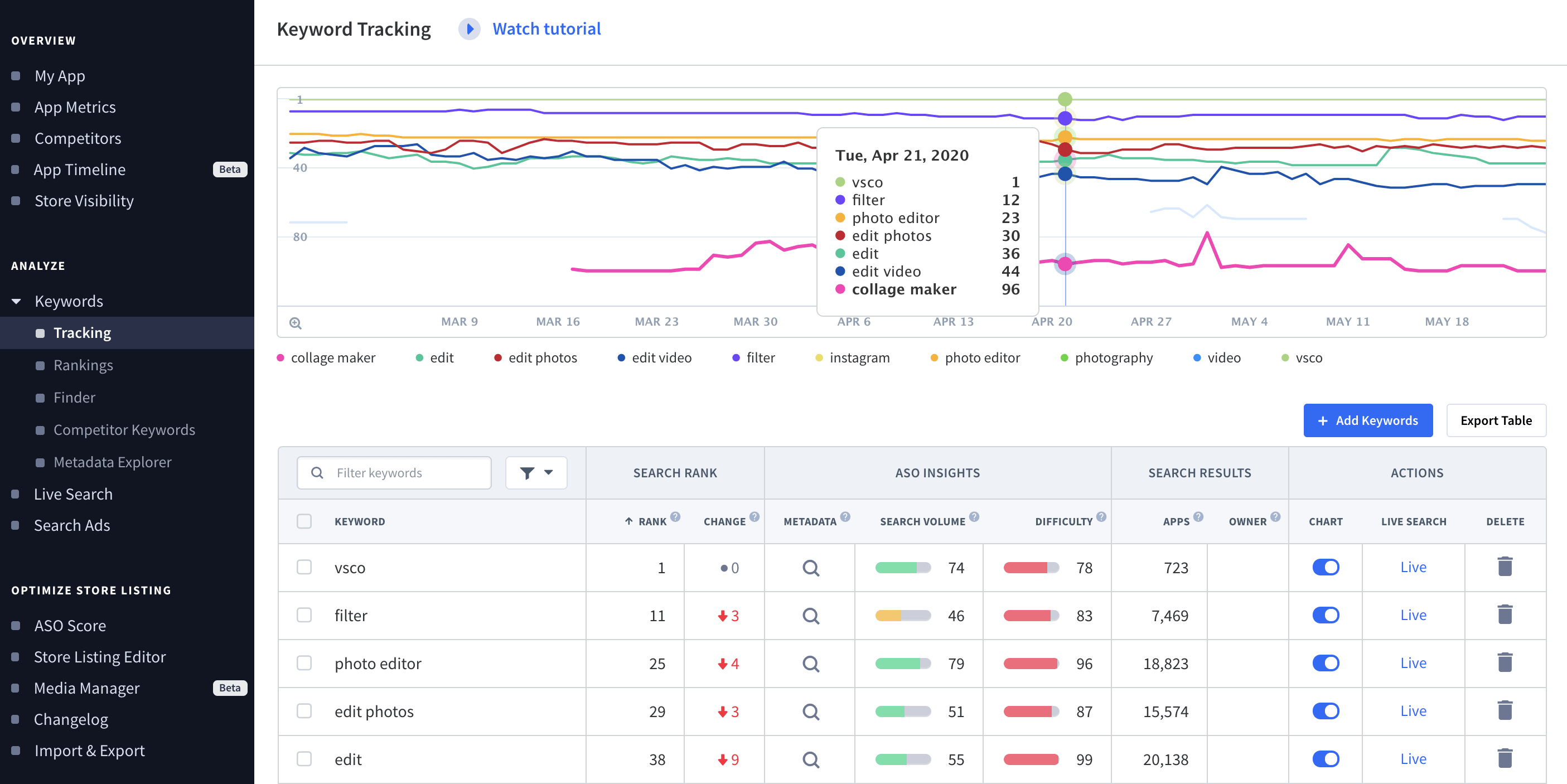 Find new keywords. Optimize all localizations. Spy on competitors. Track ASO changes.
Create a Free Account