Differences for app videos on Google Play Store and Apple App Store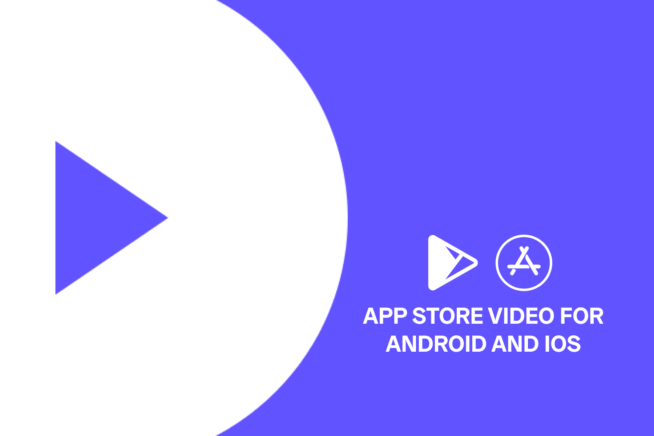 Whether you're more focused on Android or iOS app development, the chances are that sooner or later, you've got your app listed in both stores for maximizing your downloads. It's no secret that the Google Play Store and Apple App Store have their differences in the setup of store listings. And that's exactly why it's important to optimize for both stores separately.
This post will be looking into the differences between your video in the two app stores. Although named differently, the idea of showcasing your apps' functionality is the same for Promo Video on Google Play Store and App Preview on Apple App Store. It's also natural to have the same messaging and script for your app store videos, but the more store-specific focus you show, the more love from each app store you'll get back.
Deep dive: Differences between Google Play Store and Apple App Store.
General best practices for your app store video
It can be challenged whether every app store listing should include a video or not. We can say it depends on the category and your audience. Although a video doesn't directly influence Google Play optimization and Apple App Store optimization, it's a great way to demonstrate your app's functionality, features, and UI. So you convince new users to download and onboard to your app faster but also increase your conversion rates.
To cut it short, the following best practices apply to your store listings' video in both app stores:
Optimize the experience for mobile;
Have a clear CTA (call to action) like "Download now" or "Play today";
Make your point fast - within the first 5-10 seconds;
Make the video 30 seconds or less;
Show off the most appealing features (focus on screen recording and actual app experience);
Treat your mobile video as a trailer (make it exciting!);
Use text elements (many people will be watching your video on their phones with the sound off, make sure the texts stay long enough to read);
Provide localized videos (aka mobile app localization for specific regions/languages);
For games, show more gameplay scenes than cutscenes;
Use sample accounts when displaying personal information;
Show only material you have the legal right to display (music, trademarks, brands, etc.);
For having "evergreen" videos, avoid references to specific events that will outdate it;
Avoid misleading information. Use your app video for managing user expectations instead.
Deep dive: Using App Store Listing Visuals to Make a Good First Impression
Differences for app store video on Apple App Store and Google Play Store
This chapter could also be called "why not use the same video on Apple App Store and Google Play Store". To start with the most obvious, showing the Android interface on Apple App Store to iOS users or the iOS interface on Google Play Store to Android users is...well...simply confusing and misleading to the app store users and app store review teams.
But here's a more comprehensive overview of differences between app store videos on the Apple App Store and Google Play Store: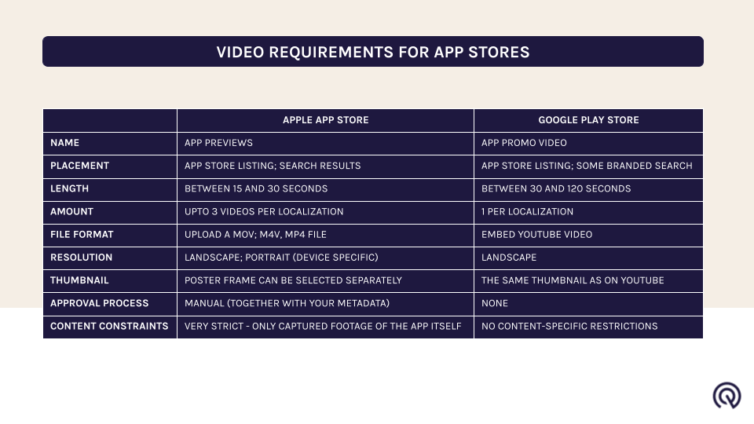 For iOS apps, the app video is shown in the app store listing and search results, whereas it auto-plays to catch attention. For Android apps, the video is shown in the store listing as well as in some brand searches.
Your app video should be up to 30 seconds long for the Apple App Store and between. 30-120 seconds for Google Play Store.
You can upload up to 3 videos per localization in .mov, .m4v, or .mp4 format for Apple. For Google, you can insert only 1 app video per localization, and it needs to be uploaded to YouTube first.
Whereas Google sticks strictly to landscape resolution, Apple is okay with both as long as the app video has a device-specific size.
For Apple, the poster frame can be selected separately for the cases when the video doesn't play. Google automatically uses YouTube thumbnails.
Apple App Store is very strict on content - you are only allowed to use captured footage of the app itself. Google is easier here, no content-specific restrictions apply, and you can be as creative as you wish.
For iOS apps, all results with video auto-play as muted. For Android, there's a limited number of apps with promo videos showing up in search results. The promo video thumbnail always has a "play" button, so there is no auto-play.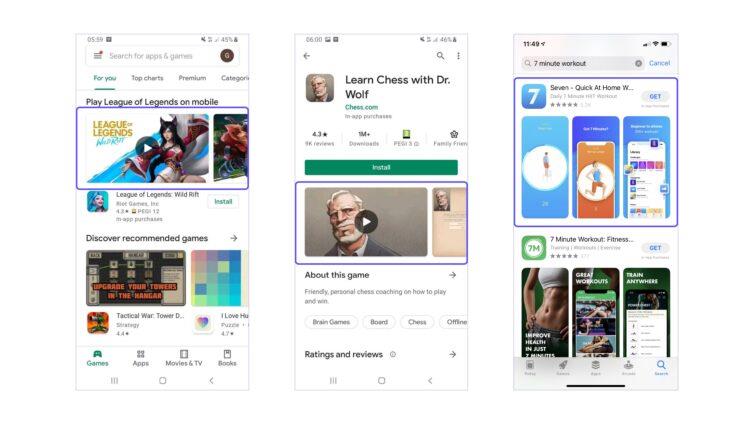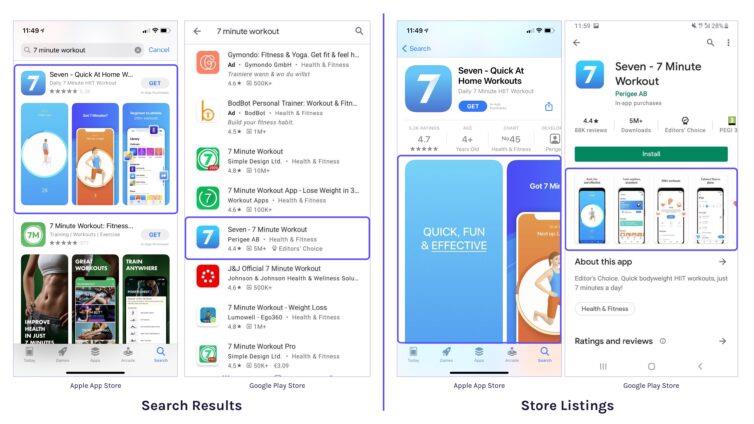 Requirements for promo video on Google Play Store
Google Play Store does not require promo video of your Android app. But you should consider it because of Google's recommendation: "a promo video is effective to show the capabilities, the look and feel, and experience of your app to potential users for better app discovery and decision making." For games especially, having a promo video can get more visibility in Google Play Store.
Your app store listing can include one promotional video, and it needs to come directly from YouTube. Luckily, Google leaves you full creativity for doing your video - there are no limitations on the format and content, unlike Apple.
Google provides a list of guidelines/recommendations that make Google algorithms like your app even more:
Disable ads on your video, so the video is not monetized (e.g., when you have ads on your YouTube channel);
Analyze your videos in YouTube analytics;
Promo video has to be public or unlisted and embeddable;
Make your promo video informative (it might be shown across Google Play, not only on your store listing);
Minimize branding, focus on actual in-app or in-game experience;
Do not include people interacting with the device;
Use landscape video even if your app/game is in portrait orientation (the main reason why not to use your Apple App Store portrait video on Google Play Store!);
Your promo video can be used for Google Ads;
Don't use an age-restricted video, avoid violence/adult content.
Deep dive: App Promo Video: How to Create a Great Promo Video for Google Play
Requirements for app previews on Apple App Store
Like Google Play Store, Apple doesn't require a video on your app store listing. But as they highlight that app previews are "key in helping users discover and learn about your app," you should definitely put some focus on it.
Deep dive: App Preview Video: Showcasing Your iOS App in the App Store
Main app video requirements of Apple App Store
Hereby we highlight the most important aspects of your app video for the iOS app store.
App previews may only use captured footage of the app itself.
Videos are auto-playing, therefore include easy to read text. It might also happen that a person will miss the first seconds of your video so make the content easy to follow.
Video can be max 30 seconds. Otherwise, it won't get uploaded to App Store Connect.
There's a manual (often highlighted as subjective) review process. Read more here.
Use the second or third app preview for highlighting additional features that users might not know about.
Your content must be appropriate for ages 4+.
Don't overlay animated hands simulating gestures.
Use native resolution instead of zooming in.
Don't include pricing on video. It's already on your app store product page.
For features that are only available through in-app purchase or a subscription, you must disclose this. Disclaimer copy can be included within the footage or in the end frame.
Consider overlaying audio and professional voiceover actors.
Don't forget to select a great poster frame that also fits with your app screenshots. It'll be shown whenever the app preview doesn't show (functions as video thumbnail).
Use app previews for Apple Pre-order in order to showcase your app (as users cannot yet download it).
App Previews can be shown inside your Apple Search Ads - a great way to improve your paid user acquisition.
You can only upload an app preview when your app status is editable in app store connect. Therefore, if you for example want to change your poster frame, you'll have to submit a new app version to be reviewed again.
App Preview sizes
iOS app previews are device-specific, so you need to create videos with 3 resolutions:
One video for iPhone 5, 6 (Plus), 7 (Plus), and 8 (Plus) - 1080×1920 for portrait orientation or 1920×1080 for landscape orientation;
Another one for iPhone X (Max) - 886×1920 or 1920×886 resolution;
One for iPad (Pro) - 1200×1600 or 1600×1200 resolution.
Summary of app store videos for Google Play Store and Apple App Store
Although there are some general best practices that apply to app store videos on both Google Play Store and Apple App Store, there are significant differences that have to be considered. Most importantly, the content, length, and resolution need to be done according to store specific guidelines.
When testing new app store videos, make sure to focus on conversion rates - whether the person who sees your video actually downloads your app will be the bottom line to say if you're on the right track! Read here more about them.
Should you need support with your app store videos, get in touch with our app marketing team. We work with various designers to combine the rules of great ASO with great app store visuals.