How to Get Users to Leave an App Store Review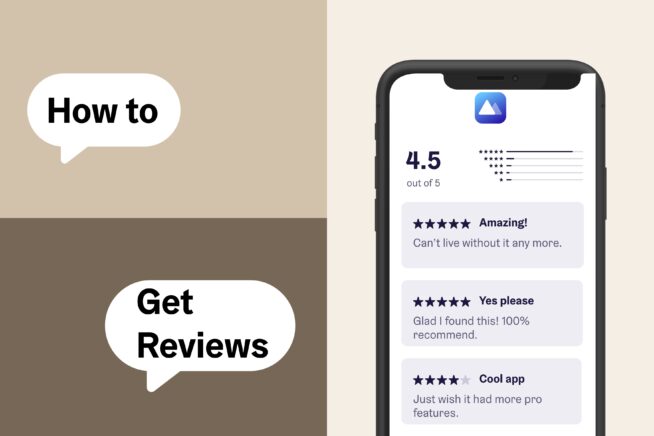 Ratings and reviews have a massive influence on whether people will download your app. The more ratings and reviews that you have, the more appealing your app will appear to potential users. So it's crucial that you ask your current users to leave a review in Google Play or App Store.
Why You Need To Ask Users to Leave an App Store Review
Having not only positive reviews but a sufficient amount of them on your app store listing is one of the best ways to get new users. People scrolling through Google Play or App Store will look at an app and use past users' experiences to decide whether or not they'd also like to download the app.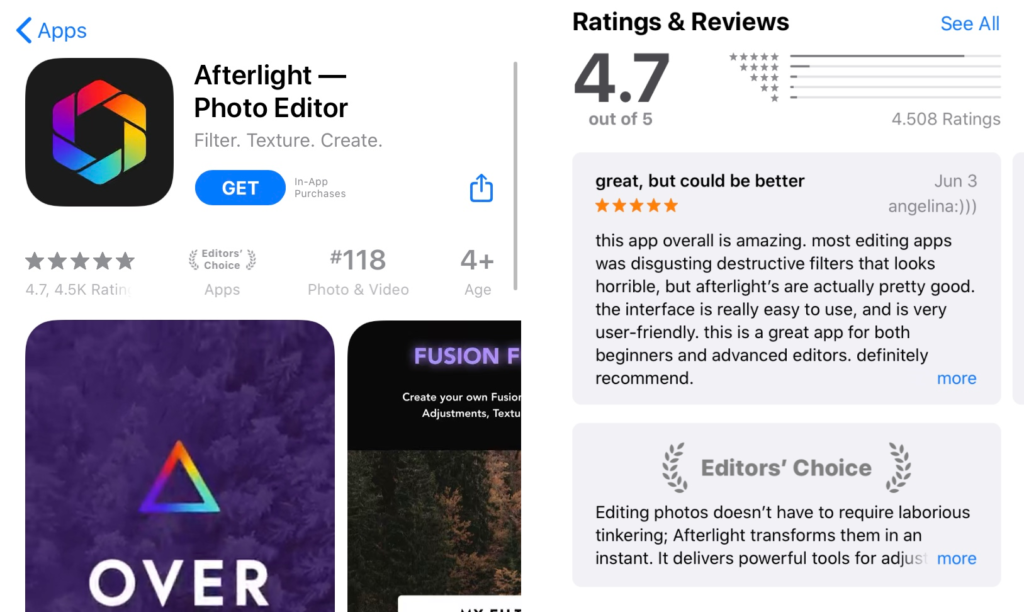 In addition, ratings and reviews affect app store ranking. The higher the average star rating your app has, the higher it will rank. For Google Play specifically, keywords that users use to describe your app in their reviews are indexed by Google. Google then uses these words to categorize and rank your app.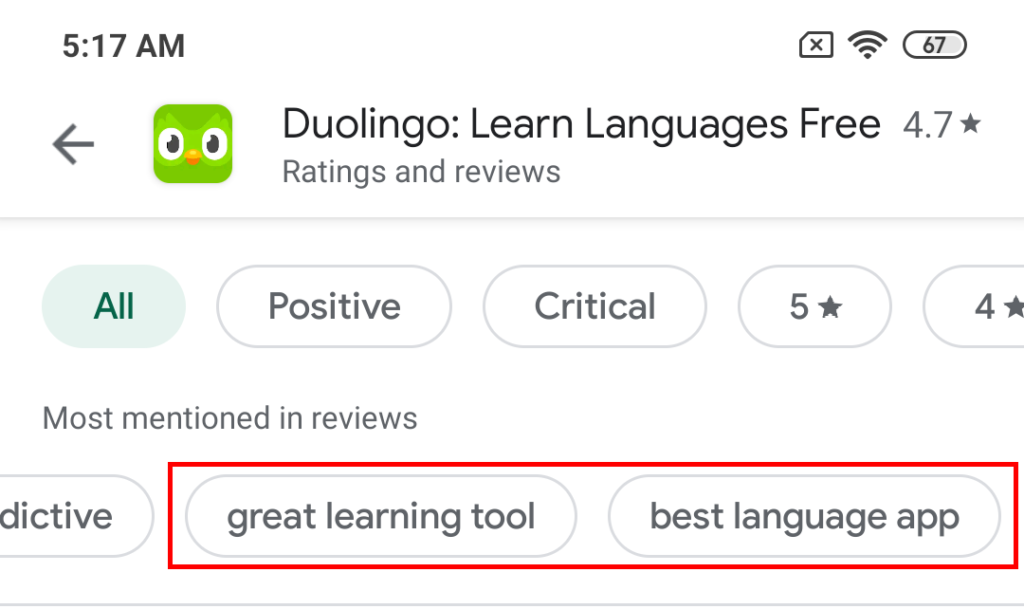 That's why it's so important to ask your current users to leave a review. Usually, people on polar ends of the opinion spectrum will feel compelled to say something. These are app users who had a terrible experience or an extremely great one. However, having ratings and reviews from only these two sides leaves your average rating in a volatile and inaccurate state.
So to get more passive users who also have an excellent in-app experience to speak up, you need to prompt them.
Here's how.
Asking Users for Ratings and Reviews in the Apple App Store
Apple likes you to use Apple products. There are other plug-ins you can use, but it's best practice to implement the tools that Apple provides if you want your app to get into the top charts or be featured.
Apple provides its developers with a SKStoreReviewController API. According to Apple, you can use this prompt three times within a 365 day period, which helps you to gain meaningful reviews. It also forces you to not bother your users too much about giving a rating or leaving a review. Users don't like to be annoyed because pop-ups interrupt their app activities and make the experience less seamless.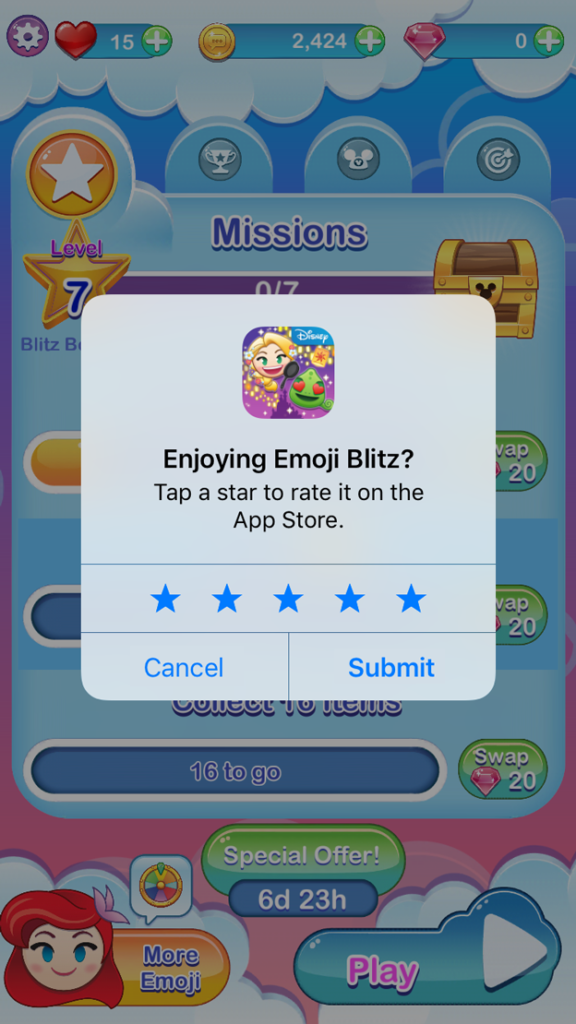 Another benefit of using this API is that Apple has built it so users can leave a rating or review without ever leaving your app. You never want to motivate actions that make your users leave the app. When they exit your app, the likelihood that they'll come back to engage with it significantly lowers. You also risk that a user looses their progress within your app if they leave. Then they become angry and annoyed. Positive review turns in to a bad on.
iOS users are used to Apple UX/UI since Apple keeps this pretty tight. A pop-up that is outside the design of standard Apple products will seem spammy or fake, decreasing the authority of your app.
Make sure your support contact information is clearly displayed or easily found. That way, users can contact you directly about a negative experience, and you can fix it before they leave a negative public review.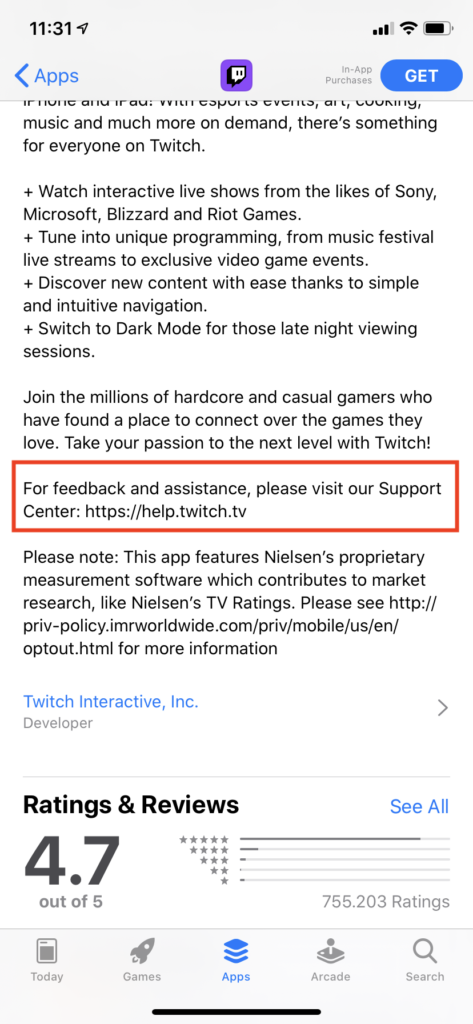 Asking Users to Leave Ratings and Reviews in Google Play
Google has yet to release uniform in-app pop-up like that of Apple's for Android developers. Although rumors have been circling about the release of it this year, some remain doubtful. As a result, many Android developers have resorted to plug-ins, which are mostly available on GitHub.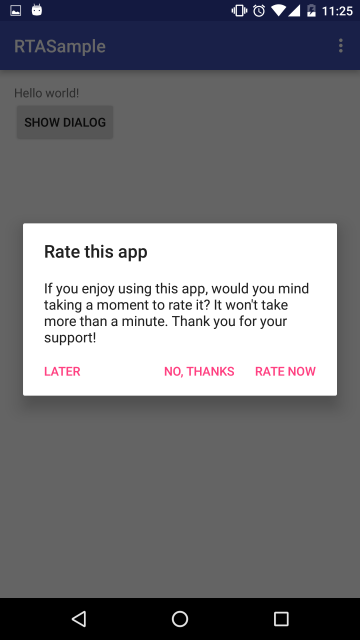 However, there is a plus here. Since Google doesn't require you to use a specific pop-up, you can make yours much more branded than those in iOS apps. But this also means you should do much more testing. For Android apps, not only does the timing of the pop-up matter, the design and wording also matters. Users may respond better to specific colors or a particular copy. Run A/B tests to figure out which variations work the best for your app and your users.
To figure out if your prompt is working well, you can track your app ratings. In App Radar, you can see how your app ratings changed over time. When you see an increase or improvement in the ratings after you've implemented a new pop-up, then you know that the prompt is working well.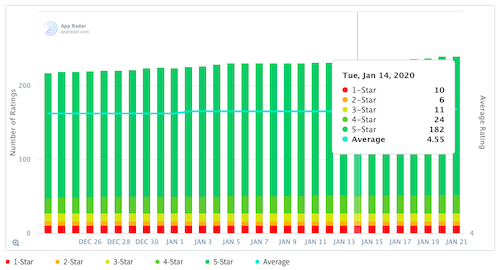 If you notice the reverse is happening, it's time to make an update. Create a free account to track your app store rankings.
How Often Should You Prompt Users to Leave a Review?
Users are engaging with your app because they like the experience. Don't ruin that by always bothering them to leave an app store rating or review. You may even push them over the edge, and they'll give you a 1-star review purely because they got so many pop-ups asking them to provide a rating.
Be conservative with the number of triggers you have for the pop-up. In addition, ask in a friendly and on-brand voice. Meaning the pop-up should sound like it.
Singular action based triggers will fire the pop-up too often. Aim for time and event based instead. For example, a person who has more than 25 sessions in your app has spent enough time using it to leave a thoughtful and helpful review.
Asking a user to rate your app or leave a review too early in their user journey is bad form. They haven't had enough time to figure out if they like your app or not. They may have also not discovered all the features that your app offers. Give your users time to get comfortable with your app before asking them for a rating or review.
Furthermore, if a user has responded with no they don't want to leave a rating or review more than 3 times, it's unlikely that they'll ever do so. You can adjust to this reaction by not entirely turning off the ask for a rating and review pop-up less but instead triggering it less.
Fraudulent Methods to Gain More App Store Reviews
Under no circumstances should you use fraudulent methods to garner more app store ratings and reviews. This includes paying for fake reviews, paying for negative fake reviews on your competitors' listings, offering incentives such as discounts on in-app purchases in exchange for a review, or review gating.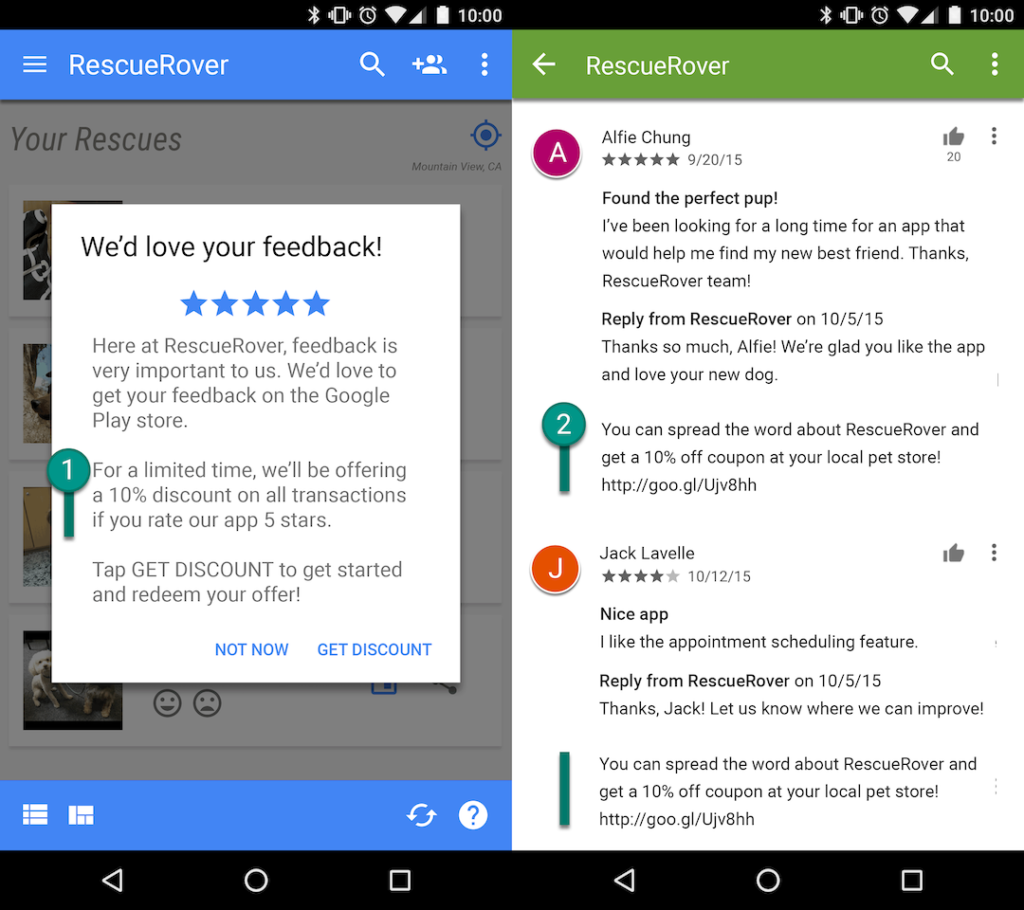 Review gating is when you try to block users from leaving negative feedback and only cultivate the positive ones. In practice, this usually looks like feeding people who say they had a bad experience to your website or a support email and those with good experiences to the app store.

Any shady actions could land you in a tight spot. It could result in removal or even a ban from both Google Play and the Apple App Store.
Follow the guidelines set by Google Play and App Store for ratings and reviews to ensure that your app and developer accounts are safe from removal.
The Benefits of Replying to App Store Reviews
Asking your users to leave a review is only the first step. The second is reading through and then replying to their reviews.
To strengthen your app brand and increase user engagement, you need to reply to every review. That includes the good and the bad ones.
First, unhappy users usually update their review to a more positive one after you've informed them that the problem they experienced has been solved. People appreciate outstanding customer service.
That goes for apps as much as it does a retail shopping or restaurant dining experience. Second, your users, even the super satisfied ones, want new features and further improvements. Getting feature ideas directly from user feedback is the perfect way to build a product that they'll love.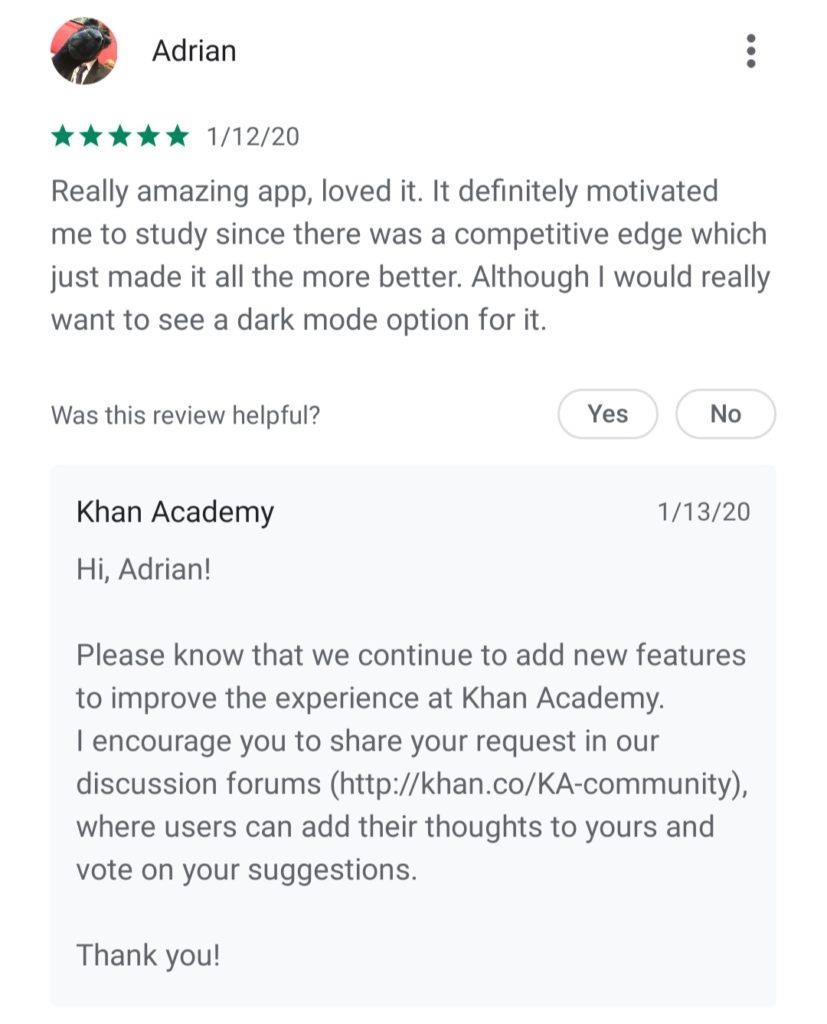 For anyone who isn't a user yet but is deciding to download your app, your responses have a significant impact. It shows these browsers that if they use your app, their voice matters too. This type of communication sets you apart from your competitors.
Also, don't forget that your replies are as public as user reviews. Be careful not to reveal any personal information, whether that's the users' or yours. Make sure to let them know that you appreciate the time they took to give you feedback. When necessary, give them an additional channel of communication. It's always good to give out a support email address. Then the next time the user comes upon a bug, they can report it to you instead of leaving a negative rating and review in the app stores.
Track App Store and Google Play Rankings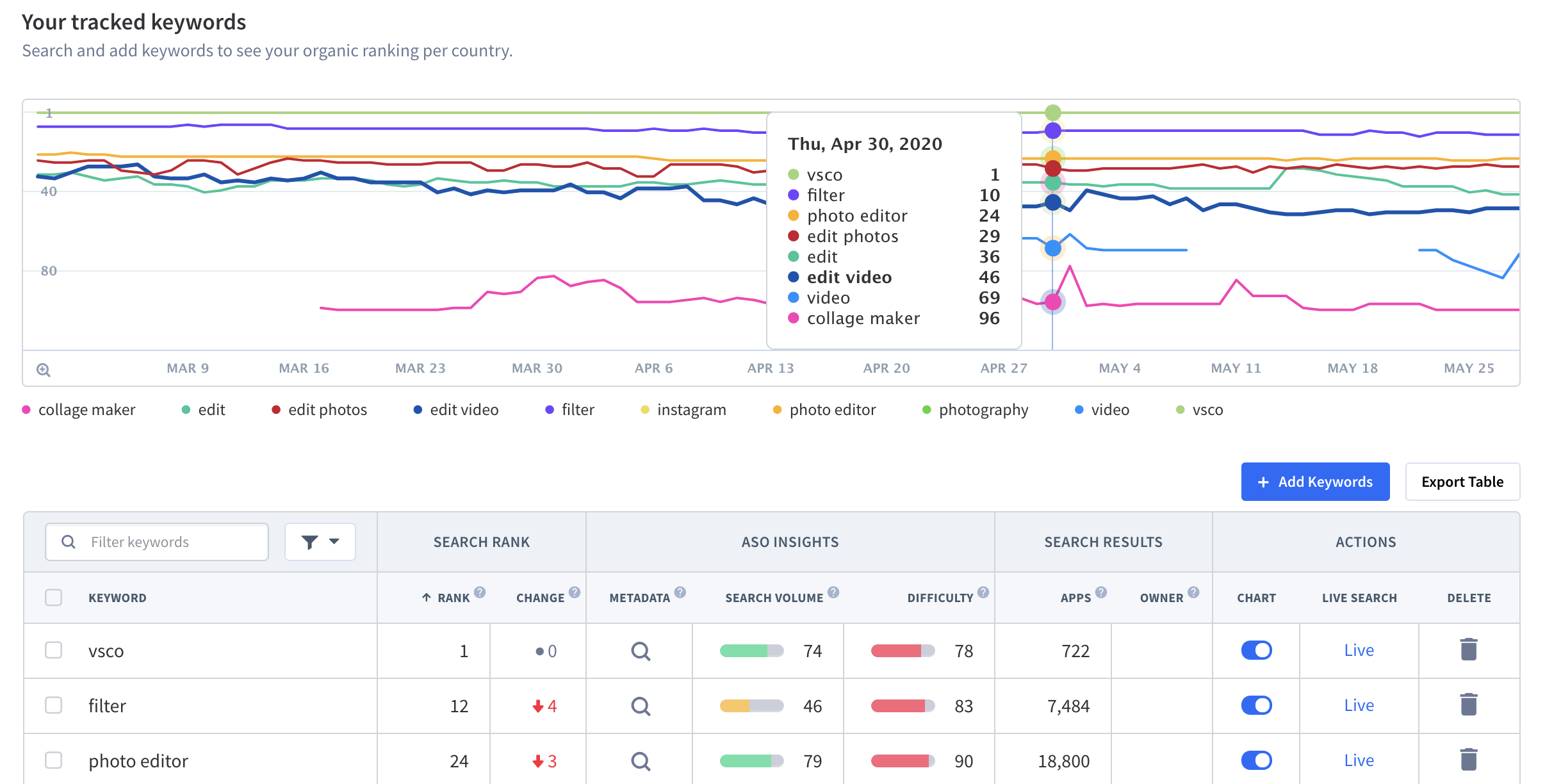 Make sure your keyword rankings are rising.
Act fast to prevent any drops in rankings.
Get more app users today!
Get Started for Free