iOS App Store Optimization
iOS Keyword Field: How to Take Advantage of iOS Keywords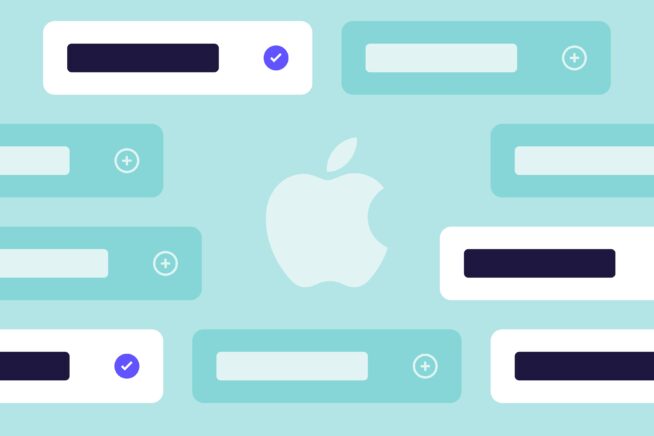 When you're filling in your app information, you will notice that there is a field, unique for iOS apps, called "Keywords". In contrast to Google, Apple gives you a specific field where you can input keywords. This field is private and won't be shown on your public app store listing.
At this point, you know that keywords play a major role in App Store Optimization. They are how your app is found in the app stores and determine your ranking in search results.
Keywords tell Apple's search algorithm what your app is about and in which app store searches your app should be listed on.
The Impact of App Store Keywords on iOS ASO
According to Apple, 65% of downloads come directly from search. As a result, App Store Optimization and keywords are crucial to getting an app discovered by new users in the App Store. Apple has helped developers by creating the keyword field. Here you have 100 characters to specify terms or phrases that your app should show up for in search results.
When it comes to keyword rankings, the iOS keyword field has less ranking weight than the app name or subtitle. But it still has a huge impact on your overall App Store Optimization.
Dive Deeper:
App Keywords: How to Choose the Best Keywords for Your App
App Store Ranking Factors: App Store vs. Google Play
What is App Store Optimization?
What Should my Keyword Field include?
Do not randomly choose your keywords or only include trending ones. For Apple to rank your app, your keywords have to be relevant. That means they have to describe your app, functionalities, and features.
If you do end up using unrelated keywords and rank for them. You'll be attracting unwanted traffic, users who are not in your target audience. The danger of this is that they weren't actually looking for your app. They wanted something else. So when they download your app, they'll quickly uninstall it. And uninstalls hurt your App Store rankings!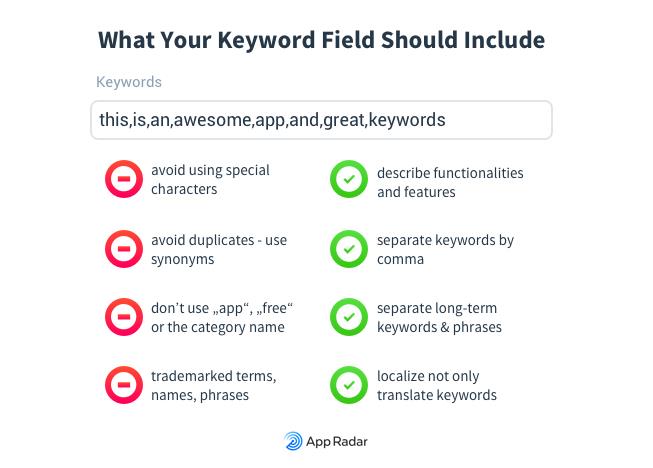 Apple guidelines warn to avoid using special characters as they don't carry any weight in the search rank.
If you are using numbers, write the digit, Apple will know that "3" and "three" is the same. Then you have more characters for further keywords.
Do not leave any of the 100 characters space empty, every character counts for the search rank. Separate your keywords with commas and no spaces.
Good to know: Apple has some terms that are a free match for apps, so don't waste your space on them. There isn't a list. However, our team noticed that searches including the word "app", the name of the category, and misspellings of your brand name are automatically indexed by Apple. So you do not need to use them as your keywords!
How Often Should I Update My iOS Keywords?
Apple's keyword ranking algorithm is constantly changing. At the same time, there might be new competitors or other apps using the same keywords. That means that your keyword rankings aren't forever, you have to keep regularly optimizing your app information and this includes the iOS keyword field.
Finding the Best App Store Keywords for Your iOS App
Think of Keywords You Want Your App to Rank for
Start with thinking about what you would like to rank for. If you are just about to launch your app, start with brainstorming search phrases and keywords.
Sit with some colleagues and start writing down search phrases related to what your app offers. Then find some synonyms for those words.
Your app reviews are also a good place to find keywords that users use to describe your app.
Alternatively, you can use App Radar for reliable keyword research. App Radar gives you AI recommendations, and you can also get keywords inspiration straight from your competitors' rankings.
Dive Deeper:
App Screenshots: Designing Compelling Screenshots for the App Store
How to Get Featured in the App Store
Common App Store Optimization (ASO) Myths, Challenged
Distribute Search Terms Across Keywords, Subtitle and App Name Field
After you've done the initial research, you'll end up with a long set of possible keywords. But then you realize you only have 100 characters in the keyword field. Here's how you can narrow the words down.
Considering the app name and subtitle having a greater influence on search rankings than the iOS keyword field does, you should make sure to put the most promising keywords in your app name and subtitle field and include further terms into the keyword field. This way you can ensure, your app is indexed for various keyword combinations and search phrases.
The good news is that the algorithm is smart enough to combine keywords from your app name, subtitle, and keyword field. So if you have a language learning app and want to rank for "language learning", "online english course", and "learn spanish", your app information may look a little something like this.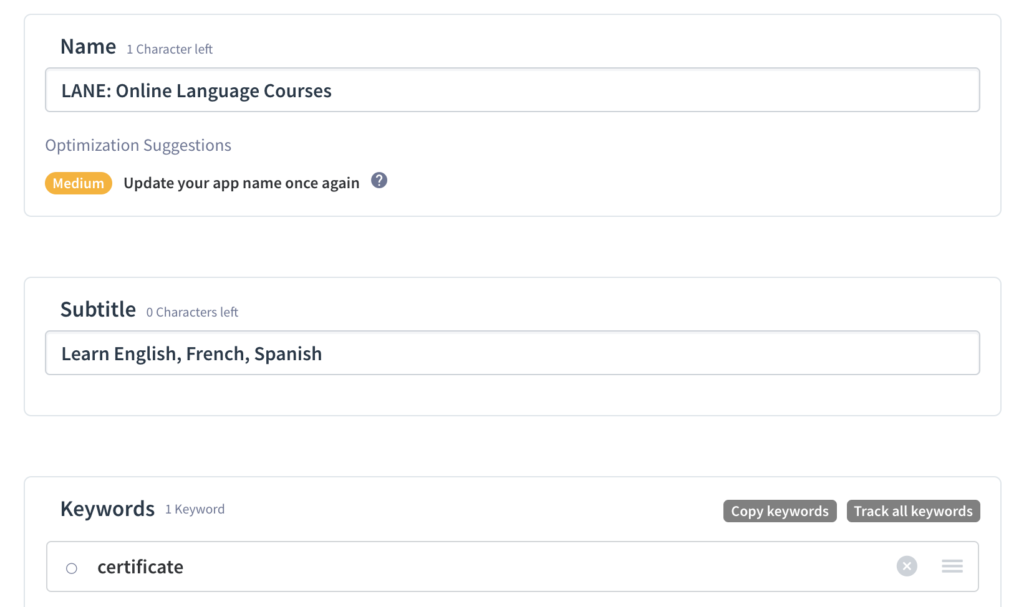 Quick-Tips for Optimizing Your Keyword Field
Leave out Plurals
In addition to combining the strengths of app name, subtitle and keywords, it isn't necessary to write the same word in the plural and singular. Remember that we are dealing with a sophisticated algorithm, so, if you want to rank for course and courses, "course" will be enough to rank in both.
Separate Keywords by Comma
If you are familiar with ASO tips, you might have read this one already. However, we think this couldn't be stressed enough. Remove unnecessary blank spaces in and between your keywords. It's enough to separate terms by a comma. The space for keywords in your app information is limited – make sure to make the most of it.
Avoid Duplicates in Your Keywords
This is another mistake, app marketers and developers commonly make. The App Store handles both, spaces and commas as keyword separators.
When adding long-tail or combination keywords, many app developers often put the whole phrase into the keyword field. Doing so, chances are high, there will be duplicates in your keyword field wasting valuable space from the 100 character count. Apple only needs a keyword to be present in your app information 1 time to index it. So if a keyword is already in your app name, don't repeat it in the subtitle and keyword field.
In addition, always use single words. Like we discussed above, Apple will automatically make combination keywords for you. By only using single keywords, you maximize your chance of ranking for a series of combination ones.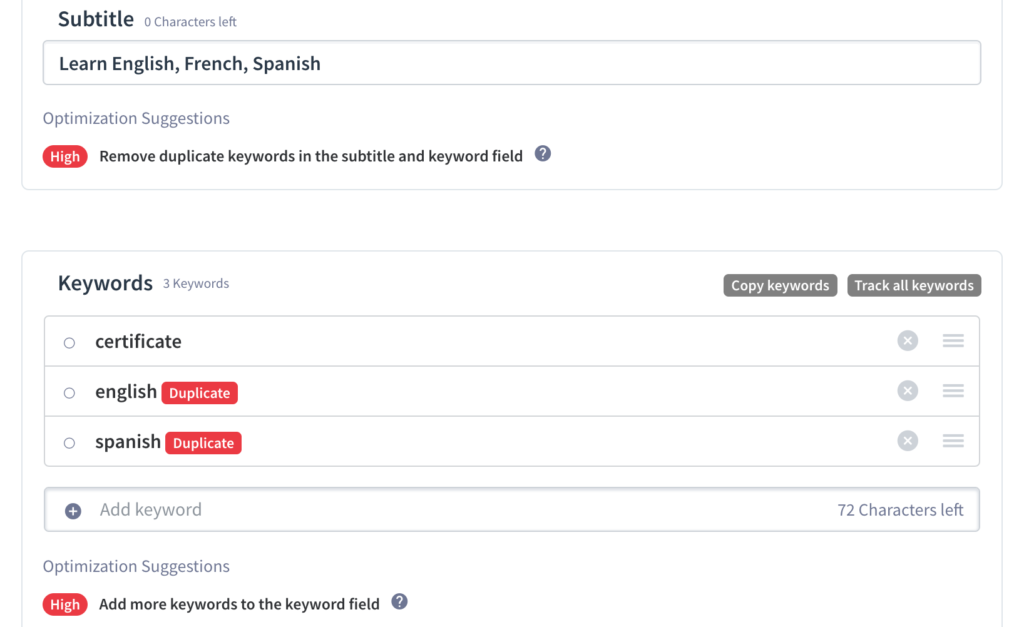 App Radar will tell you if you have any duplicate keywords in your app store listing.
Regularly Update Your iOS Keywords
The most sure way to find out what works for your app and what doesn't is testing. Thus you should be quick and agile in optimizing your app information.
Regularly check your keyword rankings. When there are keywords in your iOS keyword field, for which your ranking didn't improve for quite some time, exchange it with another term or synonym.
Grow Your Apps with Less Effort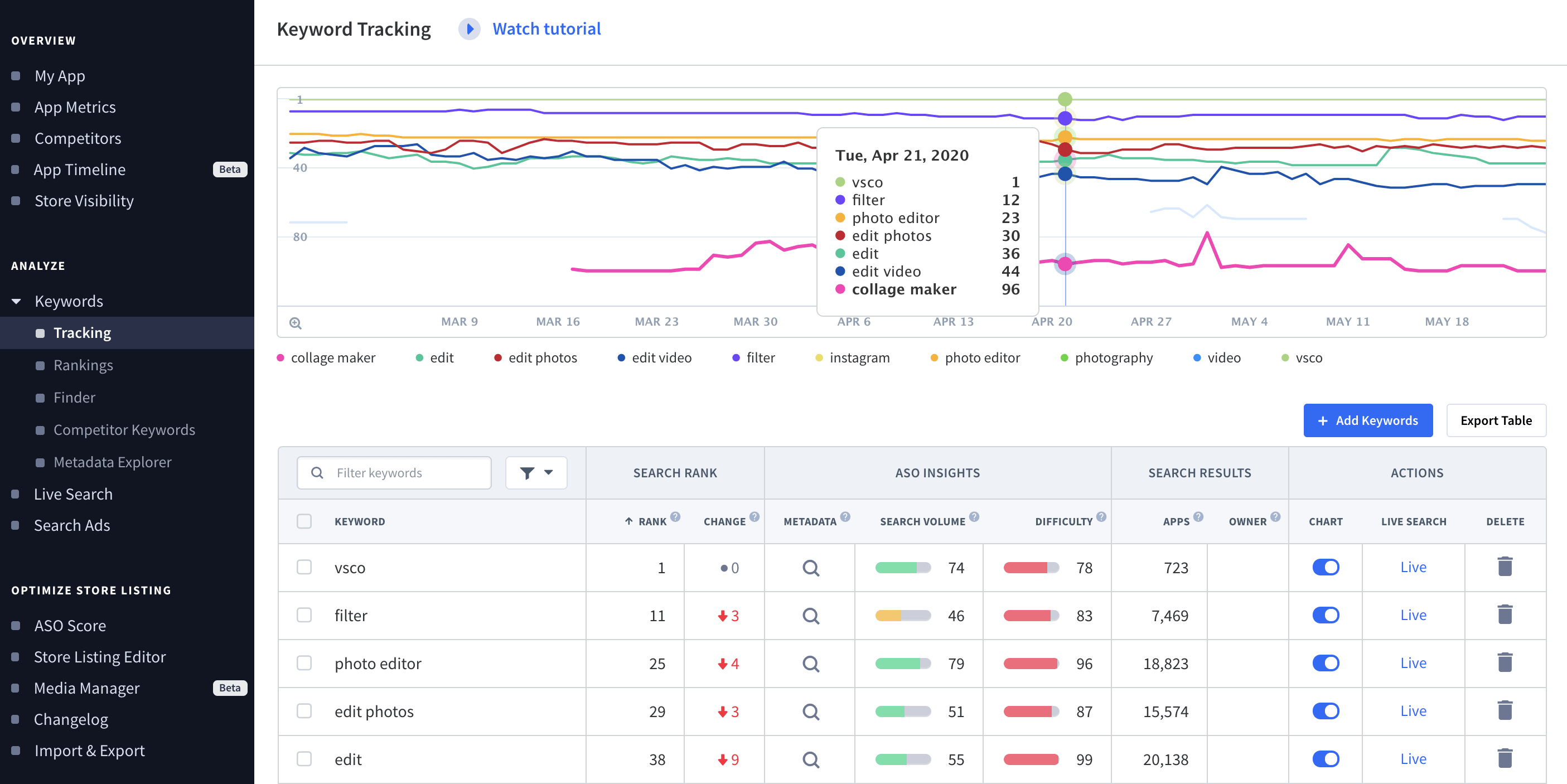 Find new keywords. Optimize all localizations. Spy on competitors. Track ASO changes.
Create a Free Account