App Store Optimization Basics
How to build backlinks for mobile apps to boost ASO and visibility in app stores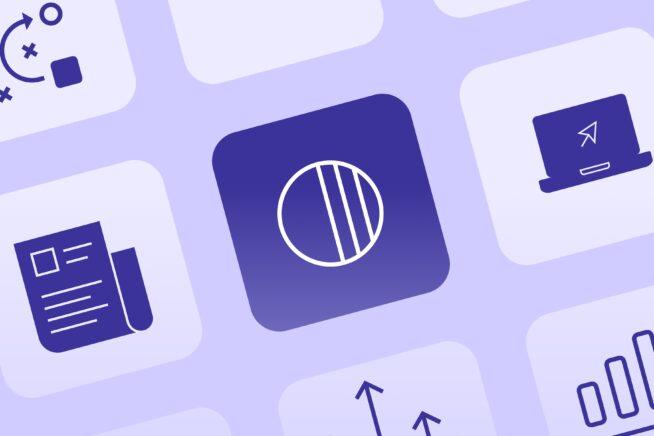 When it comes to promoting your mobile app or game, there are many strategies you can use to boost its visibility and drive more downloads. One of the most effective but often overlooked strategies is SEO (Search Engine Optimization) backlinks. Yes, you read it correctly! The old-school marketing approach with backlinks also influences the rankings of your mobile apps.
In this article, we will discuss the connection between SEO and ASO, specifically backlinks, and how they can help you build a strong marketing strategy for your mobile app. Moreover, we will uncover 10 approaches how to a quality backlink strategy for your Google Play Store app.
Difference between ASO and SEO
ASO, also known as app store SEO, shares many similarities with traditional search engine optimization. Both processes involve optimizing keywords and backlinking to improve visibility and conversion rates. However, the main difference lies in their ranking factors.
ASO focuses on optimizing mobile apps for their presence within app stores while SEO is geared towards improving website rankings on platforms like Google Search which involves hundreds of different ranking factors with varying weights.
By understanding these critical components of ASO and SEO, and implementing them effectively into your overall app strategy, you can improve your chances of achieving higher rankings and increased downloads.
The following checklist illustrates the main differences and similarities between ASO & SEO.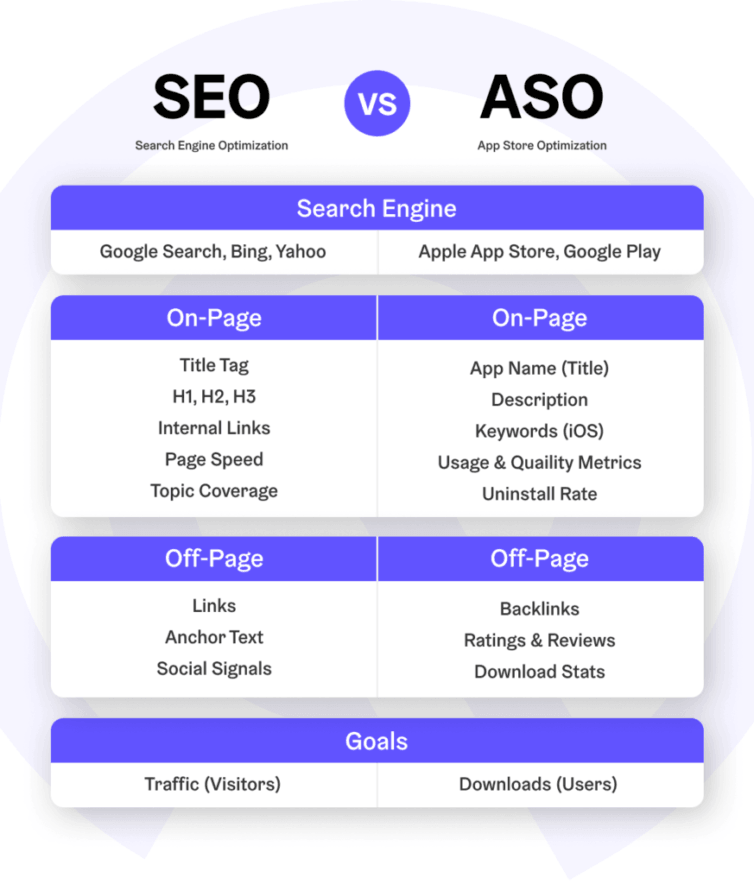 As you can see, backlinks play a crucial role in both web and app rankings. Therefore, let's dive deeper to understand how to use backlinks for app marketing.
What are backlinks and why are they important for app marketing?
Backlinks are links from other websites or blogs that lead to your app or game listing on the app store. They are important because they can help improve your app's visibility in search results, particularly for keywords that are relevant to your app's content.
However, keep in mind 2 things:
Backlinks influence only Google Play Store ratings. Apple App Store doesn't count on backlinks when it comes to rankings.
Only quality backlinks from authoritative websites can boost your app's ranking. Low-quality domains might rather hurt your rankings than improve them.
Therefore, consider building a solid backlink profile for your Android app and pay attention to the domain rating of the linked website.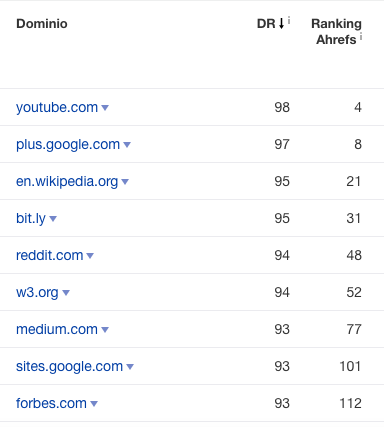 How do backlinks impact Google Play ASO?
Backlinks can help your app's ASO efforts, particularly for keyword rankings in search results. However, it is important to note that the exact impact of backlinks on ASO is not fully understood. While we know that backlinks have an impact on search results, we don't know if they affect the Explore/Browse sections of the app store. That said, it is safe to assume that backlinks play a role in ASO and can help your app rank higher in search results.
Why is ASO crucial for this strategy to work?
If backlinks can help your mobile app or game rank higher in Search, it doesn't mean that you can forget about ASO optimization and other Google Play ranking factors.
First, if someone gets to the app directly through a backlink, you could think that the job is done and that the user is most likely to download the app. However, it is definitely not that easy and if the listing is not optimized, the chances for this user to end up downloading the app are very low. Therefore, it is very important that you optimize your app and make its listing convertible, which means having the on-metadata factors optimized to convince the user to download.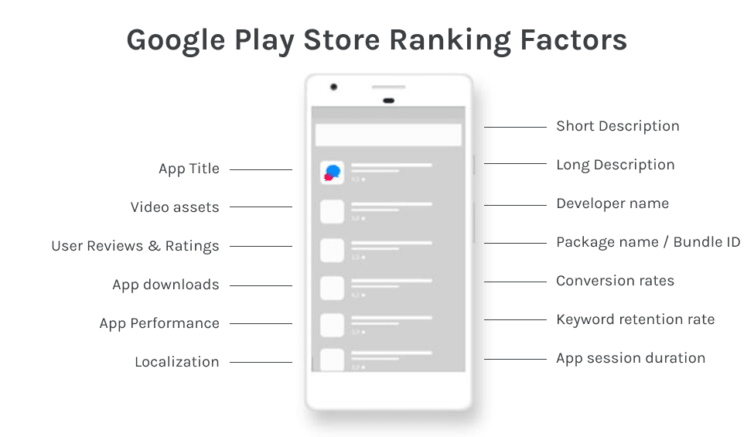 Another reason you need to have your ASO fully optimized for this strategy to work is that a backlink strategy won't be enough for your mobile app or game to rank for your selected keywords in a high position. Backlinks can help and make your app rank higher for some keywords, but it will most certainly not make it rank in the Top 5 if the rest of the ASO on-metadata fields of your listing are not optimized.
Note: without a fully optimized ASO strategy, your backlink efforts may fall short in driving downloads. Make sure your app store listing has a high conversion rate before you start to build a backlink profile. 
10 proven ways to build quality backlinks for your Android app in 2023
Now that you understand the importance of backlinks for your app marketing strategy, it's time to brainstorm ideas on how you can start building quality backlinks. Here are 10 proven ways how to build backlinks for your app to improve your app visibility.
1. Link to your app from your website or landing page
Having a website or landing page dedicated to your app is essential for your business's success. If you already have one, make sure to include links that lead directly to your app(s) store listing. Doing so, not only will it increase traffic and visibility, but also boost the credibility of both your site and apps.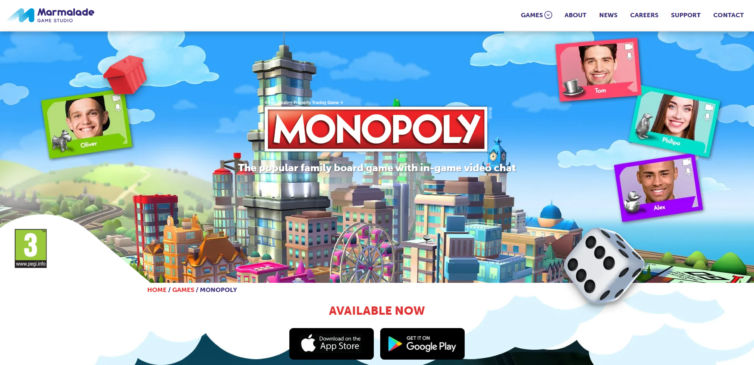 Keep in mind that your website is well-optimized and provides valuable and discoverable content for users. Also, make sure your app is indexable in Google searches. That way, people can see your app store listing in Google search results and navigate to the app store listing directly from there.
2. Promote your app on social media platforms
It's a great idea to create social media profiles and connect them with your app or website, which should also link back to the mobile app. Facebook, Twitter, Pinterest, Instagram, and LinkedIn are just some of the platforms you can use for this purpose. Although many of these links may be "no-follow", it is still important to have a diverse range of no-follow backlinks in order to maintain a healthy "link profile". The overall collection of links that an app or domain receives makes up its unique "link profile".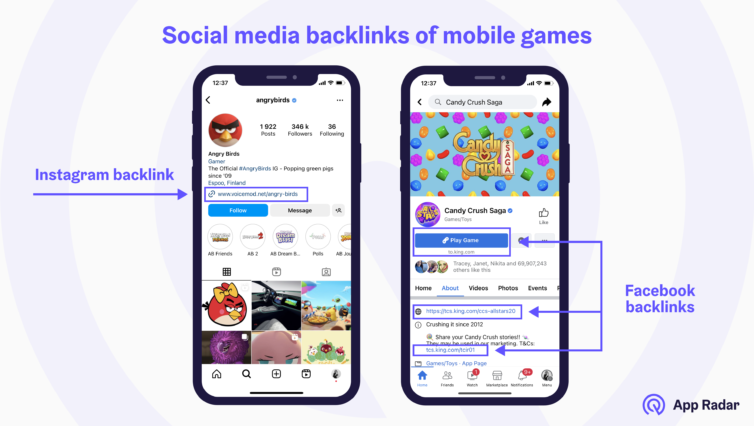 3. Create a press release and reach out to media outlets
Spread the word about your app by crafting a compelling press release and distributing it to both general and niche media outlets. With some good fortune, you may secure publication of your story, with even more luck leading to the inclusion of an app link.
Alternatively, there are professional agencies that can handle this task for you if the budget allows.
4. Sponsor or collaborate with an event in your industry
Another great way to boost your app's visibility is by sponsoring or partnering with an event in your industry. By doing so, you can secure a valuable link from the event website directly to your app store listing. These websites often receive media attention and have high domain authority, making them an excellent opportunity for increased exposure to your app!
Explore our comprehensive list of app marketing conferences scheduled for 2023 and discover the perfect gatherings tailored to your app topic.
5. Use influencer marketing to promote your app
In today's digital world, influencer marketing has become a popular way to promote businesses, including mobile apps. Influencers from different niches have become the go-to source for product and service recommendations and reviews. By partnering with the right influencers, you can reach your target audience and increase brand awareness.
Moreover, influencers can do more than just promote your app on social media. It can also help you to get quality backlinks from their websites, social media, and even YouTube channels. Therefore, don't overestimate the power of influencer marketing for mobile apps and backlinking building.
6. Participate in online forums and discussions related to your app
Online forums and discussion boards are communities of people with common interests and can be a great place to showcase your app to a relevant audience. By providing valuable insights, answering questions, and sharing information related to your app's niche, you can establish yourself as an expert and gain the trust of potential users. Additionally, many forums allow you to include a signature with a link to your website or app store listing, which can be a valuable source of backlinks.
However, it's important to ensure that your participation in forums and discussions is genuine and not solely for the purpose of promoting your app. Providing value to the community should always be your top priority.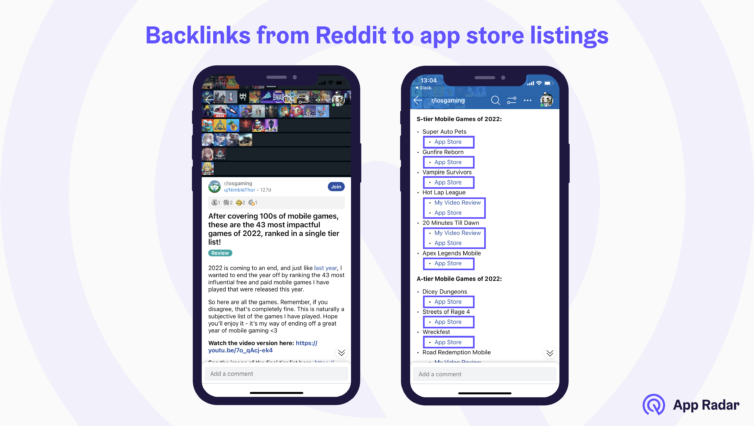 7. Offer guest posts or articles to relevant blogs and websites
Collaborate with other apps or websites in your industry and contribute a guest article to their blog. These articles typically feature links back to your website or mobile app, boosting visibility and traffic. Share insights on app development, management strategies, growth hacks, and intriguing data points - the possibilities are endless! By partnering up with like-minded businesses online, you can expand your reach while also establishing yourself as an authority within the field.
Remember that App Radar is always here to support your app growth. Reach out to us and we showcase on our website how our platform contributes to the success of your app through a case study format.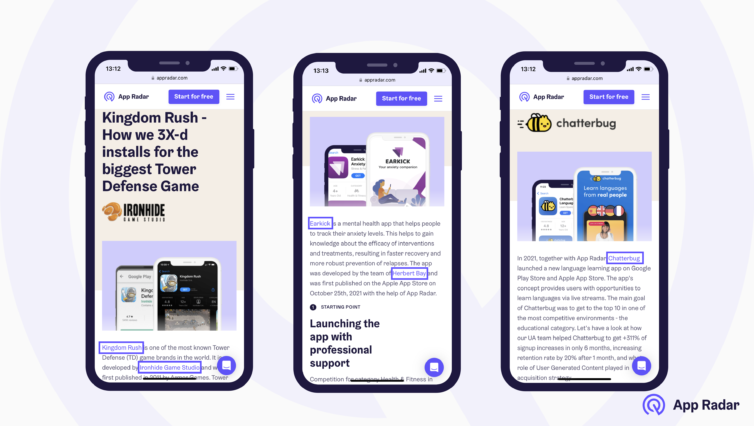 8. Submit your app to app review sites
App review sites are websites that review and promote mobile apps to their audience. Submitting your app to various review sites can be a great way to expand its reach and gain more visibility. Not only do these platforms offer the opportunity for increased exposure, but they also allow you to include valuable backlinks that lead directly to your website or app store listing.
It's important, however, to choose reputable review sites with a large audience in order for this strategy to truly pay off. Low-quality websites may actually damage your reputation rather than help it - so make sure you thoroughly research each site before submitting!
9. Collaborate with other apps to cross-promote your app
Working together with other mobile apps can be a fantastic way to boost your apps' visibility and attract high-quality backlinks for your website or app store listing. This kind of cross-promotion involves teaming up with other app businesses to promote each other's apps to their respective audiences, allowing you both access to new groups who may have an interest in what you offer.
It is essential though when choosing partners for these campaigns that they are complementary products relevant specifically toward those most likely interested in yours; otherwise, there could potentially be reputational damage without any added value gained from such collaborations. As always, research carefully before selecting whom best suits working alongside yourself!
10. Create a spectacular and shareable infographic
Last but not least, include in your content marketing strategy a stunning infographic that can be easily shareable. Infographics are widely popular on the internet as they present complex information in an engaging, easy-to-read format that can be shared across various social media platforms and media sources. To leverage this powerful tool for promoting your app, create an infographic relevant to its niche and promote it through authoritative websites catering to similar audiences.
3 tips for building quality backlinks
As you can see, there are different approaches to start building your backlink portfolio. However, we want to highlight one more time the importance of the following elements in your backlink strategy:
Authority: it is essential to focus on quality when building backlinks, therefore, always check the domain rate of a potential website.
Relevance: ensure that the topics of websites are relevant to your mobile app. Even if you find a high-quality domain, but the content there is irrelevant to your target audience, it would be a waste of time to target those websites.
Anchor text: don't forget that anchor text also plays a crucial role in link-building success. Therefore, align with the partner website on how exactly to anchor your link in the content.
To measure authority and spy on other apps' backlinks effectively, use SEO tools such as Semrush, SEOranking, Ahrefs.
Takeaways
Backlinks can be a valuable asset in your app marketing strategy, but they are not a magic solution for driving downloads. To maximize the impact of your backlink efforts, you need to have a fully optimized ASO strategy that will convince users to download your app.
With this in mind, utilizing backlinks is definitely worth considering when developing a comprehensive mobile marketing campaign! If you are too busy for tasks like App Store optimization and backlink building, you can entrust your app growth success to App Radar's Agency. Our team of experts will handle everything with utmost care and expertise.
Need Help Growing Your Apps?
Get in touch with our app marketing growth team to discuss the right solutions for your mobile app business
Contact Us Today