App User Reviews: The Do's and Don'ts of Replying
We've established that replying to app user reviews is necessary when aiming to be on top of the app industry. Now let's talk about what the do's and don'ts of replying to app user reviews are. 
Before digging deeper, you may have read that replying to user reviews improves user management, nurtures the relationship with the users, and helps with retaining unsatisfied users. The end result is more active customers, higher satisfaction, and a lower app churn rate, which positively influences app store optimization for Google Play and Apple App Store optimization.
Keep your developer responses concise and stay focused on the topic
There's nothing worse than receiving a reply that has nothing to do with your initial statement or one that rants off-topic. Creating a response that doesn't match up with the user's review makes your app brand look bad and untrustworthy. Read the user's review carefully to form a concise but also comprehensive response. You want to ensure that you address the problem they are experiencing or correctly thank them for enjoying your app. 

You may feel tempted only to respond to bad reviews because what else is there to say to someone who had a perfect experience. Of course, there is something to say! This is your chance to prove that there is a team working hard behind the app to make it better every day. It's also an opportunity to tell your users you appreciate them and encourage them to continue using your app. 
The Kitchen Stories team responded to a user review that was nothing but positive. They thanked the user and made it personal by adding a team member's name. That's a great way to approach happy users.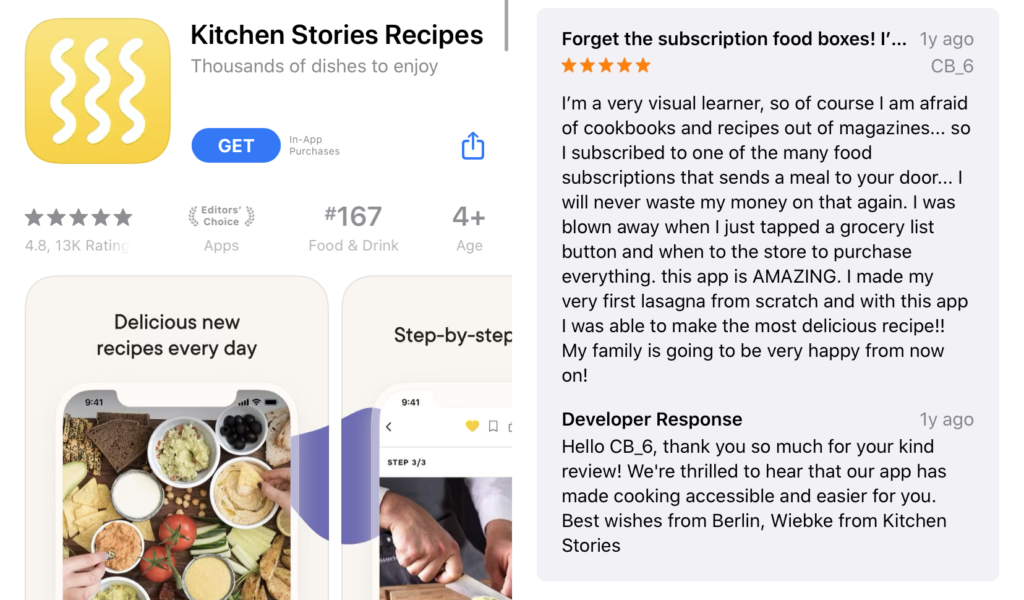 Apologize and don't argue, even if the user leaves an aggressive review
We all know that sometimes people get angry about an issue that is either not your fault or out of your control. They may get aggressive or leave an exceptionally negative review on your app store listing. Don't engage in the fight and instead try to appease the situation.
Arguing with your app users will only make the situation worse and escalate it to a place you probably don't want to be. Remember that the reviews and your developer responses are public. Anyone could be reading them, including potential new users. Take the high road, apologize, and try to solve the problem as best as possible not to tarnish your app brand.
Report inappropriate user reviews, offensive, contain spam, or in some way violate the Google Play and App Store community guidelines
You shouldn't argue with users within your app store reviews, but that doesn't mean you can't take other actions against especially aggressive or inappropriate statements.
You, as an app developer, publisher, or marketer, do not deserve to be attacked by anyone. That includes your own app users. People can be cruel; we all know that. When you receive user reviews that involve any kind of inappropriate, offensive, or spam content, do not hesitate to report these instances to Google Play or Apple App Store. These users are violating community guidelines that are set up to keep your app community safe. If they are harassing you, they may also be harassing your other users.
Avoid asking for a higher app rating or other marketing tricks
I'm sure that your app has received low ratings that you think weren't deserved. It may be tempting to ask the user to change their rating, but this will only backfire. These types of requests make your app brand seem desperate or scammy. Also, remove any other marketing language in your responses. You want to create a conversation with your users to improve their experience, not sell them something else. 
Spirit Roots was on the right track letting their users know that they released an update that should fix the problem of dying too easily in the game. However, you can see that they asked each reviewer to consider changing their rating. This is not outright asking for a higher rating but can seem dishonest and spammy because the exact same reply is used for every user who complained about this issue.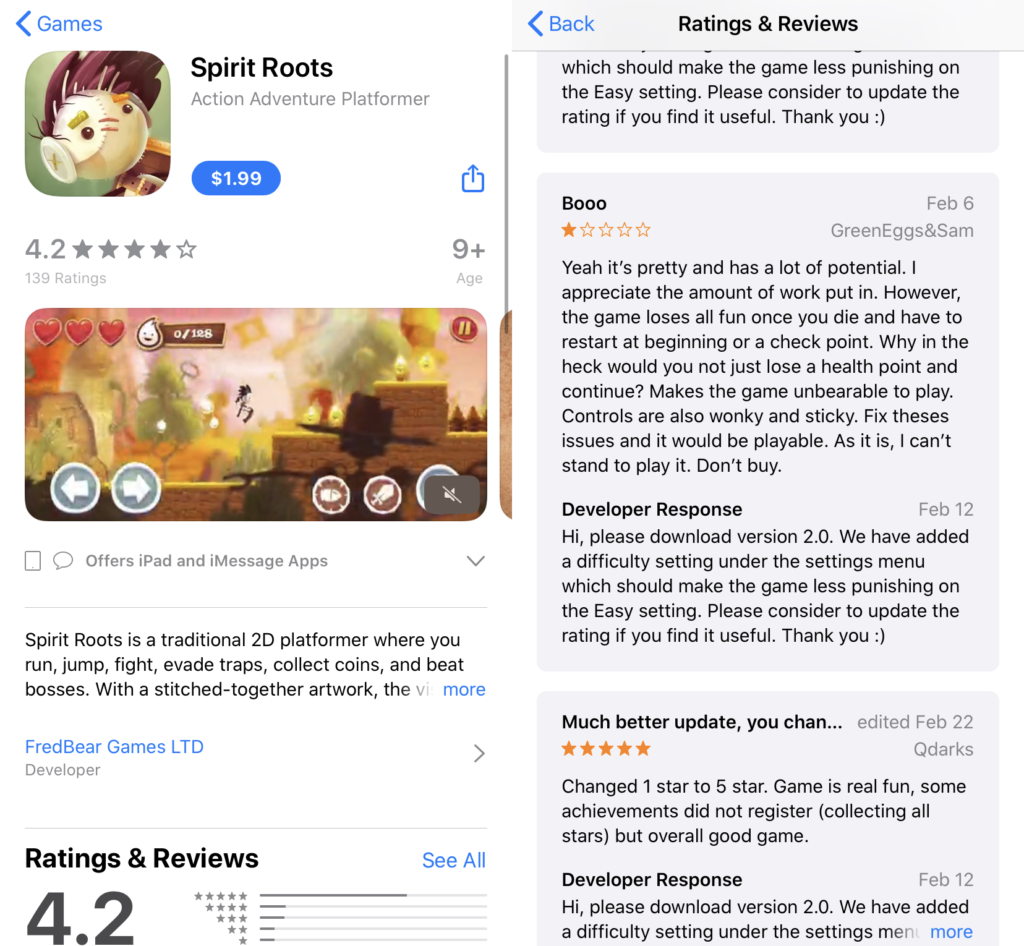 There are, however, cases where a user will leave a glowing review but, for some reason, gives a 1- or 2-star rating. In this situation, feel free to ask the user why they gave the low app rating while leaving such a great review. The user will get a notification via email or push notification that you responded to and can correct their rating at that time. 

People hate waiting, especially when it comes to customer service. Don't keep your users waiting. Respond as soon as you can. Your users will appreciate your quick response and know that your team is working hard on improving the app.
Hydrocoach keeps up with their user reviews and responds within one day.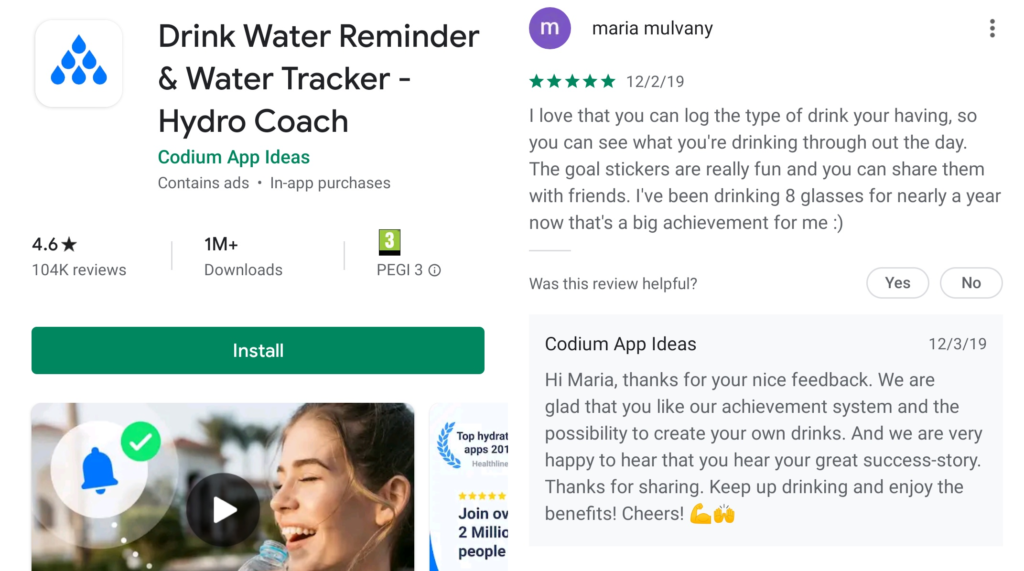 In addition, more recent reviews are likely to be highlighted on your app store listing page. By replying as fast as possible, you ensure that your featured app reviews contain a developer response. This undoubtedly strengthens your app brand and makes your app more appealing to potential users.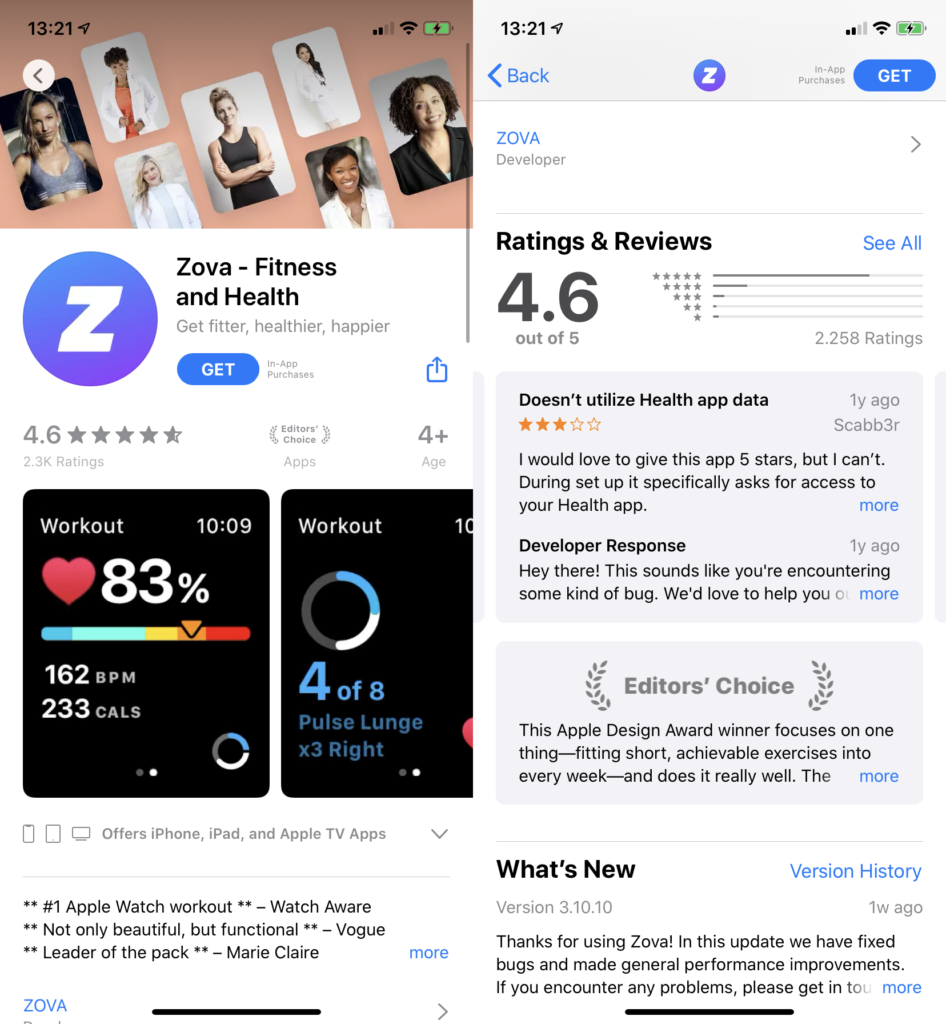 App Radar allows you to set up email and Slack alerts for when you receive new app store reviews.
Never Miss an App Store Review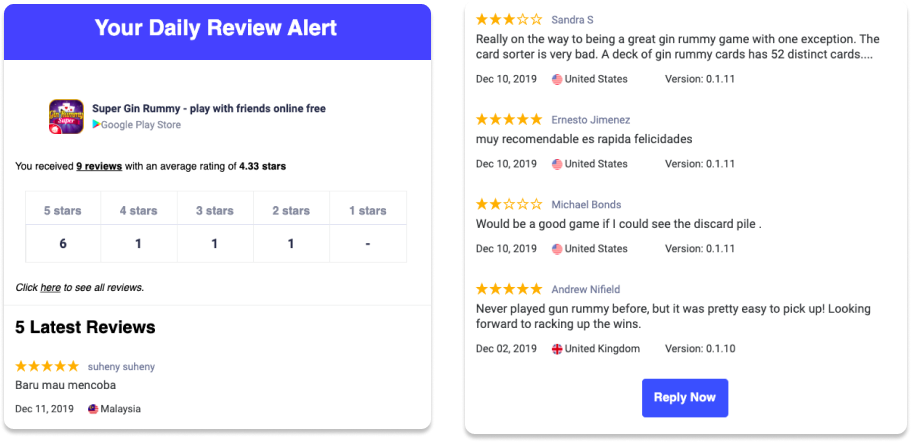 Get notified every time your app gets a new user review.
Create a Free Account
Give further resources such as support contact information, FAQs page, or documentation
When appropriate, give the user further resources that they can use to enhance their app experience. This may be times when an issue the user encountered requires more support or a complete solution.
Don't be afraid to take the conversation off of Google Play or App Store. There are instances where you want to continue the conversation through email with your support team. By communicating on another channel, such as email, you can dive deeper into the bug, feature request, or other problems or requests. In addition, you will probably solve an issue that would have led to a negative review. You end up preventing a negative review and instead influence the user to leave a positive one.
Bumble quickly reassured the user that they are a top priority to the Bumble team. By providing a specific feedback email, they can continue the conversation and better resolve the issue.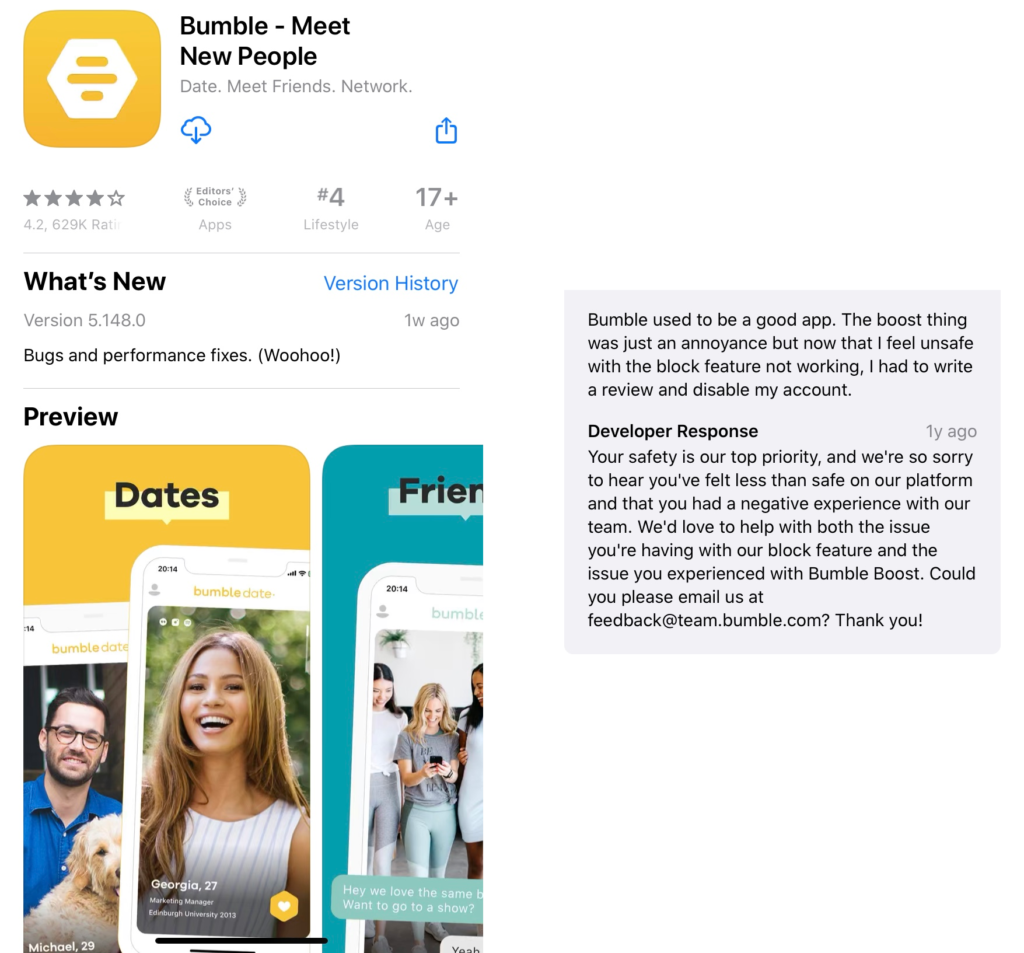 Make sure that the contact information to your support team and links to your FAQs are also clearly displayed in your app store listing, usually in the description. That way, users have the option of communicating directly with you before they publish a public app store review.
Forward billing and downloading issues to Apple
Billing and download issues are not uncommon for both the Apple App Store and Google Play Store customers. These could be refund requests, double subscription problems, stalled downloads, and more.
Apple App Store Billing and Download Issues
Subscriptions and downloads on the Apple App Store are handled exclusively by Apple As an iOS developer, you should be forwarding any billing or download issues to Apple. Since They'll do an initial investigation into the problem. If they discover that it is indeed a problem on your side, they'll reach out to you.
The users also have to understand that these types of problems are not on your table. When responding to complaints about billing or downloading, be clear that you'll be forwarding the complaint to Apple. You should also give the user the correct links to contact Apple. That way, the problem gets resolved faster, and you increase the likelihood that the user will change their negative app rating to a positive one.
Google Play Billing and Download Issues
Google Play works a bit differently since the Play Store functions across various operating systems and devices. Android developers hold the primary responsibility for subscription and install problems.
First, give your users a way to reach you outside of Google Play. These types of problems will involve dealing with private information such as credit card numbers or user account details. Don't discuss these items publicly because they can put your app and also your users at risk.
Blinkist offers their users a support email and mentions that they'll work to get a refund for the user.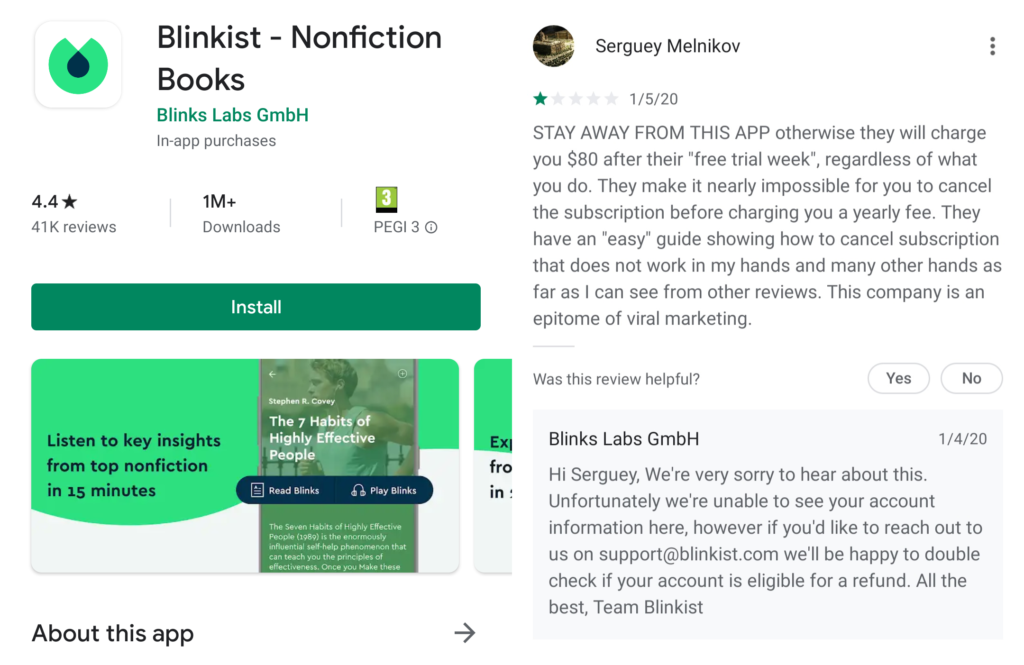 Tell your usersabout app updates and bug fixes
Did you release an app update that implements new features and fixes bugs? Let your users know! Aside from release notes or push notifications about updating, there is one very important task you need to complete. The task is going back through your app store reviews and replying to the users who wanted these new features or reported the bugs. 
Letting them know does a lot more than putting a piece of mind in your head. Your users will realize that you are working to build an app for them and that you care about their opinions. Users who want the new features will be excited to get back into your app and use them. That's because they begin to feel like they also have a hand in the app development. They're now a part of your app's community.
Disney does a great job at listening to their users and checking back. They took in the user's notes and released an update to fix the bugs. Then they made sure to tell the user that a new update is now available.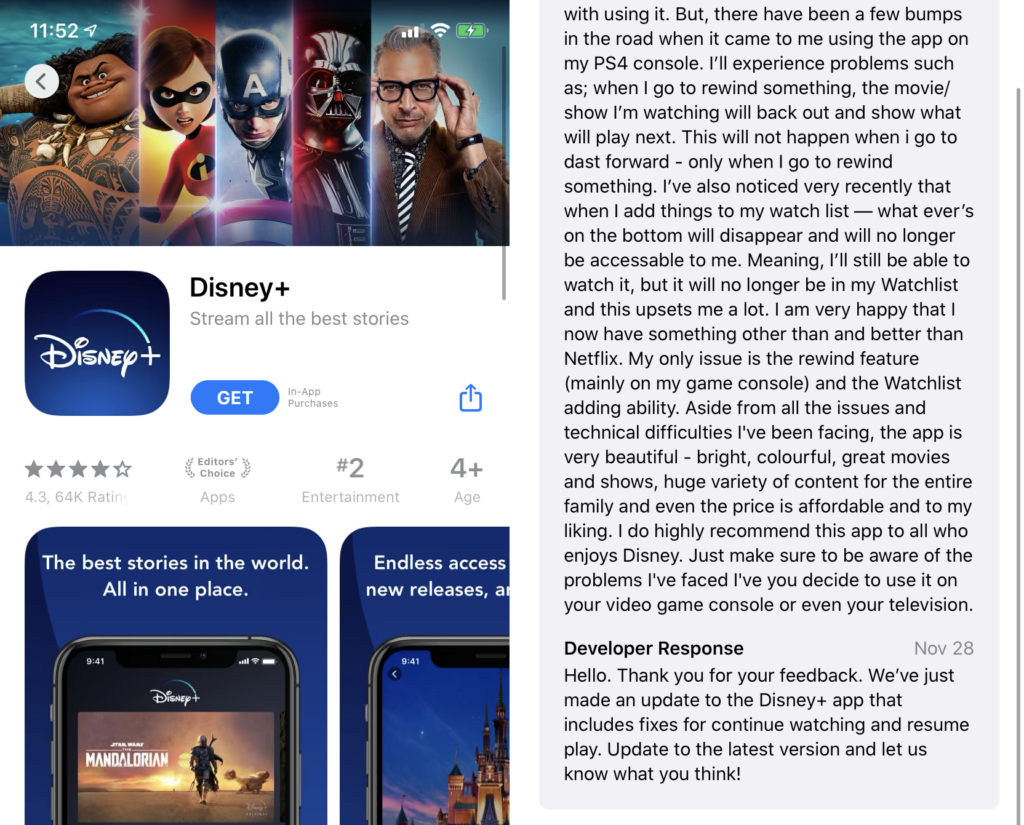 Users who were the unfortunate lot to come upon bugs will be equally happy. If they left your app because they were frustrated, they'd be quick to come back to see the improvements. In this way, you can bring back old loyal app users who, for one reason or another, left and were wary of returning.
Also, when you respond to a user review, the user will get notified that their review received a developer response. They can see what you updated, go back to check out the app, and finally change their initial low rating to a higher one. It's a win-win for everyone!
This Camera360 user ended up changing their negative rating to a 5-star after receiving a reply to their app review.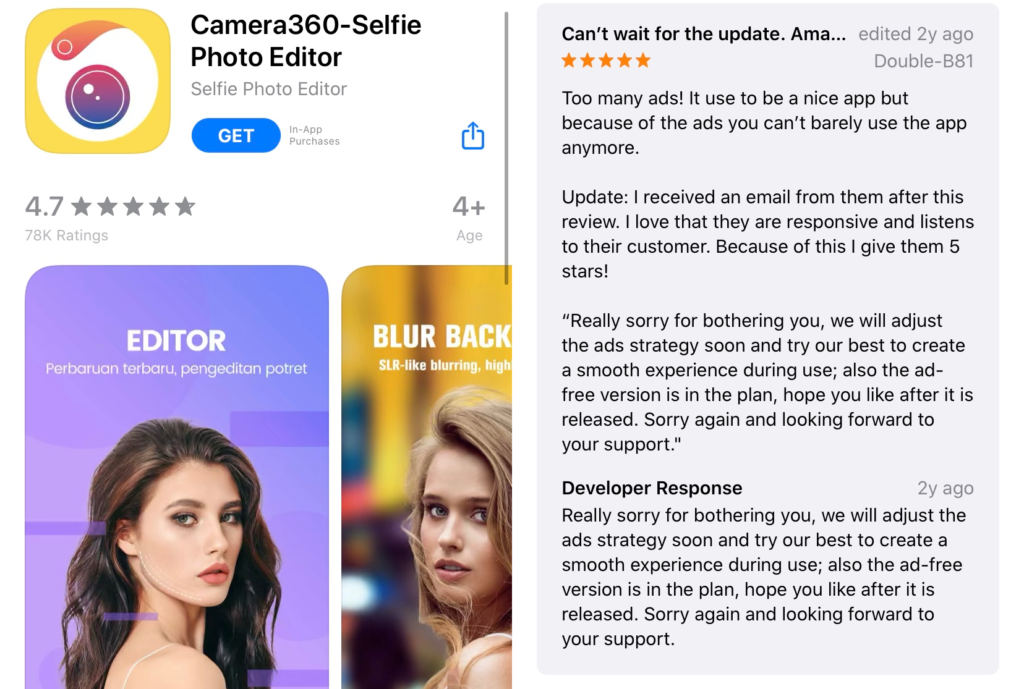 Replying to reviews is one of the best ways to not only bring in new users but also increase your app retention rate.
Address each app user personally but be sure not to release private information
It's always nice to know that someone is listening to your opinion. That's why it's essential to address users personally when you're responding to their app store reviews. They'll use a username, even one as silly as "omg stop it already" that you can call them by. Asana Rebel did a great job just by starting their response with "Hi omg stop it already". The user instantly recognizes that the Asana Rebel team actually read the review and is publishing a genuine response.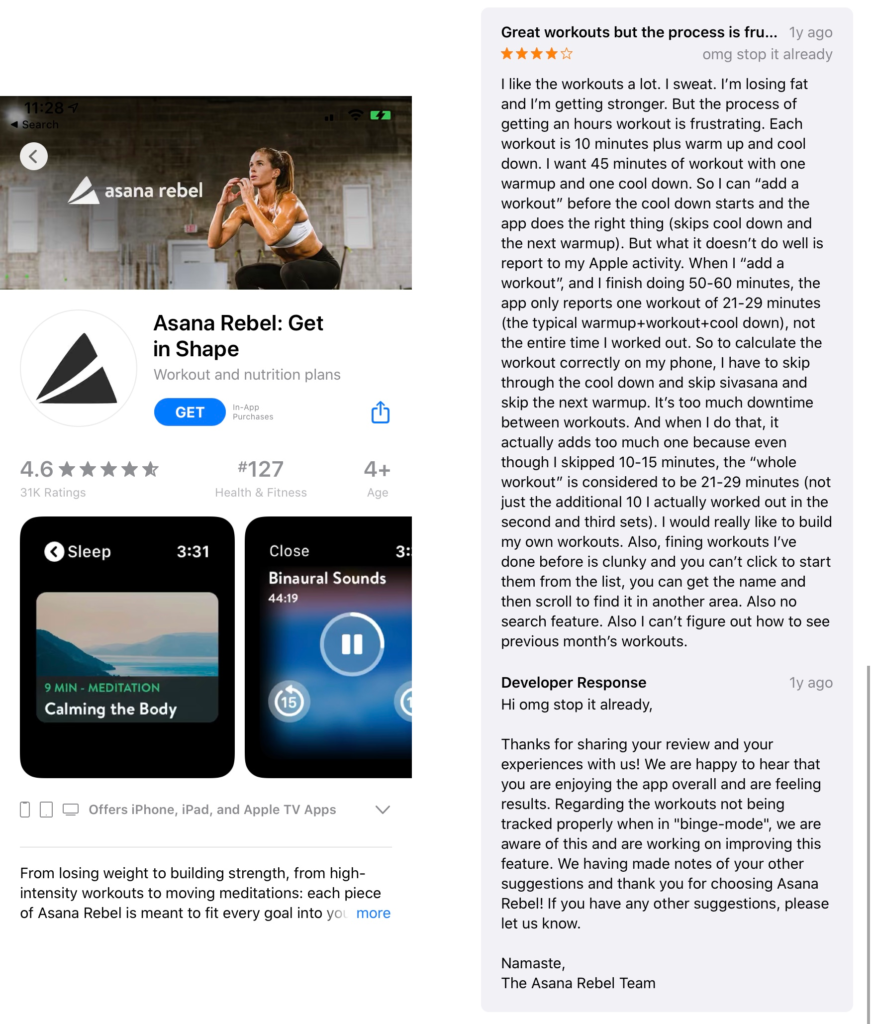 Being personal comes with boundaries. It is the internet after all. No one wants their personal information spread around. Be careful not to release, even accidentally, personal information. That includes full names, emails, and other private details. This also goes for your own information. Protect the privacy of yourself and your users.
Stay on-brand by responding with a voice that reflects your app
Lastly, Your app store reviews are the perfect place to establish and strengthen your app brand. A brand is how people view your app. Is your app fun or serious? Is it for a younger or an older audience? Is it targeted towards a specific gender or region? And digging deeper, what is the purpose of your app? What does your mission statement say? What problems are you solving? 
These are all questions that lead to building a solid brand for your app. So what does this have to do with replying to user reviews? Well, the voice, tone, and words you use to communicate with your users are all part of the branding package.
For example, Freeletics uses #clapclap in their developer response to reflect the fun and supportive community feels that they exude in their fitness app brand.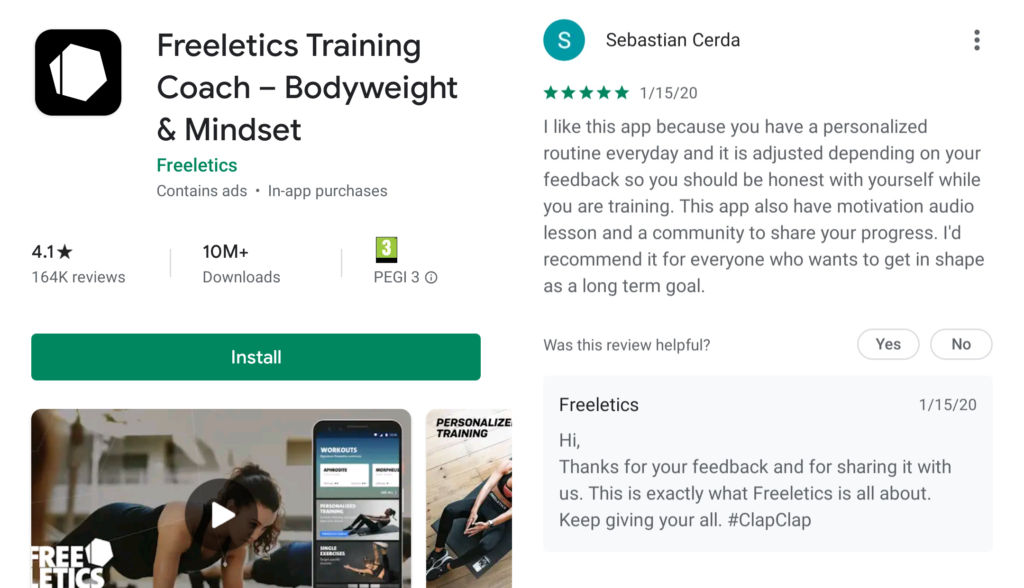 The hashtagged reply does not fit with every single app. You have to decide for yourself what fits and what doesn't fit your brand. 
By using app review reply templates, you can come up with several phrases or ways to say something that fits in with your existing app brand and use these time and time again. Users will become familiar with the way you communicate with them, and the way you talk. As a result, your app becomes easily recognizable and also relatable. 
Replying to App User Reviews Best Practices Summary
Always reply to the user reviews that your app gets. It can only help your app grow when done right. Put into practice these do's and don'ts of replying to app user reviews and you'll be off to a great start.
Manage, Analyze, and Reply to App Store Reviews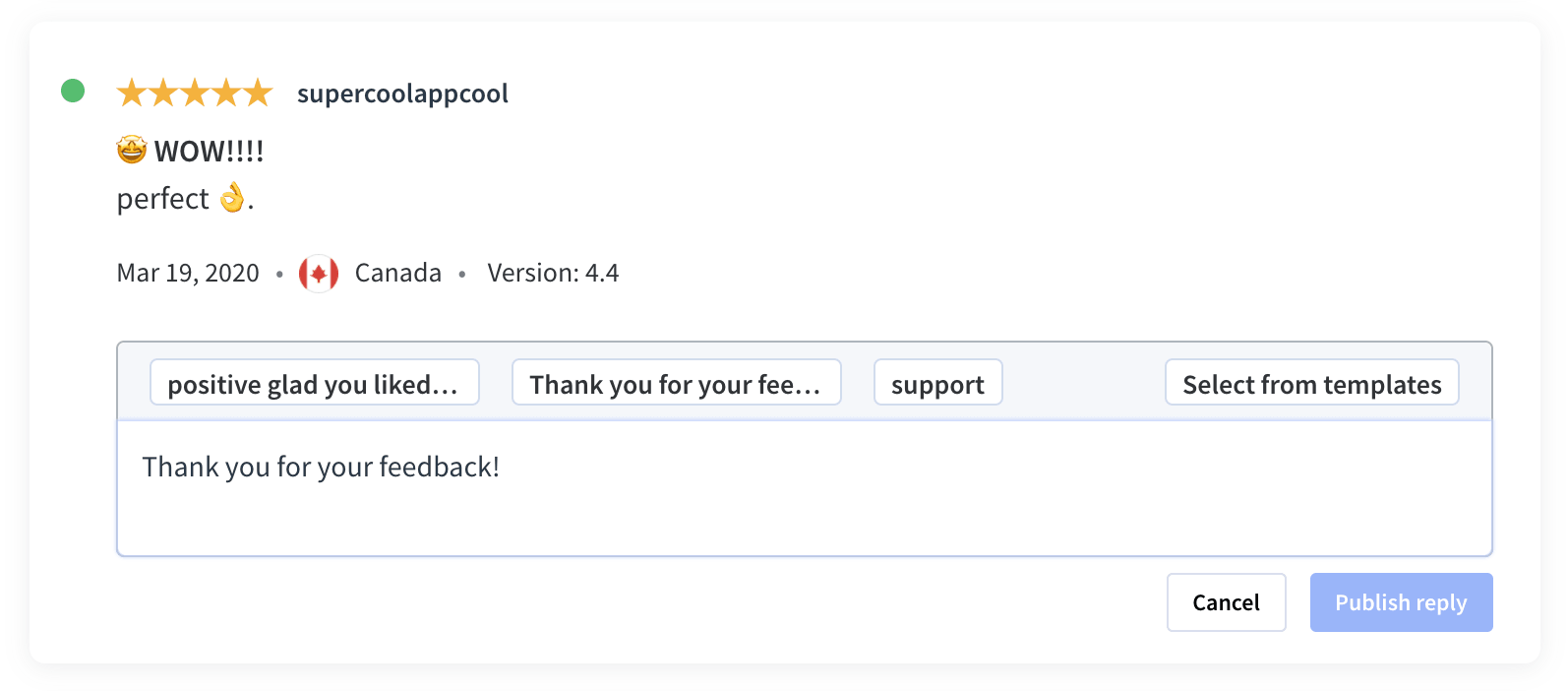 Easily reply to App Store reviews.
Respond even faster with reply templates.
Track how your star ratings changes over time
Create a Free Account