Google Play App Store Optimization
App title in Play Store - create Android app names for better ASO and more downloads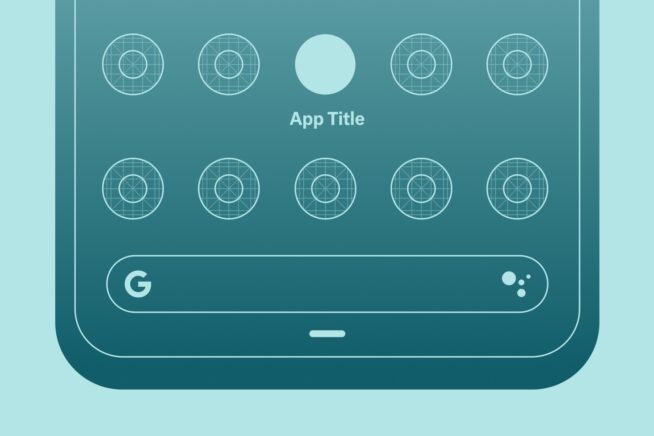 Google Play and Apple App Store search algorithms give the most weight to app titles or app names. For that reason, including a keyword in the app title significantly increases the chance of ranking for that keyword.
Together with the app icon, the app title is the first and most prominent piece of information potential users see. The users should be able to understand what your app is about quickly.
What is app title and why it matters for driving downloads?
App title is the most critical metadata element for app naming and store optimization (ASO). Optimized app title influences keyword indexing and ranking, keyword optimization, conversion rate optimization, and general visibility in the app stores.
Ideally, the app title should contain the most important keywords you want to rank for and your brand name. Based on years of experience and research, we know that app titles have the most significant ranking weight as part of your Google Play app store optimization or Google Play ASO.
The app stores index and show in search results apps based on the keywords app marketers include in the metadata. To influence the search algorithms, you have to make sure that your target keywords appear in the app title but also in short descriptions and long descriptions in Play Store.
Where is app title visible in Google Play?
Before working on the app title optimization, you should consider where your app name will be visible in Google Play. In other words, you need to know how exactly and where users interact with your app.
The most obvious and the largest source of traffic for most apps is the Google Play Store search. Unlike the App Store, the search results in Google Play show multiple apps with app icons, app titles, and app ratings.
If someone clicks on your app in the search results, they will land on your store listing page. Your app title will be additionally emphasized and once again show potential users your main message.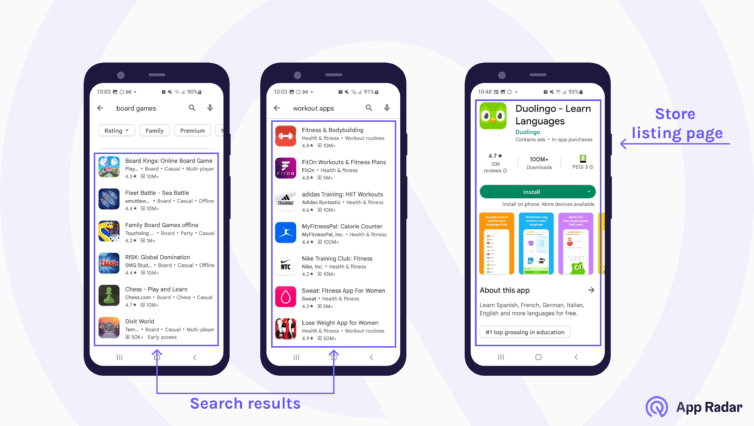 Play Store users see your app title in search results and other places, including top charts, recommended apps, and different featured positions. These kinds of positions belong to a Play Store Browse placements. Creating a robust app name influences click-through rates and can also impact the traffic you receive from the Browse channel.
Google Play will use the current app title to promote your app across different paid channels if you run Google app campaigns.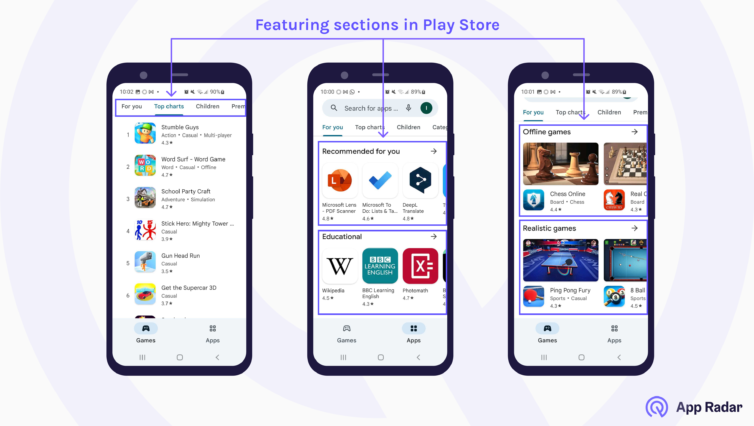 Play Store requirements and guidelines
The character limit for app titles in Play Store is 30 characters. Google Play reduced the character space from 50 to 30 in September 2021.
Play Store guidelines suggest that app titles must be distinctive and unique and explain what your app is about. It is forbidden to use misleading names and performance words like "best," "#1", and "leading." Although Google Play is not as strict as Apple App Store regarding app releases, going against these guidelines will result in app rejection. You will need to change the app titles to get your app submission accepted.
Additional requirements don't allow app titles to push users to take action (e.g., "get now"). There is also a prohibition from using emojis, emoticons, and repeating special characters. We have a dedicated article on the topic of Google Play Store requirements and 2021 updates.
Tips and tricks for using the character space in app title
Although you have only 30 characters at your disposal, you can be creative and impact your ASO with different tactics. We suggest trying out some best practices when writing your app title.
Brand keywords in the app title
App marketers are aware of the influence keywords in app titles have on ASO and sometimes try to include the keywords without their brand name. This tactic might be a good idea if your brand is unfamiliar, but eventually will result in lower brand recognition and losing positions for branded searches. Or even worse - your app could get rejected by the Play Store if you don't mention your brand name in the title.
Find and use your most valuable generic keywords
Once you have identified the keywords you would like to rank on or improve their rankings (based on search volume and relevancy), it is time to implement those in your app title. A solid and exact match keyword can increase your general visibility in the search results.
Use root words and special characters to save space
Use root words like "play" instead of "playing ."Another good tactic is not to use commas (,) or dash (-), but rather a colon (:), which saves additional space. If you want to save more space, use the ampersand (&) symbol instead of "and."
Don't keyword stuff app titles
A title with stuffed keywords will look weird, decrease your conversion rate, and hurt rankings. And with 30 characters available, stuffing keywords won't leave enough space for your brand name.
Balance between branding and keyword optimization
A common challenge for apps is to balance their titles for branding and keyword optimization. Reasonably known brands usually combine their brand name with a focus on one to two generic solid keywords.
Have a look at the following examples:
Spotify: Music and Podcasts
Booking.com: Hotels and more
HBO Max: Stream TV & Movies
If you are marketing an app that just entered the Google Play Store, you will need to put more focus on the keywords that point out your app's functionality or other valuable elements (e.g., "reader," "tracker," "player," etc.). The keyword focus will allow you to start ranking high for the most valuable keywords. Also, if you are beginning with ASO, it makes more sense to target lower search volume keywords - it will be easier to rank for them than high volume and popular keywords.
Because generic keywords are the focus of new apps, some apps put the generic keywords first and the brand name at the end of the app title. Consider these two examples.
Yoga | Down Dog
Podcast Player App - Castbox
Both apps focus on high-volume generic keywords and place them at the beginning of the app naming. This tactic helps with conversion rate because the visually important keywords are easier to recognize by the users, thus increasing the ranking for the target keyword.
Visual word recognition works better when keywords are placed earlier in the title while minimizing the risk of title truncation (title truncation can be seen in the Apple App Store). But it is always a good idea not to rely heavily on the last couple of characters.
If your app gets a large share of store listing visitors from a few generic keywords, you will want to place them at the beginning of your app title.
A final piece of advice for apps that still plan to be launched in Google Play is to think carefully about the brand name. The shorter the brand name, the more space you will have for keyword optimization in the title. While this shouldn't be your main criteria when thinking about branding, thinking about app store optimization early on time will increase your chances of getting more downloads early in the app's life cycle.
App title is important for Google Play ASO and Google app campaigns
Some app marketers focus purely on ASO and forget about paid user acquisition. If you run Google app campaigns for your app at some point, your app title will be even more critical.
Because increasing your app's visibility in app stores is the main goal for any app marketer, you need to think about keyword optimization, paid campaigns, localizations, features, and several other tactics. And whatever the plan you want to achieve, app titles will play a significant role in this process.
So if you decide to run app campaigns, Google's algorithms will take your current app title and use it during the advertising campaigns. This process will force you to focus on keywords that convert well for the organic and paid channels and prioritize keyword optimization.
How to create an app name?
Now that we know why app titles are important and which things we need to consider, it is time to cover the process of creating a perfect app title.
Research
There are many ways to conduct research, but we suggest you start by identifying the most used and valued keywords in your market from user research, user reviews, or performance marketing campaign data.
Analyze your competitors' app titles and subtitles, long and short descriptions, and screenshots to better understand what drives the organic downloads of already successful apps.
If you want to get more ideas and perform more systematic market research, we suggest the following options:
Brainstorm - consider your app's main features, check your website, or talk to your colleagues.
Competitor keywords - analyze your competitors' market approach - app store listings, keywords, metadata, etc.
App store autosuggest - use Google play and the autosuggest feature to develop long tail variants of your main keywords.
Apple Search Ads terms - sign up for Apple Ads and use their ad group keyword finder to get popularity scores and estimated daily impressions.
Google Keyword Planner - this is mainly intended for website keywords, but it can be helpful to get initial ideas.
App reviews - check app reviews from your competitors to learn what keywords your audience uses and in which context
Or, if you want to make this process more efficient, try out App Radar and get plenty of suggestions with a couple of clicks.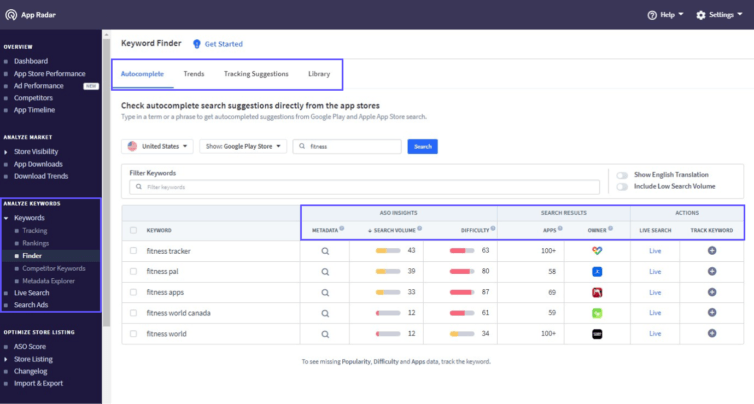 Testing
To work on keyword optimization for app titles, try testing different app titles that focus on different generic keywords and their order. Currently, you can't A/B test titles in Google Play store listing experiments, and you will have to use a third-party A/B testing tool like Storemaven or Splitmetrics.
Nevertheless, you can A/B test one of your app localizations that share similar audience types as the primary audience (e.g., French store listing and Custom store listing for Belgium). Try to forecast how one of your tests would perform in the primary market and try out the improved title version.
Another option is to run ads with headlines different from your current app title. If the ad title brings more people than your current app title, you should implement the ad version with your next app update.
Implementation
Once you know what you want to implement, use Google Play Console, navigate to your store listing, choose your localization and use those 30 characters wisely. Note the date of change and how your app rankings change.
If you want more control over your store listings update, use App Radar's store listing editor. You can implement changes directly for one localization or multiple localizations from one screen!
Results analysis
Google Play algorithm needs some time to index and rank your new keywords. Once you update your app title, you should stick with it for at least two weeks and monitor if and how the rankings change.
Besides keyword rankings, you need to focus on important KPIs: store listing visitors and new installs. If you are unsure how much your new keywords contribute to your KPIs, check the Conversion rate analysis and installs per keyword report in Google Play Console.
App Radar integrates reports from Google Play Console, including installs per keyword report. This integration makes monitoring keyword performance more effortless and faster than navigating to Google Play reports all the time. You can track how your current keyword rankings and positions change with time and how those changes impact your ASO efforts.
Improvement
Most of the time, you won't get the right app title from the start. You will most likely find new keywords and new opportunities that can improve your keyword rankings and will want to try them out. After all, user intentions change with time, and you need to adapt your titles. This change is true, especially if your app focuses on seasonal events like holidays, sports, etc.
App titles are only one part of successful ASO
App titles are the most crucial element in app store optimization. Writing, testing, and modifying your app titles are vital to improving your app rankings for valuable keywords.
But there is no reason to stop there. Work on your app titles for all your localizations, custom store listings, and app campaigns. After that, continue with other metadata elements and visual assets of your Play Store listing.
And if you want to take your ASO to the next level, sign up for App Radar and test the platform for seven days. You can monitor all key ASO metrics and integrate Google and Apple Ads for a complete overview of your app marketing.
Grow Your Apps with Less Effort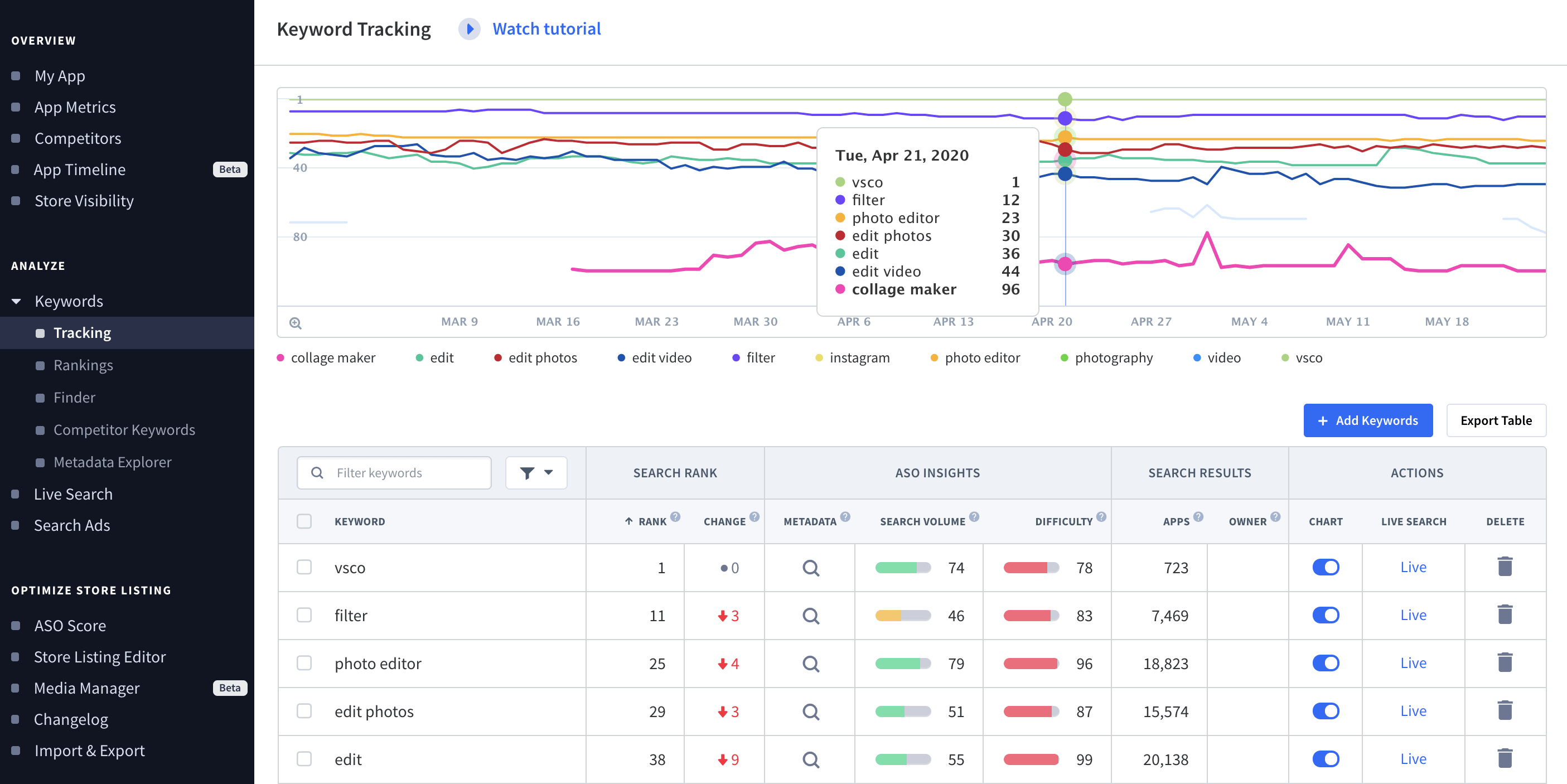 Find new keywords. Optimize all localizations. Spy on competitors. Track ASO changes.
Create a Free Account