Also known as: App Store Optimization, Search Optimization, App Store Search Optimization, App Keyword Optimization, App Keyword Research
App Store Optimization is the process of optimizing your app to appear high in relevant search results. There's huge competition in the app stores making it quite difficult to get the attention of potential customers. Thus, a high ranking in app store search results is significant for receiving organic downloads.

See also: How App Store Optimization Works for Games

Why App Store Search is Important
Apple states, that app store search initiates 65% of app downloads in the Apple App Store. This shows, that people tend to go to the App Store for finding an specific app and know what they want. Customers use keywords in various combinations to search for your app. Hence, App Store Optimization (including keyword optimization) can pay off if you can convince them that your app is what they are looking for.
Statistics by Apptentive show that app store search is the most common way customers discover apps. To sum up, this means ASO drives up to 68 % of app downloads.This indicates that if you do not optimize your app for app store searches, you might lose a lot of potential users.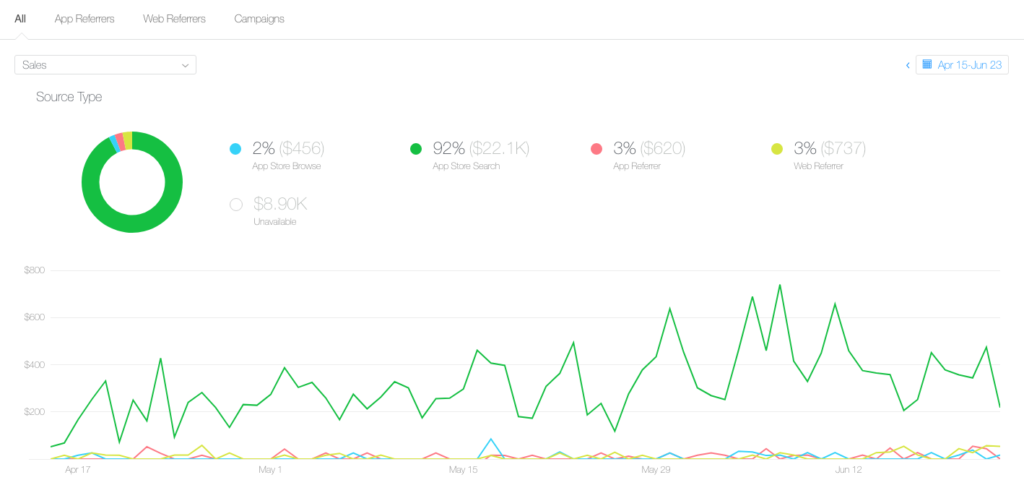 For optimized apps, the percentage of organic downloads coming from App Store Search could be even larger, leading to an incredible ROI. Another reason why keyword optimization is very important is because while other ASO factors are not under your complete control, keyword optimization is for you to decide.
You cannot expect to have amazing ratings and reviews overnight. Neither you can have multiple versions of your app in a very short span of time. But you can optimize your app for the right keywords from the very first day of it's launch.
How to Optimize Your Keyword Strategy for App Store Search
Keywords are the most important factor for a successful ASO strategy. But what is keyword optimization? Does it mean stuffing of keywords in your title, description etc? No.Keyword Optimization means strategically (& iteratively) finding the right keywords and then placing them in a way that gives maximum exposure to your app.
Keyword Optimization includes the act of researching, analyzing, and selecting keywords in order to drive potential customers to your app. App stores intend for users to easily find and download desired apps based on search queries or simple browsing. So, if you write your app store metadata in a way, not only users but the app store algorithm likes it, you are already on the winning path.
See also: How To Optimize Your ASO Keyword Strategy

Keyword Optimization Step 1: Research
The first step of developing a winning keyword strategy is about researching possible search terms and keywords relevant to your app.
Do some Brainstorming & Draft a List with App Features and Use Cases
To do so, you could simply start with brainstorming keywords all around your app's features and possible use cases. Consider what makes your product unique and sort your ideas. Take into mind, who your users are and what language they use.Keyword Research is about defining, for which search terms your app should and could be found.
Competitor & Market Research
When you have a basic list of relevant features and content-based keywords, you should enhance them with more generic search terms but also long-term keywords. This is where it is recommendable to go through your competitor's app listings and look for possible keywords, which fit your app too. Also, you can get inspired by reading user comments and forums. Which terms do users frequently apply there?
Get Keyword Suggestions from ASO Tools
Another way to find possible search terms is to make use of keyword suggestions in App Stores, Search Engines or ASO Tools.App Radar, tracks your app store search rankings and provides you with AI-based keyword suggestions.

Keyword Optimization Step 2: Tracking
As you now have a list of search terms and phrases, that fit the content and purpose of your app, the next step is to find out if people can even find your app using these terms in app store search.Pro-Tip: Don't overthink which keywords are your best bet. Try out various combinations in short iterations of app updates. This way, you can learn best what works and what does not.
In order to optimize your keywords for ranking high in search results, you have to know your exact keyword rankings. This is a tricky task if you are doing it on your own and for various apps in different stores and languages. So, ASO Tools like App Radar can help you in analyzing accurate keyword rankings for different app stores and various localizations of your app in a compact overview and detailed statistics.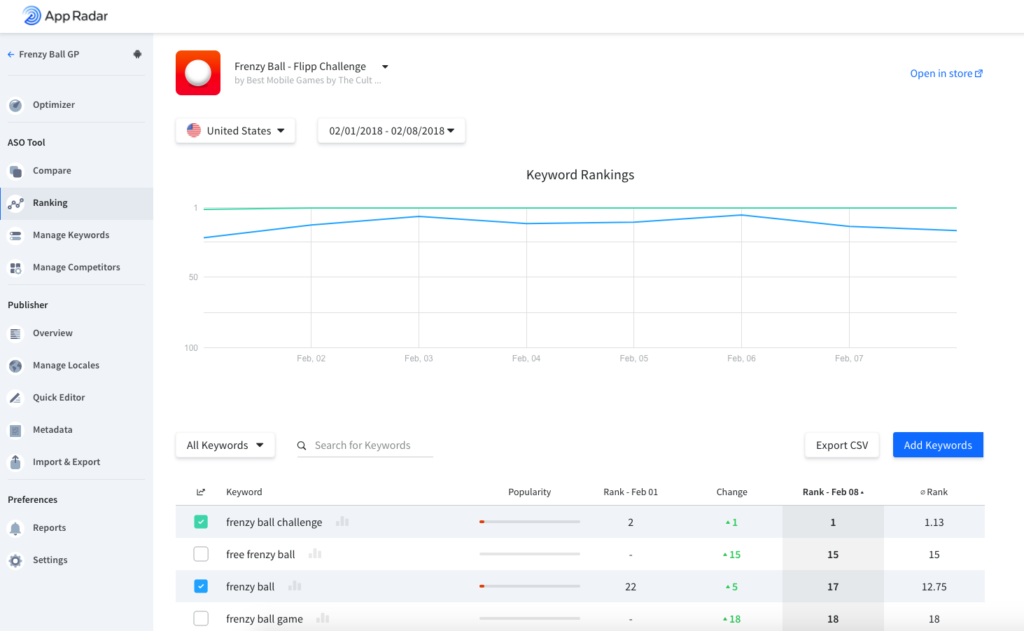 Only when you know how your keywords rankings develop, you can optimize effectively.

Keyword Optimization Step 3: App Update
You want the app stores to index your app for your chosen keywords. Hence, you have to know which metadata has the power to influence how your app is indexed.
Even though, the app store algorithm used by Google Play or Apple App Store isn't public, there are various indicators showing us, which app information affects your ranking and which does not.
Here is a condensed overview of which metadata fields are important for keyword optimization (ranked by importance):
Apple App Store (App Store Connect (iTunes Connect))
App Name
Subtitle
Keyword Field
Search Ads (this is another topic, yet, if your Search Ads campaign works good, this will also improve the rest of your ASO strategy)
Google Play Store (Developer Console)
App Name
Short Description
Description (especially the first third of the full description and if a keyword appears 2-3 times in the copy)
Developer Name (little impact)
URL / Package Name (could have a minor impact; reported by Daniel Periz)
Backlinks
App Reviews (might have a low impact but is beyond your influence)
Why am I not ranking for keywords I've put in my app title etc.?
It would be too easy if you just put keywords somewhere into the keyword field and that's it. Since you probably face some competition in the app store, the algorithm also counts some impartial factors to sort keyword rankings.
That means it could happen, that your keyword optimization efforts don't immediately bring the wished results.
Even though, you think you have a great strategy in mind, you should not forget about the other major ranking factors for ASO:
Number of downloads: As announced by official Google reports and Apple app store trends, the more downloads your app received, the more chances it has to rank high in the search results.
Ratings and reviews: Now the number of downloads solely cannot tell the quality of your app, hence Google looks into the ratings and reviews. Here the quality as well as quantity matters. You need to have good reviews in good quantity. For a new app this can be challenging but push notifications and client referrals can help with reviews.
Updates: Frequent and regular updates are a big driver in rankings. Updating not only has a positive impact on ranking factors but also gives room for fixing bugs and staying at the top. Especially in the App Store, when your existing user base updates your app, it gives you a short term uplift in the rankings. So updating more often can be really beneficial.
Tactics to Achieve a Top Position in Search Results
Great rankings won't come overnight with a single app update. However, there are some tactics you could follow to achieve a great position in relevant app store search results.
Update Fast – Update Regularly – Monitor Continuously
When it comes to keyword optimization, you could spend hours analyzing specific keyword metrics. At the end of the day, the actual keyword ranking is what counts the most.The process of keyword optimization doesn't end at researching and putting right keywords in some relevant fields but **it is about continuous testing.
Doing ASO you need to find out what really works for your app and what does not in terms of keyword usage and optimization. That's only possible when you allow yourself to try out things and fail. To keep the effects of possible ranking drops as low as possible and to stay in front of your competition, speed is the magic.
Monitor a broad set of search terms in your ASO Tool.
Regularly update (once a week or at least every second week) your app store metadata and try out keywords in various metadata.
Your app does not rank for a keyword even though you have used it in a crucial field already? Get rid of it and try out another one.
App Radar can be helpful following this strategy. It tracks your mobile app's visibility in search results AND allows you to directly optimize your app store page without entering any other online-tools due to a direct integration to App Store Connect (iTunes Connect) and Google Play Console.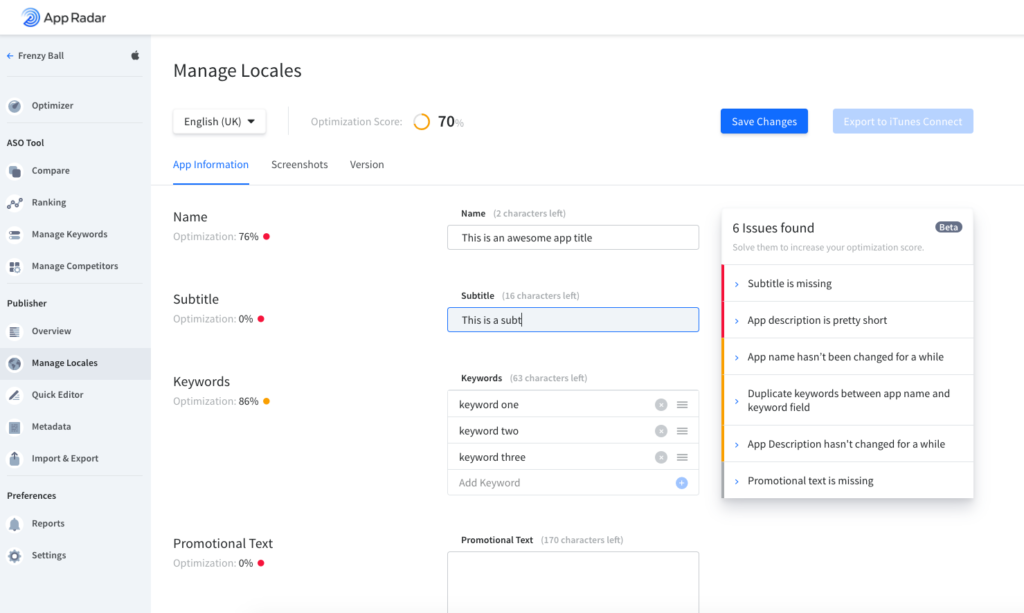 Go for Long-Tail Keywords
Since it can be difficult to rank well for very popular keywords when your competition is very strong, you must explore long tail keywords. A long-tail keyword is a more specific, commonly a multi-word phrase, representing more exactly what the potential user is looking for.Long-tail keywords commonly show lower competition, however, if a user is searching for a very specific phrase, chances are high he's going to download your app.
Think of which features your app should be known for
Focus on your unique selling proposition and USP
Build combinations of popular broad keywords
For example, people might not only search for "running app" but might also use the words "running distance tracker" or "running fitness tracker" to find running apps like in this example.Pro-Tip: Even though more specific search phrases might be less often used, it's better to rank #1 for a low-popular keyword than #20 for a highly-searched broad term.

Go International & Localize (Don't Translate) Keywords
If you want your app to be available in several countries, you can add a localization for different languages.
Localizing means that you add your app page in various languages within the app store. Then you can edit the app title, subtitle, keywords your visuals etc. so the information fits a specific target group. This is an advisable tactic to improve app download rates.
When you want your app to be found by potential users abroad, it's advisable to work together with professional translators or translation agencies to localize your metadata.Especially when it comes to keyword optimization, you should not only translate keywords but do keyword research for every language / market in particular.

Consult trained translators for keyword research. They can better assess possible search terms in the context of your app.
Do not auto-translate visible app information. Sometimes translated words have a distinct meaning.
Avoid misspellings and grammar mistakes in app information. They are really bad for credibility and can dramatically harm your keyword rankings and download rates.
App Radar provides you a platform that gives you all the support to make the process of App Store Localization as easy and smooth as possible for you. Explore App Radar's Features

See also
Start improving your App Store Rankings
Get Started