Google Play App Store Optimization
Google Play Ranking Factors for Android Apps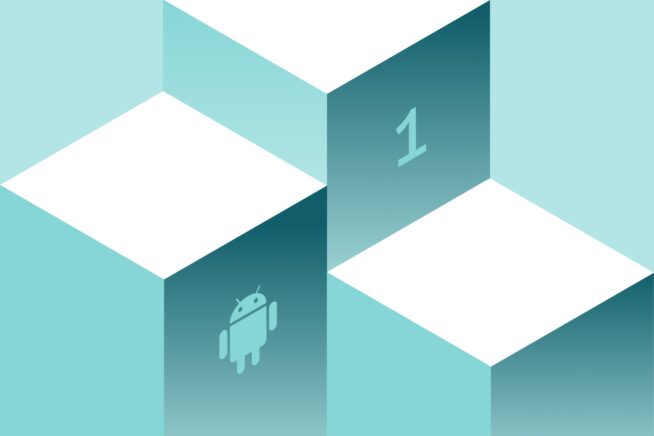 App Store Optimization (ASO) is the key to boost your app downloads. When you optimize your app page, the process of reaching people interested in what your app has to offer is more efficient, since you increase your rank positions for the right keywords.
Then two key questions come out: How does Google Play Algorithm choose the apps that are going to show up first on the search results? What does this have to do with App Store Optimization? The answer is: EVERYTHING.
That is how you are going to show Google Play's algorithm your app potential, and by which search terms, or keywords, your app should be found.
Direct and Indirect App Store Ranking Factors for Google Play apps
Ok, but now you may ask: How does this algorithm work? Well, there are direct and indirect ranking factors that influence Android Apps. Meaning that direct factors are totally in your hands, while the indirect ones are not. However, you can definitely influence on them. So, let's dive into them!
Direct Google Play Ranking Factors
When it comes to direct Google Play ranking factors, we are talking about specific fields where the algorithm is going to search for keywords. Some fields have more weight than others, that's why it's important to choose wisely where to place your most relevant keywords.
App Title
Your App Title is your app name, and it is where Google Play is going to look for your most important keywords. You have a 50-character limit to place your brand name and the main functionality of your app. This is the first place where Google's algorithm is going to crawl for keywords. They are also going to have the biggest weight when categorizing your app and showing up on the search results.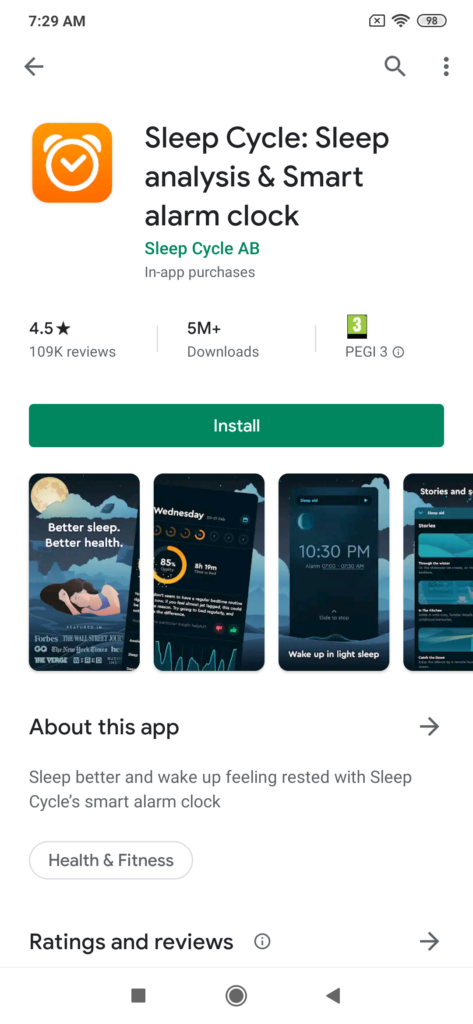 App Description
Differently from iOS apps, Google Play doesn't provide app developers with a keyword field. As Google is a search engine, instead of letting you choose keywords, it will crawl your short and long description to extract them. 
To be sure Google is getting the right keywords, you should use your short description to place your important keywords. In addition, throughout the full description, repeat those keywords and add some more.
You can have up to 80 characters in the short description, and 4000 in the full description. So as Google knows which keywords to consider, repeat them at least 3 times and maximum of 8 times to avoid keyword stuffing.
Ratings and Reviews
This is a mixture of direct and indirect ranking factors. Indirect because you can't control your ratings. You should meet the expectations of your users to guarantee that your app gets a high rating. However, the amount of stars that the user will type in, you can't control.
But, the thing about Android apps, is that Google crawls the reviews to look for keywords. So, here are two things that you should pay attention to.
First, by answering your reviews you are going to increase your relevancy to Google as you are showing that you care about your users. In addition to that, when you answer them, you can use your relevant keywords in your answer.
Manage, Analyze, and Reply to Google Play Reviews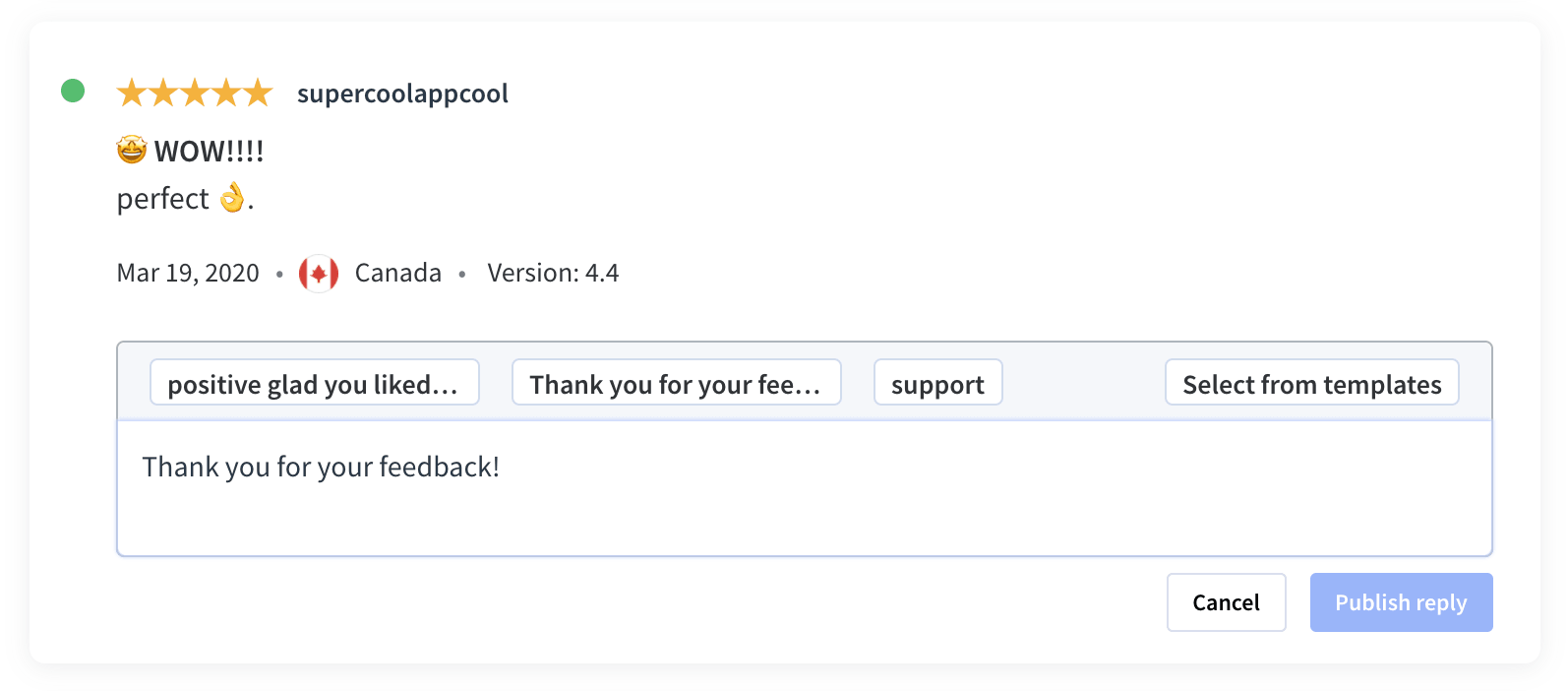 Easily reply to Google Play reviews.
Respond even faster with reply templates.
Track how your star ratings changes over time
Create a Free Account
Also, if in the review there is a good keyword, be sure to repeat it when you are answering it. Making sure that people understand your app is a must because this also influences them to use the right keywords when writing a review.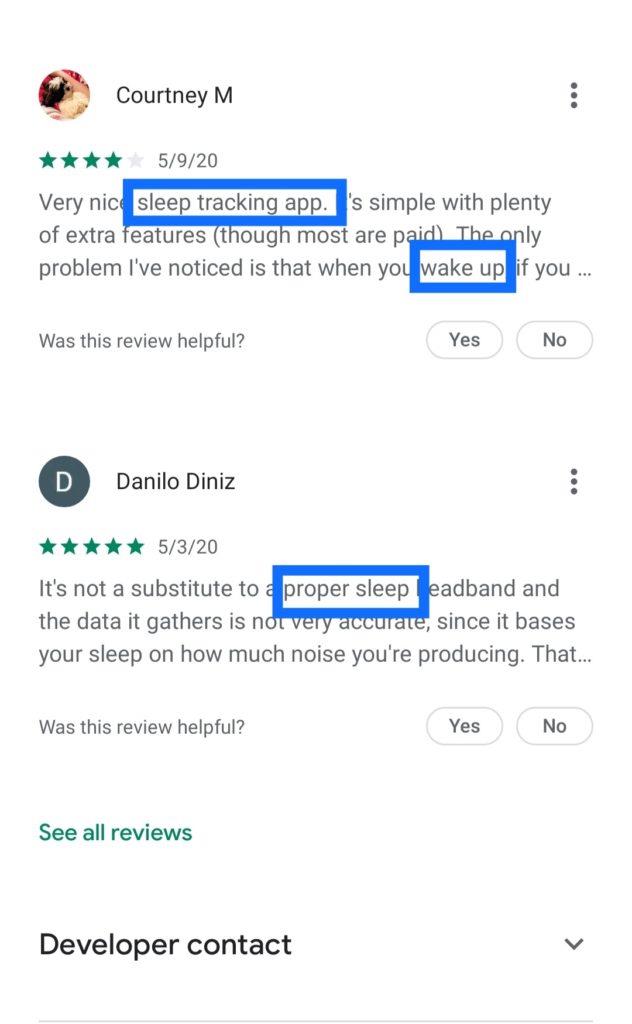 Indirect Google Play Ranking Factors
The algorithm takes these indirect factors into consideration, but they don't necessarily have to do with keywords. However, they are still very important.
Download and Engagement
The questions here are: Do you have a lot of users? Have people been downloading your app lately? To keep your app relevant to Google's algorithm, it is crucial that your app is constantly installed and that it has a history of downloads well.
However, if you have a new Android app, it won't be easy to run for this factor, but it isn't impossible. You can start online campaigns focusing on app downloads in order to get a high number of installs. Besides that, to keep people downloading your app, always try to make your app page appealing showing how your app is going to fulfill that potential user's needs. Once you have a high number of downloads, you must work on keeping the install volume high.
Backlinks and SEO
This is a factor known for being well considered by Google Play. Just like SEO, you must appear on good and relevant websites. You must look for a high number of reputable sites that rank for keywords related to your app.
If you are a dating app and a lot of reputable dating websites are bringing traffic to your app page, Google will evaluate you positively. The best option is to have your own website, or maybe create a blog and search for influencers that have something to do with what you offer.
Having backlinks also bring more traffic to your app page, which in turn, makes your app page more relevant for Google Play.
Frequent App Updates
If you never update your app, Google Play is going to read that you have given it up. Therefore, it will also give up on you. Keep updating and optimizing your app at least every 30 days. Since you must answer your reviews frequently, check what your user is missing, and always try to add that to your next update. 
Uninstalls and Churn
Now that you have a high number of downloads and a high conversion rate, do you think Google Play is going to stop analyzing your app? No chance. However, if the user downloads your app, but never uses it, this is really bad. It shows the algorithm that your app isn't relevant to the user, and, therefore, neither to Google Play.
Use push notifications carefully to show the user that you are there. Bear in mind you should have an icon that stands out and that will make people remember to use your app every time they pass through it. Keep an email list to send emails inviting non-active users to come back.
App Icon and Store Listing Visuals
When designing your app icon, thinking about the visuals you are going to use on your app page, remember that the user should be able to first see what your app is about. Showcase what your app is about, tell a story, and focus on the main features that your user is looking for.
The first thing that a user sees of an app in Google Play is the app icon, so make sure yours is appealing and that it can easily catch the attention of your target audience. And don't forget, everything related to your app has to be on the same page, which makes your brand recognizable.
Grow Your Apps with Less Effort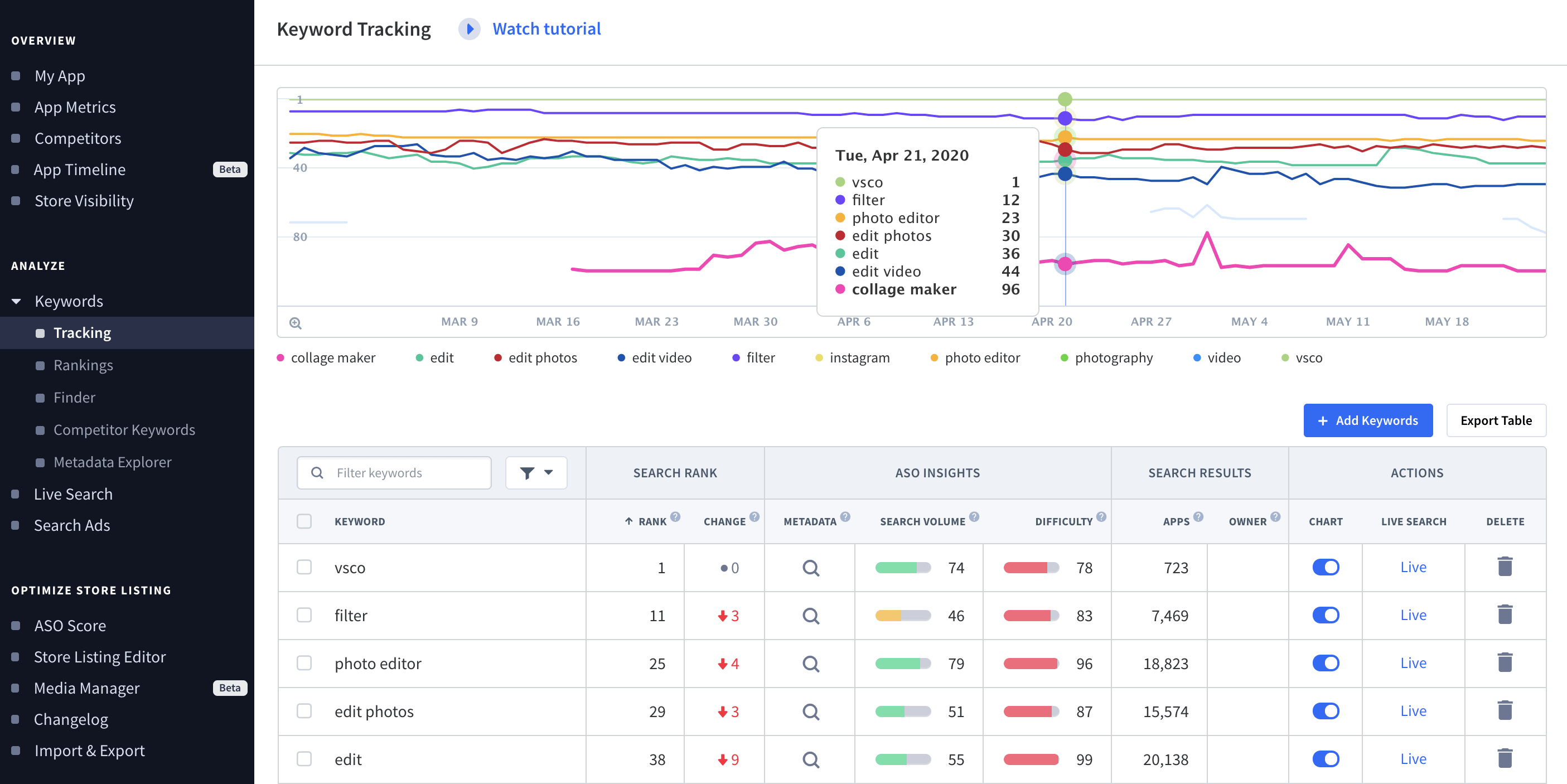 Find new keywords. Optimize all localizations. Spy on competitors. Track ASO changes.
Create a Free Account