Why ASO Becomes More Important Everyday for App Developers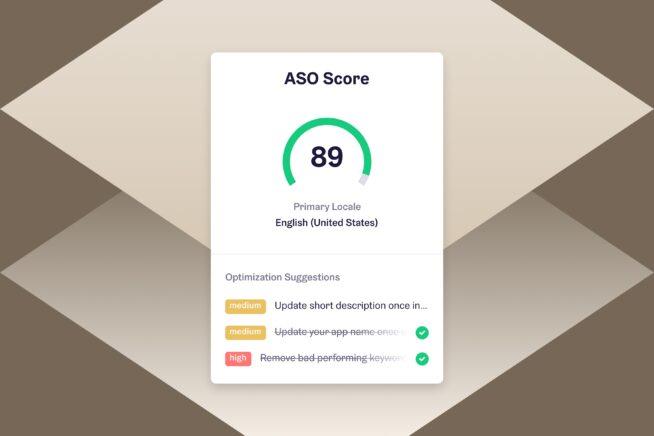 If a person can't even find your app, how will they ever install it?
There are a lot of apps out there. The Apple App Store is home to 2 million apps while the Google Play Store hosts 2.1 million apps. Needless to say, the competition is real for app developers. Because there are so many apps for people to choose from, app developers cannot rely on app quality alone to cultivate app growth.
What developers really need to focus on when growing their apps is App Store Optimization. App Store Optimization (ASO) is the process of improving the visibility of an app in the mobile app stores, such as the Apple App Store and the Google Play Store. This means getting people to easily find your app and then convincing them to install it.
With millions of apps already in the app stores and more being added every day, you're going to want to get as much visibility for your app as you can get.
Here's why ASO is becoming more and more important every day for app developers and marketers.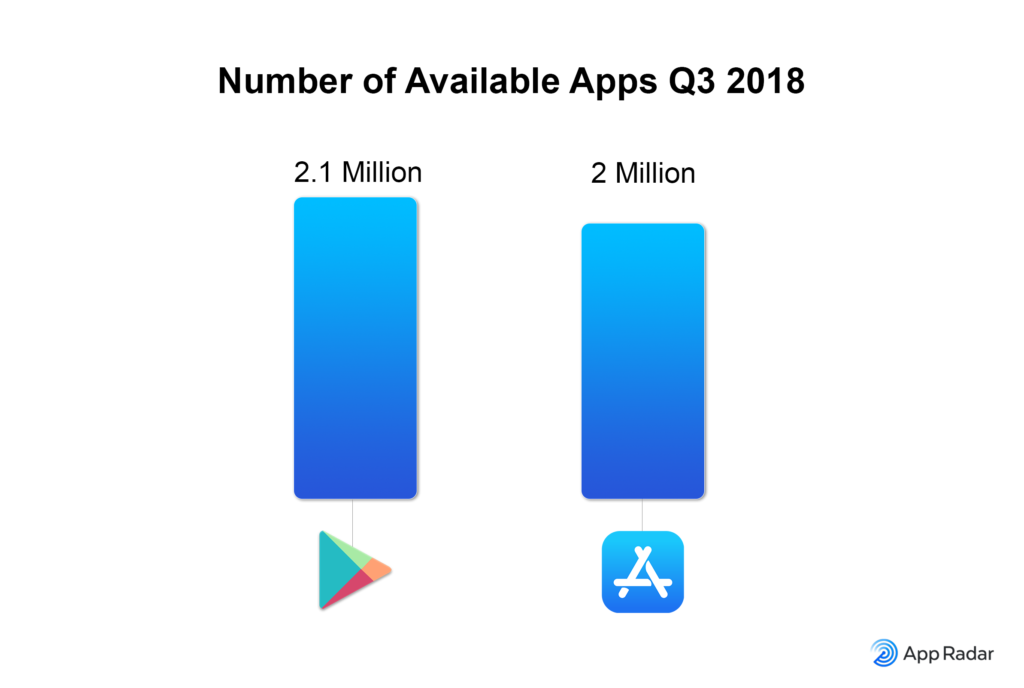 ASO gets your app found
Most people find apps through app store search. So, if you want your app to be seen, you need to get it to rank high in the App Store. A big ASO factor is keywords.
This is true for both the Apple App Store and the Google Play Store. The app stores' algorithms indexes keywords used in areas like, app title, subtitle, description, and in-app purchase titles. The goal is to rank for relevant keywords, not for anything and everything. This way you only the right users end up finding and installing your app.
Dive Deeper: How to Find the Best App Keywords
It's harmful to your app's growth to acquire the wrong type of users. Users who do not fit your target audience will most likely uninstall your app, which ultimately hurts your app store ranking. Uninstalls tell the app stores that people are uninterested in your app because it's not useful, has bugs or is low quality. The app store search algorithm definitely does not favor apps that experience many uninstalls.
ASO ensures that your app gets found and installed by the right users, those who will become long term, active users.
ASO puts your app in front of an international audience
Today, our world operates on a global scale. There's no doubt about it. The invention of the internet propelled all of us into an economic and societal environment that is international at its core. News from Europe spreads like wildfire to North America. Products are made not where they are sold. A bunch of digital nomads are camping out in Bali and Chiang Mai. The spread of technology, worldwide, has made this possible. It has also made human movement around the world possible. That means an app available in and optimized well for many countries (localizations) has a definite broader reach than one that isn't.
Optimizing your app for many different localizations exponentially increases its reach.



Localizing your app for multiple countries automatically increases your apps' visibility because more people have the ability to find and install your app.
Once you discover which countries have the best potential market for your app, the next step is ASO for each of these localizations. This includes translating and optimizing app elements such as, keywords, app icon, app screenshots, description, and app title to appeal specifically to each country's preferences.
People from different regions prefer different designs and utilize different search terms. For example, people in the UK say "lift" while people in the US use "elevator".
That being said, ASO for multiple localizations can be as cumbersome as it sounds. However, it's well worth the effort. Your app may be the next big hit in France for all you know.
For a faster and simpler way to add and optimize app localizations, check out App Radar's ASO Tool. The tool gives you AI recommended keywords in each localization's native language.
ASO prevents your app from being removed from the app stores
App Stores are essentially product curators, striving to always offer the best of the best to their customers. That's why they feature apps that function well, have high ratings and retention rates, and push updates frequently.
That's also why they reject and remove apps.
Back in 2016, Apple did a thorough clean out of its App Store. To maintain the high quality of their App Store's offerings, they removed all apps that were dead, low quality and copies of other apps. Prioritizing ASO keeps your app safe from these removals.
ASO is not only about ranking for relevant keywords. It also involves communicating with users through responding to reviews and asking for ratings, releasing regular updates that improve ASO, functionality and design, and improving retention rate through organic growth.
Regular app updates tell the app stores and your users that a dedicated team is actively working to improve the app. When you show your users and the app stores that you're making large efforts to have your app be the best possible, you give your app a much better chance of landing a featured app store spot.
Prioritizing ASO keeps your app safe from removal from the app stores.

Take for example Asana, one of the top business apps. Within the last 2 months, they've pushed 5 updates, the newest one being only 3 days ago. They always clearly explain what the bugs they fixed and what features they added. Further, Asana is compatible with the latest iOS on multiple iOS devices. Apps that are incompatible with newer systems create user and app store frustration and as a result, are at risk of removal. So you definitely want to make sure that your app works with the most recent iOS or Android system too.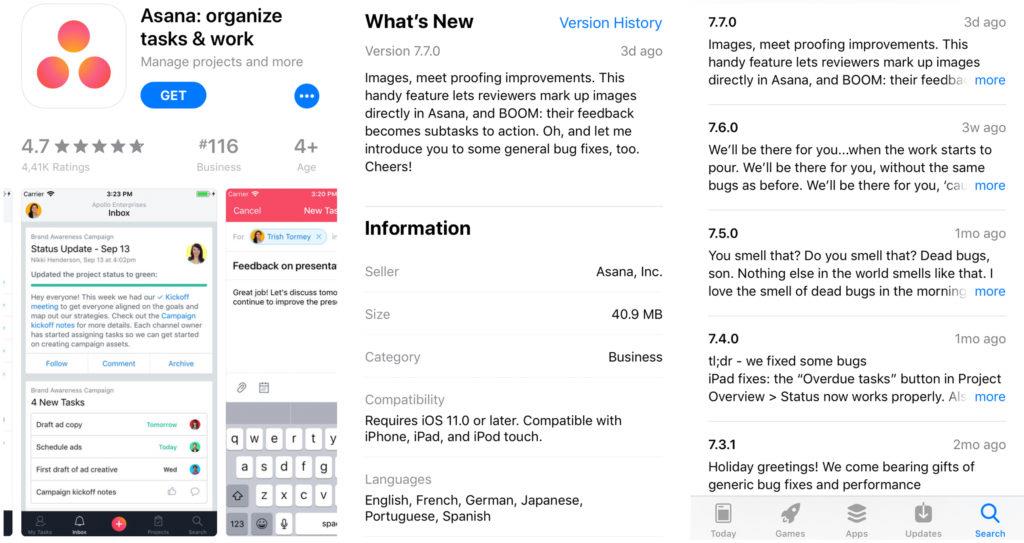 ASO cuts user acquisition costs
We all love saving money. Don't deny it. Spending all your financial resources paid user acquisition channels and ignoring organic user acquisition is not a smart move.
Users who come in from paid channels are not always the ones that stay. An ad pushed them to install your app. They weren't actively searching for your app in the first place. This means they're more likely to realize that your app is not a fit for their lifestyle needs. Then they'll do what you really don't want, uninstall your app. Which, again, hurts your app store ranking.
To avoid this negative feedback loop, turn your mental and financial focus to ASO instead. In the end, this is going to save you a ton on user acquisition costs.
ASO creates a steady flow of organic growth. A well executed ASO strategy gets your app in front of people who are searching for it and who would be interested in it. These people are not only more likely to continue using your app, they're also more likely to recommend your app to their friends and family. As a result, you decrease your user acquisition costs while earning active users.
Dive Deeper: App Store Optimization Academy
ASO brings in organic users that will continue to use your app and recommend it to their friends, lowering your user acquisition costs.
Summary: Why ASO is so Important
ASO is important for every app business. Whether you're an indie mobile game developer or a veteran app marketer, ASO is undeniably one of the best ways to grow apps. ASO becomes more important every day due to the growth of smartphone ownership and thus, app market saturation.
As each day passes, more regions, even the more secluded, get access to technology. Hands of old and young generations and eastern and western civilizations now hold smartphones. Then it's no wonder we're seeing the rise of mobile apps. ASO helps people discover your app in the sea of endless apps.
It's how you get your app to show up in the top spots in an app search results page. Without ASO your app sinks to the bottom of the sea of apps, never to be found by a single user. On the other hand, an app, optimized for various localizations, becomes seen by people all over the world.
Furthermore, ASO keeps your app alive and relevant, literally. When your app goes unmaintained, releasing few or no updates, the app stores may flag your app as dead or low quality and mark it for removal. Always putting ASO into practice ensures that your app is safe from app store clean outs.
Lastly, ASO saves you money. Cut down on your user acquisition costs and gain active users by utilizing ASO. It's a win-win.

So now you've got nothing to lose.
Grow Your Apps with Less Effort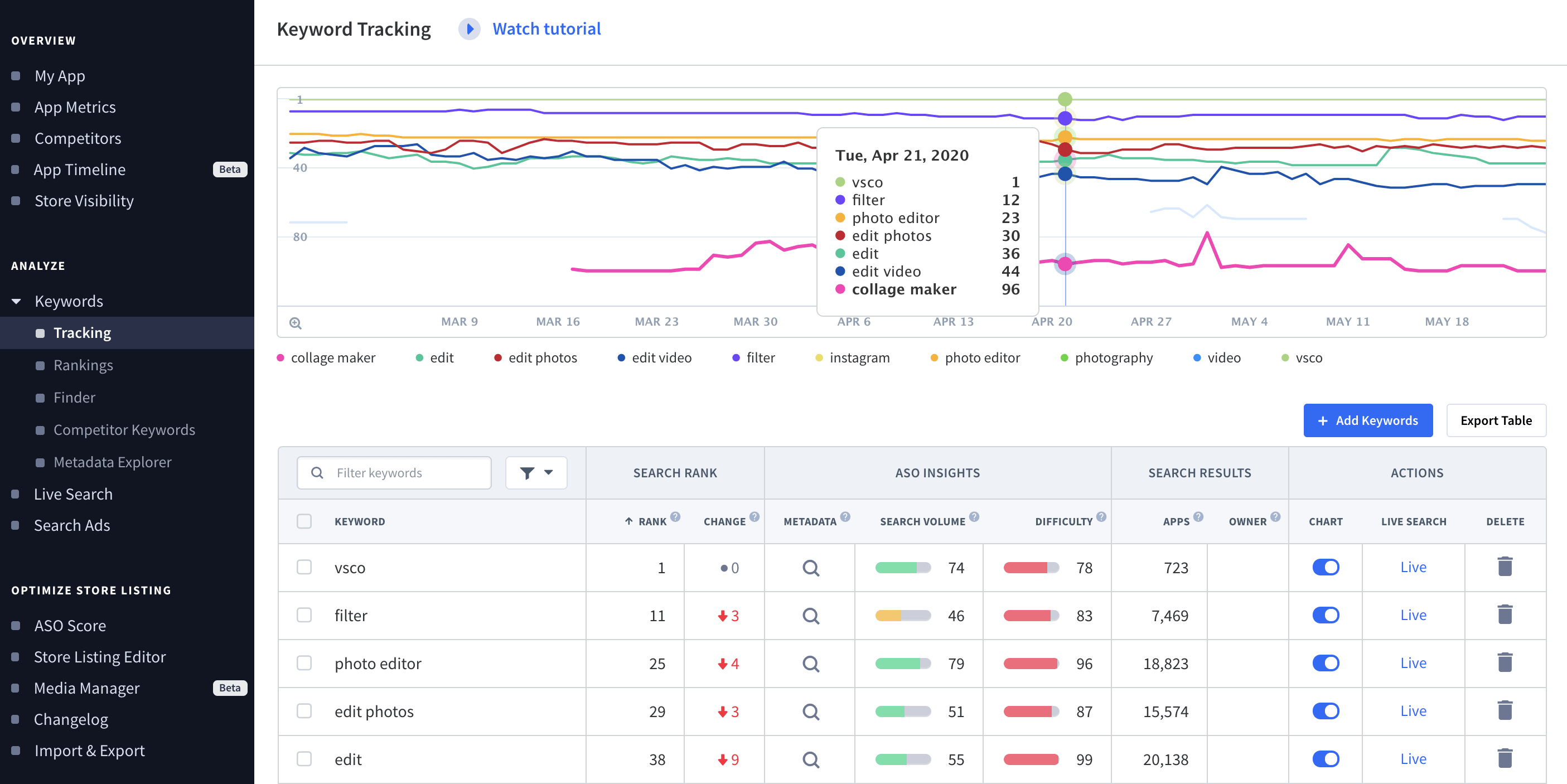 Find new keywords. Optimize all localizations. Spy on competitors. Track ASO changes.
Create a Free Account