Common App Store Optimization (ASO) Myths, Challenged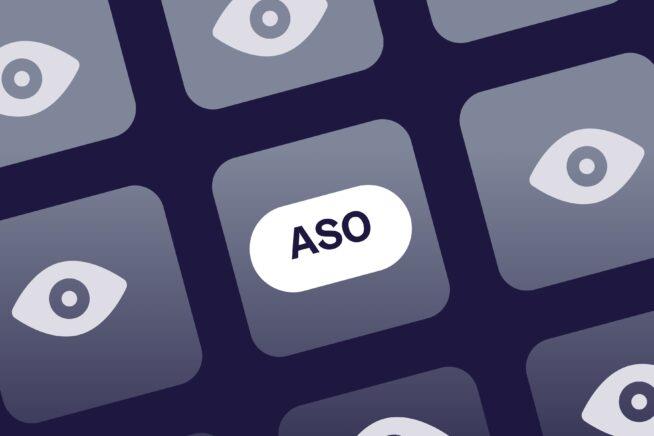 Mobile apps have become an essential in daily life. It's no wonder that, with so many apps available, the competition to get noticed continues to heat up. One popular, yet still highly debated, app marketing and mobile user acquisition strategy is App Store Optimization (ASO). Today we're debunking 4 common ASO myths. Let's get right to it!
1. Paid App Marketing Works Better Than App Store Optimization
A common false belief is that paid app marketing will work better than App Store Optimization. And this is entirely untrue. I'll tell you why.
Yes, paid mobile advertising is essential to app growth due to the market saturation. However, when people see your app ad and click on it, they'll be shown your app store listing as the last step before downloading. As a result, you need App Store Optimization to ensure conversion from store listing view to download.
App Store Optimization does not involve only keywords. It also includes Conversion Rate Optimization (CRO). What does this mean?
Conversion Rate Optimization for mobile apps is the process of optimizing your app store listing for maximum conversion of the target audience. It includes designing app screenshots that appeal to the right users, writing persuasive copy for your app title, subtitle, and description, driving positive ratings and reviews, and having an overall recognizable brand.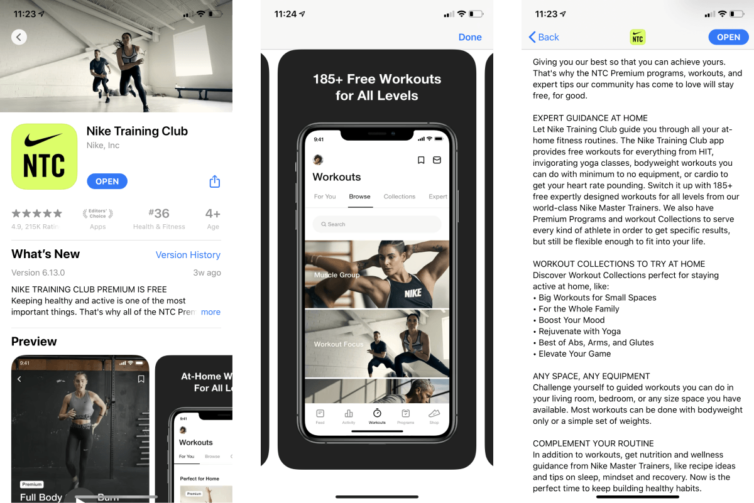 Take a look at the Nike Training Club app. They use the color black in order to communicate intensity and high-quality. The app screenshots clearly show major features and are paired with descriptive text. Their app store listing also includes a video to allow potential users to see exactly what they'll get when they download the app. Lastly, Nike emphasizes that their workouts are free and for all fitness levels, appealing to the entire fitness community. Nike understands their audience and has used App Store Optimization and Conversion Rate Optimization to make their app appealing to the right users.
2. Keywords Don't Matter When It Comes to Mobile Apps
Keywords are extremely vital to mobile user acquisition and app growth. People tend to perform either a direct keyword search or a categorical keyword search when looking for a new app to download. Take for example, VSCO, the photo editing app. A direct keyword search would be someone typing in "VSCO" into their app store. They already know which app they want to download. A categorical keyword search would be a query like "photo editor".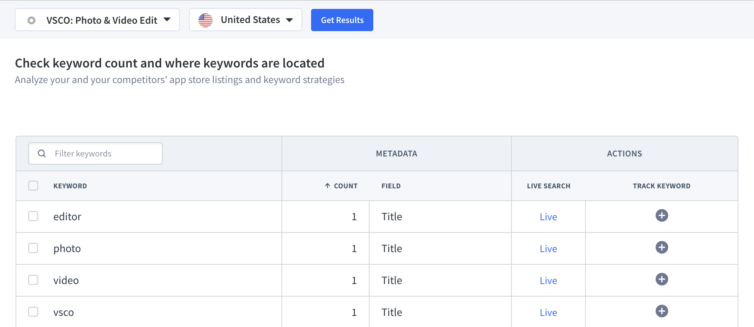 VSCO, knowing that keywords are important to app growth, has optimized for both types of searches. Notice that in their iOS app title, they have included VSCO, their brand name, and photo editing. As a result, they are going to acquire users who are specifically looking for their app and also those who were looking generally for a photo editing app.
Your app store listing is not optimized if it does not include any targeted keywords. For your App Store Optimization efforts to be effective you need to ensure you're choosing the right keywords for your app. Check if you're using the best keywords for your app with a free ASO Score.
3. Localization is Just About Translating Keywords
Putting your current keywords and other metadata through Google translate is not going to be effective in the long run.
Truly localizing your app and app store listing is definitely worth the time and effort. People search in the app stores using their native language and are much more likely to download apps presented in their native language. They also will be attracted to language that matches their colloquialisms, meaning their local phrases and slang. In order to have a well localized app store listing you need to dig into cultural references and make sure you are aligned with the diverse preferences of your target audiences.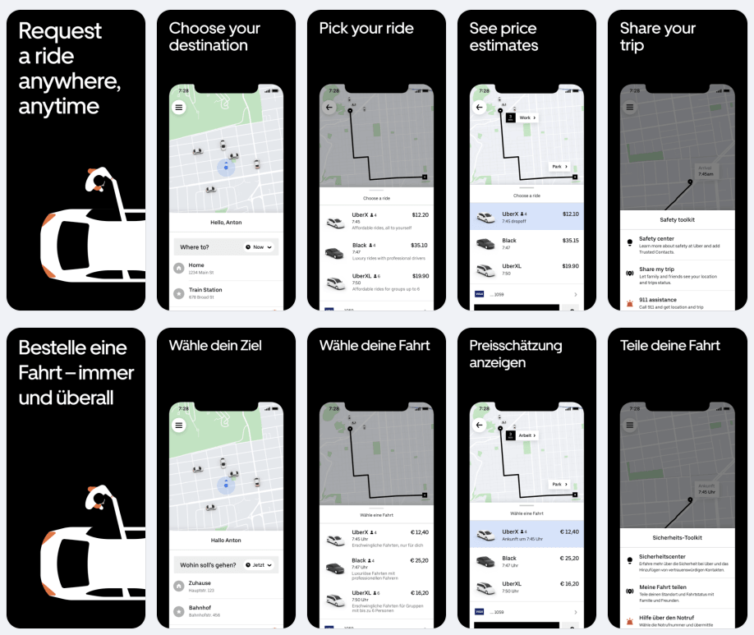 Uber has become a global company, operating ride-sharing in many countries worldwide. Because they reflect the language differences of their users in their app screenshots. English speaking regions will see the screenshots with English text while German speaking regions get German.
Update Keywords for Every App Locale in 1 Click
Try it Free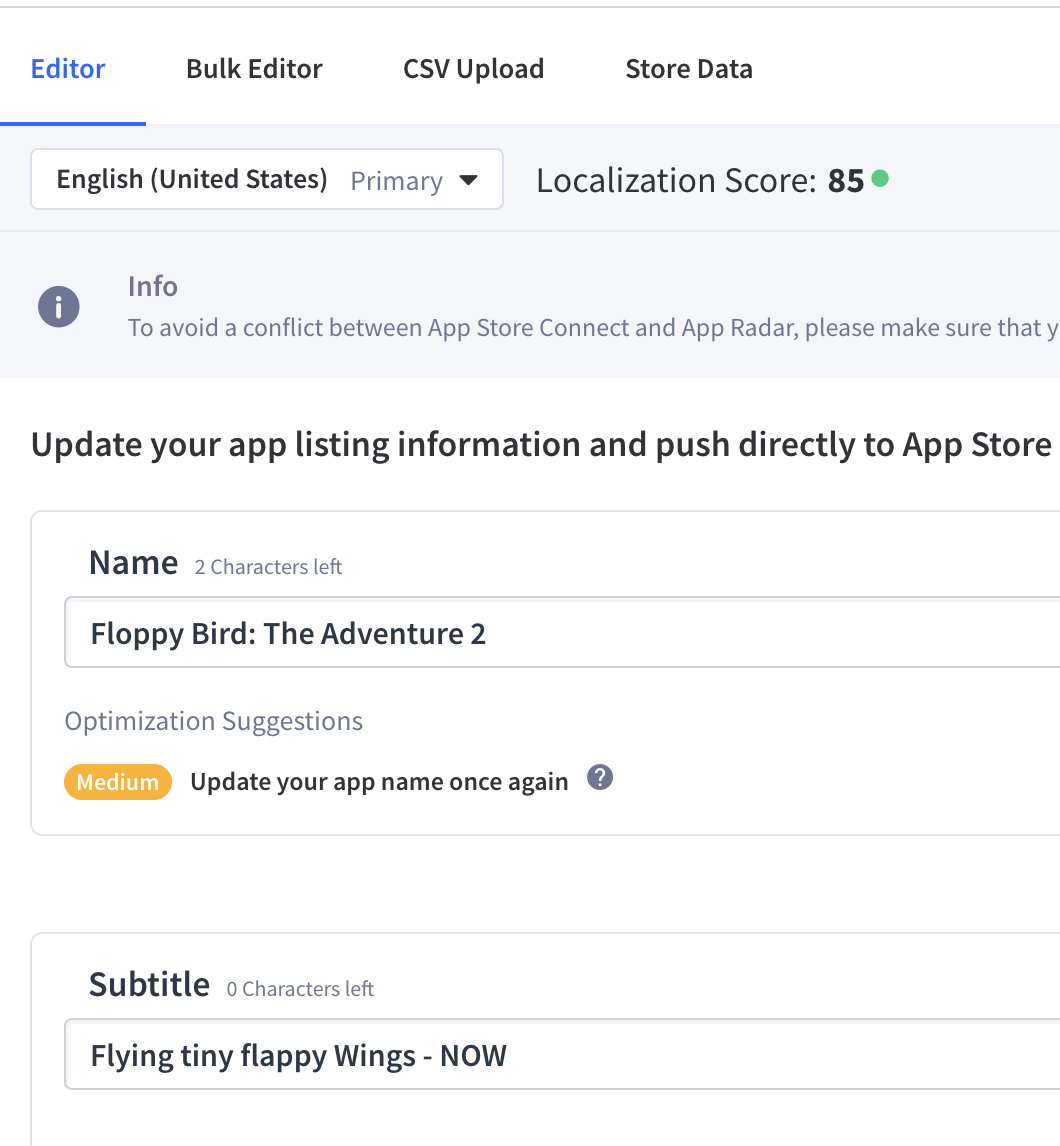 4. App Store Optimization is a One-Time Thing
App Store Optimization is never done only once. It's a continuous process that needs to be constantly updated as your app grows. We recommend updating the keywords in your app store listing at least once a month.
Of course you should never change your brand name unless you're going through a rebrand. But, if your app title contains other general keywords, you should be swapping these out frequently. Same goes for your keyword field (iOS only) subtitle or short description and long description.
Keep a close eye on evolving app screenshot trends. Before, people liked mockups that included a realistic graphics of mobile phones. Nowadays, the trend is moving more towards abstract designs with pops of color. Headspace clearly demonstrates the current industry trend towards abstract design in their app screenshots.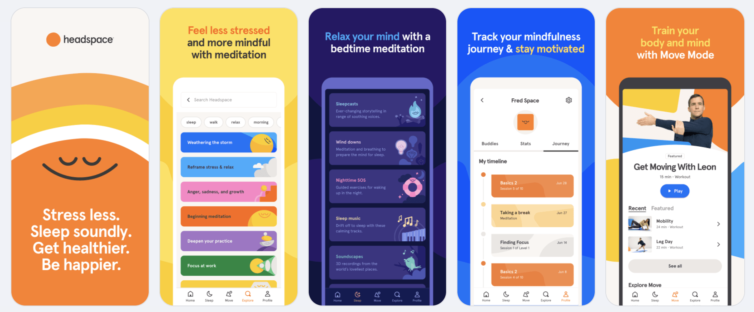 Screenshots also play a big role in seasonal or time-sensitive user acquisition. Changing your screenshots to parallel upcoming holidays or to reflect a limited time in-app purchase is a great way to attract new users.
App Store Optimization Myths Summary
Any good app growth strategy is undoubtedly going to contain App Store Optimization as a major method. App Store Optimization allows your app to get discovered in the app stores by the right users who will continue to engage and be active. It ensures that your ad budget is being spent well by driving the last step of conversion from store view to download or install. And lastly, App Store Optimization is how you will reach a global audience and speak their language.
These are just a few of the common myths surrounding app marketing and App Store Optimization. To learn more about how you can grow your app, check out our ASO Academy
Rather Have Us Do the Heavy Lifting?
We Help Global App Brands Reach Their Growth Goals.
Learn More