App Store Optimization Basics
ASO vs SEO: Understanding the difference between website and mobile app optimization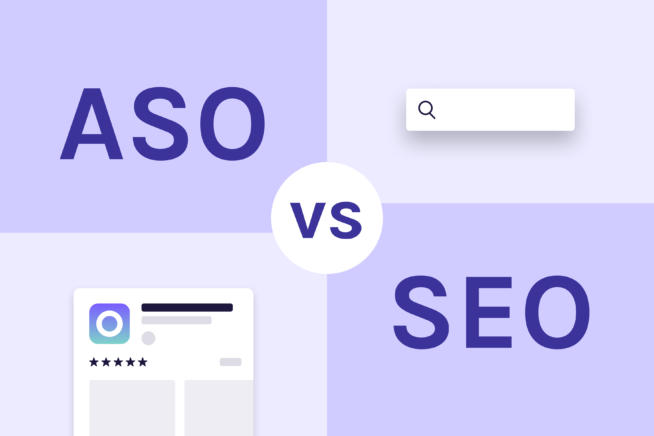 If you are working in the digital marketing industry, you have probably heard about SEO and ASO. Most people have heard about Search Engine Optimization, but many still don't know anything about App Store Optimization and often compare it to SEO, but only for mobile apps.
Common questions that people ask are:
Is ASO (App Store Optimization) the SEO (Search Engine Optimization) equivalent for apps?
Are these digital marketing disciplines competing?
Can you take an SEO strategy and apply it as it is to your ASO?
It is usually said that ASO is the SEO for apps, but that is not true. They do have similarities and some common characteristics. However, although they are somehow connected, they are different things with different goals, and they have many differences. 
ASO and SEO have specificities, and you must know how to differentiate them.
If you are new to the ASO industry, this article will help you properly understand how ASO and SEO differ and address their essential elements.
ASO vs. SEO: Differences & similarities
What is ASO?
App Store Optimization or ASO is optimizing a mobile game or app to maximize its visibility in the app stores in Search (when users search) and Explore (when users browse the app store categories). A good ASO results in increased traffic to app store listings and an improved conversion rate that generates the maximum volume of organic downloads.
To make this more specific, ASO is all about app visibility (Search + Explore) and conversion rate to download on the app stores (like Google Play Store or Apple App Store).
App store users look for apps when searching and browsing the app stores. If your app or game is not optimized, people won't find it, and app stores will not promote it in its categories.
What is SEO?
Search engine optimization, or SEO, is also an optimizing process. SEO is increasing the quantity and quality of traffic to your website through organic search engine results.
SEO is about website visibility in search results and influencing people to click on the desired result in search engines.
Like app store users, search engine users also look for information or content when searching on the web.
This is why ASO is often described as the "SEO for apps, "a simple way to present things to people who are familiar with SEO (website marketing) but don't know a lot about ASO (app marketing).
SEO is definitely not ASO for apps
App store optimization is specific to apps and has little connection to SEO.
For a start, Google Play Store and Apple App Store (the two largest app stores) are not search engines - they are merchandising engines that try to match your app assets with the right audiences across the stores.
But there are other important factors as well:
SEO primarily focuses on keywords, content, backlinks, and technical elements, while ASO focuses on the optimization of all store listing assets.
A mobile app can rank for thousands of keywords at a particular time, while web pages focus on several key concepts and keywords simultaneously.
App store users change behavior frequently, while web users typically have consistent behavior that can be categorized.
App store search patterns are typically very different from the searches in Google. The words people use to find things in app stores don't match what they search for in search engines.
It usually takes longer for Google to make changes in the search results, whereas search results in app stores can change dramatically from one day to the next.
Your mobile app has a public URL hosted on apple.com / google.com that is indexed and ranked by Google in the mobile web search. When doing ASO for your app, you indirectly do SEO.
App store vs web search
There is a big difference between how people search in app stores and on the web. 
Generally speaking, web users most of the time have four different search intents:
Informational - to explore, find and compare different information types and learn how something works, e.g., "how to fix a car."
Commercial - when people try to investigate services, products, or brands, e.g., "best car tires."
Navigational - people navigating to specific websites, e.g., "Amazon car accessories."
Transactional - when people look to buy something, e.g., "buy car tires."
Web users want to do something, learn new things, and take specific actions.
This is entirely different from app store users that mainly aren't looking for information but rather for products, features, and services. And the search results in app stores will differ from the web searches, even though users used similar search queries.
The suggested and related searches will differ when comparing app stores and web searches. Web suggestions might push you toward more informational topics, and app store suggestions will show you features and products from other apps based on similar audiences.
Mobile search queries are briefly compared to Google searches. Around 80% of search queries are only 2-3 word phrases, and getting the right user intent is much more challenging in app stores than in web searches.
Mobile apps must work with metadata and creative assets to optimize for different audiences, which is more challenging than optimizing a website with hundreds and thousands of web pages.
In short - people use app stores and web searches differently and receive different search results and suggestions.
App store merchandising doesn't happen on the web
An excellent point of difference between ASO and SEO is the concept of merchandising. Dave Bell presented this concept at App Promotion Summit 2022 held in NewYork.
As mentioned above, Google Play and App Stores are merchandising platforms. The more they understand what your app does, the more chance you will have to be exposed to different audiences while they browse and search through app stores.
As a result, Google and Apple will gather different metrics tied to your app and, based on them, show your app to users with the highest probability of interacting with and installing it.
If your app is a good fit for a particular audience, Google and Apple can also use this opportunity to push other ads and suggestions and show more content targeted toward that audience. And if the users are happy with the tips they receive, they will download more apps, consume more content in app stores, and, as a result, be more valuable to app stores.
With that in mind, ASO is much closer to an ecommerce concept than a traditional web search. The idea of merchandising doesn't happen (or at least not that much) when users perform conventional web searches.
Conversions, audiences and paid ads
Conversions in app stores are much more important than web conversions. If you manage a website, you want to convert your visitors into leads, buyers, subscribers, or whatever else your goal is. How you do that and present critical information to web users is entirely up to you and your SEO and content strategy.
The situation is quite different in app stores. Your conversion rates depend on your keyword rankings and how often and where Google Play and App Store merchandise your app. App stores measure your conversions in search results and store listings separately - because they want to determine your rankings for different groups of keywords and how they are related.
Based on that, you can see that app store and website mechanics are different and that the algorithms work differently.
Another significant difference between ASO and SEO is that SEO is independent of paid ads (at least, Google claims it to be, and the community experience confirms that). How you optimize your website from an SEO perspective won't be influenced by the number and types of ads you are running.
In other words, while Google Ads compete with organic search results, Google Ads don't influence the keyword ranking positions in Google search. Running ads on specific keywords won't get your organic ranking positions higher.
This is different from ASO. In Apple App Store, the Apple Search Ads campaigns you run and the keywords you bid on can directly impact your app's search results. If your paid keywords convert and become relevant to the app audience, they will influence your organic keyword positions in App Store.
So if the paid keywords improve conversion rates and get your app additional impressions and downloads, you will also experience a boost in organic positions. And as a result, your category rankings will increase, bringing you more recommendations and merchandising opportunities in App Store.
In summary - ASO is fundamental to paid mobile ads, but mobile ads can also impact ASO, which creates a synergy between these two channels. Although Google Search Ads also influence SEO performance indirectly, they are not connected as much as ASO and mobile ads.
Goals and main channels
Both disciplines are focused on the digital space, but ASO focuses on the app stores and SEO focuses on the websites.
ASO channels
The most common app channels for iOS and Android devices are:
SEO channels
SEO refers primarily to web searches (both desktop and mobile). SEO can be done for Google, Bing, Baidu, and other search engines.
Ranking factors
To succeed with mobile app marketing, you must understand how to optimize your app for better app store search results rankings. And the same goes for websites - if you want to rank your website high, you need to understand SEO ranking factors.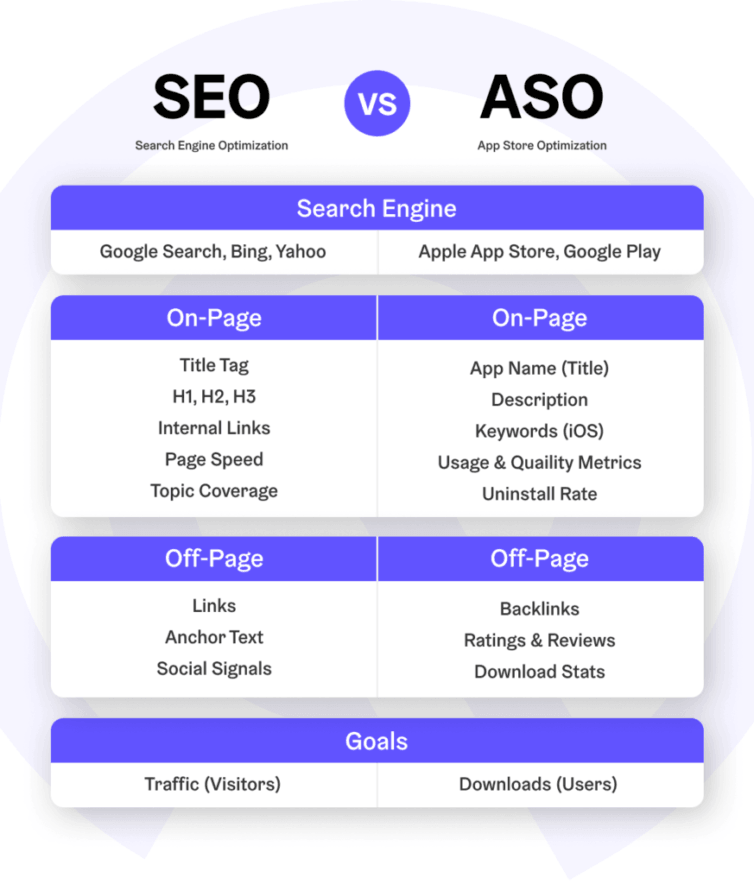 ASO factors
When talking about ASO, two different types of app ranking factors can be identified: the on-app metadata factors and the off-app metadata ones. These also differ a bit between Apple App Store and Google Play Store.
Let's review them to have a general idea of what impacts visibility and conversion rate to download.
On-app metadata factors include:
Subtitle (iOS) and Short Description (Android)
Promotional Text (Apple App Store)
Descriptions (both stores)
Keywords field (Apple App Store)
Visual assets: icons, screenshots, and videos (both stores)
App listing localizations (both stores)
Developer name (Google Play)
URL (Google Play)
In-App Purchases names (Apple App Store)
Off-metadata factors are:
The factors sometimes differ between both stores and their importance and relevance.
SEO factors
When talking about SEO, three main types of factors can be identified: technical elements, on-page factors, and off-page ones.
Let's review them too to have a general idea of what has an impact on website visibility and click through rate on Google search results pages (SERPs).
On-page factors:
Page load speed
Meta title
Content optimization (text, images, video…)
Responsive/mobile design (Mobile first)
Topical coverage
Topical authority
Content freshness
Core web vitals
Internal linking
Off-page factors:
Backlinks (quantity, quality, speed, topic relevance…)
Online presence and mentions
SEO factors are mainly similar to ASO factors. However, the degree of influence might differ.
The visual assets have quite a big impact when it comes to ASO (app icons, screenshots, and videos). Their importance cannot be underestimated as they have a great impact on app conversion rates. They usually have a very important role in the user's decision to download an app or not, which means that they need to be fully optimized and monitored.
The impact of visuals is less important in SEO, as they don't appear on all search engines' results pages (SERPs) and thus have less impact on the user's decision to visit a given website or not. Meta title, meta descriptions and rich results (and images on News and Mobile) make the difference in SEO CTR.
Tracking and KPIs
ASO and SEO strategies require constant tracking and improvements. You cannot improve things you don't measure, and the same is true for mobile apps and websites.
ASO tracking elements
To measure the success of ASO, you have to take into account the following KPIs or metrics:
App keyword rankings
Top Charts rankings
Featured listings
Conversion rate to visit
Conversion rate to download
User ratings & reviews
Organic downloads (Search)
Organic downloads (Explore / Browse)
Organic uplift
Revenue
Level Up Your App Growth
App Radar is the easy-to-use app growth platform built to boost your mobile app growth!
Try it out today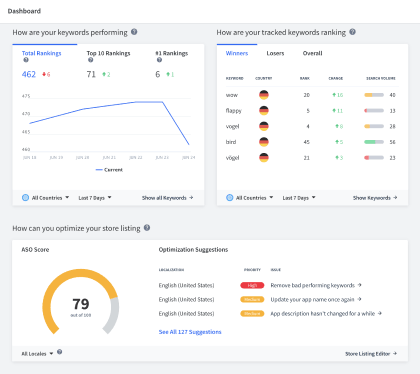 SEO tracking elements
To measure the success of SEO, you have to take into account the following KPIs or metrics:
Link profile
Keywords rankings (desktop and mobile)
CTR
Organic traffic
Active users, time per session, etc.
Revenue
Page speed and core web vitals
How do you track all this stuff? You can use any SEO tool available in the market, like SEMrush or Ahrefs.
Competition analysis is a big part of a successful ASO. Spying on your app store competitors can reveal many insights that can help you with your app strategy and improvements. When doing SEO, you must also pay attention to your Google competitors and the things they do and understand why they rank high.
App vs website visibility
As an app marketer, your main goal will always be to make your app as visible as possible in app stores. And as a website marketer, one of your assignments will often be to track and improve the visibility of your website in Google and other search engines.
Let's quickly understand the visibility difference between apps and websites.
ASO
ASO results and app visibility come from a couple of main channels:
Google Play search (Google Play)
Google Play explore (Google Play)
Third-party referrals (Google Play)
App Store search (Apple App Store)
Web referrer (Apple App Store)
App Store browse (Apple App Store)
App referrer (Apple App Store)
Unknown (Apple App Store)
SEO
SEO visibility mainly comes from:
Organic textual results in search engines
Images and videos that blend with search results
Rich results (featured snippets, knowledge panels, AI-generated answers)
Google Discover (only on Android devices)
ASO is not only about search. And SEO is following the same path.
Investment and budgets
How much investment and resources you have is often vital if you want to rank your app or website higher. While exceptions exist, solid budgets help win the long-term game.
ASO
The more you invest in paid marketing (Facebook Ads, Instagram Ads, Google Ads, Snapchat Ads, etc.), the more benefit you get, as non-organic downloads impact visibility and organic downloads.
Combining paid and organic strategies is the success ingredient. For instance, next to the organic results in Apple App Store, you can push paid search campaigns, in-app events, category campaigns (e.g., paying for an app placement in the Today's tab in App Store), and custom product pages.
And in Google Play, you can also run Google app campaigns that show ads in search results, app store listing pages, and browse categories. You can also use custom store listings to customize your app for local audiences.
SEO
Unlike ASO, SEO is independent of advertising investment. This means that paying promotions do not impact a website's visibility. To boost your SEO, you must invest in inbound Marketing, PR, backlinks, technical optimization, etc.
SEO may not depend on paid ads, but paid results compete directly with organic results in Google searches. They influence CTR and user behavior. That is why SEOs must invest a lot in content that considers search intent, Google results, algorithm changes and many other aspects.
Ultimately, your SEO has the same purpose as ASO - to bring you more relevant people with the highest chance of becoming your customers, subscribers and followers.
Results and expectations
ASO and SEO are both long-term games. However, that doesn't mean you can't get results with smart tactics and approaches.
ASO
ASO results depend on the budget, industry, country and competitive landscape. The results of ASO can be seen relatively quickly - sometimes even in a couple of days.
But because no app is the same, there is a lot of uncertainty about when you can expect the results and how they will look. If Apple and Google algorithms understand your app and believe it is a better fit for app store users, they will push it after you release the app or make an update.
SEO
SEO is an older area (with more competitors) and more complex than ASO. You have to build a website, generate content (URLs), have a clean site, get backlinks and many more. So the results of SEO usually take more time. SEO is a long-term game, so don't expect to see results in the first weeks/months.
While creating a website is more straightforward than creating an app, ranking that website high and capturing high keyword rankings and positions in Google is very challenging. In general, if your ASO and paid marketing is thoughtfully planned, your mobile app should get exposure in app stores easier than a website.
Testing and improvements
It doesn't matter if you have a mobile app or a website - you must always test new things and find what works.
Mobile and website ranking algorithm changes and rarely can you keep high positions without improvements.
That means performing A/B tests for mobile apps using Store listing experiments in Google Play and Product page optimization in Apple App Store. You should test whatever makes sense to your market - metadata, creatives, tone of voice, layouts, etc.
For websites, testing means trying out different content types, optimizing the on-page elements, adding CTAs, covering new topics, performing content pruning, etc.
Testing should be an integral part of any app and website marketing.
ASO and SEO can work together
ASO and SEO are different for various reasons - they have different goals and are made for different situations. This means that ASO and SEO are not competing. We can even go further by saying that they can be complementary.
Combining SEO with an ASO strategy is possible - some users sometimes discover apps while searching on the mobile web. This means that users on the web find part of the discovered apps, not on app stores.
This can be quite a significant proportion, so combining SEO and ASO is a great way to optimize your app visibility everywhere. By doing so, you can ensure that you are thoroughly revising and improving your app's presence on app stores and the web.
What does it all mean for app marketers?
Neither ASO nor SEO can be used as a magic wand. They both require time, effort and strategy to end up being effective.
In the end, you need to remember that ASO and SEO are not the same, even if both are optimizing processes to increase organic traffic. Each of the two needs its strategy for it to be efficient.
With that in mind, approach your ASO differently than your website optimization. The first step we suggest is to visit App Radar's app store optimization academy and learn the basics.
After that, start optimizing and improving your app. And when you do that, try our app marketing platform to get a competitive advantage.
Discover What App Users Want 10x Faster with AI Review Summaries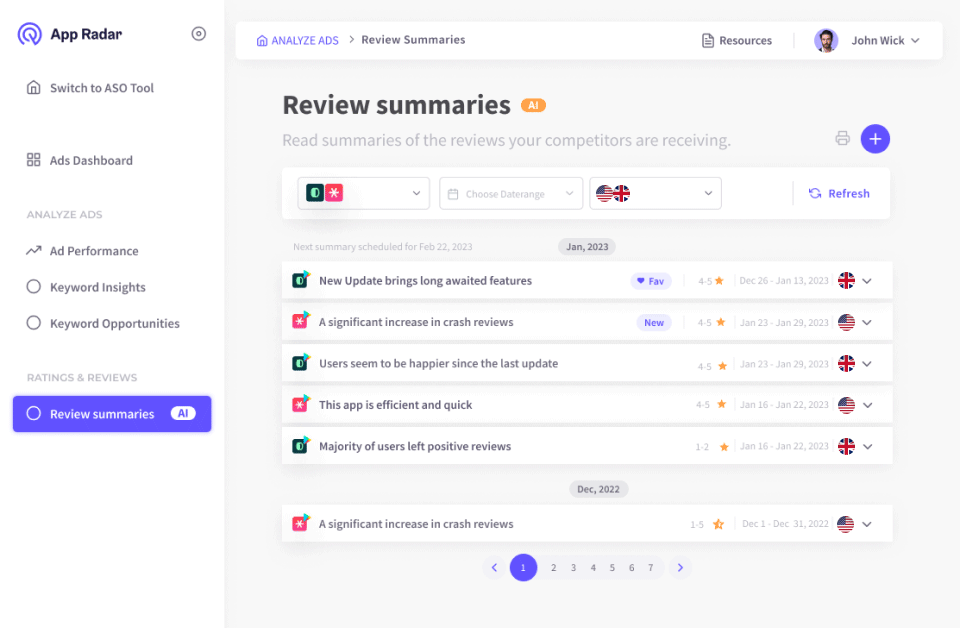 Save time reading tons of reviews word by word. Get weekly or monthly reports per any app on a global scale.
Learn more