Also known as: App Store Preview, Promo Video, App Promo, App Video, App Preview Video, App Promotion Video, iOS App Store Preview, Google Play App Preview
In order to improve your app download conversions in both Google Play Store and Apple App Store, video is your strongest visual element. App Previews (like they are called in App Store Connect (iTunes Connect)) or Promo Videos (app store videos in Google Play context) give users a feeling of the experience in your app.
At the same time you can easily educate potential customers on your app's value using app store videos. That makes them a great tool to convince leads and drive downloads. Thus, optimizing videos is a crucial task in doing App Store Optimization on a professional level.
The Meaning of App Videos in App Store Optimization
When back in 2014, the App Store announced to introduce App Previews (coming with iOS 8), app marketers were pretty excited. Everyone was seeking for a creative tool to market their product on the Apple App Store. The backside of this story: Apple limited marketers creativity by forcing strict guidelines. Soon many parts of the app industry gave up on creating app previews for their apps due to the feeling the work is not worth the results.
According to a study by StoreMaven, having an app video on your app store page can increase conversion rate by 20 – 35%.
Unfortunately, there've been also several developers reporting that their App Preview don't uplift conversion or even harm their CVR. Since Apple redesigned their App Store, however, the new layout drives more attention to App Preview videos. That's why getting your app videos right for the Apple App Store is more important than ever.
Let's have a look on what role app store videos play on Google Play Store: a big one! Due to the way Android apps are displayed on Google Play Store, the Promo Video is an essential part of any store listing. The featured graphic, where the play button for the video is placed, is the very first element users see on your Play Store listing.
The average user won't spend much time on your app store listing. Visitors only take about 5 seconds in average to make a decision to instantly install, instantly drop or explore your app page. That means convincing visitors with your promo video (+ thumbnail / Feature Graphic) is imperative.
So, App Store Videos are important for ASO on both the Apple App Store and the Google Play Store. Nevertheless, there are some fundamental differences between App Previews and Promo Videos.
Creating App Previews for App Store Connect (iTunes Connect)
App Previews on the Apple App Store need to follow some specific Guidelines. You can add up to three videos per localization via App Store Connect (iTunes Connect). By releasing a new app version, the Preview Video gets approved together with your app and metadata.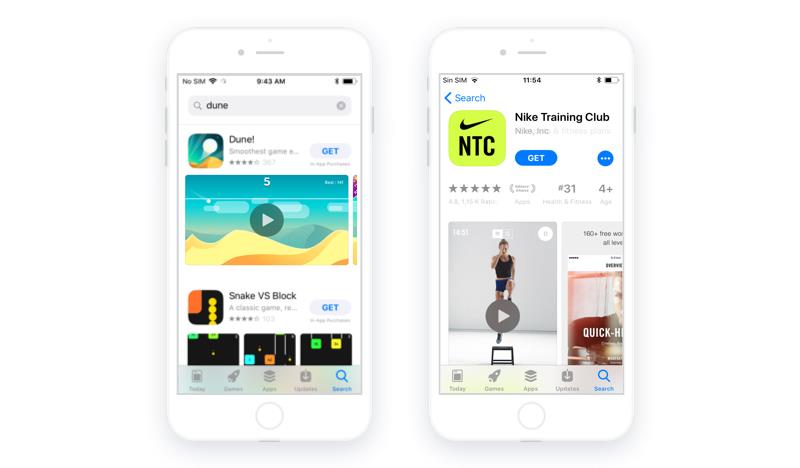 App Preview Guidelines by Apple
Here are the most relevant key points, your App Preview needs to fulfill:
Video Length: up to 30 seconds
Maximum file size: 50 MB
File Format: .mov, .m4v, .mp4 format
Resolution: Device-Specific (but may be horizontal or portrait oriented)
Apple wants to ensure a similar look & feel for all app videos. So they shared some extensive guidelines. Here're the most relevant points:
Mostly use screen captures for Preview Videos
Don't overlay animated hands, you can use touch hotspots to indicate where the interactions with the app happen
For games: Show more gameplay scenes than cutscenes
Use copy in your video – but mind localization
You can use voice over but keep in mind that only a very small percentage of users will have the sound on (videos autoplay in mute)
Preview videos should only contain content for which the full rights are owned (don't show app streaming content from an iTunes Playlist or YouTube video and avoid brand names)
Similar as for Screenshots, Apple recommends different app preview resolutions. A summary of those device-specific resolution recommendations are listed in this article about App Store Screenshots.
App Promo Videos for Google Play Store
Concerning preview videos (promo videos), Google Play Store prescribes only a few attributes like the recommended length of video and how to handle it in the Google Play (Developer) Console.
You can see what your videos will look on mobile before publishing using mockup tools, such as placeit.net.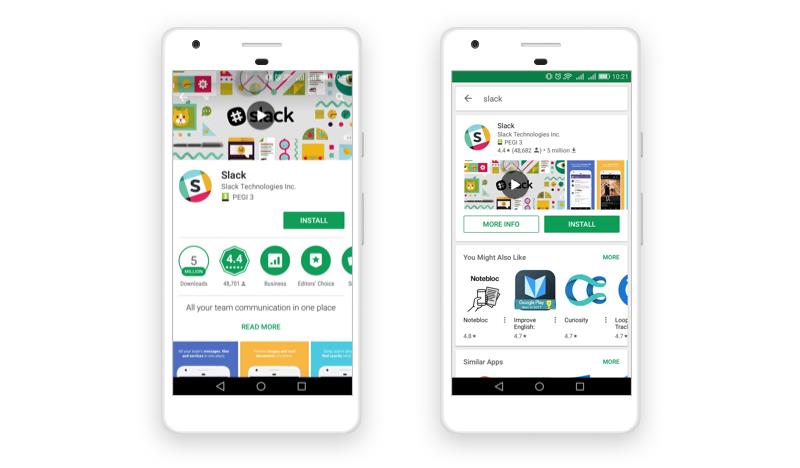 Guidelines for App Promo Videos
A video length of about 30 seconds (2 minutes at maximum) is recommended but there is no real restriction
Preview videos must be uploaded to YouTube first (you add them to the store by entering the URL into the "promo video" field in your store listing)
Since Promo Videos in Google Play Store are basically YouTube videos, they are all in landscape
Preview videos should focus on the most compelling features and are an optional but recommended part of your app page. They are a fun and engaging way to drive downloads.
There's another great difference between handling app store videos in Google Play Console and App Store Connect (iTunes Connect): while you depend on third-party A/B testing platforms to test your Preview Videos, you can A/B test Promo Videos in Google Play Console directly.
With Google Play Store listing experiments you can test up to 4 variants of store listing elements (but test with only 2 variants). Moreover, you are able to check video analytics on YouTube to find out how long people watched your video, where they stopped etc.
Best-Practice Tips for Great App Previews and Promo Videos
How your Promo or Preview Video(s) should look like primarily depends on your app and target audience. However, there are some best-practice rules you should know anyway.
Your app video should stand out. So, know what your competitors are doing, be creative and do better.
Keep your app store videos short. It should not take longer than 30 – 40 seconds (30s max on the Apple App Store)
Make sure users understand the video content even without sound. Some copy could help in delivering the main message.
Show the most relevant points about your app first. Most users won't watch your video until the end. So, go straight to the point.
You need to excite potential users about what they can get. Show relevant app content and gameplay to present your app in a good light.
Try to keep the video as simple as possible. You want to convince people who don't know your app yet. Make sure everyone gets it right at first sight.
Make viewers download your app. High-converting app videos all come up with a call to action at the end.
Don't forget about the feature graphic and poster frame. Android users and iOS users (who turned off the autoplay functionality) first see the thumbnail image. Get sure it fits the rest of the store listing and makes them want to see more.
Note that people will see your video mainly on mobile devices. Small screens is something you need to consider.
Great Examples of App Store Videos
Vivino promo video: this promo video, which increased the listing's conversion rate by 15%, goes through the main features of Vivino at the time. The style of the designs is in line with some visuals Vivino had been using on Instagram, and work perfectly here once animated. It also shows well the freedom gives to developers for their creative assets. Read more about this video here.
Clash of Lords 2: with powerful text screens, 3D animations and characters from the game, this game trailer puts the viewer in the Clash Of Lords universe. Yet it still portrays the game experience accurately. Read more about this video here.