Mobile game promotion is the thing that makes or breaks your game. With millions of apps and games in Google Play and App Store and the massive competition in the mobile gaming industry, having a great game is only the starting point. Promoting a game correctly and using the proper channels and tactics can significantly impact how many people find the game, the number of downloads it gets, and the revenue you earn from it.
In a nutshell, promoting a mobile game means reaching out to your target audience through different channels, letting them know about your game, and convincing them to download and play it.
In this article, we will share 20 tactics and ideas to help you get more downloads in app stores. The most successful mobile games in app stores use these same tactics, which constantly outperform other apps in their categories. After reading the article, you will be able to test these tactics and select those that work the best for you.
Ready to get more app downloads? Great, let's start.
How to promote and market your mobile game
There are plenty of ideas when it comes to mobile game promotion. While most of those ideas bring results, app marketers need more time and focus on those ideas that make the most sense for their mobile games. So after you research and find the target audience for your mobile app, the next step is to evaluate the ideas about how they can find and download your game.
If you still need a mobile game but want to create one, we recommend you check our list of top mobile game engines. Or, if you already have a couple of mobile games and want to scale your business with your gaming studio, read our guide to creating a successful mobile app gaming studio.
Here is the list of20tactics and ideas you can use to promote your mobile game:
Promote your game through friends and family
Increase organic installs with app store optimization (ASO)
Get more users by running Apple Search Ads
Set up Google app campaigns
Raise app brand awareness with social media
Reach a larger audience through influencer marketing
Set up a referral program for existing app users
Boost app downloads with an SEO-optimized website
Use email marketing when planning app releases and announcements
Video and youtube work great for mobile games
Mobile advertising
Cross-promotion
Community building
App review websites
App Store features and promotions
Traditional marketing and advertising
Send your game to several game publishers
Beta-ready and soft launch
Send your game to several stores
Let people know about your game on other relevant channels
Let's have a quick at each of those ideas
1. Promote your game through friends and family
The easiest and quickest way to get some initial attention for your mobile game or app is to start with people around you.
Are there any friends or family members that would enjoy using your app? If so, let them know about it! They're already part of your inner circle and would happily help push your app.
Think about the exponential potential of your network. Each one of your friends and family know at least 5 other people. Those 5 people know another 5 other people. Get this network to be part of your early adopters. They'll spread the word and build the foundation of your user base.
2. Increase organic installs with App Store Optimization (ASO)
Organic app installs are the main driving force for promoting your mobile game and growing your app business. Continuous organic growth ensures a steady flow of new users, and most importantly, it doesn't depend heavily on having a large budget. The primary method of acquiring users organically is App Store Optimization or ASO.
ASO refers to increasing app visibility and conversions in the app stores. It relies on keyword strategy, app localization, app store ranking, eye-catching app store listing visuals, and high ratings and reviews. App Store Optimization aims to create an app store listing that is both easily discoverable and appealing to your target audience.
Level Up Your App Growth
App Radar is the easy-to-use app growth platform built to boost your mobile app growth!
Try it out today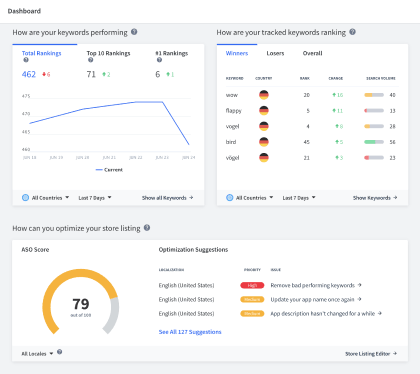 People often find your app in the Apple App Store and Google Play Store by using keywords. If you rank in the top 5 organic search results when somebody searches using a relevant keyword, your app will have a big chance of earning downloads. The first step when optimizing the app store would be to optimize your app store listing with the list of potential keywords and place them in the correct metadata fields.
If you are new to the ASO field, we highly recommend you check our App Store Optimization Academy. Or, if you are ready to start working on your ASO, you can use App Radar's App Store Optimization tool. To evaluate your current ASO efforts, try out our ASO Score and get recommendations on improving your game's store listing.

3. Get more users by running Apple Search Ads
To promote your mobile game and skyrocket growth, harmonize app store optimization with app store ads. The two main channels for app store ads are Apple Search Ads and Google App Campaigns. With both, you can run app install campaigns and drive more users to download your app.
Apple Search Ads work with keywords. You can use the keyword list you've created for your app store optimization strategy as a jumping-off point. From there, determine the ones that drive the most traffic and place bids on them. When people search in the Apple App Store using these keywords, they'll see your ad before the 1st organic search result.
Running Apple Search Ads is one of the most effective ways to get more app users and increase revenue. The average conversion rate for Apple Search Ads is an impressive 50%. Just make sure you're choosing your keywords wisely.
To learn more about how to set up your Apple Search ads, visit our Apple Search Ads Academy.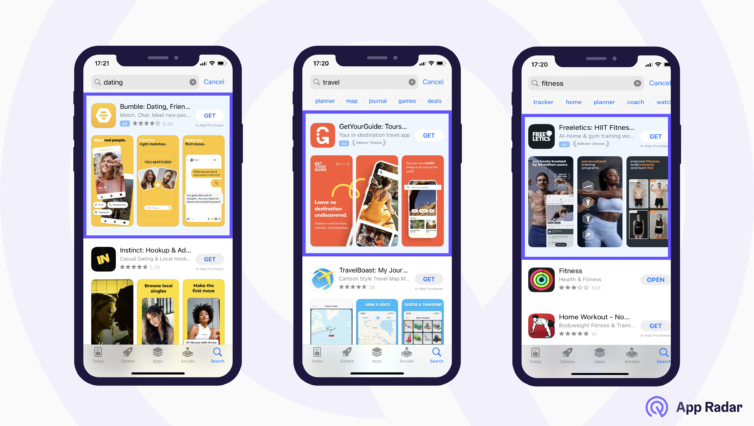 4. Set up Google App Campaigns
Google App Campaigns work with audience demographics and campaign goals. You target people with the highest probability of downloading and continue using your game.
With Google App Campaigns, the best way to get more downloads and expose your game in front of new app users is to use app installs as a goal. Google's machine learning will then optimize your campaigns toward this goal.
To launch app campaigns, you must provide texts, visuals, and some budget, and Google will do the rest. Make sure to create nice visuals that will capture the attention of the ad viewers and monitor your progress.
We have a series of dedicated articles on setting up paid campaigns in the Google Play Store in our Google App Campaigns Academy.
5. Raise app brand awareness with social media
No promotional campaign is complete without a social media edge. Although it is only fit for some apps, social media is a powerful tool for many. You can promote your mobile game on social media in two ways: organic and paid.
Organic social media to promote your mobile app
To work on the organic side of social media, you can create a dedicated social media page for your game brand and expand your audience by showcasing a solid brand through consistent and engaging content. However, due to the saturated nature of these platforms and the short attention spans you must capture, it's become a pay-to-play field.
Paid social media to promote your mobile app
Channels like Facebook, Instagram, Snapchat, and TikTok all offer app install campaigns. When ad viewers click on the CTA (call-to-action), they'll be led directly to your app store listing. Ensure they download the game by building an appealing app store listing through App Store Optimization.
These campaigns run via audience demographics and interests. Achieve the best ROAS (return-on-ad-sales) by having a clear picture of who your target audience is and what type of content they'd be interested in. That way, you can hone in on the right people and design an ad that will stop their scroll.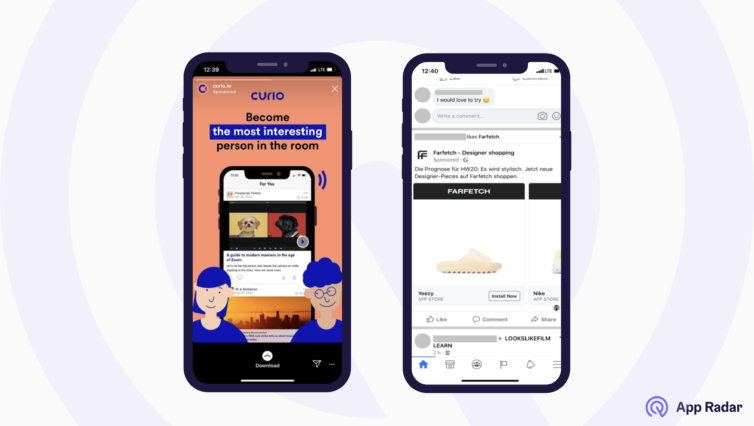 Each social media outlet works differently and may have different users. Get familiar with each platform first before putting money on the table.
6. Reach a larger audience through influencer marketing
Another highly effective way to promote your mobile game and gain more users is influencer marketing. Influencer marketing is increasing brand awareness and revenue by using influential personalities who have engaged audiences. Remember, just because somebody has many followers doesn't mean they're influential or have an engaged audience. You have to vet their profile, their content, and their personality.
The influencers you work with become ambassadors for your game. You want to associate your game with people in your target audience and speak directly to them. This matching is crucial to running a successful influencer campaign.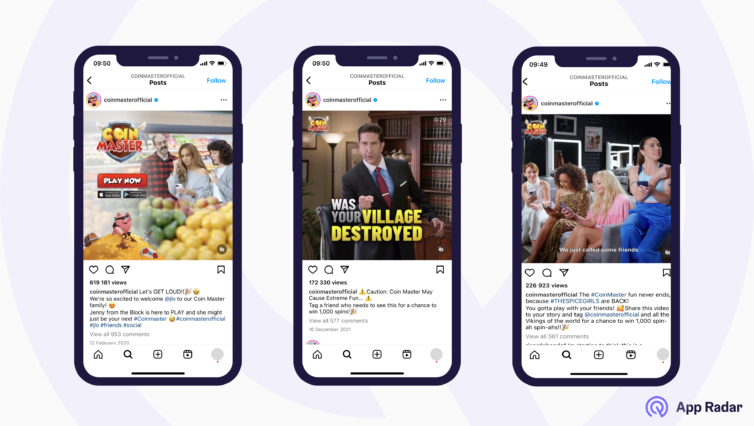 In the mobile game community, the best way is to find influencers with many YouTube followers and showcase videos of how they comment or play a game.
You can set up the campaign yourself if you're working on a smaller budget. Search through platforms like Facebook, Instagram, and TikTok. Consider googling for articles that highlight micro-influencers. Lastly, get involved in the community you want to reach and embed yourself as a brand in the conversation by commenting, liking, and engaging with users.
7. Set up a referral program for existing app users
Word-of-mouth marketing is a great way to promote your mobile app because it inherently involves the trust factor. People trust recommendations from their friends and colleagues. Word-of-mouth marketing leverages this mainly through referrals and rewards.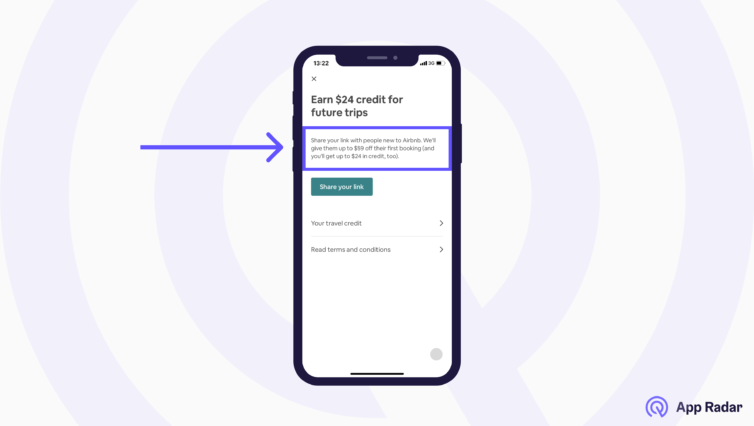 All you have to do is create a referral program in your app. You may have a hyper-casual mobile game with great game mechanics. You can reward users who refer their friends to your game by giving the inviter and invitee extra coins. So, it's a win-win for everyone, including you and your app!
8. Boost app downloads with an SEO-optimized website
People search and browse the internet when they're trying to find information and answers to their problems. Many apps in the app stores get visitors from websites and even from Google directly. So the first thing you must evaluate is if and how a particular website can be used as a gateway that brings people to your app's store listing in Google Play or product page in Apple App Store.
Also, you'll position your app in front of a high-intent audience, people already looking for your app's solution.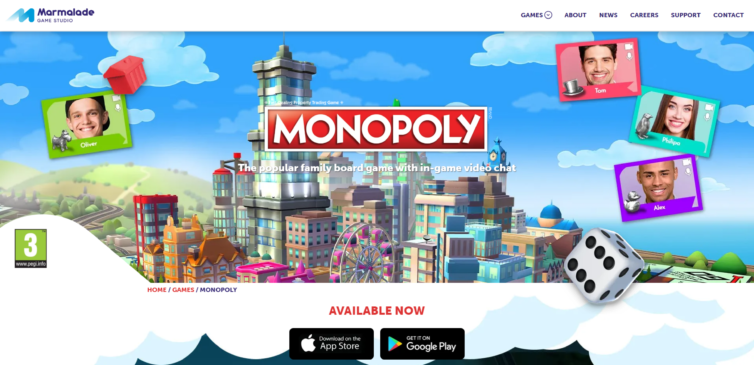 Besides form and function, the essential part of building a website is SEO (search engine optimization). SEO is how you get your website to show on the first page of the search results. If you have a website that showcases your game portfolio or website receives a solid number of clicks, use that audience to navigate people to the app stores.
Also, make sure your app is indexable in Google searches. That way, people can see your app store listing in Google search results and navigate to the app store listing directly from there.
9. Use email marketing when planning app releases and announcements
An email is a powerful tool that can effectively promote your app.
For instance, with email, you can do product release emails, pre-order notifications, announce features, invite people to participate in events, etc. If you can build a list of potential users and send them targeted messages with information about your game, you push your installs a lot.
We have a great article with real-world examples where email marketing was used to support the launch of mobile apps, so make sure to get some inspiration from there.
10. Video and YouTube work great for mobile games
If you have a mobile game with great game mechanics and rich playing elements, you should invest some time in creating YouTube videos.
Video can showcase your game's gameplay, features, and benefits and help you find new users more easily. The videos you create can be shared with other players and on the game community sites. Also, if you do your market research and find online games with many followers, you can always consider cooperating with them and asking them to promote your game in front of their audiences.
11. Mobile advertising
Mobile advertising is another option you can use to promote your app. While we highly recommend using Google app campaigns and Apple Search Ads first, you can also expand your reach with mobile ads.
Mobile advertising helps you get news installs by reaching out to new markets and promoting your app to different audiences. It can also help with monetization once you come to that point.
Using display networks, you can use native, interstitial, banner, or video ads to promote your game. Some special display networks are specialized in video games, such as Unity Ads, Chartboost, Ada Colony, Ad Exchange, Live Gamer, Epic Game Ads, etc. However, display networks shouldn't be your first choice since user acquisition costs can be high. Nevertheless, testing them is good, as they can boost you during a specific moment.
12. Cross-promotion
Cross-promotion lets you advertise your app; in exchange, you let ads appear in your app advertising space.
If you have other games on the market, it's crucial to use cross-promotion in your new game to impact users that you already have. It's a free and effective way to promote your game. Alternatively, you can talk to other developers to exchange users; there are several developers' associations all around the globe. You can use platforms like Tappx to start working on the cross-promotion of your app.
13. Community building
Investing in community building for a mobile game promotion is a time well spent. Any community where people share the same gaming passion and like testing and trying out new games can significantly help.
For a start, you can create a social media group to share exclusive content about your game. It requires some time and patience, but once your group starts growing, you can offer different initiatives to the group members and promote specific app elements.
Online events also work great for app promotion. You can offer special promotions and rewards to the most successful gamers and, in that way, show potential users what your app can do.
Community building takes time to bring results, but check out how other apps build their communities and try to emulate their approach. We recommend checking mobile game forums like TouchArcade, Android Forums, and VGR Forum.
14. App review websites
App review websites specialize in reviewing and rating mobile apps. These websites typically have a team of people who evaluate mobile apps based on functionality, usability, design, and user experience. The reviews often come with ratings and user comments, which give additional insights into how good an app is. Some app review websites cover app comparisons and rankings based on different categories or app store rankings.
Reviews are a good way to make your game known. It can be challenging to get them on your own, though. Several paid-review platforms can be useful, such as:
App review websites increase your app's exposure to potential users, but not all of them are relevant to your audience. Just do your research to find the most suitable review website.
Get a reward for your enthusiastic education!
Use coupon 'STUDYBONUS' to get 30% OFF on any plan at App Radar's app growth platform for one whole month.
REDEEM CODE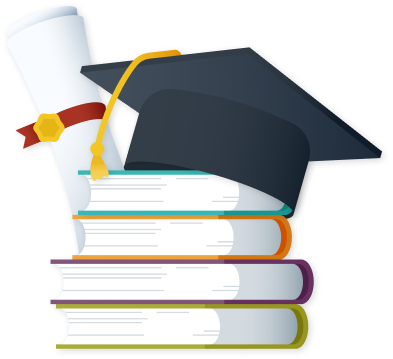 15. App stores' features and promotions
There are several options you can use if you want to promote your game through app stores directly.
Google Play uses Promotional Content, a Play Store feature that shows store visitors limited-time events, special offers, and big game or app updates. The Promotional Content is an in-app event and another great way to increase your app's retention rate and revenue. The content can be displayed on the game's home page, store listing page, events tab, and search results.
Apple's App Store also has its promotional content version called In-app Events (IAE). The in-app events appear across the Apple App Store as event cards - on the home screen, search results, and app product pages.
The in-app events from both stores require that you prepare different assets to optimize this content, but it is an option that can improve your game's visibility in app stores.
16. Traditional marketing and advertising
Offline methods can be just as effective in promoting an app as online methods. Here are a few suggestions for promoting your app using traditional marketing methods and advertising:
Attend trade shows and events related to your app's niche. This is a great way to connect with potential users, showcase your app and generate buzz.
Sponsor local events, such as sports tournaments or groups. Connecting with local people helps increase brand awareness and create goodwill in the target community.
Use billboards and posters for advertising your app in high-traffic areas, such as bus stops, train stations, and shopping centers. Explain how people could benefit from using your app.
Print flyers and distribute them in areas where your target audience is likely to be. If you aim to target, e.g., students, focus on college campuses, coffee shops, and libraries.
Offer free merchandise, such as t-shirts or stickers, with your app's branding to increase visibility and encourage word-of-mouth marketing.
While not all of these tactics make sense for your game, considering these options on time will allow you to coordinate your promotional efforts.
17. Send your game to several game publishers
Signing up with a game or app publisher is a challenging task. Game publishers are usually successful app companies that operate multiple games under their umbrella and want to grow to grow them into AAA or blockbuster games. Although a game publisher can be responsible for your project's promotion and make it global, it will also take a significant portion of your income.
Unfortunately, it can be tough to make a deal with game publishers. However, by showing your project to different publishers, you'll be able to make your mind up about the development in terms of business. It could be that your game requires mentoring and help to make it global, and game publishers can do precisely that for you.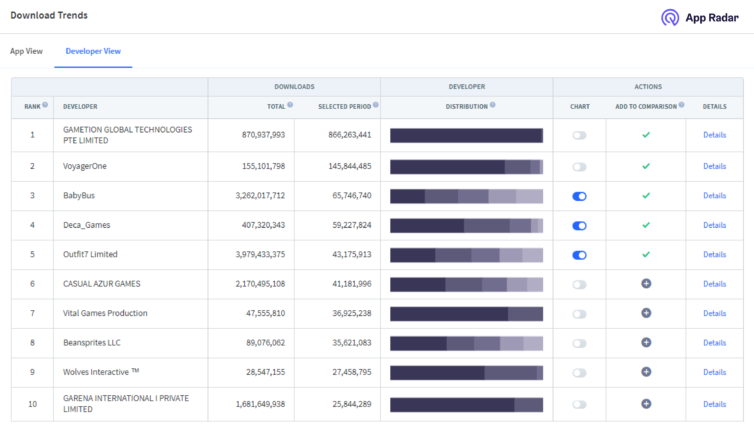 The image above shows top game developers from March 2023. Inside the App Radar you can also find download data for any mobile game subcategory as well.
18. Beta-ready and soft launch
When your game beta reaches an advanced point, consider having a beta only for testers, journalists, and influencers. Include their changes to your project, and you'll assure good critics once your game is in the market. Look for a cheap market and good metrics regarding game usage and release your project with just a bit of your budget. Measure and change everything that you can before global release.
A good advice is to use the pre-launch options in both app stores.
Apple's App Store has a pre-order option allowing you to create hype about your app and capture the initial user interest. Creating a pre-order listing can also increase your app ranking, as Apple will index the app keywords and rank it before it goes officially live.
Google Play has a similar option that is called pre-registration. The pre-registration allows you to build awareness for your game-selected countries before the official Google Play launch. The users can visit the game's store listing and pre-register for the game. And once you go live with it, those users will receive a push notification so they can download it.
While both options don't apply to existing games, if your game is still not live, consider using these options.
19. Send your game to several stores
If you want to promote your games, Google Play and Apple App Store are just some of your options. Other Android stores should be addressed, such as the Amazon store. Here's a list of some of them:
We recommend checking each of them.
20. Let people know about your game on other relevant channels
Don't forget to have good social media management and send your game to Reddit's special section, Android Reddit. Also, use Product Hunt, a "social network" on which users vote for the best apps and websites.
Promoting mobile games is tough, but you can do it
One of the best strategies for your game promotion is to rank it as fast as possible in Google Play or Apple's App Store Top Charts. If you are preparing your app for a launch, focus a good part of the budget on getting as many downloads as possible to reach the top of app rankings, keywords, and related apps. This will boost its virality.
Be careful, though: measure your force, as surpassing apps and games with lots of downloads is challenging.
Remember that a game's (or app's) promotion strategy starts before creation. It's a gear with many pieces that are difficult to adjust. Due to the changing market, it's indispensable to constantly test new ideas until you find the most efficient actions.
Use your creativity, take some tests, and adjust your promotion strategy until you press the right key.
Let us promote your mobile game for you
These are only some of the ways to promote your mobile game. However, they are the most effective. Do you still need to figure out where to start when it comes to getting more users and achieving growth? Let us help!
Our app and game growth experts will work with you to create a tailored growth strategy that fits your budget and goals. Contact App Radar's agency and talk to our mobile game experts!
Let's make your mobile game more successful!
With years of expertise in both ASO and User Acquisition, our team of app marketing experts is here to help you reach your goals and increase your game's marketing performance.
Contact us