Growing a Game App: Data-Based Tips Beyond User Acquisition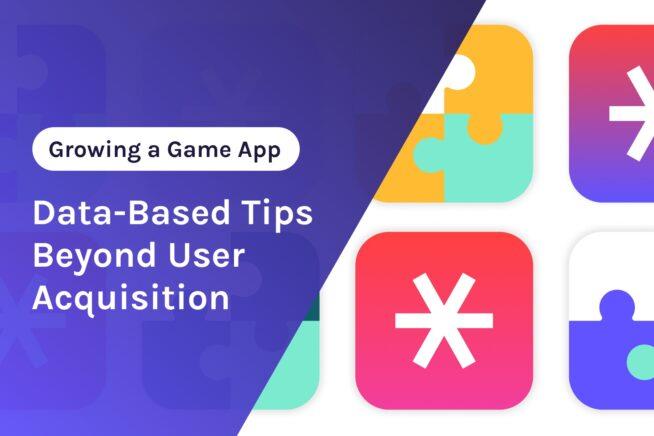 Wondering how to use data to make the right decision about your mobile growth strategy? This guest post from Pushwoosh provides hands-on tips for mobile game strategies based on recent data research findings.
Growing expansively through new user acquisition is the beaten path for game apps, but it isn't the safest to take alone. Low retention and high churn rates await those mobile games that acquire new audiences at the fastest pace, the recent Pushwoosh research has stated. And by losing their costly-acquired users, game apps cut themselves off from achieving better monetary results. Luckily, there is a way out of this unfortunate situation. Keep reading to discover a game app growth strategy that involves improving your engagement and retention efforts' efficiency, not increasing your acquisition spending.
Retention marketing comes into play
Successful user acquisition is only half the victory. Further retention is a challenge that many game apps fail. Pushwoosh data study has revealed that retention rates in the gaming category are extremely low (and go even lower with each passing milestone), while churn rates (accordingly) spike:

A game app marketer can't ignore this, especially taking into account the fact that D1, D7, and D30 Retention show a linear relationship:

This means that you may want to (or even have to) start with engaging and retaining new players properly on Day 1. What channels and techniques can help?
Engaging messaging: the first feat in the mission for higher retention
Outstanding retention awaits those who play the engagement game well. An in-depth analysis has revealed that high retention rates are typical for game apps with above-the-median engagement metrics:
push notification opt-in rates,
CTRs,
User CTRs,
DAU,
and MAU.
Moreover, there is a linear relationship between the named metrics, meaning a game app user retention journey starts at the opting-in.

So the first thing a game app marketer may want to do is:
Obtain and maintain a high opt-in rate
The more players receive your push notifications, the more may actually click on them, open your app, and join the number of your daily and monthly active users. That's pure logic, but it is proved by Pushwoosh data too.
To achieve a higher push opt-in rate, you may want to explain the value a user will be receiving with your notifications. Will it be daily bonuses? Or exclusive access to new in-game items?
To keep your opt-in rate at a high level, you will have to make sure you deliver on your promise in every push notification.
Maximize your CTRs
When it comes to engaging push notification copy, there are a few tricks that work in most cases:
Limited-time offers
Mentioning anything NEW: in-game items, levels or challenges — it excites users' curiosity
Playful or even teasing CTAs

You may use these ideas out-of-the-box or you can get creative and derive a formula of an engaging push for your particular audience. To achieve this,
Brainstorm your most appealing offers
Put them into words that will click with your audience
Automate creation and distribution of such pushes so that they arrive to your subscribers on a regular schedule (daily, weekly, and monthly)
Most importantly, approach your push notification campaigns strategically:
Remember to segment users by their in-game achievements, engagement, and paid items purchase history
A/B/N test whatever idea you come up with to enjoy even better messaging performance than you could expect
Make time for play: turn occasional players into Daily and Monthly Active Users
If you look at the average DAU/MAU ratio (known as stickiness rate) for game apps, you'll be surprised to find that, typically, users only have seven days a month to play. Surely, you would prefer players to open your app more often; after all, your monetary metrics are largely determined by the amount of traffic you attract on a regular basis. Here are the most effective tactics to adopt:
Promote daily, weekly, and monthly offers through scheduled push notifications
For players, limited-time challenges and bonuses are hard to resist; and for you as a game app marketer, automated pushes are highly-efficient as you can plan their delivery in advance and simply modify the content when new offers become available.
A real-world success story: Bladestorm, the publisher of the GC.SKINS app, achieved a 16.62% increase in MAU in a few months thanks to scheduled pushes with daily offers.

While gamers are in the app, keep them engaged with interactive mechanics
The go-to format for this case is in-app messages. Display a thank-you note whenever a player opens the game; you may even want to add a bonus to it if a user has been active on several days in a row.
Gamification adds excitement, so why don't you use an interactive format like a scratchcard or a wheel of fortune to keep your users on the hook?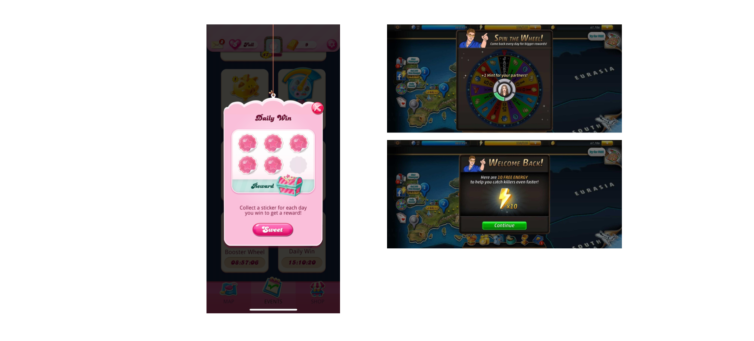 Re-engage the least active users
To maintain your DAU and minimize churn, communicate with your least frequent players. Use behavioral segmentation to target users that have been inactive for 3, 7, and even 30 days and try to get them back in the game with re-engaging pushes.
If you find out they have opted out from receiving your alerts, reach out to them via alternative channels — email and in-app messages. There, you may want to persuade your players to subscribe to your pushes again.
Convert your engaged players into paying users and grow your game app revenue
User engagement and retention are clearly interconnected, but how do they impact your game app economy? Depending on your monetization model, your most desired benefits may be:
A steady flow of incoming traffic
As you attract more gamers back to your app with all sorts of push notifications, you maximize the reach of ads you show in the game and, thus, increase your revenue.
Proof: besides growing its DAU, the GC.SKINS app achieved a 4.58% increase in ARPU several months after they automated notification sending.
Higher conversion into in-app purchases thanks to consistent communication
When you get strategic about your engagement and retention messaging, you create a wholesome system with a sufficient number of interactions — just as many as your gamer needs to convert!
Proof: a popular game app mastered its push notification skills up to the point when their CTRs exceeded the median by seven times and their DAU was 1.8X the median. What happened next? They improved their bottom line significantly, earning up to $3.8k from one push!

The key to game app growth: keep the spark alive from Day 1 for the lifetime
As the research has proved, game apps growth stands on three pillars rather than just one. Besides user acquisition, it's user engagement and retention that should be taken strategically to get your marketing machine to work seamlessly. Luckily, the metrics like push opt-in rate, CTR, DAU, and MAU are in your hands — you can improve them efficiently with consistent omnichannel communications. And with on-the-spot engagement, long-term retention and monetary success should follow.
---
About the author: Elena Kozlova is Content Marketing Manager @ Pushwoosh, the mobile-inspired customer engagement platform for high achievers.
Stay alert with market trends in game industry
Check out the download numbers of different mobile game categories with App Radar Market Intelligence.
Create Free Account