The mobile gaming industry has a well-established structure - big gaming studios and brands dominate the market with popular games, financial resources, experience, and game development knowledge. At the same time, many small studios are operating under big publisher names and looking for a way to become self-publishing gaming studios.  
Small indie studios and developers have enthusiasm for mobile gaming. The issue is that many have development skills but don't understand the gaming market and often partner with an already established game publisher.
Although making successful games and running a publishing studio takes a lot of work, it is possible with the right approach. As a gaming studio, you need to think about global game distribution in app stores, promotion, analytics, support, and how to scale your user acquisition (UA).
So in this article, I want to share the tips and tricks from my 10+ years of experience with mobile games publishing and scaling. Keep reading if you are looking for practical advice and start a successful mobile gaming business.
Perform an in-depth market research
Indie developers often have fantastic development skills but are not market driven. They need someone with at least some understanding of app stores and how they work.
The first thing you want to do is to analyze what currently works in app stores
Which games are trending and in which categories?
What games hold top positions on top charts? Which games are climbing up significantly?
What kind of game mechanics prevail in these games? Are those games hypercasual or something else?
How big is the market? Which apps get the most downloads?
At this point, you need to analyze the market, download top games and reverse engineer them. Try to understand why most popular games receive so many downloads and focus on the gaming experience, quality, and performance.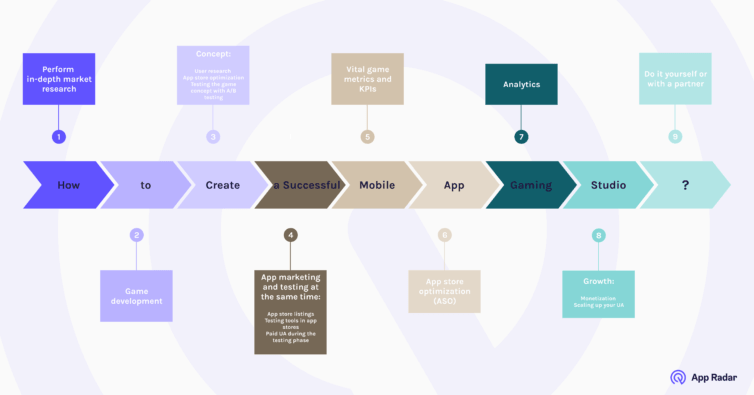 A good starting point is to also check popular social networks and user interests. For example, Tik Tok is a great tool to check what is trending in the mobile games space, so make sure to check that as well.
Action step: Head over to Google Play and Apple's App Store, pick your gaming category, analyze top games, and create a list of elements that top-performing games use.
Tools to use:
App store data - top charts, recommendations, app ratings, and user reviews
Trends data from dedicated gaming sites
Complete market research tools for mobile apps (e.g. App Radar or AppAnnie (if you have a bigger budget))
Game development
There is no shortcut when it comes to game development. I assume your team has good programming knowledge, and you understand vital technologies and game engines that can help you with that (if you are still examining different options, I recommend checking out our best mobile game engine article).
Developing your game takes some time and depends on the type of game you are working on. From my experience, a decent hyper-casual match can be created in one week if you have prior development experience. It is up to you to decide how complex your game will be and how many resources you want to invest (if you have a small team of people, most likely, you won't be able to go for AAA games).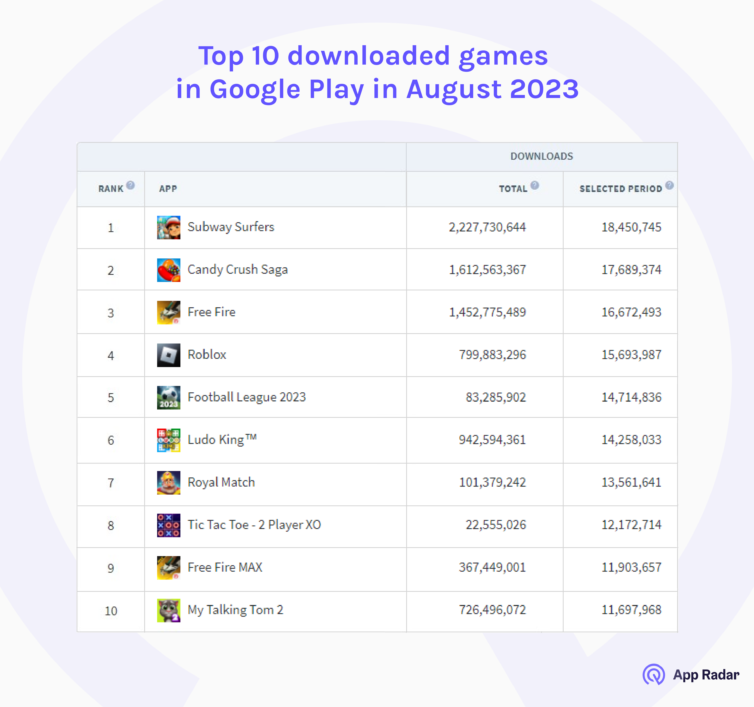 The critical point to remember is that you must keep the market-driven approach. Learn as much as possible from the market research and implement gaming principles with your idea and new game.
If you are an indie game developer, you most likely don't have access to significant financial resources. And chances are, you might be supplying bigger game studios with games and saving money for your own projects. But if you want to scale up your business, you need to consider external investors. You can sell a part of your company in exchange for money, or, you can find investors that will invest in your business (e.g. with VC platforms such as Pollen VC)
Concept
Assuming that you have come forward and developed your mobile game's MVP, you now need to evaluate its concept.
This is a significant milestone where you need to start thinking about user research, store listing pages, and working on your first UA campaigns. Let's address each of these points.
User research
This phase aims to understand how potential game players will use your game. You need to look at their focus points, how they interact with menus if they can locate your main features, etc.
The best approach is using existing platforms specializing in user research and testing. Without a proper understanding of the gameplay potential and the feedback from typical users, you can make a critical error and push a mobile game that doesn't appeal to your target market.
You need to prepare your game correctly for future challenges and next steps. It is critical to understand how players progress in the game and answer the following questions:
How easily do players reach new levels?
What percentage of game players finish which level?
How many players unlock new characters?
What percentage of players buy premium elements, how often, and at which screens?
Where do players drop off during their gameplay?
All this information helps you find improvement areas and brainstorm ideas for solving potential gameplay issues. For instance, you might notice that many people leave the game after reaching a specific level. If that level is too hard for most players, they will stop playing it, and your user base will shrink.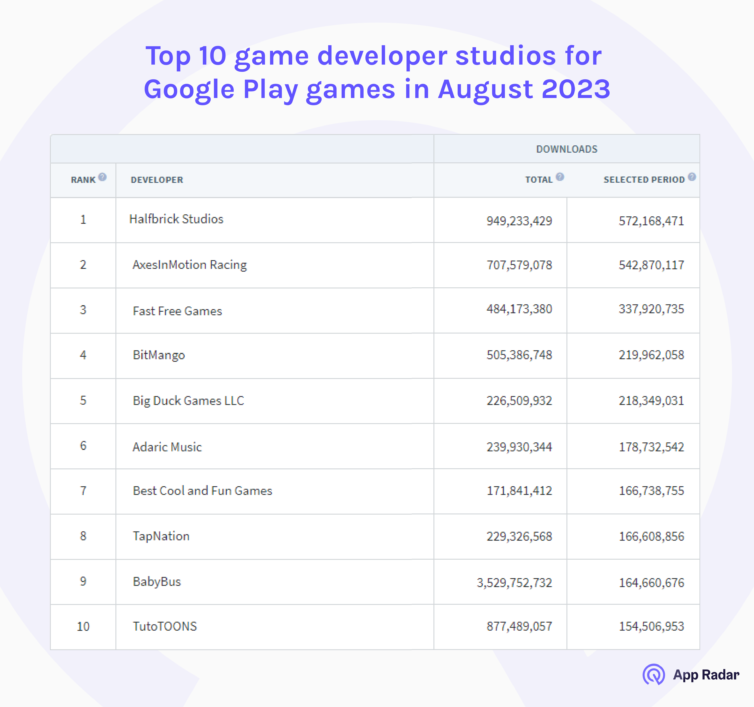 So, track key game aspects and balance the overall user experience with your game mechanics and playability.
Some of the tools you can use at this stage include:
Solsten - in-game questionnaires for building audience profiles and getting predictions on what your audience considers important
Smartlook - use this tool to get recordings from users playing your game and focus on the key moments, user progress, and checking how they navigate through the game.
PlaytestCloud - usability testing tool for mobile games during all stages of the game development
App store optimization - part one
I can't emphasize enough how important it is to start early with app store optimization (ASO). If your game isn't visible and doesn't rank for the keywords your target audience uses, it will be tough for your game to get it growing. Sure, you can rely on paid campaigns, and they are essential. But they require resources and skills if you want to turn to get your users via paid traffic only, and that is not a viable strategy.
ASO, on the other hand, brings you free traffic. Sure, you will need to invest some time and effort in taking care of your app, but if you do that right, you will get considerable users for your game.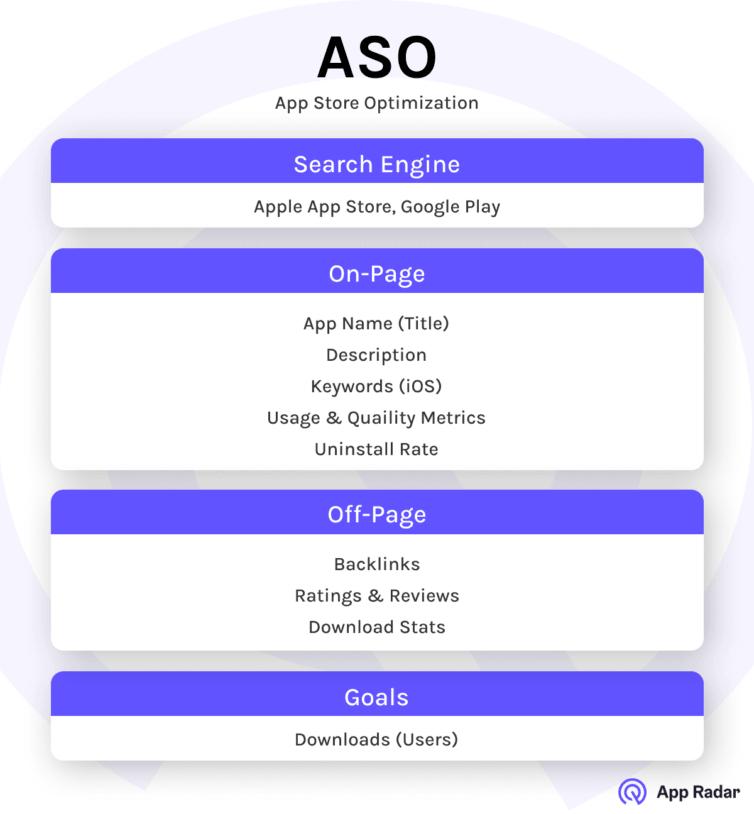 You should embrace and start early with app store optimization practices in Google Play and App Store. Although your newly developed app at this point is still not live and visible in the app stores, you must start researching the market, understand what app metadata is, how it affects search results and that you work on your app's creatives (app icon, screenshots, video and feature graphic.
Remember the market research phase? The same tools you used there will also be helpful at this point. For instance, with App Radar, you can check any app's metadata, compare multiple apps' creatives, and track selected keywords for each market.
Action point: Start working on your app store optimization strategy early on. It takes a couple of clicks to open an App Radar account and access critical information that gives you a competitive edge.
Testing the game concept with A/B testing
Although your app's store listings are still not ready, you can test how appealing your app could be to your target market. For that, you can use a sandbox testing environment where you run paid campaigns via social media and send users to different versions of your app's store listing.
So basically, you create artificial app store pages you send people to. The benefit of this is that you can A/B/C/D different test versions of your potential store listing page and monitor what tracks more attention from the users.
These campaigns can't bring you any users, and you must spend some money on them. However, you will feel what works better, if your idea and concept make sense for the users, and which things matter for user conversion.
Don't spend too much money on this phase; use this to learn as much as possible. I suggest checking out Geeklab, Storemaven, and Splitmetrics if you have more financial resources.
App marketing and testing at the same time
If you have been progressing as planned, you should start testing your new game within the app stores. The time has come to try how the general market will accept your game.
In this phase, you want to soft launch your app, and you will need a few things to do this properly.
App store listings
Before continuing, you should open developer accounts in Play Store and App Store. We are not going to focus on all the details you need to provide; this is something you should do as you set up your developer profiles in both app stores.
Assuming you have done everything required, you should start working on the store listing pages: the app store listing page in Google Play Console and the app product page in App Store Connect.
App metadata
Creative assets
Supporting texts
Google Play Store
- Title
- Short description
- Long/full description
- App icon
- App screenshots
- Feature graphic
- App video
- Tablet screenshots
- Data policy
- Security practices
Apple App Store
- Name of the app
- Subtitle
- Keywords for the keyword field
- App icon
- App screenshots
- App preview video
- App description
- Promo text
- General information
Basic app store information that new apps need to provide
Testing tools in app stores
An excellent suggestion for anybody that wants to use the testing phase as much as possible is to sign up for the open testing.
Google Play supports Google Open Beta, which allows you to perform a series of testing before the official launch of your app. Your store listing won't be visible organically, and your game won't appear under any categories. You also can run open, closed, and internal testing.
App Store uses TestFlight to run and manage internal and external testing groups. Similar to Google Play, your app is not available to open public, and you should gather as much feedback as possible from your testers.
Google Play and App Store give you another valuable tool before the official game launch. In Google Play, you can pre-register your game to create excitement and let the general public see what they can expect. In the App Store, you can use App Store pre-order to go live with your app listing and make it available in the search results. People who discover your app won't be able to download it, but they can opt-in to download it automatically once it goes live.
Although your app still doesn't get organic traffic, you can still run paid UA, which is another excellent way to see how real-world users react to your app.
Let's have a quick look at this as well.
Paid UA during the testing phase
You can run paid UA campaigns while your game is in the testing phase. I suggest using this time to run Facebook Ads because they are simple and can be used with smaller budgets. Also, Facebook Ads are versatile and allow you to run different types of ads (videos, banner carousels, etc.)
With new users coming to your store listings and downloading your app, you will need to focus on the crucial app metrics, which is where we go next on this game journey.
Vital game metrics and KPIs
Throughout your game development and marketing process, you will need to measure how successful you are. You can track many KPIs, but you should focus on a couple of critical ones.
In the gaming industry, you should pay attention to these metrics:
Retention rate - how well do you retain users in the first seven days after the installation? You will want to check public benchmarks to see if your game performs better or worse than the industry average. Your goal is to keep the users that you can monetize.
Playtime and session length - how long do users spend in your game per session? Generally speaking, you want people to stay as long as possible in the game, but the exact value depends on the genre and game category.
Impressions per daily active user - how many ads each player sees every day. If this number grows, you know your game has the right "hook" factor.
CPI vs LTV stands for "cost-per-install" vs "lifetime value". The main goal is to compare your ad spend with user value. This metric is critical when you are getting serious with paid UA
eCPM - stands for effective cost per thousand impressions. This metric will be important when you start serving ads to your players.
ARPDAU - this metric stands for average revenue per daily user. And it is crucial to know how much you earn on average from your users daily.
Again, not all metrics are necessary at all stages. When you are just starting, you want to focus on playtime, sessions, and retention. As you progress and introduce paid UA and monetization tactics, you will want to add revenue metrics to your calculations.
App store optimization - part two
We already mentioned why app store optimization is critical for your app's success. Until now, you probably have some basic app store optimization, worked successfully on your metadata app creatives, and familiarized yourself with essential analytical tools and reports.
But to get the full benefit from ASO tactics and increase the chances of getting more users globally, you need to think about the localization of your apps. While you probably started with one or two markets, you now have to expand your ASO with localization, which allows you to get more game downloads and identify new markets. These new markets will also offer more room for paid UA and expansion.
That is why you must consider localization and appeal to the local audience. The more downloads you get, the more competitive terms you will rank for, and you will be able to run target UA campaigns and work with advanced ASO elements.
Having a holistic view and game optimization for all local markets is difficult. But if your game is working great in some markets, the localization efforts will also translate your game's success to other markets.
Analytics
If you have done everything right, your app should receive organic downloads by now. You should also have experience with paid UA and probably have a good understanding of your target audience.
But do you know the exact sources of your audience, the most important channels, game metrics, and user behavior patterns? Your biggest challenge will soon become how to interpret large quantities of data and use them for further growth.
You should upgrade your analytics platforms and move towards more advanced solutions. Some of the tools I can recommend to you are:
Google BigQuery - a multi-cloud data warehouse for data analysis, machine learning, predictive analytics, and real-time insights
Dive - customized analytics for games and LTV maximization
MMP (Mobile measurement provider; e.g. Appsfyler, Adjust or Singular) - allows you to get an in-depth understanding of post-install user actions and install sources
The above-mentioned tools are among the best, but they require solid budgets and have expensive setups and learning curves. If you are not there yet, I suggest trying out App Radars's ASO & Ads feature, where you can track the effectiveness of your ASO and paid UA campaigns (Google app campaigns and Apple Ads). And once you start dealing with large amounts of data, upgrade to MMPs, data engineering, and machine learning tools.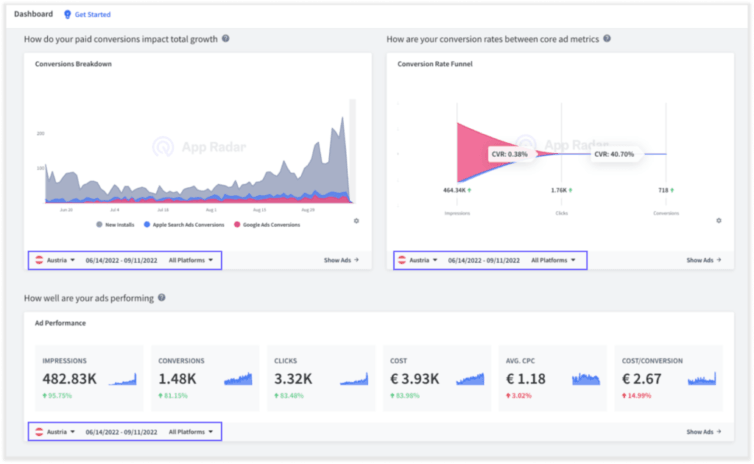 Growth
The growth stage is where the real fun begins. You now have to start being serious about game monetization and scaling up your user acquisition.
Let's have a look at possible options.
Monetization
With the growth of your user base comes a wide range of monetization opportunities. Some of them include:
Banner ads - can be used within many game screens but often don't bring a lot of revenue because eCPMs are pretty low.
Interstitial ads - their eCPM is much higher than regular ads, but they can be pretty aggressive with the users since they take over the whole screen and interrupt users' gameplay.
Incentivized/rewarded ads - you can give your players a chance to watch a video and get a prize or bonus for doing that. They come with even larger eCPMs and can make a substantial part of your revenue model.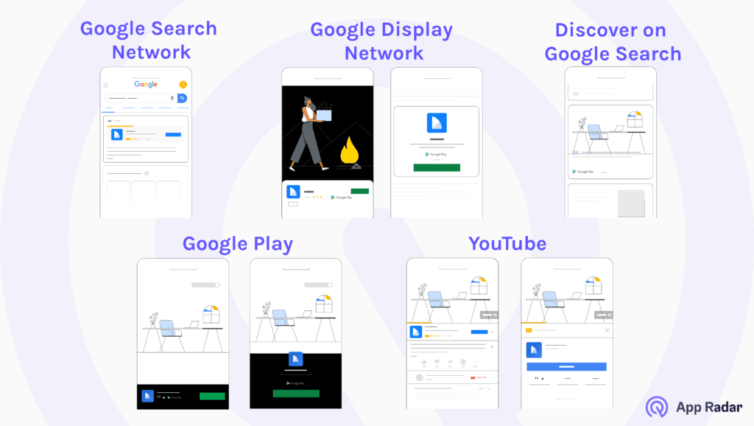 The other thing that currently works well is subscription-based games. As a game provider, you can offer access to your premium features for a small subscription, and many game players are ready to pay for it. And if you combine this model with incentivized ads, you will have something that is called a hybrid model, which can really work great. Because the more people play your game, the more money you get - as simple as it is.
Scaling up your UA
The key questions you need to ask yourself before investing more heavily in UA is - how do I know my game is a commercial hit?
As with many things in life, the answer is - it depends. But it helps to think about strategy and UA goals.
I like to look at LTV and compare it with CPI since CPI is the most commonly used cost metric with paid UA. The problem is - LTV isn't that easy to determine - the metric becomes hard to estimate when you operate multiple apps, locales, and ad networks. That is why you will need lots of experience to be confident. So I recommend always consulting someone who has been scaling up multiple apps and can tell you what works and doesn't. Your game strategy will have much more chances to develop in a positive direction.
When working on your UA goals, you should identify players that are a good target for your game. And for that, you will need to acquire them and check your data.
For instance, if you have a subscription-based model, you will notice that some segments of users might have more money (e.g. older players with more income). This is where onboarding also comes into play- you want your players to create the desire to enhance their game, that is, their gameplay with your app.
In short, focus on the right user segments, support them and provide them with tools they need in the gameplay, and target those segments with paid UA.
Once you are done with that, use multiple UA channels like Google Admob and Unity Ads. Keep using Facebook Ads and explore trends with Tik Tok ads. Start using Google app campaigns and Apple Ads and experiment with app install and engagement campaigns. And don't forget to use A/B testing regularly and work on the creatives because they significantly impact conversion rates and your bottom line. Google Play Store listing experiments are a great way to test live store listings with a native A/B testing tool.
Do it yourself or with a partner
If you have been reading and following the article until this part, you might ask yourself - is all this even possible to do in a small team of people? The answer is - it is, but it is not easy.
Once you have validated your game's concept and started getting initial traction in traffic and user interest, it makes sense to talk to someone with lots of experience with app marketing and commercialization.
While indie studios know how to code and develop, they aren't that efficient regarding market development. They might have one person that can push the game development in the right direction, but things get complicated when you start running more campaigns, targeting more countries, receiving more data, and having to think about multiple things simultaneously.
And sure, you can have the right team of people and learn many things by yourself, but by the time you learn all those things, your game will lose momentum, and the enthusiasm will most likely disappear.
I have had contacts with many app marketing agencies, and many are great and have internal people who know what they are doing. And as the founder of App Radar, I managed to build an app marketing agency and a successful ASO tool, so I know how much work is needed when you want to grow your app business.
So if you need help growing your game, I can highly recommend App Radar's agency experts.
Closing thoughts
To become a successful independent game studio, you must develop and publish great revenue-earning games. And you will have to do it consistently, learning new stuff, being agile, and implementing new technologies and app marketing best practices.
Hopefully, the framework in this article will help you to take into consideration critical phases and encourage you to dig deeper and not forget different milestones. Although publishing commercially successful games is not easy, I am sure you can make it with the right mixture of skills, patience, learning, and people.
If you want to discuss this topic further, drop me a message on Linkedin or Twitter, and I will be glad to connect with you.