Top 7 Game Mechanics for Hypercasual Games: who came out on top?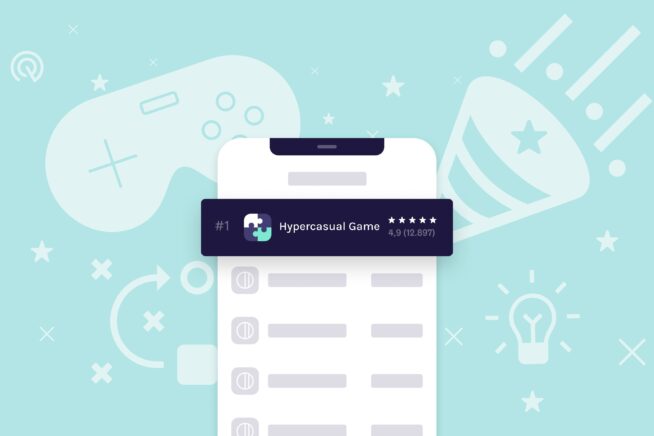 Curious to know which game mechanics to use to succeed in a highly competitive mobile game business? This guest post from AirNow summarized the top game mechanics of the most successful hypercasual games in 2021.
The results are in. After much deliberation, we've come to the conclusion that game mechanics are the most fundamental factor when it comes to making a successful hypercasual game.
In light of our recent 'eureka moment', we thought we'd explore the most downloaded and 'stickiest' (ie. highest retention rates) gaming apps of 2021, to see what kind of gameplay mechanics achieved the most success.
You can read the full hypercasual game report, but in case you're strapped for time, here's a condensed, whistle-stop tour of the full report.
What are game mechanics
Before we go into it, we should make sure we have the basics covered. What exactly are game mechanics, anyway? Broadly speaking, game mechanics are items or elements that players interact with to create or aid gameplay. In mobile gaming terms, this often involves the way in which the player interacts with the screen, whether that's tapping or swiping, or tilting. But it can also be how the game is set up. For example, whether it's a puzzle or a platform game. Any combination of these adds up to create a particular game.
Learn more about game growth strategies.
Timing mechanics - Baseball Boy!
Tap and Timing is one of the most popular gameplay mechanics for hypercasual games, and in truth, most of the other mechanics use tapping or timing as an input method for their particular gameplay. In fact, the first game ever deemed to be hypercasual was 2013's Flappy Bird - an app that was heavily based on timing mechanics.
Baseball Boy! by Voodoo focuses a player's attention on a single baseball bat hit as the only action they can perform. Every hit is exhilarating, but the perfect hit is even better. It is the honed-in, ultimate satisfaction from getting the perfect "tap" that has brought Baseball Boy! the success it had in 2021.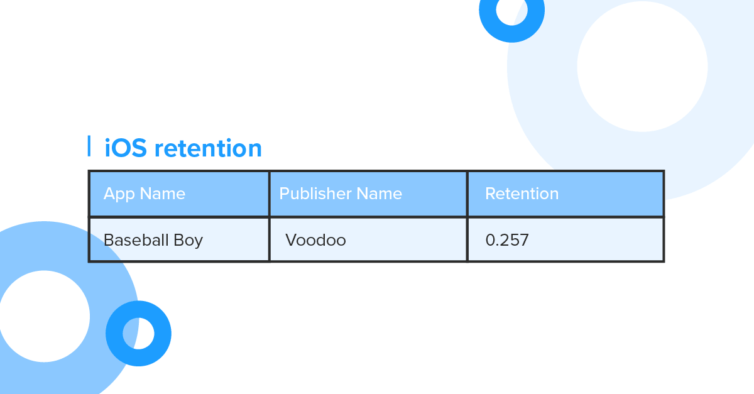 Puzzle mechanics - Paper Fold
What separates generic puzzle apps from their hypercasual counterparts? The fact that hypercasual puzzles are much easier to complete.
Paper Fold tasks players with folding paper to create a picture. It may sound simple, but where Paper Fold truly succeeds at tying players in with its fun and addictive gameplay is the app developer's decision to never drastically increase the difficulty, as well as the beautiful aesthetic of the puzzles you have to complete.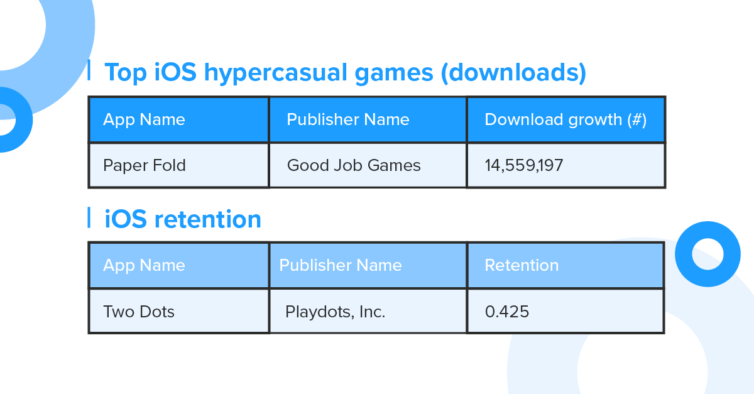 Swerve mechanics - Temple Run
Games that use a swerving gameplay mechanic involve the player dragging their finger horizontally or vertically across the screen, typically in an attempt to avoid obstacles.
Despite first hitting our screens in 2011, Temple Run still stands out from other swerve mechanic games - although many imitators have sought to replicate its success. But from a gameplay perspective, what makes Temple Run the classic game that keeps people coming back is that its pinpoint accuracy makes for super intense gameplay. Players can spend hours upon hours perfecting the timing of their swipe as they approach the ever-tightening corners.
Rhythm-based mechanics - Tiles Hop - EDM Rush
Tiles Hop – EDM Rush is a rhythm-based game where the player controls a ball, guiding it to hit tiles in time with the music. Just like in most games that use the swerve mechanic, the gameplay is high stakes. One incorrect move and it's all over. Combine this with an intense symphony of your favorite musical genre, and you can see why this hypercasual game was such a hit in 2021.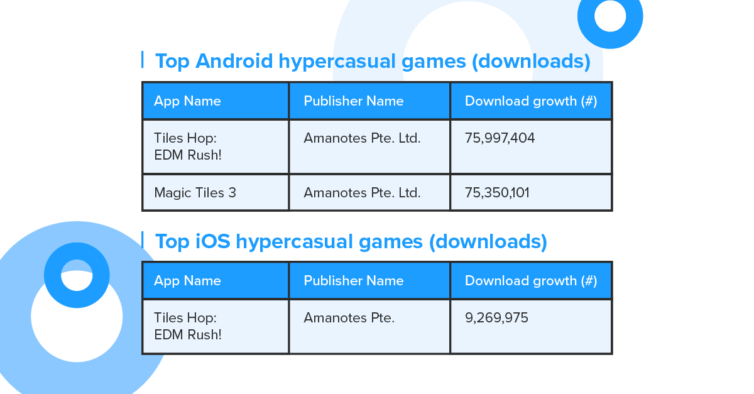 Resizing/desizing mechanic - High Heels!
High Heels!, published by Rollic Games, is an excellent example of resizing/desizing gameplay. Players can instantly jump into the action, with simple gameplay and level structure.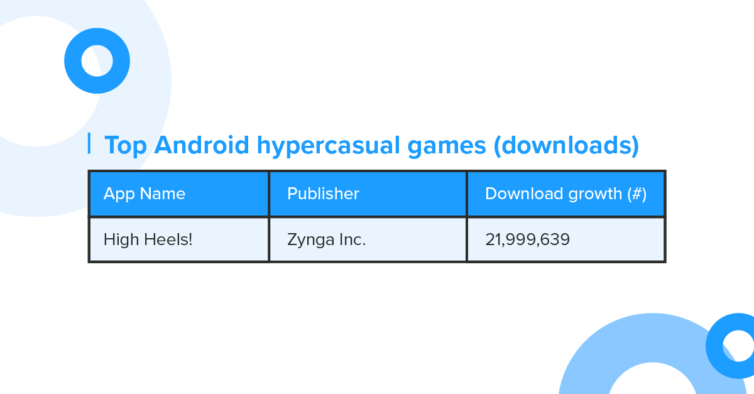 The reason why High Heels! is so successful is not just because of the fun, easy-to-use gameplay. It's also the app's demographic appeal. High Heels!'s combination of queer, feminine-self love, and glam culture resonates with a significant portion of the hypercasual player-base.
Contrary to what you may first think, the hypercasual player-base isn't just made up of stereotypical basement 'boy gamers'. It is in reality a predominantly female demographic. According to Udonis, in the US, the female to male ratio of hypercasual players is 55% to 45%.
Sculpting some of the features of your game to your audience's likes/culture/identity is a great way of making the next hypercasual gaming hit.
FREE Guide: App Store Optimization (ASO) for Mobile Games (iOS & Google Play)
Multiplayer integration- Bridge Race
Bridge Race is an interesting take on the resizing/desizing mechanic. The player has to collect as many bricks as possible to build stairs to get further in the game. All the while, the player is competing against in-game bots to collect the bricks, and players can knock each other down, reducing their stacks.
While Bridge Race has seen massive success in 2021 in terms of downloads, the game's suitability to multiplayer brings up the question: when will we see real-time multiplayer integration into hypercasual games?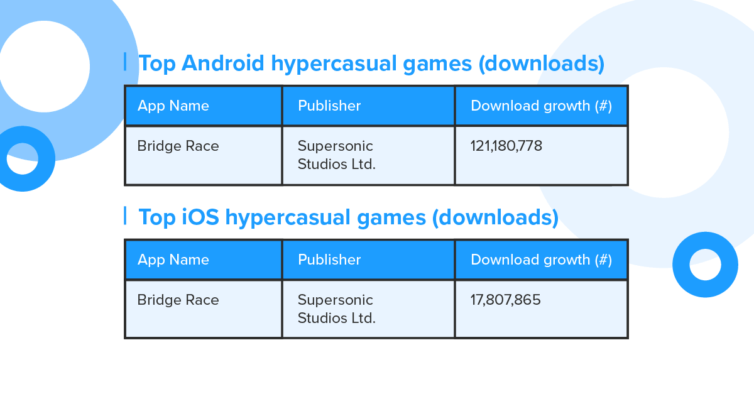 Clash mechanics - Count Master
In Count Master the player starts with one person, and as you pass through the obstacle course ahead of you, you build up your squad. You can also lose squad members too, so be careful - if you lose too many, the game ends.
Count Master builds upon the Swerve Gameplay Mechanic with its "group" mechanic and has paved the way for clash mechanics to become a whole self-respecting genre in itself.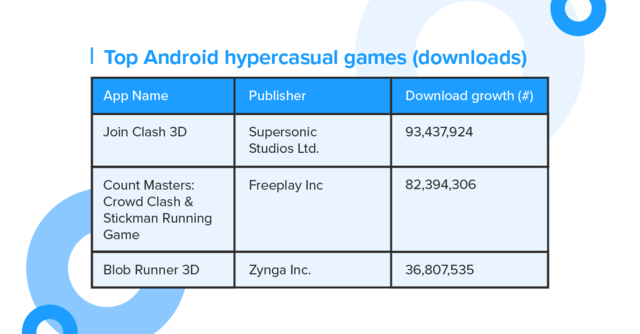 Stacking mechanics - Stacky Dash
What sets Stacky Dash apart from the rest, and explains its position as number 1 for stacking mechanics, is the fact that it fuses traditional stacking mechanics and puzzle mechanics to create a unique, hybrid game.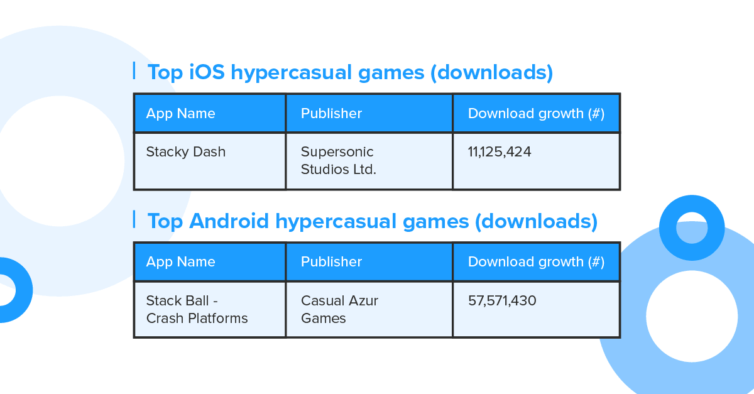 Want to develop a hypercasual game? Check out the best 22 game engines and development platforms.
Keys to success in the hypercasual category
As you can see, the stickiest games are rarely games that just use one mechanic. They manage to integrate two or more into their gameplay, while still managing to keep the overall game simple for the player. Finding the sweet spot of combining multiple mechanics while retaining the simplicity and easy playability that gets people hooked and keeps them playing your hypercasual game is the key to success.
---
About the author: Matthew Worthington is a SaaS professional in the mobile app space, he has helped many businesses achieve their goals with data and value-based solutions. He currently heads up Airnow's partnership department working closely with app developers and publishers in growth and app marketing services.