Google Play Store Tags 2020 – how and why to use?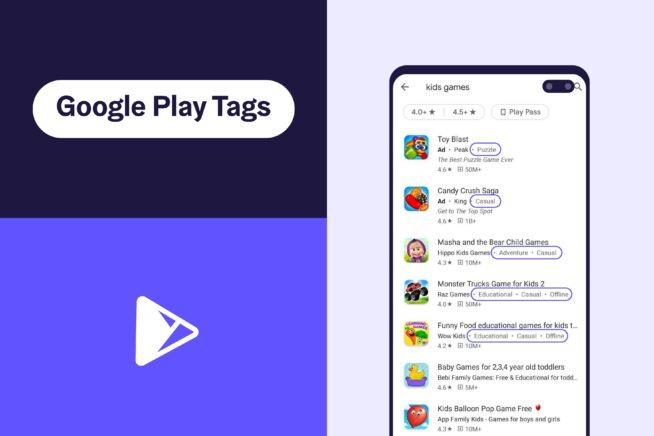 Google Play Store Tags have been around since August 2019. Besides choosing a category for your app or game, Google also allows you to add up to 5 tags. A "tag" is a predefined word that describes the content and functionality of your app or game for users. You can find the latest Google Play Store Tag List 2020 at the end of this post.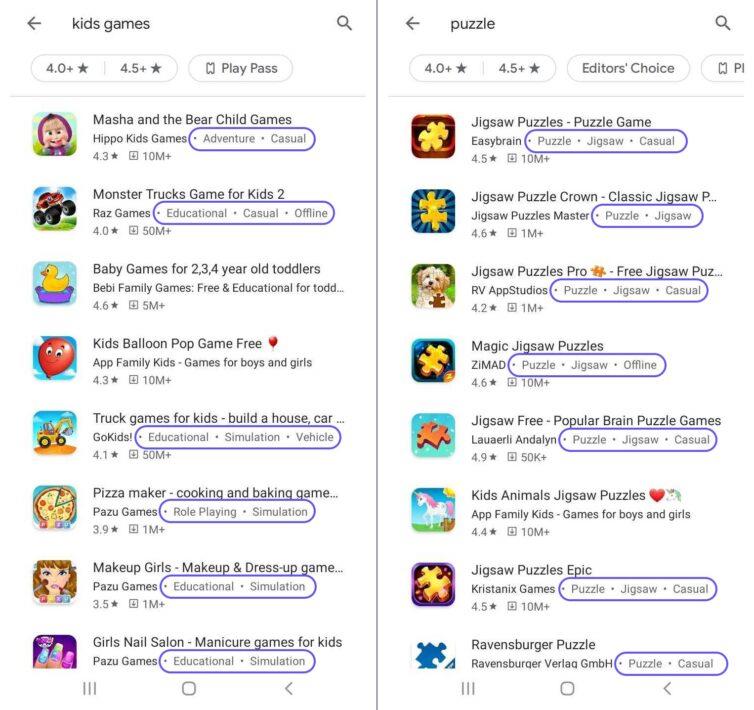 Why should you use Google Play Store Tags?
The purpose of Google Play Store tags is to help app store visitors to find new apps they might like. On its basis, their functionality is the same as for keywords in the Apple App Store. Therefore, using tags can boost your app store visibility and should be part of your Play Store ASO activities.
1. More conversions - app store visitors see your tags in search results
Like the screenshot above highlights, app store visitors can easily compare the tags you and your competitor apps use. Hence, the usage of (the right) tags is very likely to have a high impact on your conversion from impression to store view.
2. Better fitting audience - app store algorithms use your tags, too
App stores aim to offer a great shopping experience for their users. That means it's in Google's best interest to help app store visitors to find the apps and games that are most relevant to them. 
This is achieved by collecting and analyzing a lot of data in order to match user interest and give recommendations. That is why app store algorithms consider various aspects of your store listing. And Google Play Store Tags are one part of those calculations. In other words, the tags you use to describe your app or game help app stores better and more accurately cluster it together with other similar apps. The official statement from Google is, "Tags may affect where your app is displayed on Google Play, and the peer groups you're compared against."
How to choose and add Google Play Store Tags?
Google Play Store Tags, like categories, can be found in the Play Console. The key here is to choose only tags that are relevant to your app or game. That means they describe the features or functionality that users encounter based on the app store listing or through in-app experiences. This is Google's recommendation and therefore needs to be taken very seriously. For instance, a crossword game could add the tags 'word' or 'crossword.' But it shouldn't use a tag like 'word search.'
To add tags to your app or game, log in to the Google Play Console. Tags can be found under Store Presence > Store Settings in the left menu. In the "App Category" section, click "Manage tags."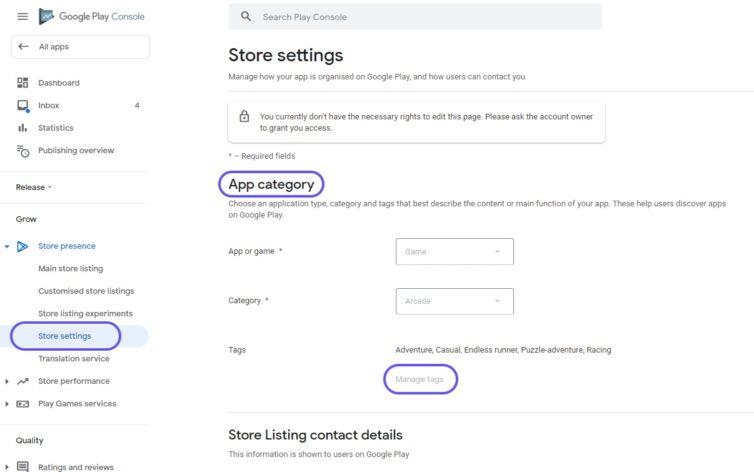 You can add up to 5 tags to your app store listing. Although Google will suggest tags to select from, you can also choose others if you think they're more relevant for you. For that, search through the list at the end of this post to make sure you're using tags that best describe your app or game.
It's also important to consider that tags are a "global setting." That means, just like with categories, you cannot choose different tags for different countries. Hence, if your app has features that are not available globally, you probably shouldn't use tags to describe them.
Manage your tags in App Radar
As part of your regular ASO activities, you can also update your Google Play Store tags in the App Radar tool. Just go to the menu under 'Store Listing' and click on 'Store data.' Under your contact details, you'll be able to manage your tags and then easily export them to Google Play Store together with other changes.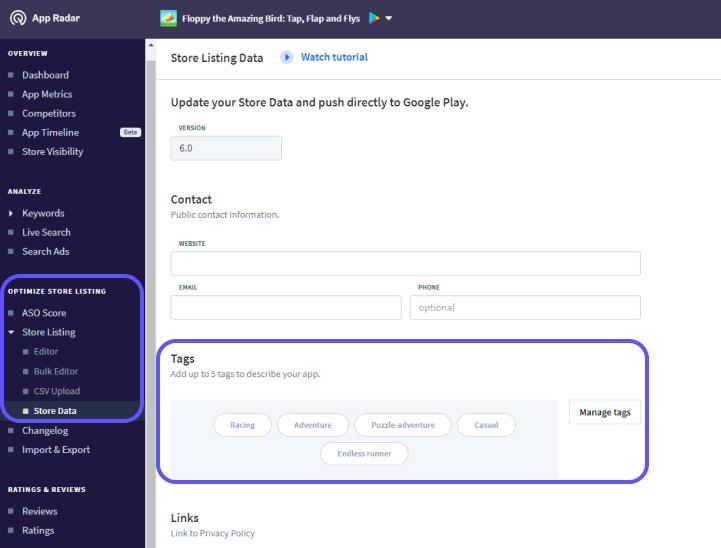 Complete Google Play Store Tag List 2020
Below is the list of tags for apps and games that you can choose from. Remember, Google recommends changing your app's tags only if you make significant changes to your app's content or functionality.
List of Tags for Games 2020
4X
Abstract strategy
Action
Action role-playing
Action-adventure
Adventure
American football
Arcade
Basketball
Beat 'em up
Billiards
Bingo
Blackjack
Board
Bowling
Boxing
Brain training
Brick break
Bubble shooter
Business & tycoon
Car racing
Car simulator
Card
Care simulation
Casino
Casual
Checkers
Chess
City-building
Collectible cards
Construction and management simulation
Cricket
Crossword
Dating simulation
Dentist
Dice
Doctor
Drawing
Dress-up
Drums
Educational
Endless runner
Escape the room
Farming
Fighting
Flight simulator
Go
Golf
Government & political
Hero shooter
Hidden object
Hockey
Incremental
Jigsaw puzzle
Kart racing
Life simulation
Logo quiz
Ludo
Mahjong
Mahjong solitaire
Massively multiplayer online role-playing
Match 3
Memory
Merge puzzle
Motorcycle racing
Multiplayer online battle arena
Music
Pet
Physics-based
Piano
Platformer
Poker
Puzzle
Puzzle role-playing
Puzzle-adventure
Racing
Racing simulator
Restaurant & cooking
Roguelike
Role-playing
Rummy
Shoot 'em up
Shooter
Shooting range
Simulation
Sliding puzzle
Slot machine
Soccer
Social simulation
Solitaire
Sports
Sports management
Sports-based fighting
Strategy
Stunt driving
Survival
Survival horror
Table game
Tactical role-playing
Teen patti
Tower defense
Train simulator
Trivia
Truck racing
Truck simulator
Vehicle simulation
Wargame
Winter sports
Word
Word search
Wrestling
List of Tags for Apps 2020
Activity tracker
Air travel
Art & design
Audio recorder
Audiobook
Auto & vehicles
Baby care
Barcode scanner
Baseball
Beauty
Blog
Boating
Books & reference
Bus
Business
Calculator
Calendar
Call-recording
Caller ID
Camera
Car rental
Children's literature
Clock, alarm & timer
Color by number
Coloring book
Comics
Communication
Computer-aided design
Cosmetics
Cryptocurrency
Dating
Dictionary
Dieting
Driver's education
E-reader
Early childhood education
Education
Email
Emoji
Emoticon
Encyclopedia
Entertainment
Events
Fashion
Finance
Flashlight
Food & drink
Food delivery
Grammar
Guitar
Hairstyle
Health & fitness
Home automation
Home insurance
Horoscope
Horse racing
Hotels & vacation rental
House & home
Humor
Insurance
Interior design
Investment
Job interview
Job seeking
Joke
Karaoke
Keyboard
Language education
Launcher
Lifestyle
Live television
Loan
Lock screen
Loyalty program
Lyrics
Maps & navigation
Martial arts
Mathematics
Measurement
Medical
Meditation
Meet new people
Mirror
Mobile banking
Mobile payment
Movie
Movie tickets, reviews & listings
Music & audio
Music instrument
Network connectivity
News & magazines
News aggregator
Notebook
Painting
Parenting
Password manager
Personal assistant
Personal finance
Personalization
Photo editor
Photo frame
Prank
Primary education
Privacy & security
Productivity
Professional network service
Pronunciation
Public transport
Racing
Racquet sports
Radio
Recipe
Religious text
Remote control
Restaurant
Resume
Ringtone
Rugby
Running
Science education
Self-help
Shopping
Skiing
Sleep
Social
Sound effect
Speedometer
Sports
Sports coaching
Study guide
TV
TV guide
Taxi & rideshare
Tennis
Test preparation
Text messaging
Theme
Tools
Train
Travel & local
Travel guide
Vehicle insurance
Vehicle maintenance
Vehicle shopping
Video call
Video download
Video editing
Video player
Video players & editors
Video streaming
Virtual private network (VPN)
Virtual reality
Wallpaper
Weather
Web browser
Weight loss
Wi-fi
Wireless service provider
Workout
Yoga