App Ratings and Reviews Optimization
What are Google Play app ratings and reviews and how do they impact ASO?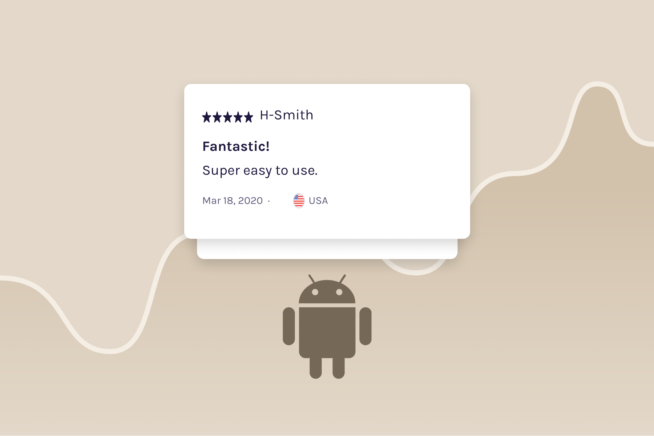 App ratings and reviews are among the most crucial elements that show a mobile app's success and popularity. Like Apple's App Store, the ratings and reviews in Google Play significantly impact app downloads.
Play Store apps with many high star ratings and positive reviews influence the search results and increase the chance of being featured and promoted in the app's target category (e.g., games, music, fitness, etc.). The more active you are in fixing the negative reviews, the more likely app users will keep your app installed.
In this quick and dirty guide to app ratings and reviews in Google Play, we will show you what they are, how they work, and why they are an absolute must when working on app store optimization. If you are starting with app ratings and reviews management, this article will give you all the information you need for a successful start.
Ready to improve your app? Great, let's start.
What are app ratings in Google Play Store?
App rating is a quantitative metric that shows how users see and respond to your app. The ratings your app receives are shown in the search results in Google Play and, therefore, strongly affect the download conversion rate.
Google Play Store ranking algorithm takes into account app ratings, which was confirmed many times by Google officials. Apps that regularly attract high ratings have a much higher chance of ranking in Play Store search results. Or, your app performance depends on app rating velocity, the number of ratings the app receives, and how many it receives.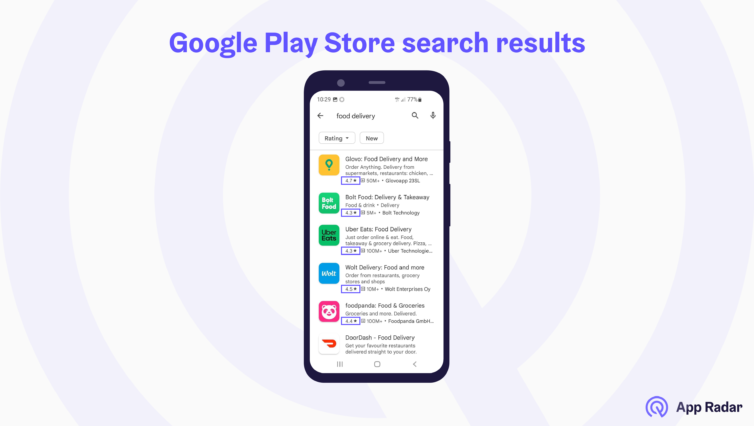 The research also shows that many users don't consider installing apps with ratings lower than 4.0 starts and even apps rated below 4.5.
So not only do high ratings influence the app install and conversion rate, but they also influence Google Play Browse traffic. Apps with high average ratings have much more chance of being a part of Top Charts and Featured apps in the Play Store.
How are ratings calculated?
Google Play calculates app ratings based on the average user ratings of a particular app. App users can rate an app on a scale of 1 to 5 stars, with 5 being the highest rating. Google also gives more weight to ratings from the latest app versions.
The app's overall rating is publicly displayed, so other Play Store users can see it wherever an app is shown - in search results, on the app store listing page, in Top charts, recommended and featured apps, and so on. The power of app ratings lies in the fact that they are always shown together with app icons and titles.
As mentioned, the number of ratings an app receives also affects its overall rating. For example, an app with a higher number of lower average ratings could still have a better overall rating than an app with a higher average rating but fewer ratings.
How to leave a rating
Leaving a rating on Google Play is a straightforward process. Here's how app users can leave an app rating:
Open the Play Store app on any Android device.
Search for the app you want to rate and tap on it to open its listing.
Scroll down to the "Ratings & Reviews" section.
Tap on the "Rate" button.
Choose a rating from 1 to 5 stars (1 being the lowest and 5 being the highest).
Write a review of the app to explain your rating in more detail as an optional step.
Tap on "Submit" to post your rating and review.
Once submitted, your rating and review are visible to other users that visit the app's store listing. Leaving a rating requires a Google account, so you must open one before that.
Deleting or resetting the ratings
Unlike the Apple's App Store ratings and reviews, resetting or deleting app ratings in Google Play is impossible. If you want to do that, your only option is to publish the app again under a new package name.
Once a user posts a rating or review, it also cannot be edited by the app developer. However, developers can respond to user reviews to address any issues or provide feedback to users.
What are app reviews in Google Play Store?
App reviews in Google Play are public feedback left by users who have downloaded and used an app. App reviews consist of written text that can be positive, negative, or neutral.
The reviews provide user insights and what they like and dislike about the app. Google Play displays positive and negative app reviews prominently on the store listing, which means they can also significantly impact the app's overall rating and download numbers.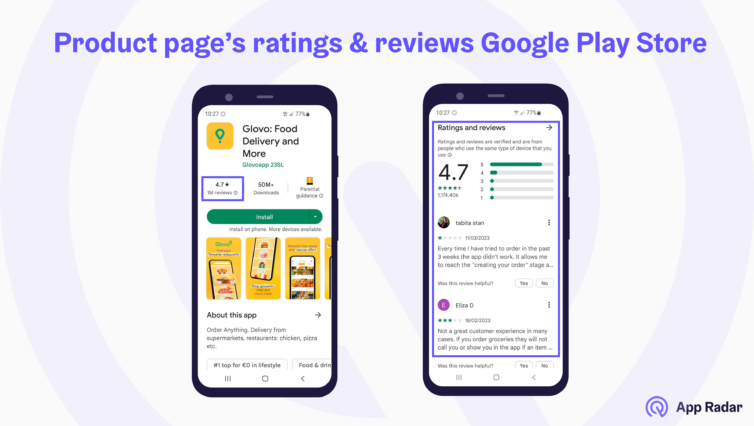 Like app ratings, positive reviews increase app visibility and help get new users, while negative reviews push potential users from downloading the app.
Google's algorithm is responsive to user feedback as well. That is why apps with lots of positive reviews will usually have better rankings, which translates to more discoverability and more installs in Google Play.
Finally, the keywords people leave in their reviews are indexed by Google Play. So if an app is a great fit for its audience and the users enjoy it, they will be more open to leaving a positive review with keywords that push the app in search results.
Remember, positive user reviews are great social proof for encouraging new user downloads.
Replying to user reviews
App developers and owners can view and respond to user reviews in Google Play Console. Responding to reviews is vital to app management because it allows app marketers to engage with users, address issues and show they value user feedback.
There are many reasons why replying to app reviews is essential for your app:
Replying shows that you care about users and their experience
Users that left negative feedback can change their rating if they are being heard
Engaging with users through replies builds relationships and loyalty with users
User feedback can help developers improve the app, especially if the users are willing to provide detailed information
An app can get more downloads if other users see that the app developer replies to reviews
Dealing with negative reviews
Even the best apps will experience negative reviews. The reason is that unhappy users are likelier to share their feedback than happy users.
Helping users with problems with your app should be a long-term goal for any app owner. Negative reviews often show that there could be a problem with the app - often, the users that leave the negative review aren't the only ones that have a specific problem. So by taking the negative reviews seriously and understanding what is behind them, you can solve your app's underlying problem.
Because happy and satisfied users are not motivated to leave positive reviews, you need a plan that encourages them to leave positive reviews. Your goal should always be to make sure that the ratio of positive vs. negative reviews is high, which will ensure that new users install your app and not the ones from your competitors.
How to analyze ratings and reviews in Play Store?
App ratings and reviews are often underestimated, although they offer a wealth of quality information and opportunities to improve your app and Google Play optimization.
The first step you should take when looking to improve your ratings and reviews is to analyze them manually. Take some time to read some of your reviews and check what topics appear most often and how to improve your app or store listing.
There are two main ways you can do the analysis - by using Google Play Console and external tools such as App Radar.
Using Google Play Console
The reports in Google Play Console allow you to find useful information.
If you want to analyze your app's ratings, you can find the following data:
Your current Google Play rating that users on Google Play see
Lifetime average rating since you launched your app
Total number of app ratings in its lifetime
Number of users that have rated your app
Your app ratings vs. peer rating shows how your app compares to a peer group that you select (from the same or different app category)
Google Play Console allows you to check performance over time, rating distribution, and add filters like breakdown per country, language, app version, device type, and other filters.
If you want to analyze your app's reviews, there is also a bunch of useful data:
User terms most often appear in reviews written in English.
How app users review your app and specific categories, which gives insight into benchmarks and trends in your app's reviews. You can check data points such as common topics, average ratings, number of reviews, and effect on app rating.
Peer benchmarks show how reviews around a specific topic compare to apps in the same Play Store category.
Review and rating updates over time, showing reviews with and without replies, returning users, updates to ratings, and average rating change.
Although many data points and possibilities exist to break and filter Google Play Console review data, many need to be actionable enough. Of differently said, there is little you do with it.
Nevertheless, analyzing your first-party data is critical when auditing your app and working actively on improving ratings and reviews.
Using App Radar
While Google Play Console offers a lot of data, there are more convenient ways to analyze the content of your app reviews at scale. Sure, there are many things you can look at, but you need to do the manual work to analyze competitor apps and understand search intent.
With App Radar, you can scan reviews and ratings of Google Play apps for any country and time frame. Instead of using multiple tools and wasting hours reading reviews one by one, you can easily understand the exact topics that users like or don't like and app improvement suggestions. For any app that is listed in Play Store!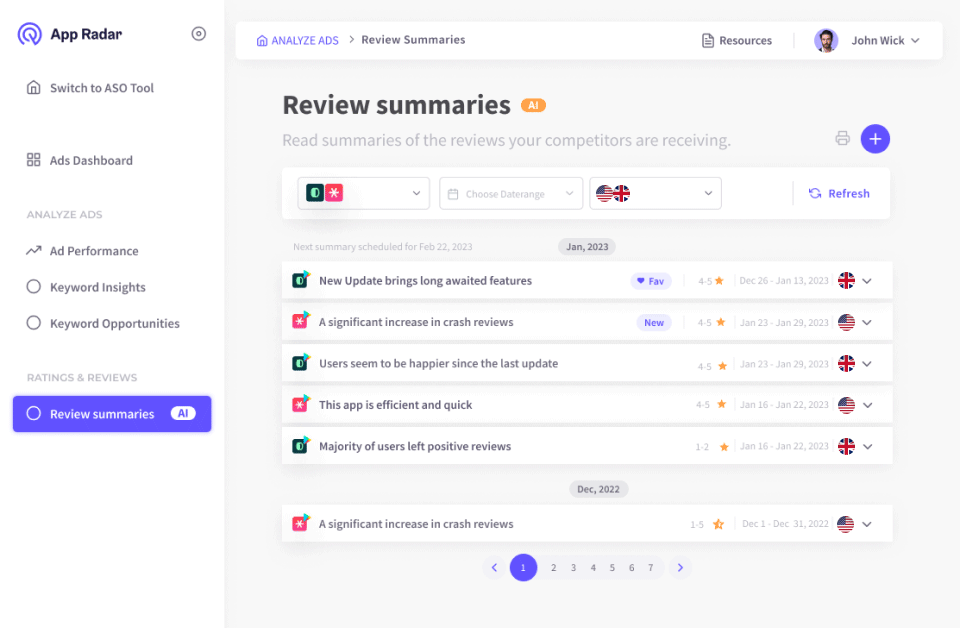 Save time reading tons of reviews word by word. Get weekly or monthly reports per any app on a global scale.
Try it out
This is the fastest and best way to crunch a bunch of user reviews and get an in-depth understanding of what users think about a specific app.
Check out how App Radar's review summaries feature works for app review analysis.
Measuring ratings and reviews progress
We already mentioned that ratings and reviews have an impact on mobile apps. The question we need to ask now is - how do we measure their progress? How do we know if ratings and reviews grow or decline?
We know that ratings and reviews are the feedback we receive from app users, so we need to track the right metrics that show whether that feedback is improving.
First, you should check Google Play Console again and look at the existing metrics. You can visualize the historical data and, at the very least, check how ratings and reviews change over time for different app versions, countries, and user segments.
We suggest paying special attention to the following metrics.
The volume of ratings and reviews - should grow continuously.
Rating distribution (everything between one and five stars) - ideally, most ratings need to be close to five stars
The text of the reviews - typical app reviews can be positive and negative. Reading them is the best way to learn what people like and dislike. Again, App Radar's Review Summary can help you with that.
Happy and satisfied app users often highlight the best features and their app experience, encouraging other users to download the app.
When working actively on improving app ratings, your changes to app rating prompts and triggers can influence an app's rating performance. For instance, tracking the entry point and user journey can help identify which app screens and buttons most effectively prompt users to rate the app.
Regardless of the app changes and improvements you are introducing, you must measure in parallel the effects. Measuring rating and review outcomes and understanding the user journey before leaving a rating or review helps app developers improve their rating performance.
While this is an advanced method, you should always take some time to understand how people use your app, which app screens they spend the most time on, which buttons they click, and what their user journeys look like. Once you establish that, think about the best time to ask people to rate your app and how you can measure the progress.
Play Store guidelines and posting policies
Google Play has specific guidelines about what is allowed and not allowed when working with app reviews.
Google prohibits incentivized installs and manipulation of app placement in the Google Play store. It specifically forbids using illegitimate means such as fraudulent or incentivized installs, reviews, and ratings.
Nevertheless, many companies offer "app boosting" and "guaranteed rankings" by running black hat ASO campaigns. You can buy five-star ratings and fake app reviews from external providers who promise to improve app rankings.
Some controversial tactics to improve app ratings and reviews include requesting users to leave five-star ratings in exchange for special offers.
Using shady tactics and black hat ASO techniques can ban your app from the Play Store because manipulating app reviews is against Google Play guidelines. While you might get away with it in the first, long term, you risk getting your app removed from Play Store. And if your app gets removed, getting it back is almost impossible.
Keep in mind that it is against Google's guidelines to add any kind of:
spam or fake reviews
off-topic or random reviews
Advertising messages in app reviews
Buying paid reviews
Content protected by copyright
Personal information
Illegal content
Sexually explicit, hateful or offensive content
Best practices for managing and improving app ratings and reviews in Google Play
If you are determined to push your app ratings, reviews, and reputation, we suggest following some best practices to get the best results.
Create an app rating and review strategy
Ask users to rate and review your app
Understand how you can ask for ratings
Create timely triggers and app prompts
Mix different prompt types
Make leaving a rating or review easy
Incentivize users for leaving a rating or review
Reply to reviews in a short time
Improve app quality to reduce negative reviews
Monitor reviews and ratings progress over time
Build a community of passionate users
Use the right tools for more efficiency
Implement Google Play in-app reviews API
We have a dedicated article covering improving app ratings and reviews, so make sure to check these tips in more detail.  
Closing thoughts
Hopefully, you now understand how big and impactful app ratings and reviews can be for Google Play rankings and appearance. If you haven't started, we highly recommend including reviews and rating improvements in your app metrics and app store optimization game.
Start with a proper analysis of your current situation and check what users think about your app. After that, develop a strategy that will guide you toward getting more ratings and reviews.
Finally, follow the best practices and measure your progress. We recommend using Google Play Console to get in-depth data about your app and App Radar to reply to existing reviews and analyze your competitors actively.
Speed up your app store review managment with App Radar
Sign up for a free trial today and get powerful insights to help you level up your app in Google Play.
Learn more