Mobile App Portuguese Localization – Why and How to Do It?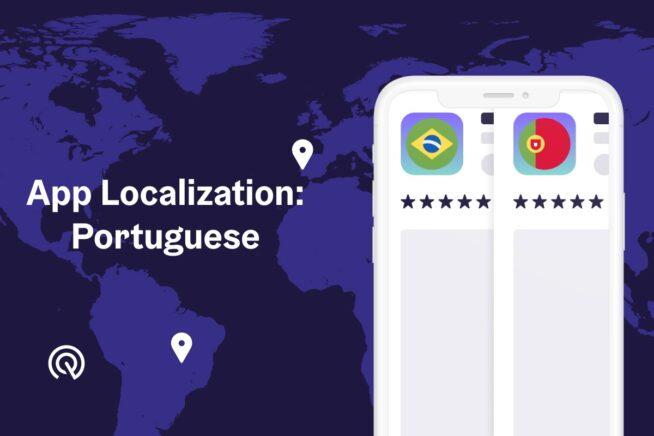 When thinking about taking your app global, you probably think first of the English localization. While many people can speak English or are native speakers, the chances are that people look for products and services in their mother tongue.
But with 7000 languages in the world, how should you decide which one to start with? If your goal is being available worldwide, then a good starting point is to aim at the most spoken languages in the world. The following post about Portuguese is part of our country series for your app localization. If you're interested in even more visibility in Europe, then check out our guidelines for German localization as well.
Why should you work on your mobile app Portuguese localization?
Portuguese is the 7th most spoken language in the world. Portuguese speakers are in South America, Europe, Africa, and Asia; that's the reach you can have when localizing your app for Portuguese.
To highlight the potential, let's look at the country list with the population size (May 2021):
Brazil (213,696,407)
Mozambique (31,938,018)
Angola (33,667,504)
Portugal (10,174,705)
Guinea-Bissau (2,003,986)
East Timor (1,337,722)
Equatorial Guinea (1,439,220)
Macau (659,069)
Cape Verde (560,560)
São Tomé and Príncipe (222,281)
Apple App Store and Google Play Store are both available in almost every country listed, apart from East Timor and Equatorial Guinea. São Tomé and Príncipe have no Google Play Store.
App Consumption in Brazil
You have to know one crucial thing: in the list above, there is a country with one of the biggest app consumption in the world. That's Brazil. In Q2 2020, app downloads for Brazil reached 3 billion, staying only behind India and the US. In the same time frame, the consumers in Brazil also increased app usage in various categories, like shopping, learning, finances, and more.
From 2016 till 2019, there was a global growth in app downloads of 45%, while Brazil had a 40% growth. Brazilians spend daily 4.8 hours on their phones, only behind Indonesian and Indian consumers. So this is definitely a market where you want to be present!
However, according to the British Council, only 5% of the Brazilian population could communicate in English in 2019. So, to access this potential, localizing your app to Portuguese is a must.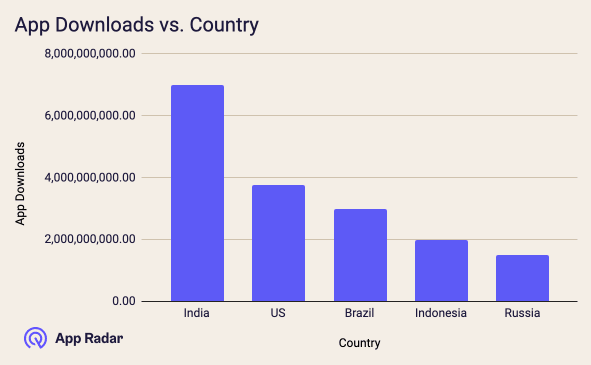 Top Ranked apps and games in Brazil, May 2021
During COVID-19 pandemic, Brazilians started to spend more time on their smartphones. And these are the apps in the Brazilian top charts: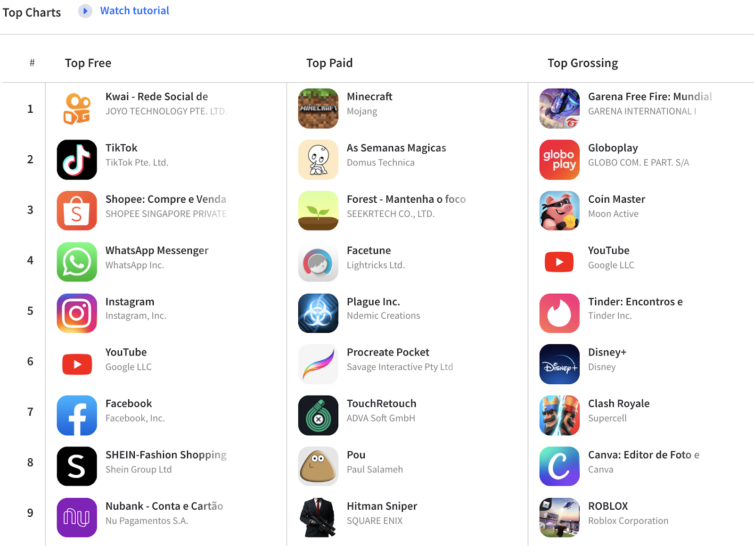 The growth in the education category in Brazil in 2020 was impressive 140%. The most popular apps on May 4th 2021 are: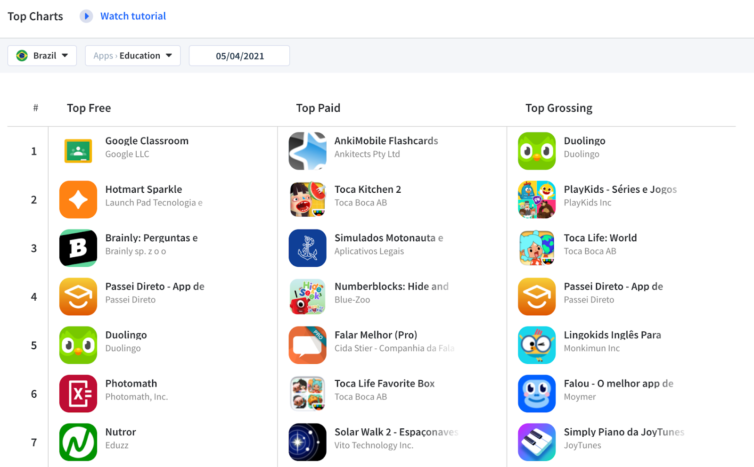 As you can see on both screenshots, most of the apps and games in the top charts are localized. This shows the importance of Portuguese localization, even for big brands like Tinder and Canva.
Dive Deeper:
Mobile app localization for German
How to Localize Your App and Reach a Global Audience
How to do Portuguese localization?
Portuguese is spoken in 10 countries, and, even though it is the same language, there are cultural differences.
Cultural Influence on Portuguese App Localization
To understand these cultural differences, we have to go a little bit into history. All of the countries mentioned have been Portugal's colonies, and, as you have probably guessed, that's the reason why they speak Portuguese.
However, Brazil became independent in 1822, while all the other countries got their independence from Portugal much later, most of them in the 1970s. Why does this matter? Because it explains why the Brazilian Portuguese as language has had more time to develop and become different than the Portuguese language spoken in Portugal, and in the other countries.
Furthermore, as there's 200 million Brazil consumers and they have such a strong part in the app consumption, I recommend you to consider this region as your starting point for Portuguese app localization. Then, you can move over to Portugal, and after that quickly adapt the Portuguese localization for the remaining countries on the list.
And, my biggest tip for you, don't use the same app localization for Portugal and Brazil. Let me explain below.
Localizing for Brazil vs. Portugal
Naturally Portuguese people consume the music, soap operas, as well as books made for Brazilians and the other way around. But there are significant differences that can negatively impact your app localization efforts.
Here's a concrete example how Brazilian Portuguese localization for Portugal would not work:
In case of a transportation app, in Brazilian Portuguese, you would use search term "trem" (train) or "ônibus" (bus.) But both of these words aren't used in Portugal. Their words are not even related to the ones used in Brazil - you'd use terms like "comboio," and "autocarro." So if you'd use "ônibus" in your Portuguese store listing, you wouldn't get any impressions for this keyword because people don't use it for searching tranportation apps.


As we can see on the screenshot, people from Portugal don't use the keywords "ônibus" or "trem" to look for apps (search volume 7 and 5), while on the Brazilian screenshot we can see exactly the opposite (search volume 44 and 35).
Portuguese Localization for App Metadata
One of the most important aspects to focus on with mobile app localization is the translation of texts into foreign languages. And Portuguese is a language with many special characters that make a big difference if not used correctly.
Special Characters ç,ã,é,ô: These characters are fundamental sounds that are used in many words. If you have an app, such as "Just Dance", you might want to use the keyword "dançar" (to dance), or if you are a diet app, you may want to use the keyword maçã (apple).
Mind the verb "to be'': When you conjugate the verb "ser" in the second or the third person in the singular form, it becomes "é." If you write only "e," it means "and." So, there is really no way around special characters for Portuguese localization. Most likely, you won't use the verb "ser" as a keyword, but you will use it a lot in your description and it might also be in your title or subtitle.
Save space by hiding the subject: In Portuguese, you don't need always to write the subject, which is a great help to save precious characters. In the VSCO example below, they wrote "Nós lhe oferecemos ferramentas etc." They could also have written "Oferecemos ferramentas etc." This saves some space and helps to have a shorter sentence to focus on the important information.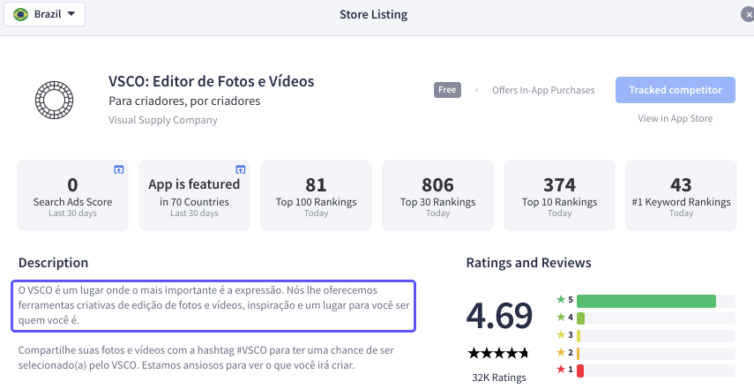 Você: While in Brazil there is no formal language, in Portugal there is. In Brazil, "você" is used to talk to everyone, and that's what you should use in your app's metadata. However, in Portugal, this sounds too formal, and it could create a barrier between your app and the potential users.
Aplicação vs. Aplicativo: While in Brazilian Portuguese an "app" is a masculine word called "aplicativo," in Portugal, it's called "aplicação," and it's a feminine substantive.
Localize Screenshots
Screenshots play a significant role in localization. People are often too lazy to read the full app description, so their main focus is: app title and subtitle/short description, ratings, and creatives (app icon and screenshots.) So, if you translate your whole app store listing but forget to do the same about your screenshots, this can be a strong reason why you get a store view but not a download.
Dive Deeper:
Android App Screenshot Sizes and Guidelines for Google Play
iOS App Screenshot Sizes and Guidelines for the Apple App Store
Remember that you have to pay attention to cultural differences in your screenshots. Don't use the same screenshots for Portugal and Brazil. Although it's the same language, it's not the same culture.
Uber, for example, uses their brand colors, black and white, but really adapts their screenshots for Brazil and Portugal. The first screenshot says "Share your trip," but you would say "compartilhe" in Brazil and "partilhe" in Portugal, and that's what they did.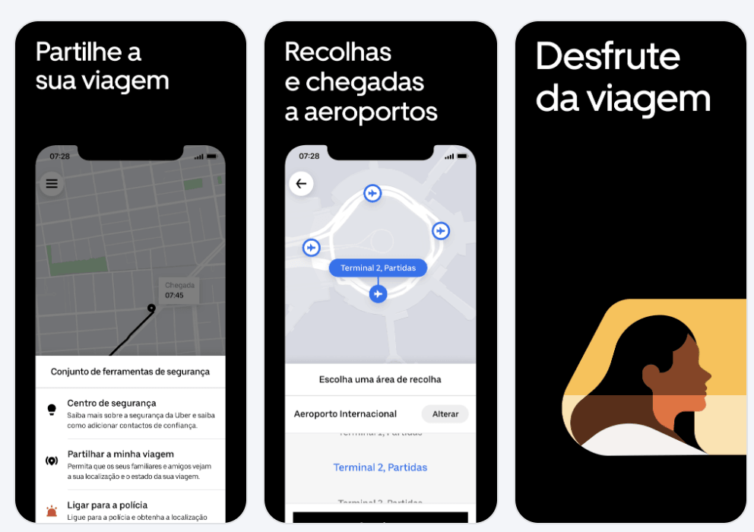 The same goes for the airport information, the way people in these countries say "arrivals and departure" is different, and they considered that. In addition, in the last screenshot, the Portuguese version is much more formal, while the Brazilian one is more informal. We see it's also more personal because they say "enjoy your ride." In contrast, in the Portuguese version, they say "enjoy the ride." Besides, "Curtir" (enjoy) is much more informal than "Desfrutar."
Pricing
Within all the countries where Portuguese is spoken, the Euro currency is only used in Portugal. Furthermore, Euro is very expensive for Brazilians, so make sure to pay attention to the currency you add to your text and screenshots. If Brazilians see Euros, it might scare them off and make them search for another app. You can see that Uber paid attention to that when doing their screenshots.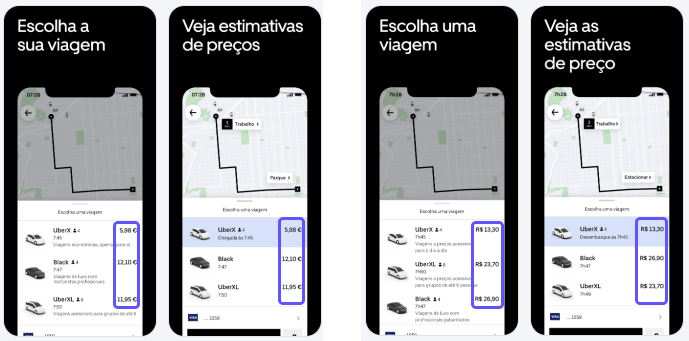 Localizing your app for Portuguese with App Radar
There are several features in App Radar that help you to work on your app localization. Let's see how App Metrics, Keyword Tracking, Rankings and Finder as well as Store Listing Editor can ease your workflow.
Traffic from Portuguese-speaking countries
How much traffic are you currently receiving from Portuguese-speaking countries? Find the answer with the App Metrics feature within App Radar. In our example, Brazil has the best conversion rate compared to other countries, from store views to installs.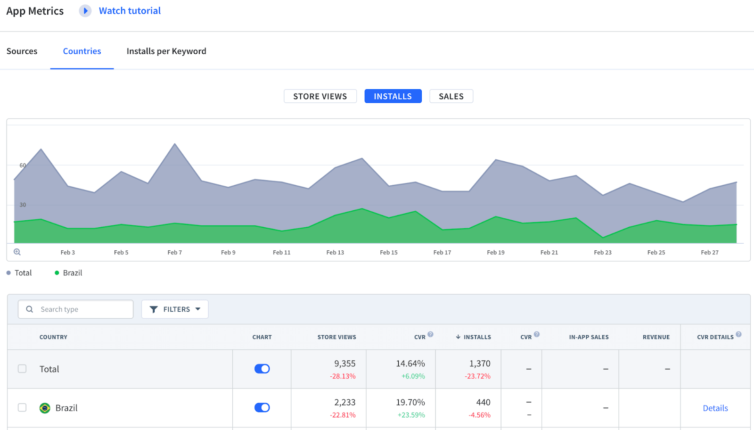 Keywords for Portuguese Localization
How would you find the right keywords for your Portuguese localization? As a start, you could check which are the most downloaded apps for your category in both countries, and then dive into a deeper analysis of their keyword rankings.
So, for instance, if your category would be Health & Fitness, then these are the most downloaded apps in the Brazilian Apple App Store on May 4th.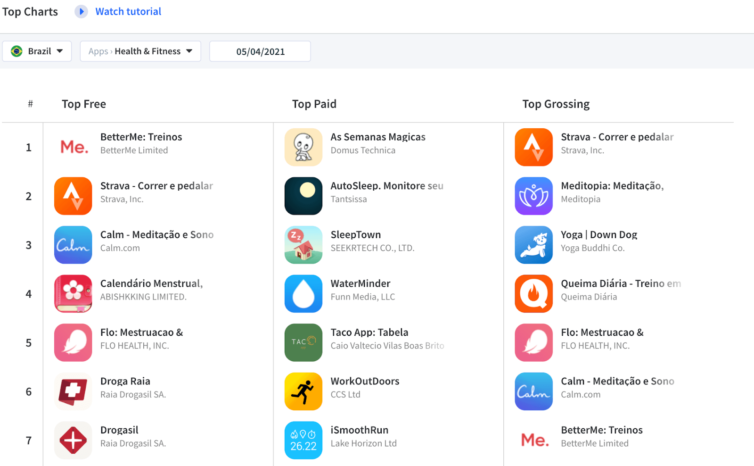 If Calm was your competitor, it would be a great source of keywords for the Brazilian store since they are in the top charts. When we analyze this app's store listing a bit closer, we can find out the keywords that they are ranking for first and second in the Brazilian App Store: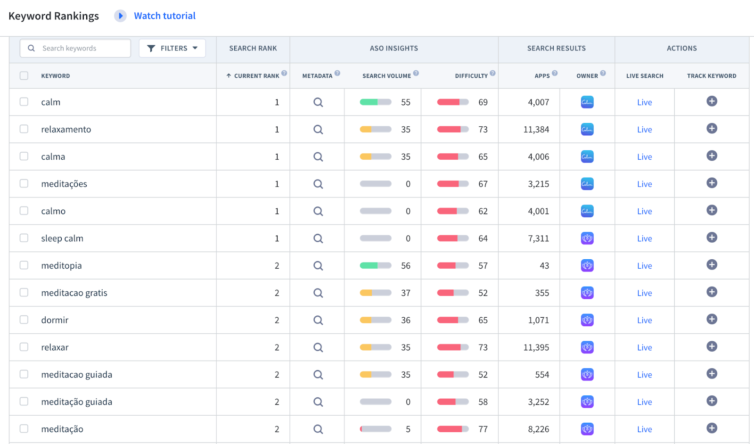 This is a great source of inspiration for your keywords. You can find app keywords that your competitors are ranking for - with a good search volume (always higher than 5) and difficulty values that aren't so high.
But don't just discard the other keywords with less search volume; use them to find synonyms or long-tail keywords. So, in this case, I've selected some keywords and added them to my tracking list for Brazilian localization. These are potential keywords for me, especially as my app isn't ranking yet for any of them.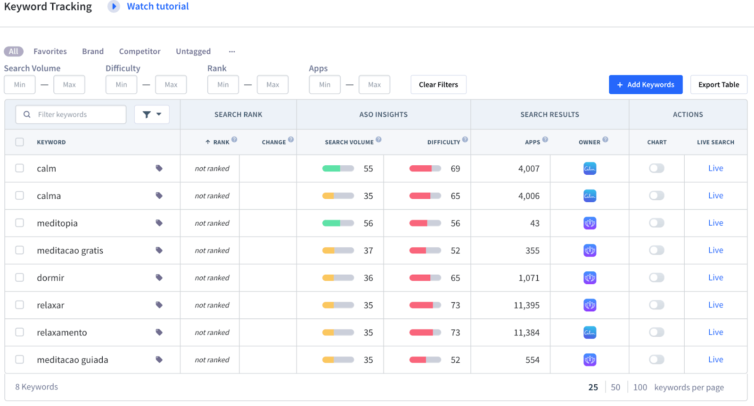 To find more relevant keywords for your app, you can use them in the Keyword Finder to get more suggestions. For example, I added the keyword "dormir" (sleep), and App Radar suggested, "historias para dormir" (stories to fall asleep,) which I'll also add to my tracking list.

You should add the most relevant keywords to your app name. Meaning, keywords that describe your USP in the local language and also have a good search volume, but still an acceptable difficulty level. This way you have chances to start ranking on this keyword for the specific localization.
Check if the same keywords could work for the Portuguese and Brazilian localization by comparing the search volume and difficulty numbers. Just select all the keywords you added to your Brazilian tracking list, copy and paste them into the Portugal keyword tracking list. As we can see, Portuguese keywords for Brazil don't work for Portugal, except "Calm" and "meditopia". However, this is a great starting point for finding Portuguese keywords. You can now do the same process and check for keywords in the Keyword Finder.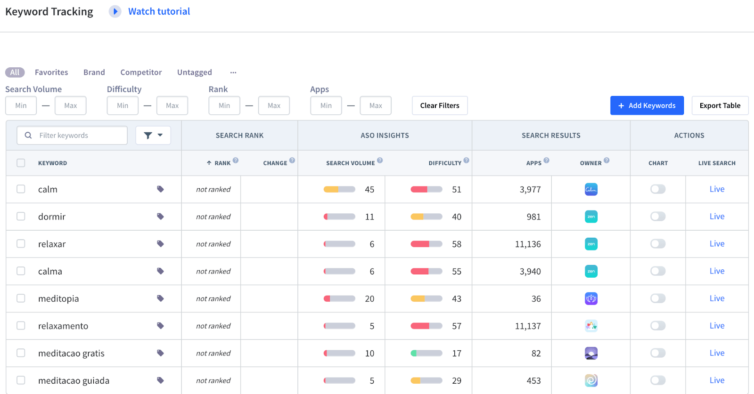 Dive Deeper:
What is App Keyword Search Volume?
What is App Keyword Difficulty?
How to write Android App Titles that Drive Downloads
How to use iOS Keyword Field
In the App Radar's Store Listing Bulk Editor feature, you can make changes to all your app localizations at once. This is especially beneficial as you can have a clear overview of the different app keywords you are using in both Portuguese-speaking locales.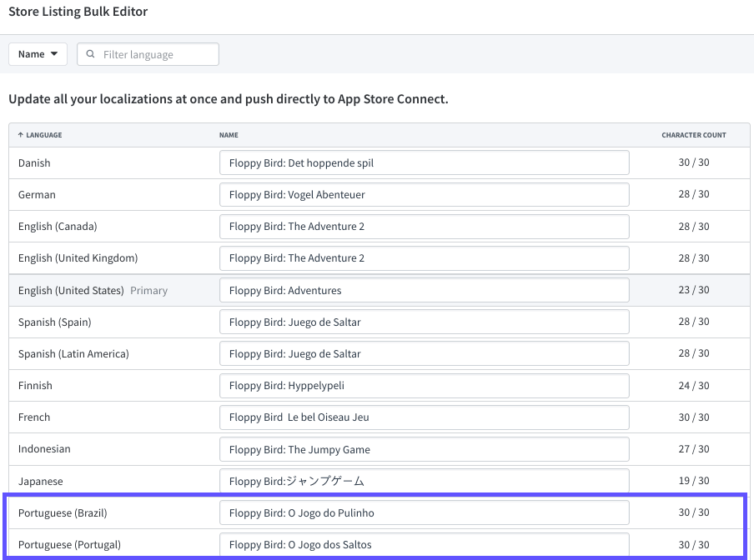 Get Started with Your Portuguese Localization
Now as you're ready to localize your app to Portuguese, start with the following:
Check your conversion rates for Portuguese-speaking countries.
Consider starting with Brazil as country with highest population. Look for popular apps in the Brazilian store within your app's category.
Add keywords to your tracking list and check their search volume and difficulty for other countries like Portugal.
Add the relevant keywords to your app's metadata field, paying attention to the special characters.
Localize screenshots.
Analyze conversion rates in the Portuguese locales after the localization.
Keep on testing.
You can do it all with the help of App Radar. Create your free account and start optimizing your app for several locales. App Radar has team members from seven different countries, including Brazil. So we speak the language and know the culture! Get in touch with our Services Team and get started with conquering Portuguese-speaking countries!