Mobile App Localization with Keywords Auto-Translation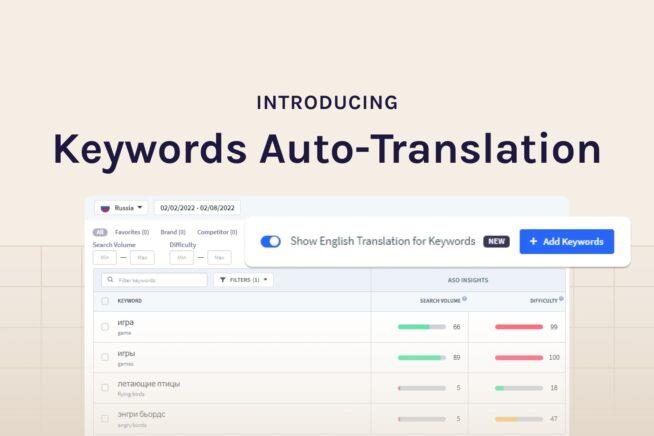 App localization is not an easy thing to do but is definitely worth all efforts as it brings new users and increases revenue. If you have done at least one localization to an unknown but very potential market, you can imagine how much time and effort it takes. Especially when it comes to researching keywords in unknown language.
As App Radar helps to localize apps around the world every day, we definitely know how difficult and time-consuming it might be. But not anymore! We are aiming to make app marketers work more efficiently, that's why App Radar is happy to introduce the Keyword Auto-Translation feature.
From now on, your mobile app localization will take much less time but bring the same great results. Wonder how exactly keyword auto-translation will make your life easier? Let us guide you through the app localization process with the App Radar Keyword Auto-Translation feature.
How to prepare your app for localization
Mobile app localization is one of the most important parts of your app growth. Therefore, entering a new market is a big step for each app business. To start app localization, you need to decide which market you would like to enter, analyze its potential and threats.
It is very important to understand that one country can have more than one language (locale). It is important to understand that locale is a combination of territory and language. In other words, it is a storefront of app stores. For example, de-AT, de-CH, en-US, en- AU, etc. For a more clear understanding here is another example: Canada has English (en-CA) and French (fr-CA) as official languages, and Belgium has even three: Dutch (nl-BE), German (de-BE), and French (fr-BE). Therefore, decide which local language you would like to target before you start the whole app localization process.
Tips: in order to get an understanding of the new market app leaders and their performance, check out App Radar's Top Charts by category & country, Category Rankings, App Downloads, and Downloads Trends in a specific country and specific timeframe.
Once you are done with your choices, you will need to translate your in-app experience to a new language. After that you can start to localize your app store listing with the following steps:
Add new locale for your app store market
Find keywords in locale language
Localize app store listing with new language
Update your app store listing
The first and easiest step is to add new locales. If you do it with App Radar, it will take you a couple of minutes. You just need to go to Store Listing Editor and add a new local to your app. After that, you are ready to start your localization process.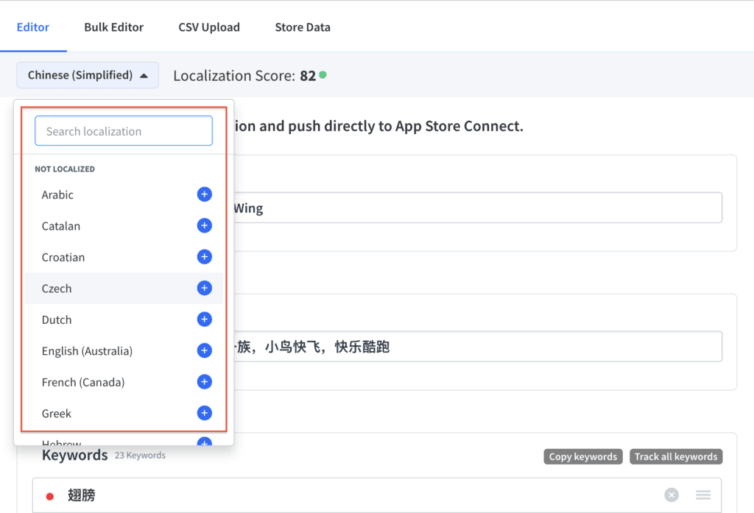 The next steps are considered to be more complex and time-consuming. Let's have a simple example here. Imagine you are an Adidas app and you would like to localize your app for the Chinese market. You are checking your competitor Nike in the Chinese app market and see keywords '健身' with a good search volume. However, it is hard to decide if this is keyword relevant enough for you to add it to your app metadata.
Instead of jumping to third-party tools and checking each keyword manually one by one, you can use App Radar's keyword auto-translation feature. Just in one click, you can see that the keyword '健身' means 'fitness'. It is definitely relevant for the Adidas app keyword, therefore, you can add it to your tracking list with confidence.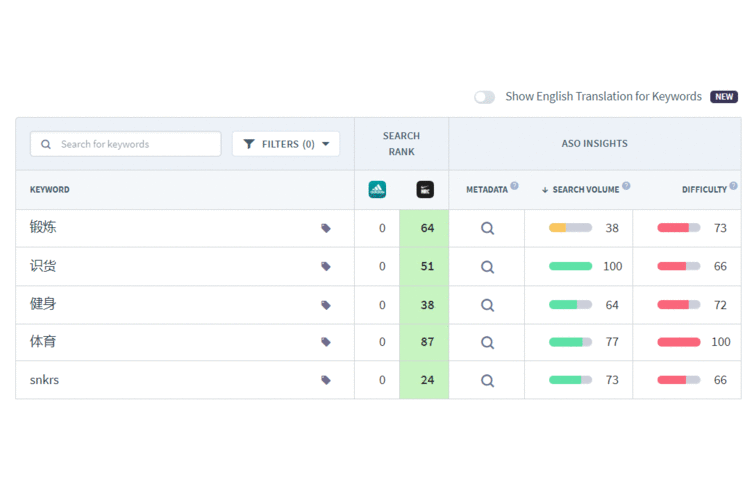 Keyword Auto-Translation for easy app localization
In order to localize your app store listing, you need to find keywords in a local language and optimize your app store listing with them. The main goal is to start ranking for specific keywords, and, as a result, increase the chances of app downloads. Remember that keyword optimization applies to the whole app store metadata that is indexed. In the case of Google Play Store, it is app name, short description, and long description. For Apple App Store, it is app name, subtitle, keyword field.
Tips: people are more likely to search in their local language and download an app if it shows in their language. In order to get visibility within new markets, you need to rank for relevant keywords in the local language. This means it's not only about translating your store listing, but also including keywords that will bring you traffic.
There are basically 3 ways how you can find relevant keywords in other languages for your app store listing:
Manually translate all potential keywords that you have for your main locale
Have a big and international team that can natively work with keywords from different localizations
Use a magic button inside ASO tool that auto-translates keywords from all languages to English
You can benefit from all these options, but they all require different efforts, sources, and budgets. We prefer to keep things simple and efficient, therefore, let us show you how you can translate keywords quickly and easily.
How can I benefit from Keyword Auto-translation
First of all, you don't need to copy-paste keywords in an unknown language and translate them with third-party tools. That means you save your time! Secondly, you don't need many resources to research and track new keywords. In other words, you save money!
We have added keywords auto-translation toggle to the whole keyword section in our ASO tool:
Keywords Tracking
Keywords Rankings
Keywords Finder
Competitor Keywords
Metadata Explorer

This means that at each step of your keyword localization process you are able to check the translation of keywords in any language!
Keywords auto-translation: 4 steps for researching keywords in an unknown language
As an app marketer, you always start your ASO process by building your keyword backlog. In other words, you are searching for relevant keywords and analyzing competitors' app store listings.
In the case of mobile app localization, your keyword research process is more or less the same, but you are working with keywords in an unknown language. It brings a lot of difficulties, especially when it comes to the evaluation of keyword relevancy. Therefore, we suggest taking the following steps with using keyword auto-translation in order to find the best keywords in a language that you are not familiar with.
1. Check keyword rankings
Start researching keywords by going to keyword rankings and seeing which keywords you are already ranking for in that market. As a next step, you can get inspiration from keywords that competitors are ranking for. It will show you keywords in the unknown for you language, so you just need toggle auto-translation. Now, you can go through all keywords with a clear understanding. You can already start adding potential keywords to your tracking list, so later on you can decide which one should be used for your app store optimization update.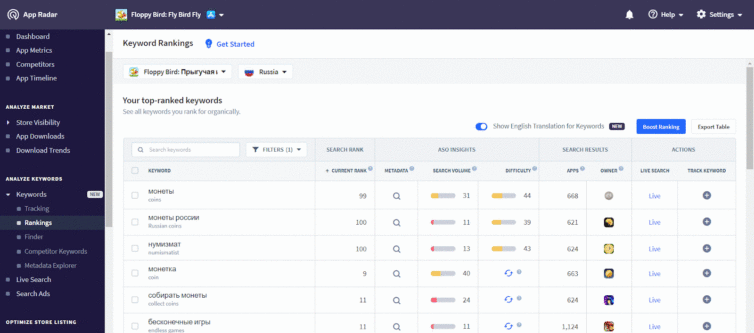 2. Check shared competitor keywords in your new local.
As a next step, we recommend analyzing your competitor's presence in a chosen location. Taking your time to research which keywords they are focusing on, can uncover interesting insights about their keyword strategy. And, of course, it gives you new ideas for your keyword strategy. Moreover, researching which keywords competitors are focusing on also helps you to find out some gaps in your strategy. In addition, you have the possibility to find keywords that your strong competitors are not targeting. Thereby making it easier for you to achieve a good ranking on it.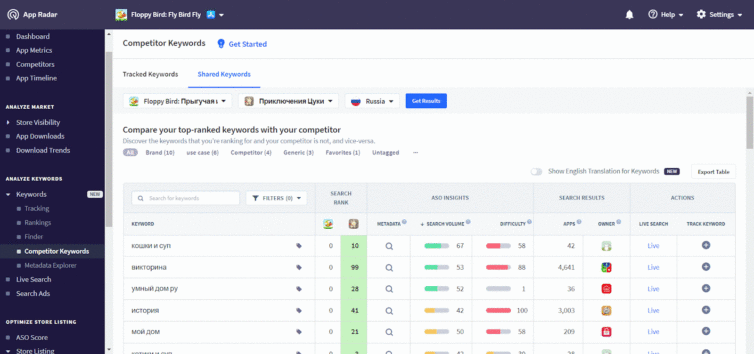 3. Check metadata explorer for your app and competitors
More opportunities to expand your keyword backlog for new local can be found in exploring your and your competitor's metadata. Go to metadata explorer and analyze your and your competitor's app store listing keywords. It gives you a wide overview of which keywords are used by you and your competitors in the app description. We suggest turning on auto-translation and going through all competitors to identify their keyword strategy and add potential keywords for your backlog.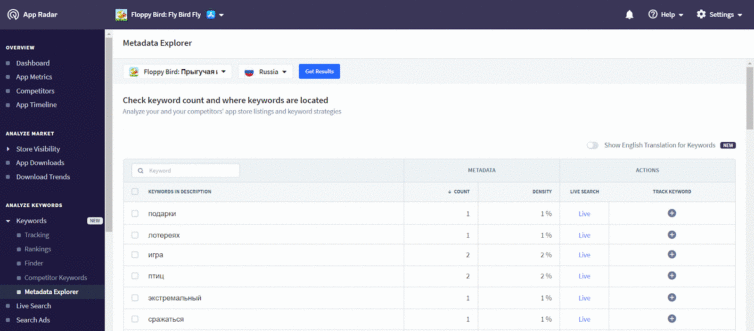 4. Check keyword trends and tracking suggestions in keyword finder
Last but not least, go to the Keyword Trends tab and switch on keyword auto-translation. You can see what are the most trending keywords right now in the chosen local. Some of them might have high relevance to your app, so don't forget to add them to the tracking list.
Tracking suggestion is another great way how you can discover new keywords for your new local. It is based on your current keywords list and generates keywords suggestions by App Radar AI.
By going through each step you will be able to collect a decent amount of potential keywords for your backlog. As the next step of mobile app localization, you will need to prioritize them and add them to your metadata. This can also be done with App Radar's Store Listing Editor.
Summary
As you can see, with keyword auto-translation app localization has never been so easy! You don't need to jump any more around different tools in order to understand the meaning of a single keyword. In one simple click, you can translate keywords from any language to English and build backlogs with high-relevant keywords across different locals.
Impressed by our new magic button?
Try it out today! The Keyword Auto-translation tool is available for all users with the Expert plan.
Start Free Trial