App Keyword Optimization
What is App Keyword Difficulty?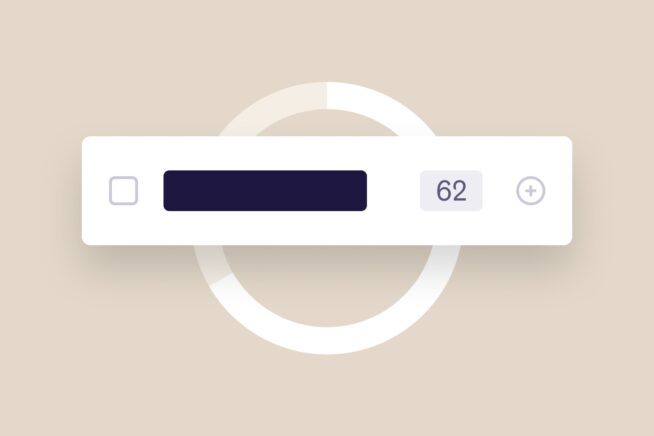 App Store Optimization (ASO) involves your keyword strategy and, thus, app store visibility. As an app developer or marketer, you want to implement keywords that will maximize your app impressions and downloads. However, knowing if your app will rank for the keywords you put into your app store listing can become muddy. That's where keyword difficulty comes in. Our team at App Radar calculates difficulty to let you know how easy or how challenging it will be for your app to rank for specific keywords.
Read on to find out more about keyword difficulty and how it affects your app store rankings.
What is Keyword Difficulty?
Keyword difficulty tells you how easy or challenging it will be for your app to rank for keywords. The values range from 1-100, with:
1 being extremely easy to rank for and
100 being extremely challenging to rank for
In App Radar, you can see the keyword difficulty for every tracked keyword.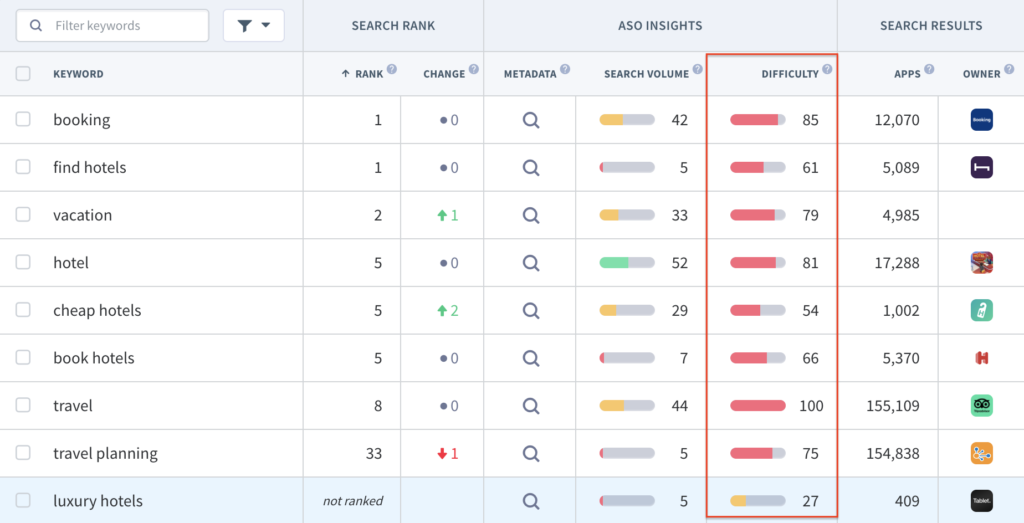 How Does Keyword Difficulty Affect Your App Store Ranking
We're going to use the same example we used in the previous chapter: What is App Keyword Search Volume. So you have a travel app that allows users to find, book, and check into hotels. You've added the following keywords to your App Radar account.
Hotel
Booking
Travel
Find hotels
Book hotels
Cheap hotels
Luxury hotels
Vacation
Travel planning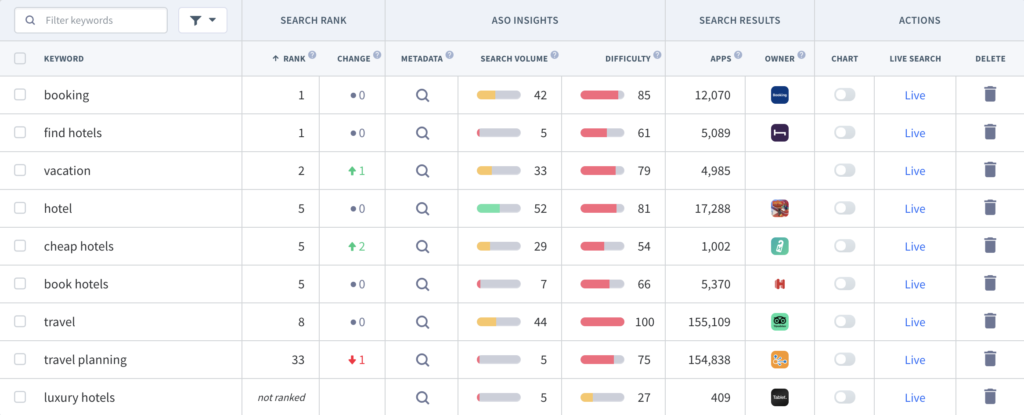 Notice that for every keyword (except "luxury travel"), the difficulty value is higher than 50. Notably, the keyword, "travel," has a difficulty of 100. So "travel" is going to be hard to rank for.
What can you do now?
Begin by Finding Lower Difficulty Keywords
When your app is relatively new or is not yet ranking for many keywords, it's better to start implementing lower difficulty keywords. The more relevant keywords you rank for, the easier it will be for you to rank for the higher difficulty keywords. So, let's get some new keyword ideas for your travel app.
The more relevant keywords you rank for, the easier it will be for you to rank for the higher difficulty keywords.
Looking at Competitors for App Keyword Ideas
One of the ways to find new keyword ideas is to see which keywords your competitors are using. You can discover this by going to Competitors → Rankings in App Radar. If you don't have an App Radar account yet, you can create one for free here.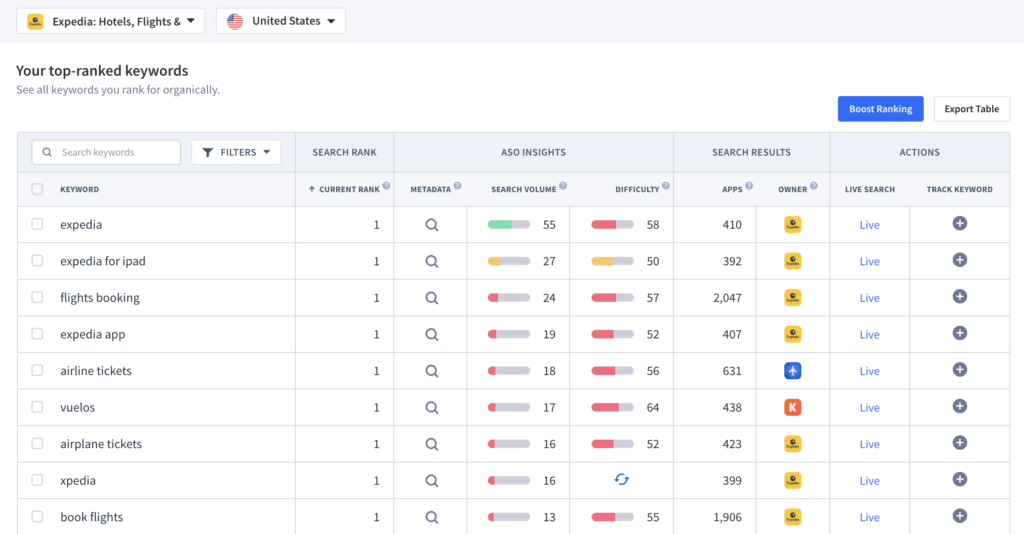 We're going to add the following keywords we found from competitors such as Booking.com, Expedia, Airbnb, and HotelTonight.
Bookings
Hotel room
Vacations
Hotel finder
Last minute hotel
Book a hotel
Using AI Recommendations for App Keyword Ideas
Another way to find new keyword ideas is to use the AI Recommendations feature in App Radar
Our AI analyzes your app and currently tracked keywords to determine new keyword ideas. You can reject keywords or track them to train the AI.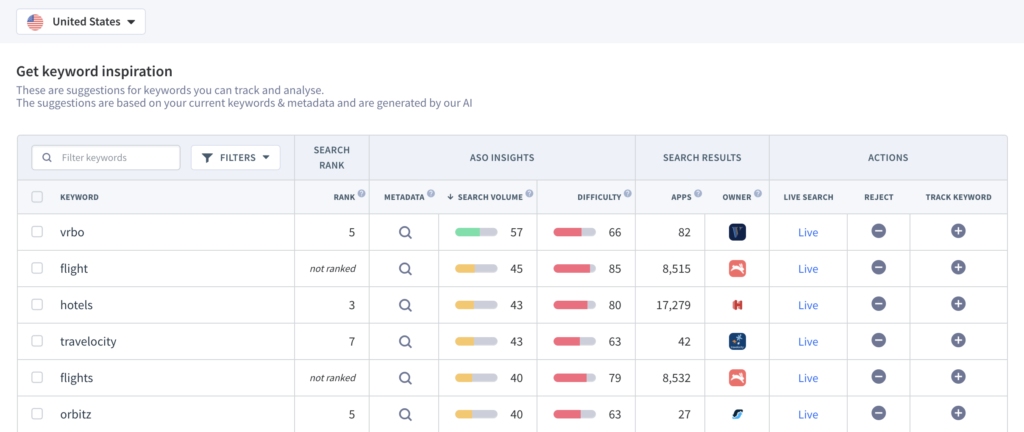 Form combination or long-tail keywords to create lower difficulty
If you're still having trouble finding lower difficulty single keywords, try forming combination or long-tail ones instead. You'll rank faster on these type of keywords and also attract a very niche audience.
You now have an excellent jumping-off point to discover more achievable keywords.
When to Start Using Higher Difficulty Keywords
If you begin with only high difficulty keywords, you'll hurt your app store ranking and overall ASO. That's because your chances of ranking for those keywords are quite low. And because you have character limits for each app metadata field, you don't want to be wasting the space on keywords you don't have an opportunity to rank for.
It's okay and more than recommended to begin by first building up rank power. First, aim to rank for keywords with difficulties of 10-50. Once you start ranking for a good group of these easier keywords, you can start going after the more challenging ones.
The app stores will give you a ranking boost when you're already ranking for a set of good keywords.
Keyword Difficulty Goes Hand in Hand with Keyword Search Volume
Keyword difficulty is not the only factor that affects whether you'll rank for a particular keyword. Search volume is also another value you have to consider.
In the next chapter, we'll talk about how to choose keywords by looking at both search volume and difficulty together.
See Keyword Difficulty
Find out how challenging it is for your app to rank for a keyword
Create a Free Account