The Apple App Store is present in 175 countries and regions, Google Play Store supports 192 countries for developer & merchant registrations.
The following post is looking into German localization for gaining more app users in Europe in the DACH region, composed of the country codes D ("Deutschland" = Germany), A ("Austria") and CH ("Switzerland"). Additionally, German is also spoken in Lichtenstein, Luxembourg, and Belgium.
Chances are that if your app or game is gaining traction in your home country, it's probably the right time to start scaling that success around the world.
How to localize your app or game for German?
As with every mobile app localization, there's a certain list of aspects you need to pay attention to. Before getting started, you should do your homework and properly study the local audience.
German language for app metadata
The most important aspect to focus on with mobile app localization is the translation of texts into foreign languages. For German language, it's necessary to think of the following:
Without exception, all nouns and names are capitalized.
Check that any font you use supports German special characters: Ä, ä, Ö, ö, Ü, ü and the "sharp s" character ß.
DACH region is also known for being keen on order and structure. Hence, it's beneficial to have a well-organized app description with bullet points.
Punctuation tip: typically colon (":") is more common than hyphen ("-"). For example, "Calm: Meditation App" instead of the English version "Calm - Meditation App".
Choose between using formal or informal German. This won't have an impact on app store search results. But it's part of your branding and will set the tone how you speak to your app users. As with any marketing channel, it's important to "speak" like your audience does.
While German-speaking people prefer apps and games in German, some words are normal to be kept in English, such as "workout", "online game", "fitness". So you don't necessarily need to neglect English words. But you should research whether German or English words are used in your specific category.
German often results in long sentences and even longer words - they can take up to 30% more space than English. Make sure that your app design looks good also in German.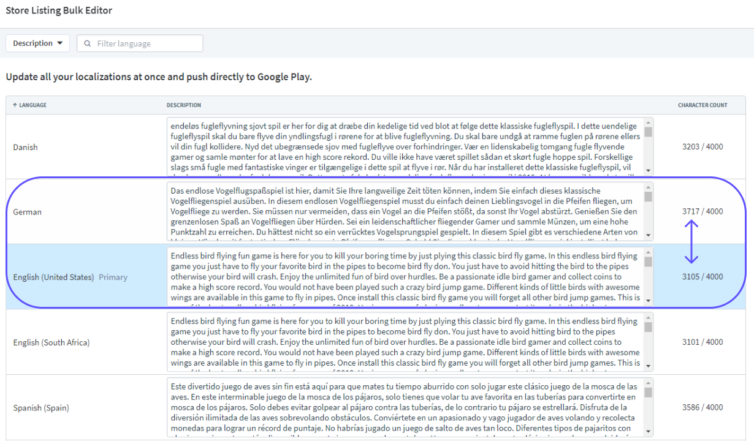 When starting to translate your app, you should first adapt your app title and description. Then, focus on finding the best keywords in German to increase your visibility. Whereas auto-translation may seem like a fast and easy solution, it may lead you to awkward and incorrect keywords - especially in German. For example, "mobile phone" would be translated as "Mobiltelefon" whereas most native speakers would call it "Handy".
At App Radar we have a database of more than 25 million keywords - one of the largest on the market. When doing German keyword research in our tool, you get the monthly search volume and difficulty level for each keyword you enter. You can also check all the keywords your (local) competitors are ranking for. This is a great way to get started with your German keyword list. It's also a fast way to do market research.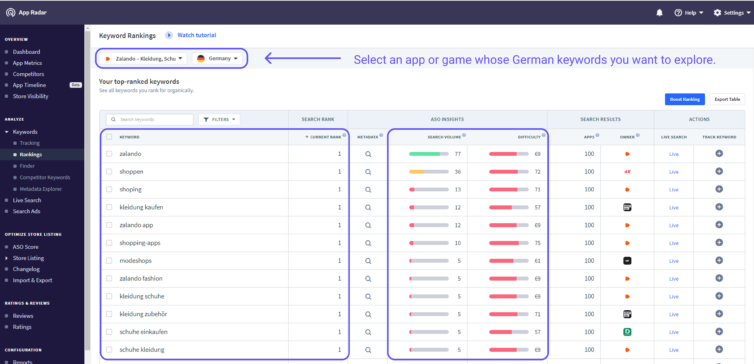 German localization for Austria and Switzerland
Depending on your app category and content, it might be beneficial to consider that Austrians and Swiss sometimes use a very different set of words due to their slang and/or dialect than Germans do. For example, a tomato would be in Germany a "Tomate" and in Austria a "Paradeiser". Although Austrians will understand the Germans, they will most likely prefer their own regional dialect.
Now, your app store listing is the same for Germany, Austria and Switzerland. That means, that if you want to optimize your app store listing only for Austria, you've got two options:
Research for keywords specific to Austria and include them in your German app store listing;
Create a custom store listing on Google Play Store
Pricing
Euro (€) is the official currency for Germany and Austria. Switzerland, however, has its own Swiss Franc. Make sure to present the right currency on your visuals, in your texts as well as during the checkout process.
Creatives
In general, your app or game video preview and screenshots are recommended to be updated for specific mobile app localization as well. The language and cultural difference apply also for texts and visual appearance (color tones, people on photos etc.) of your screenshots.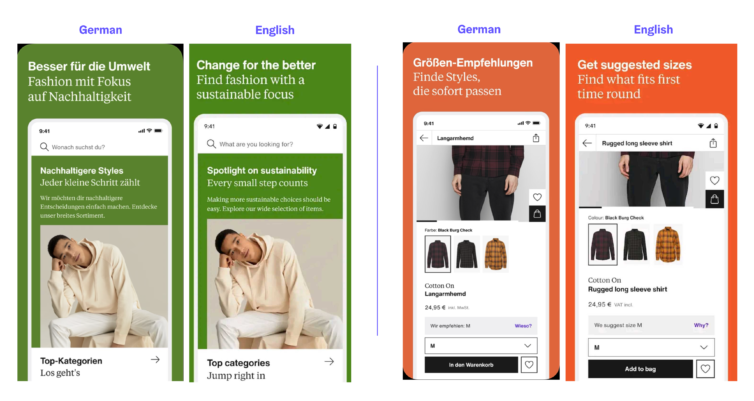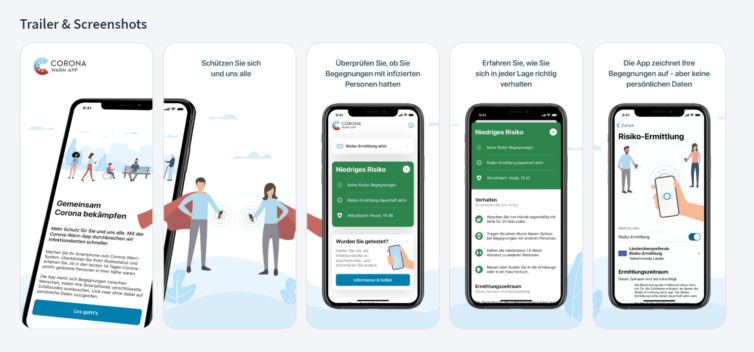 Special restrictions
With every mobile app localization it's important to take into consideration generally sensitive topics as well as to consider country-specific matters. Extra attention should be given to topics like:
adult content
gambling (strictly regulated in Germany but luck-based games with no monetary wins are acceptable)
alcoholic beverages and drinking games
nutrition and dieting (regulated EU wide) as well as
anything in regards to World War II and national socialism. For example, while not officially prohibited, terms such as "Führer" (eng. Leader) have a negative connotation in German.
Privacy and data protection
Generally, German-speaking people pay the highest attention to their data sharing, security and law. They are very precise and correct in these matters. Therefore, they're also protective of their app privacy and personal data gathered by your app.
You must comply with General Data Protection Regulation (GDPR). You may even benefit from highlighting your compliance during onboarding. It's very important to ensure that your privacy statement is translated by someone with suitable experience and knowledge for the legal aspects involved.
How big is German-speaking apps and games market?
German is the official language of Germany, Austria, and Lichtenstein and one of the official languages of Switzerland, Luxembourg, and Belgium.
Moreover, with a population of 83 million, Germany is the largest consumer market in the European Union and therefore should be in your localization list rather high. At the same time, Switzerland has the highest GDP per capita among the DACH region which makes it very attractive as well. And although Austria has 10x less consumers than Germany, it's also considered as a "test market" to get started with mobile app localization for German.
In 2019, Germany alone had 57.7 million smartphone users, whereas on average every mobile device gets between 11 and 20 apps installed. In June 2020, research shows Android to be dominating the space with 73% market share, compared to 26% for iOS. Furthermore, Samsung is the most popular brand.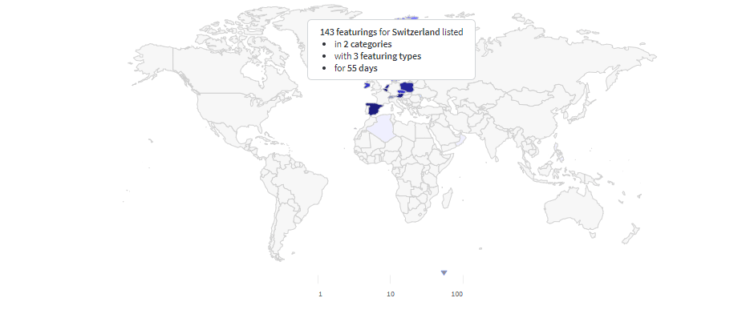 Apps and games downloads and revenue in Germany
In 2019, the app revenue from Google Play Store and Apple App Store in Germany was $2.1 billion (second highest in Europe after Great Britain). Germany is also one of the main reasons why European market stands out with Google Play being the biggest driver of revenue. Germany counted alone for 23.1% of European Google Play Store revenues in 2019 ($1.2 billion). For games, Germany was also the key driver for Google Play revenue with more than $1 billion.
Top ranked apps and games in Germany, November 2020
The top categories are social media and messaging, followed by dating, streaming, entertainment, music, sports, TV, and movies.
With 44 million gamers, Germany is home to the world's fifth largest gaming population. The popular game types are casual, competitive, and strategy. Below is a list of top charts in the Apple App Store in Germany on 18.11.2020. In the App Radar tool under "Store Visibility" you can explore the top charts for specific countries, categories and time periods.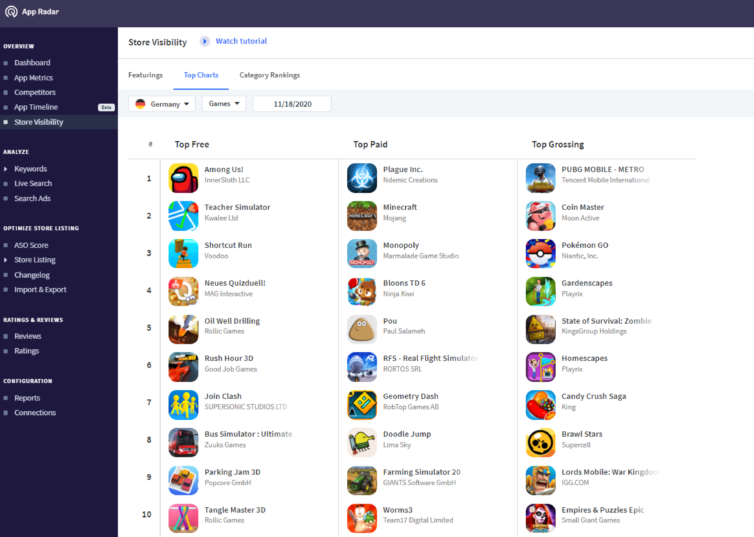 Localizing your app for German with App Radar
As highlighted above, mobile app localization is so much more than just translation of texts. People in Austria, Germany and Switzerland all speak German language but their culture, visual preferences as well as preferred keywords and terms can vary a lot. That's why it's important to check your keywords for all these countries separately in an ASO tool and evaluate how to localize for each country. It's also helpful to find a local translator who is aware of the specific culture and language.
App Radar is an Austrian company with team members from seven different countries, including Germany. So we speak the language and know the culture! Get in touch with our Services Team and get started with conquering Austria, Germany and Switzerland!