Know When Your App is Being Featured in the App Store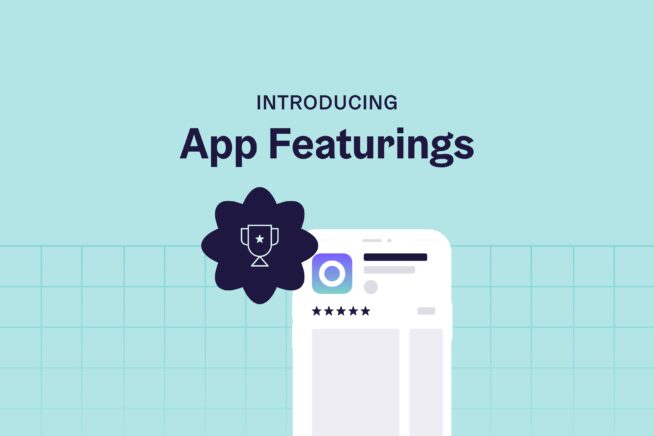 Being featured in the Apple App Store is no small thing. A feature brings app developers several prizes.
App industry fame.
Tons of new users.
Bragging rights.
Just to name a few.
Apple Gives You No Warning of an App Feature
But naturally, Apple likes to shroud itself and its operations in a bit of mystery. You can submit your app to be featured. Then if Apple shortlists you, they'll ask you to provide some creative assets for your feature. However, this doesn't mean your featured spot is in any way guaranteed or upcoming any time soon. It could be the next day, the next week or the next month before you see a random spike in new users, run to your app metrics, and realize your feature has finally gone live.
Apple gives you no warning. Nothing. How rude, right?
If you don't know your app's feature is coming, there's for you to prepare to send out the excellent news to all your fans, friends and family. And an App Store feature is definitely worth celebrating.
We Want You to Know that Your App is Featured
As I'm sure you've already noticed, our team is quite adept at pinpointing problems and finding great solutions. It irritated us so much, literally drove us up the wall, knowing that app developers had no clue when they're app would be featured. We want to shout your successes to the world. So what did we do?
We got together, had some pizza, and created a brand new feature feature. Get it? With App Radar, you'll now be notified when your app is going to be featured in the App Store. We'll deliver the fantastic news straight to your inbox, so you can share it with the world.
Turn on App Feature Alerts in App Radar
Turning on alerts for app features is simple.
All you have to do is head to Visibility Reports inside the App Radar ASO Tool and choose the Featuring Alert option. Then you'll be prompted to enter the email you would like the app feature notification to be delivered to. You'll also have the opportunity to choose an optimal time to receive the email so that it doesn't get lost in your inbox.
Now you're all ready to go! We're excited to send you your Featuring Alert, and I know you're thrilled to receive one.
Know When Your Apps Get Featured in App Store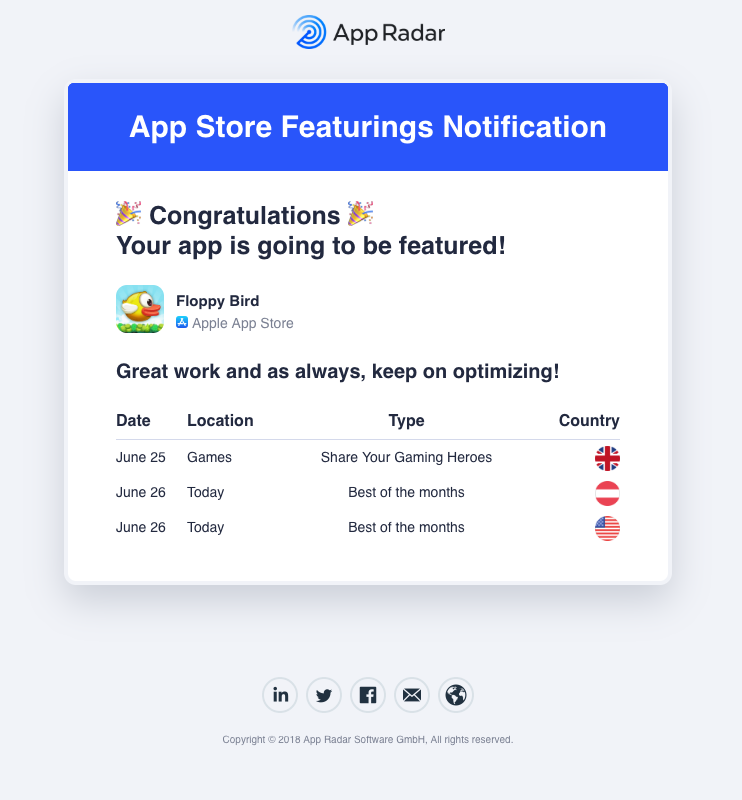 Never miss the chance to celebrate your success
Create a Free Account