Get Your Android App Featured in Google Play: The How To Guide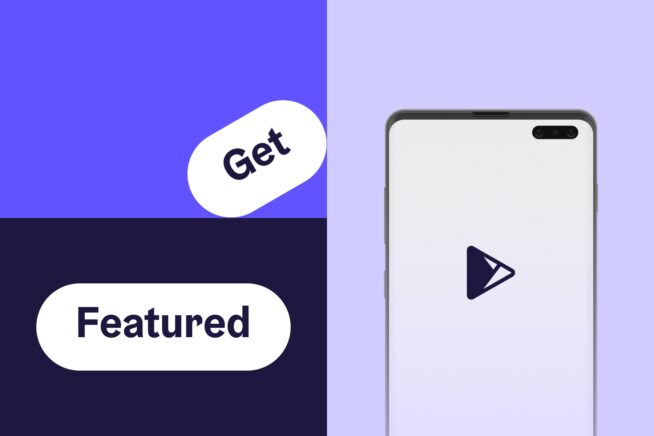 Google Play reaches billions of Android users in over 190 territories. Featured apps get a boost in app store impressions and, as a result, installs. So it's no surprise that many app companies aim to be featured in the Google Play Store. What are the steps you can take to get your app featured in Google Play? Let's find out.
Types of Features on Google Play
Before we start, we should go over where you can be featured in the Google Play Store. There are three main types of app features in the Play Store:
Popular
New
Selected by Google Play Team
Featured Popular Apps on Google Play
Popular apps can be featured in one of the four types:
Top Game or App: Most popular apps of all-time
Top Grossing: Most popular grossing apps of all-time
Trending: Apps showing installation growth in the last 24 hours
Top Selling: Apps and games that generate the most revenue, including app purchases and in-app payments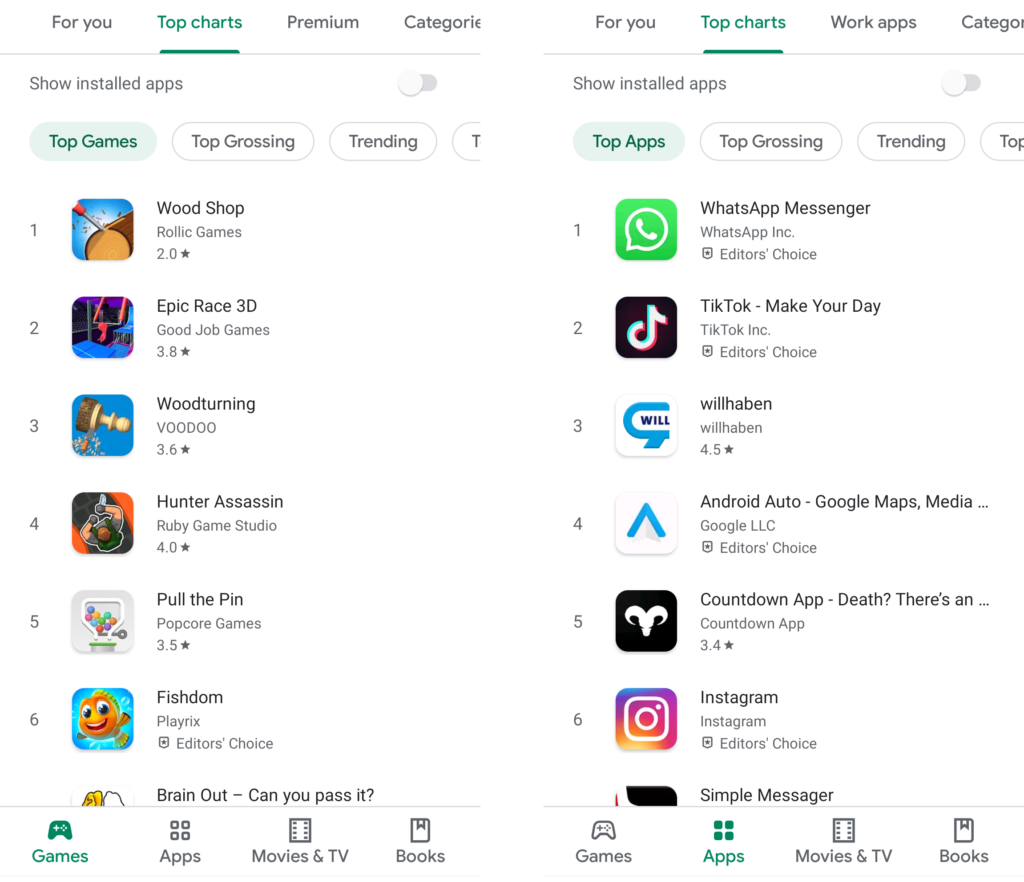 Since Google Play separated games and apps into different tabs, these featured spots exist across both categories. When you are promoting a mobile game, you'll only be competing against other games. The same goes for a mobile app. You're only competing against non-game apps.
New and updated apps can be featured in these spots:
New Apps: apps gaining momentum that were released less than 30 days ago
Recently Updated Apps: apps gaining momentum that were updated less than 30 days ago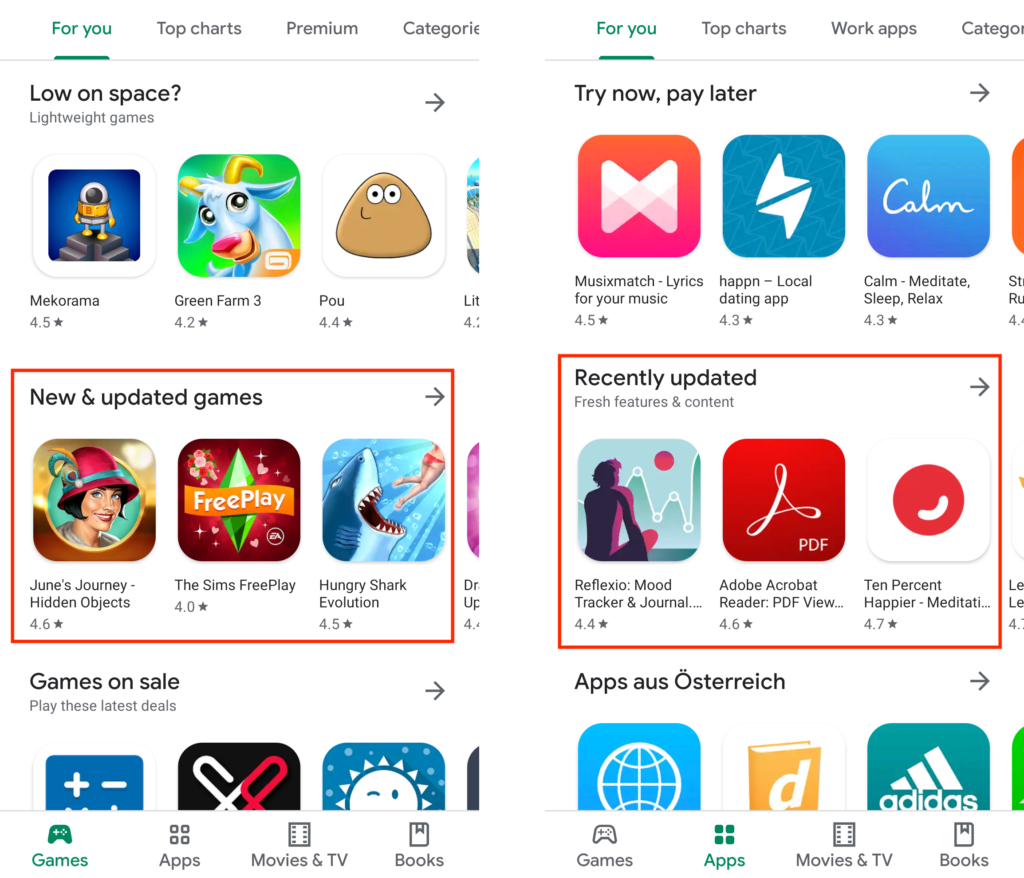 Apps featured in new or recently updated sections are shown to Google Play users in the For You section. They are too separated at the umbrella level by games and apps. New apps have the chance to gain immediate attention by doing well in the first few weeks after launch. After the first month, apps can continue to create hype by releasing frequent updates.
Featured Chosen Apps on Google Play
When the Google Play team selects apps, they'll be featured in:
Featured: Selected new apps
Staff Picks: Rotating set of staff-selected apps
Editors' Choice: Some of the best Android apps of all-time on Google Play
Top Developer: Some of the best developers on Google Play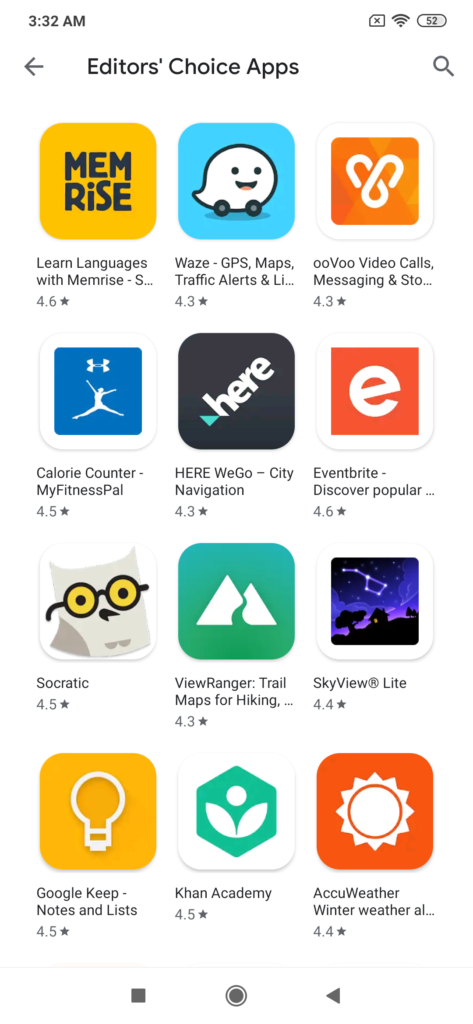 To get your app featured in these sections, you'll need to develop an app that appeals to the Google Play team. Getting a badge such as "Editor's Choice," is hugely beneficial to your app growth. It tells Android users that your app is trustworthy and high-quality. This reduces the friction users feel when deciding to install your app. 
Hint: there is a new feature called Google Play LiveOps. It is still in the beta phase, but we expect it to be released soon. The new feature will help ASO experts to push app visibility across the Play Store and improve user engagement. 
Get Your App or Mobile Game Featured in Google Play
Being featured in Play Store is not pure luck. You have to work on app store optimization for Google Play and strategic moves to get to the top spot. So what can you do to push your app into the spotlight?
App Performance Needs to Be at 100%
Google Play considers app performance when ranking apps. Apps that contain too many bugs, consistently lag, or causes other usability problems for the users, will not be featured. Google does not want to promote apps that will produce consumer frustration or disappointment. By getting your app performance to be at 100% or close to it, you increase your chances of being featured in the Play Store.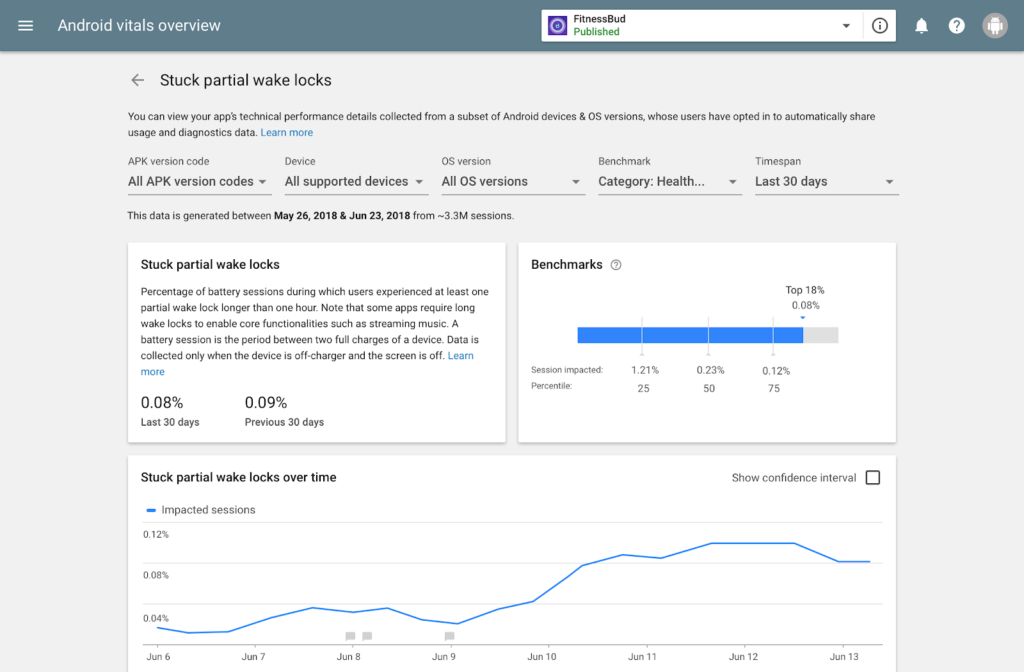 In your Google Play Console, there is an Android Vitals dashboard. The main vitals are crash rate, ANR rate, excessive wakeups, and stuck wake locks. These are highlighted in the dashboard so you can instantly see what area needs to most improvement and start debugging right away.
Practice User Centric App UX/UI Design
One of the factors that show the Play team that your app is gaining popularity is app usage. You can push installs through organic methods such as App Store Optimization and paid strategies like Google App Campaign. But after you get those installs, you also need to keep your newly acquired users. Increasing user engagement will bring you closer to being featured.
When you practice user-centric app UX/UI design, you ensure that you develop a product for your audience. You put your user in the center of your design.
This type of design allows you to generate a user journey that is not only smooth but also intuitive for the user. The intuitive design increases user engagement because it helps the user to enjoy using your app. It becomes a pleasant experience that people will want to come back to. Make an excellent first impression by designing a welcoming and seamless app onboarding process.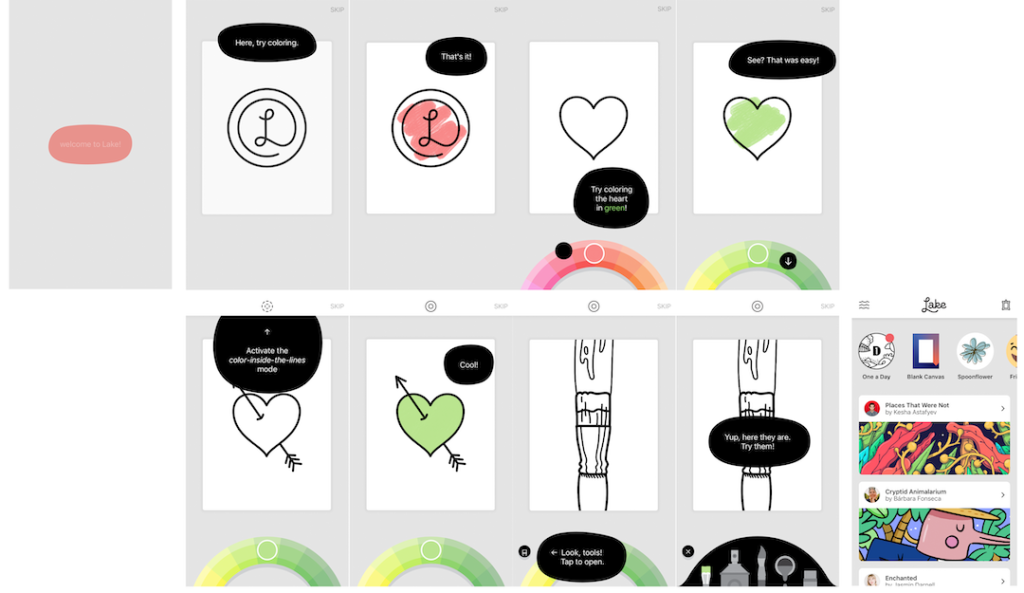 An easy way to jump into a user-centric design is by accessing user feedback. Your app reviews and ratings are the perfect communication channel to gather informative feedback.
In the reviews, people will let you know what they like and don't like about your app. Going through these, responding to them, and marking down each bug that is reported and every feature that's requested will help your app development roadmap immensely. You'll know which fixes and what new features will satisfy your users. You can then prioritize these.
And remember apps who release frequent updates have a better chance of getting featured in the recently updated section.
Improve App Ratings
That brings us to the third point, improving app ratings. Google will not feature your app if it has terrible app ratings. People don't want to install apps that have bad ratings. It's the harsh truth.
There are various ways you can improve your app ratings. Firstly, you have to ask users to leave a rating. Prompt your users for an app rating after they've achieved something in your app. They'll be more likely to give positive feedback when they're feeling satisfied.
Secondly, respond to every user review using. That includes both the positive and the critical ones. Google saw that developers who reply to reviews get a boost of +0.7 stars for their app rating. People like to know their opinions matter. You do exactly that when you respond to their app store review — Polish your communication by following these best practices for responding to app user reviews.

Thirdly, release frequent app updates. The better you make your app, the higher your app ratings will be. When you develop with your users in mind, you make the in-app experience enjoyable for them. Also, Google Play gives more weight to app ratings for your most recent app versions. As a result, every time you improve your app and release an update, you also improve your app ratings.
Localize Your App and Implement App Store Optimization
Every Google Play storefront, or country store, has its own set of featured apps. That's because not every app is available in every country. Make sure your app stands out by implementing localization and other App Store Optimization methods.
Localization is the practice of translating your app store listing and app into a region's native language. It goes beyond translating just your app description. The app screenshots on your store listing page need to match the cultural preferences of the region. People from different corners of the world respond differently to not only text but images.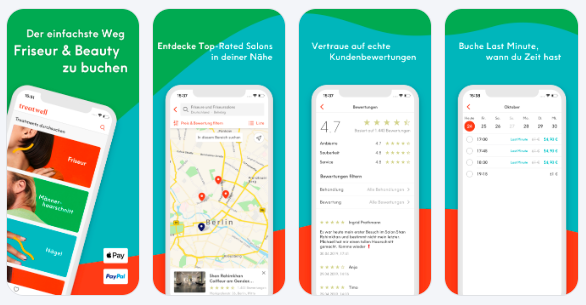 In addition, localization involves translating and implementing local keywords. This is where App Store Optimization comes into play. Translating keywords is not enough. You have to understand the cultural implications of your target country. You can find keywords in a region's native language using the App Radar keyword finder.

People prefer apps that are in their native language. That also means they're searching in Google Play using their mother tongue. So by localizing your app, you get a boost not only in Google Play ranking but also in installs. This brings you closer to a featured spot in that storefront.
Use Influencer Marketing and Media Attention to Generate More Backlinks
Backlinks to your app is another factor that Google Play considers when choosing apps to feature. One way to increase backlinks is to work with influencers and bloggers in your app's niche. The other way is to get more media attention.
Influencer Marketing for Apps
Influencers who match your app niche have already captured your target audience. By collaborating with them, you multiple the reach that your app has. But that's not all.
When you partner specifically with influencers who have blogs, you can build up an arsenal of quality backlinks. Ask the blogger to use your app and write up a review, or come up with something a little more creative. Running apps, for example, can partner with fitness bloggers for a monthly challenge where they log their daily runs in the app and then recap the experience on the blog. Google will recognize the buzz that's increasing around your app on the internet.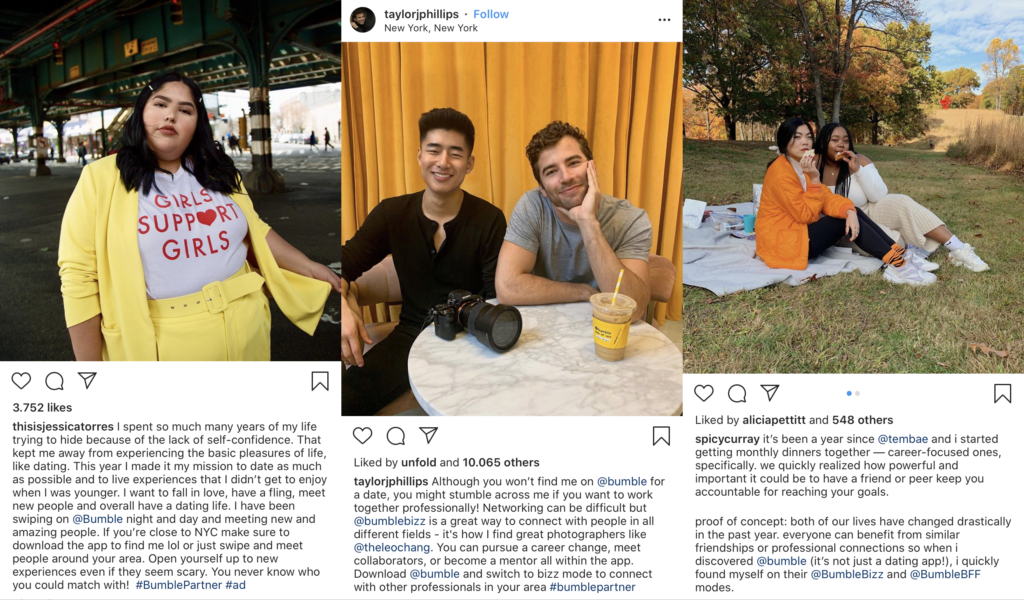 The all-in-one, dating, friend finding, and business networking app, Bumble pushes influencer marketing campaigns that tell a story. They build brand awareness, create backlinks, and gain new users simultaneously.
Getting Media Attention for Apps
Media is a great way to build hype and backlinks for your app. Before you launch your Android app, send out press releases to relevant online publications. Journalists get submissions all the time. Ensure your app stands out by molding an appealing story that they would be compelled to publish.
Do you have an exciting founding story? Does your app solve a problem that has not yet been solved? Does it disrupt a long-standing industry? Is your app's mission to be inclusive, or does it increase representation for minority groups? These are only a few of the directions your app's story can go in.
For existing apps, all hope is not lost for media attention. Reach out to the press when your launching in a new country or releasing a major update. Just remember to build that story.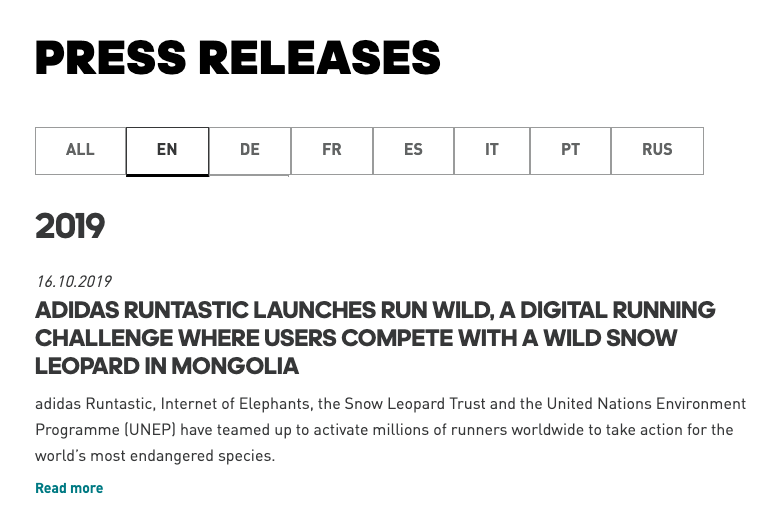 Runtastic, the run tacker app by adidas, even has an entire press release section on their website. They make it easy for members of the press to find out what's going on at Runtatstic.
Integrate Google Technology
Google is always releasing new tech that can be integrated into your app. Naturally, the Play Store features apps that make the best use of Google products. It is their app store, after all.
At Google i/O 2019, there was a slew of new features that rolled out for Android app developers and publishers. And there's no reason not to use them.
For example, Instant allows you to give Google Play visitors a sneak peek of your app. From your app store listing, users can instantly play or engage with a part of your app before installing it. This brings the try before you buy mentality into the app world. No doubt, developers who take advantage of this are appealing not only to more users but to the Google Play team too.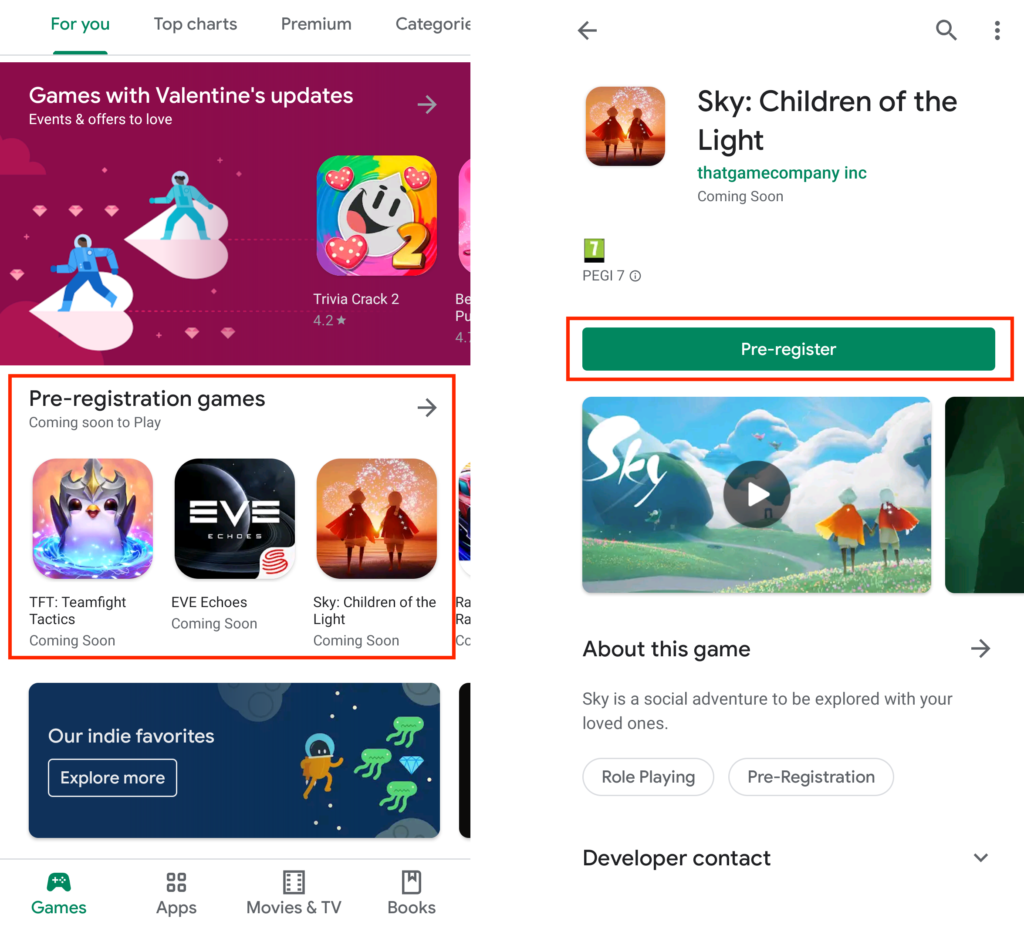 Another Google Play feature to use is Pre-Registration. There's an entire section on the Play Store dedicated to mobile games and apps that people can pre-register for. When your app finally launches everyone who has opted in will be notified, which can push your mobile game or app to be featured as a top new app.
Keep up with the Seasons
The Google Play team has been trying to make the Play Store more curated and editorial. They are now featuring apps in special sections for seasons and holidays. At the moment, they have a dedicated section up for mobile games who have updates correlated with the upcoming Valentine's Day celebration.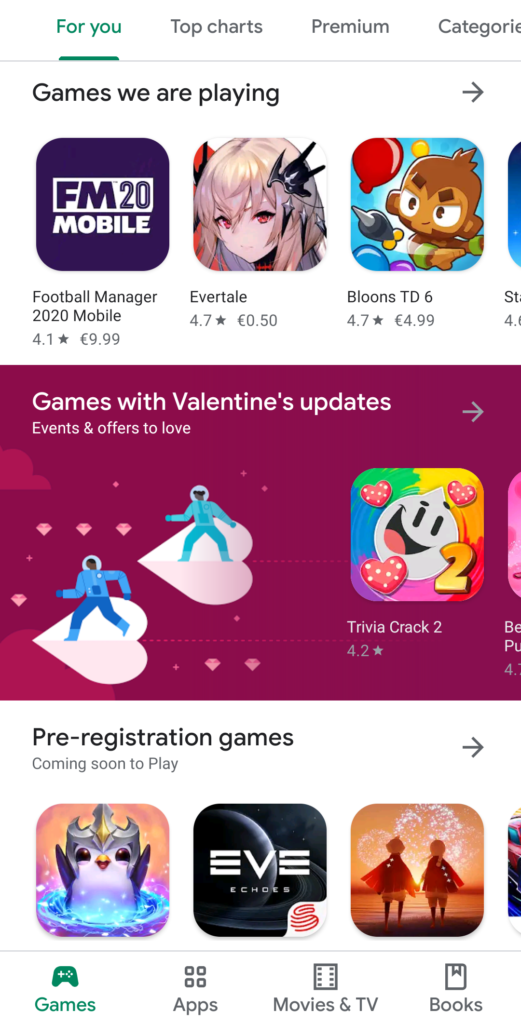 When appropriate, meaning it makes sense for your app and matches your branding, schedule in changes that go along with the seasons and holidays. You'll bring extra attention to your app and give Google the chance to show off your seasonal update.
Get Your Android App Featured in Google Play Summary
Securing a featured spot in Google Play will undoubtedly:
Increase app and mobile game installs
Boost your revenue
Build up brand awareness and hype
Label your app as trustworthy and high-quality
Set you up for further app success
As you develop your app, put the strategies we talked about to work and you'll be in a great position to score that feature. Remember to create an app that your users love and then promote it using the right strategies.
Need Help Growing Your Apps?
Get in touch with our app marketing growth team to discuss the right solutions for your mobile app business
Contact Us Today