How to Reply to Google Play Reviews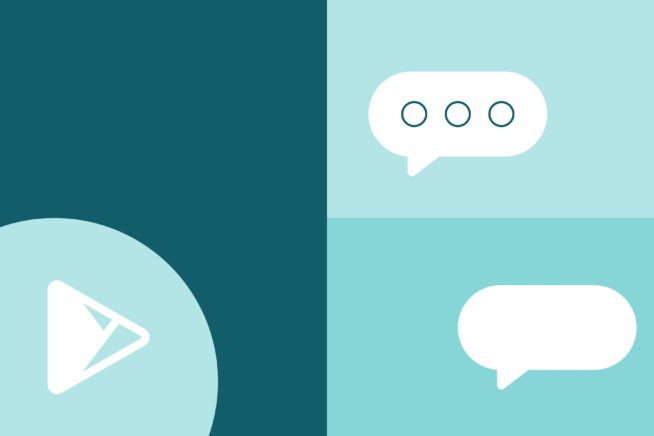 Google Play app ratings and user reviews affect how Android users see your app. By looking through your app's ratings and reviews, a person can determine whether 1. Your app works well, and 2. your app solves their problem. From there, a person will decide if they want to download your app. Of course, you want to do everything you can to convince them that your app is worth their time. Replying to Google Play reviews pushes you closer to that goal.
Why You Need to Reply to Google Play Reviews
Before we jump into how you can reply, let's talk a bit about why it's so essential that you do so.
Android App Users Check Ratings and Reviews Before Downloading
First, most Android users check an app's ratings and reviews before they decide to download. What are they looking for?
Android users want to see a 3-star or higher rating as well as good reviews. Without these, they're going to turn away from your app and go to a competitor instead. So keep your ratings high. Developers who respond to user reviews experience a rating boost of +0.7 stars.
Changes to How Google Play Calculates Average App Rating
Last year at Google I/O 2019, Google Play announced they are changing the way the average star rating is calculated. In the past, the average gave equal weight to all ratings, no matter how old they were. Now, to better reflect the current state of your app, the average rating gives more weight to ratings on more current app versions. That's great news for you because you can more easily raise your app rating by improving your app.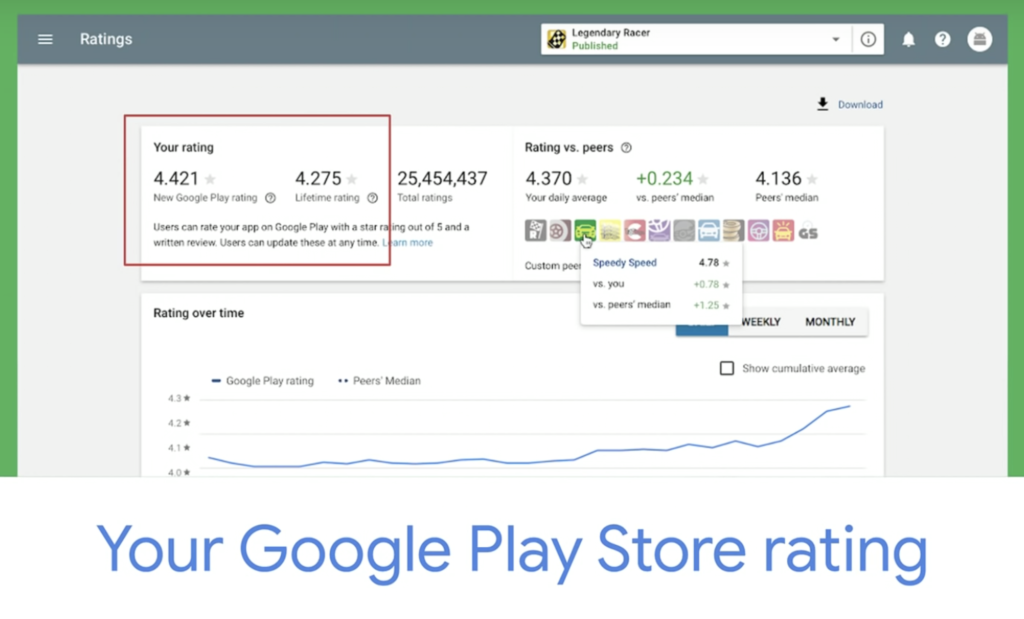 Also, your competitors who could care less about updating their app will fall behind. So as long as you're always working towards bigger and better, you'll be taking the lead. Responding to reviews shows your current and potential users that you're doing exactly this. The reply space gives you the perfect chance to directly inform Android users of new features and bug fixes that will be released soon.
To see how your app updates affect your Google Play ratings, track your app ratings with the Ratings Chart in App Radar.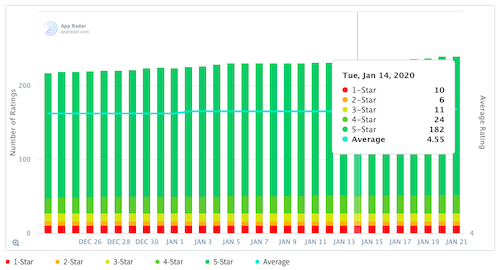 Talk with Your Users, Not at Them
Also, replying to Google Play reviews opens another communication channel between you and your users. This is how you build a loyal user base. Talk with them instead of at them. Find out what other features they want and what problems they're facing. Then let them know you're working on it. When your responses are assembled with a strong brand voice, you also increase brand awareness and strengthen your overall app store presence.
Furthermore, app users who receive a developer's response to their Google Play review are likely to edit their initially negative review into a positive one.
App Ratings Affect Google Play Store Rank
Finally, your average app rating affects Google Play Store optimization and your Google Play ranking. The higher your rating is, the better you'll rank in the search results. So when your app is in the 4-star rating range, it will be seen and found by many more Google Play Store visitors.
Dive Deeper:
Improving App Ratings and Replying to User Reviews
App User Reviews: The Do's and Don'ts of Replying
How to Improve App Retention Rate with Organic Installs

Transform the way you reply to Google Play reviews with App Radar. In our Reviews feature, you'll be able to respond to 20 reviews a month with a free account. Here's how it works.
Replying to and Translating Google Play Reviews
First, create a free account then head to the Ratings and Reviews section. The Reviews tab hosts all of your Google Play user reviews. You can filter for answered and unanswered to ensure that you've responded to every user.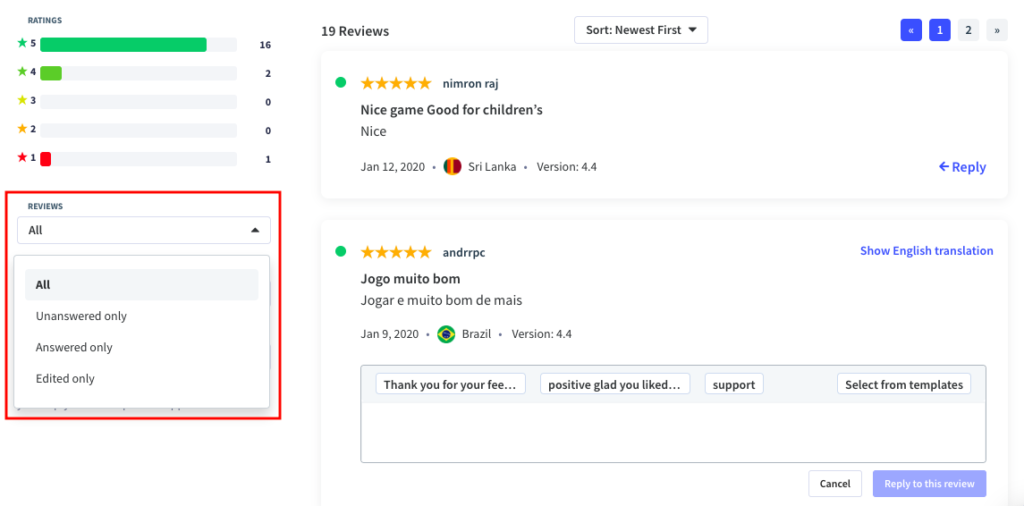 When you submit a reply, it gets instantly published to Google Play Store. There are no further actions that you have to do at this point.
You may receive reviews in languages other than English. To better connect with your users, we've integrated a translate function. You can quickly translate user reviews into English and make responding a breeze.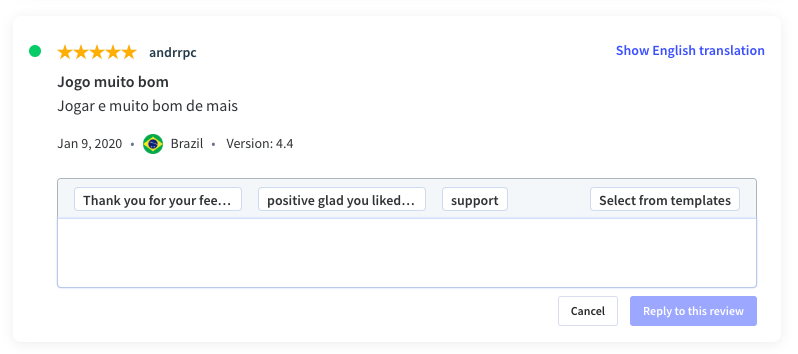 Using Reply Templates to Build a Strong App Brand
Another crucial feature is Templates. Responding and making sure that you stay in a branded voice can become confusing, especially when you're working in a team setting.
To ensure that your replies are consistent and efficient, we've created Templates. Here you'll find pre-made responses that touch on several common Google Play review topics. If these don't satisfy your needs, then go ahead and create your own templates. You can even save past replies as templates to use them again.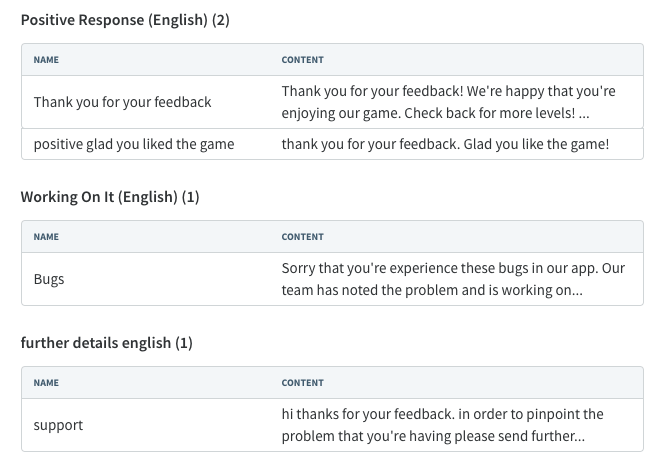 Editing Replies You Already Submitted to Google Play
There are times when circumstances call for an edit to the reply you already submitted to Google Play. We all make mistakes. So to help you with any hiccups that may occur, you can easily edit published answers to user reviews in App Radar. All you have to do is click on "edit reply" and submit a new response.

Dive Deeper:
Get Your Android App Featured in Google Play: The How To Guide
How to Reply to Google Play Reviews
App Title: Writing Android App Titles that Drive Downloads
How Will Users Know That I Responded to Their Google Play Review?
It can take up to 24 hours for your reply to show on Google Play. Once your response is posted publicly to Google Play, Google will send an email and a push notification to the user. The notification will let them know that they've received a developer response and the following information:
Name of your app
Date of the user's review
User's rating & review of your app
Your reply
Link to contact you by email (using the contact email address listed on your app's store listing page)
And as we talked about earlier, unsatisfied users who get a response to their review will change their negative review to a positive one.
Make sure to let users who wanted a particular feature know that you've now fulfilled their request! They'll appreciate that you take their feedback seriously and that they have a say in the apps they use.
The same goes for users who experienced a bug. Respond to their review and tell them that you've released a new update that fixes the problem. Don't forget to mention that you are thankful they caught the bug and are helping you make your app better.
Manage, Analyze, and Reply to Google Play Reviews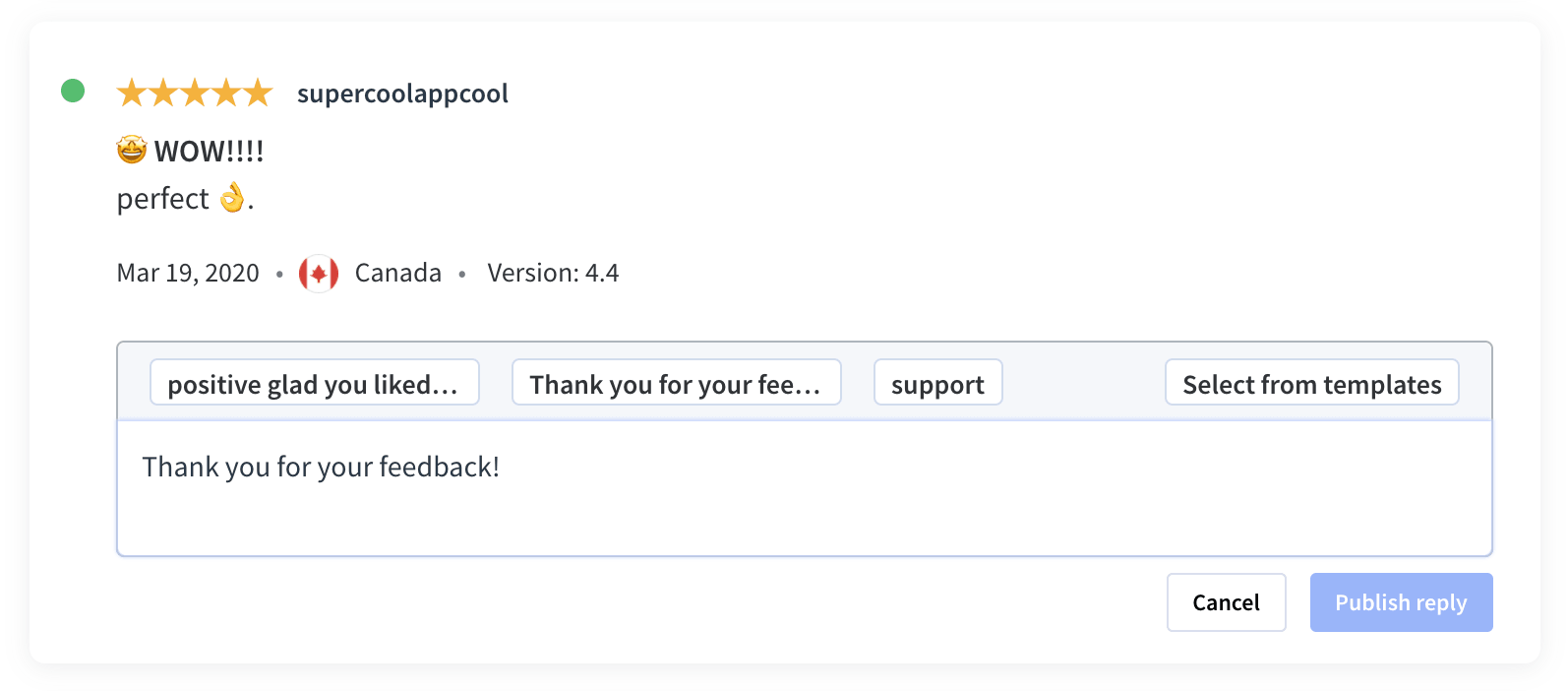 Easily reply to Google Play reviews.
Respond even faster with reply templates.
Track how your star ratings changes over time
Create a Free Account