Also known as: App Name, App Title, Product Name
Every element of an App Store Product Page has the power to drive downloads. The App Title, however, is an even more important ASO factor. After the App Icon, the App Name is the first impression that a user gets of your app. At the same time, keywords placed in the app name are also considered very important by search algorithms in major app stores.

ASO Mechanics in a Nutshell
Breaking down the different components that can affect your App Store Optimization we like to differentiate between directly influence-able and immutable factors. While as directly influence-able factors, like keywords placed in the title, are components that you can continually optimize by yourself, there are also factors, which you cannot control directly – you need to impressing your customers to affect these factors.
Total Number of Installs
Ratings and Reviews
Velocity of Installs
When it comes to keyword-based App Store Optimization, there are, however, factors, which you can and should optimize regularly:
App Name
Subtitle (for App Store only)
Keyword Field (for App Store only)
Description
Short Description (for Google Play only)
Hence, in this article, we give you an overview about what to consider for the perfect App Name when it comes to App Store Optimization.
SEE ALSO:App Store Optimization » What ASO Is About

How the App Name Effects Search Ranking ASO
An app's name plays a critical role in how users find the app. Moreover, it is the most important piece of metadata used by major app stores' ranking algorithms.
Tip: The search ranking algorithm of app stores handles the app title as relevant metadata. Make sure it holds relevant keywords.
Along with the app icon, the app name is the most prominent app store element affecting a user's first impression. So your app name should be easy to read and also focused on your app's brand and niche. Also, it should have a high recognition value, leading users to remember your app. If your app is offered in various countries, make sure to localize, meaning translate it into the country's native language, the app name as well.
The App Name's Meaning for Apple App Store ASO
When thinking about the app name of your app, be the most specific as you can, and choose the words carefully.
Tip: iOS used to allow 50 characters for the app title, but since fall 2017, with the release of iOS 11, a 30-characters limitation was introduced.
Regarding ASO for the Apple App Store, it is necessary to place high-priority keywords in your app name along with the brand name. Keywords placed in the App Name field have the most influence on App Store Rank.
Tip: Apple will scan your App Name searching for keywords.
An important observation about this is that Apple gives you an actual keyword field that is hidden from App Store visitors. It is used only to rank your app in the App Store and to help Apple correctly categorize your app. The keyword field has a 100 character count allowance. Relevant keywords should be placed here that are lower-priority than those in the App Name.
It might sound confusing: should you repeat the keywords placed in the title? No! Unlike for Google Play, you do not need to and absolutely should not repeat any keywords for your iOS app. Duplicate keywords across any metadata field for the Apple App Store are not indexed with any extra priority. So only make use of a keyword once in the entire metadata of your iOS app. Duplicates waste character count space that can be used to integrate further keywords.
iOS App Name Example (Apple App Store)
Fitness Guide has an app with 7-minute workouts. However, the brand name would take a lot of space in the app title. Also, the brand name is shown right under the name. The solution was perfect. They focus on the most important features of the app to describe it since the name of the brand is under it. Bear in mind that "fitness" is a strong word for this type of app, so, it will be probably in the keyword field.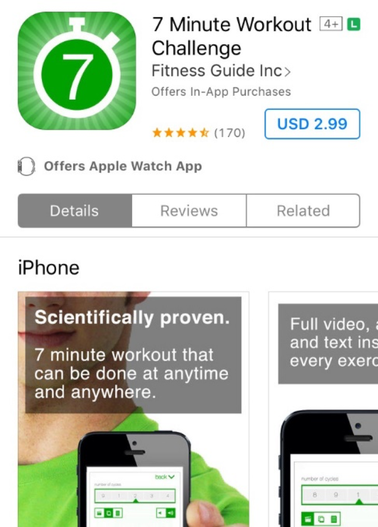 In June 2017, Apple announced new metadata fields coming with the new App Store layout. One of them is the iOS-specific subtitle, which gives app developers a place for 30 characters of text and serves as an extension for the app name.
Note: We have prepared a separate ASO Guide post about the iOS Subtitle. So, navigate there to get more ASO-relevant information about the app title's little sister – the subtitle.
The App Name's meaning for Google Play Store ASO
Regarding Google Play Store ASO, it is a must to pay attention to this field. Google Play does not have a keyword field, so, Google scans your whole app store listing to find keywords. The words you write on top are considered the most relevant to Google. Your app name is the first written thing about your app that shows on the screen. Then it is where you need to place your most relevant keywords.
Tip: While iOS shortens the app title field, Google Play makes it longer. Until recently 30 characters were allowed, but nowadays 50 characters are available.
Think about these 50 characters and see how you can put your most important keywords there. Do not forget that you should use these keywords frequently throughout your description, to make them even more relevant to Google. These keywords should fit naturally into the description; do not throw them in the middle of the text. So, think carefully about which keywords you are using in your app name, and how you are going to place them in your app description in a nice way.

SEE ALSO:What You Have to Know About App Title & Description in Google Play Store

Even though keywords are relevant in the app name, do not write a bunch of keywords in it, Google still scans keywords from the rest of your app. Hence, you do not need to write every keyword within the 50 characters. Focus on the most important ones for the title, and keep the other ones for the rest of your app page. When doing regular App Store Optimization updates of your app page, you can experiment in switching the positions of certain keywords.
Google Play App Title Example (Android)
Do not use synonyms in your app name. In the case of Sleep Cycle Alarm Clock, it focuses on the most relevant keywords regarding the features. "Waking up" is an appropriate expression for the app, and it is a synonym for "alarm clock." So, instead of using both in the title, it places "waking up" as the first thing in the description. It will still be scanned as a keyword, just as "alarm clock."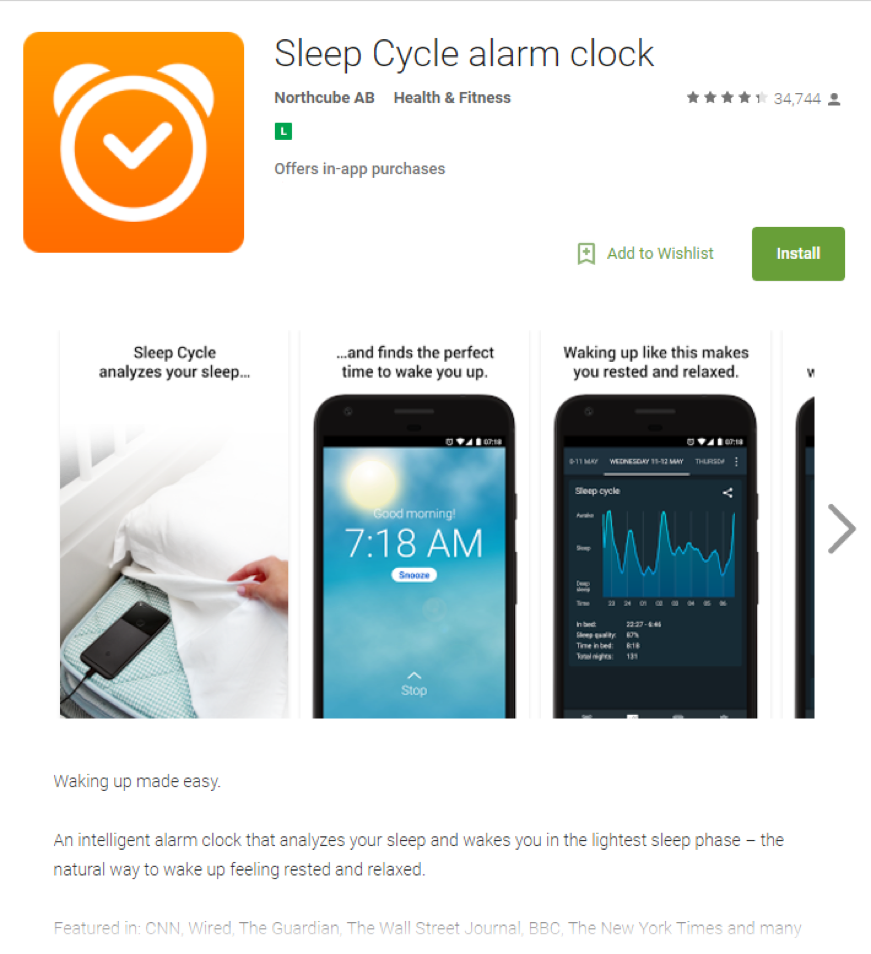 See also
Grow Your Apps with Less Effort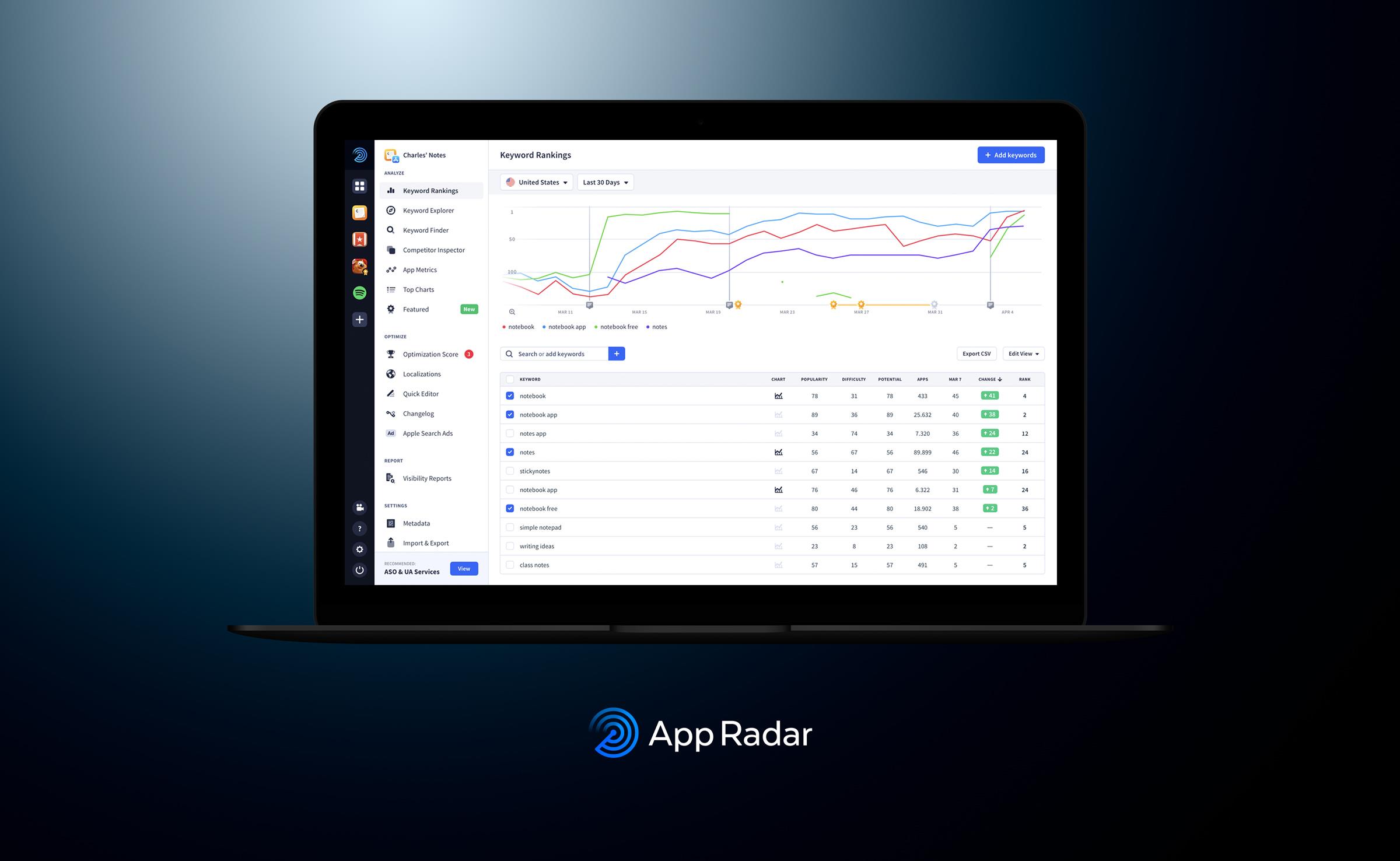 Find new keywords. Optimize all localizations. Spy on competitors. Track ASO changes.
Create a Free Account