New Play Console Features Announced at Google i/O 2019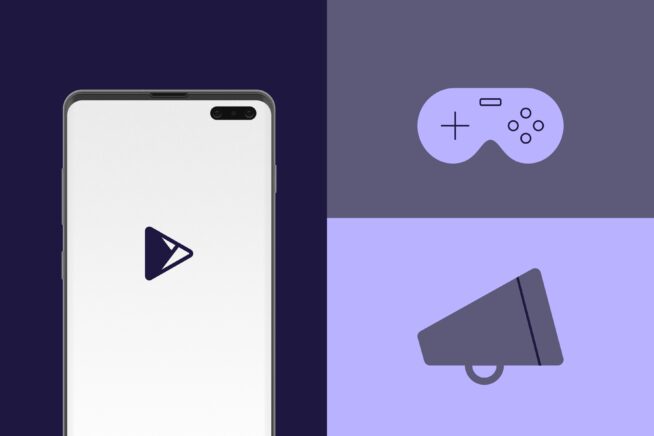 Google i/O 2019 Changes for App Developers
While all the Kardashian fans out there are gawking over Kendall and Kylie's super camp Met Gala get up, we over here at App Radar are concerning ourselves with something a little more important, electrifying, even mesmerizing you may say. Every year a big tech player, whose name largely resembles the largest number known to mankind, puts on a dazzling show in Mountain View, California to reveal the latest and greatest in tech. This year Google i/O 2019 brings a ton of updates in the Google Play Store and Play Console that impact the Android app industry.

I'm going over all the new Google Play Console features you need to be aware of as an Android app developer and marketer.
Android App Bundles
Last year Google released its new Android publishing format, Android App Bundles. Apps who adopted the bundles saw an average 20% in size saving an 11% install uplift due to smaller app size and faster loading. Now dynamic features is out of beta and available to all developers. The features decrease app size and increase speed by offering features to users only when they need them.

Dynamic Features offer these new delivery systems:
On-demand delivery — install features when they're needed or in the background, instead of delivering them at install time, and reduce the size of your app.
Conditional delivery — control which parts of your app to deliver at the time of install based on the user's country, device features, or minimum SDK version.
Instant experiences — now fully supported, so you only need to upload one artifact for your installed app and Google Play Instant experiences.
In-App Updates
Google implemented a more efficient way for Android users to update their apps. Now users are able to push app updates without ever leaving the app.
There are 2 ways to implement this:
The first is the immediate update version, where the update CTA is basic in Google's branding.
The second is flexible update, in which you as a developer can customize the CTA page to match your app's branding elements.
The update gets pushed through and the user never gets pushed out of the app.
Custom Peer Groups
The Play Console had Category Benchmarks before to help you compare your app to others in your category. However, Google received feedback that this data was too broad and as a result unhelpful. So Google moved to bridge the gap between providing data only available through Google and protecting the privacy of its business partners.
The resolution? Peer Benchmarks. A feature that enables you to compare your app to similar apps.
A though-provoking choice to use the word peer rather than competitor. Guess Google is also on board with this whole collaboration not competition wave too.
So what are you able to do with this feature? Well, you can select up to 12 apps for a Peer Group. From there you'll be able to see:
the median metric values for that set
the difference between you and your peers for those values
public metric values, such as app rating.
It's of course not a free for all spy on your competitors program. In order to utilize Peer Benchmarks you'll have to agree that other apps can add your app to their set. Yes, that means you are also able to opt-out of sharing your data. And larger app developers don't fret. Google is all about brand protection nowadays. Every developer will only be able to add 1 app from each app developer into their Peer Group.
On that note, Google has also implemented some further security measures. Peer Groups can only be changed 3 times in a single month and you can't include any of your own apps in the set.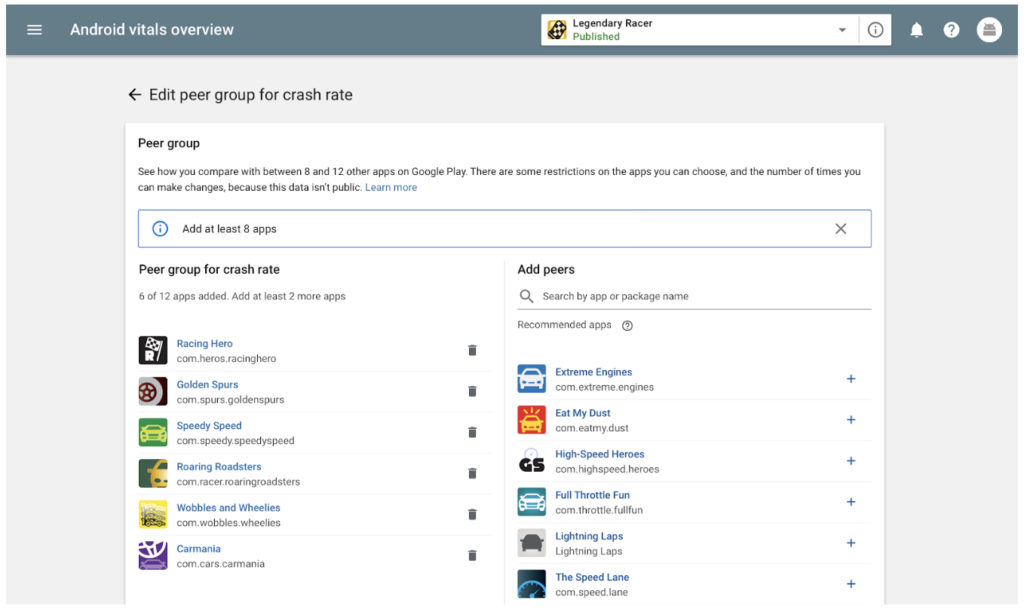 This is a huge development and will be key in evaluating the status and health of your app within Google Play. Having a median value for your app and its peers or competitors gives you a solid benchmark for how much your app can improve. But I know this may not be enough. How can you outrank your competitors in the Play Store?

To see what keywords your competitors are using and which keywords their ranking for, check out our App Radar Free ASO Tool. With the ASO tool you'll be able to spy on competitors and stay in the loop for any Play Store ranking changes. As a result, you can react quickly to Play Store ranking changes and secure your top spot in the search results.
Moreover, in a couple months Google will be rolling out Curated Peersets pre-filled with 100 apps similar to yours. Here you'll also be able to compare metrics such as conversion and install rates.

Google Play Ratings
Google Play has long shown an average lifetime rating, a long aggravated over element of the store. Lifetime ratings don't accurately reflect the current state of an app as we all know things change with every update. On the i/O 2019 stage Google finally recognized this frustration and introduced a new Google Play rating that will give more weight to ratings for recent app versions.
Apps that continue to improve with every update will see a positive benefit in this change. On the other hand, neglected apps will have their decline more clearly seen. You won't be able to ride on past successes any longer.
The new rating is available to you as a developer today. However, Google Play Store visitors will only start seeing them later this year in August.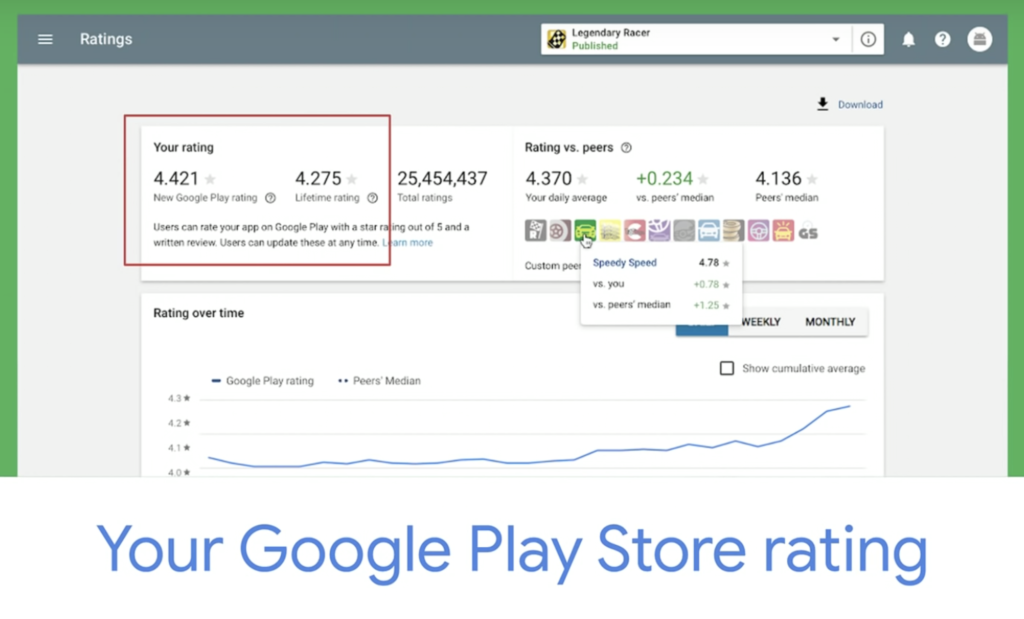 Responding to Google Play Reviews
In addition to the rating change comes also a change developer to user communication. It's a small and slightly anti-climatic update but nevertheless one that impacts developer to user conversations.

Suggested replies are coming to the Play Console. You'll be able to reply to user reviews instantly with one click. Gmail and messaging regulars are already familiar with this model. Google suggests 3 possible responses depending on the context of the user review and the developer's natural communication syntax.
A developer can then:
instantly send a pre-made response with one click
alter the pre-made response for further personalization
keep it old school and write a response from scratch
But, why does this even matter?
Responding to reviews plays a huge role in ASO and app success. Customer satisfaction permeates the app industry as much as any other. Keeping your users happy and letting them know you're working to improve your product for them will keep them coming back. Further, developers who respond to their user reviews earn an average +0.7 stars in rating and we all know that ratings do matter for install conversions. Suggested replies quickens this entire process. Consequently, you can respond to more users in a shorter amount of time while earning their loyalty. It's a win for everyone.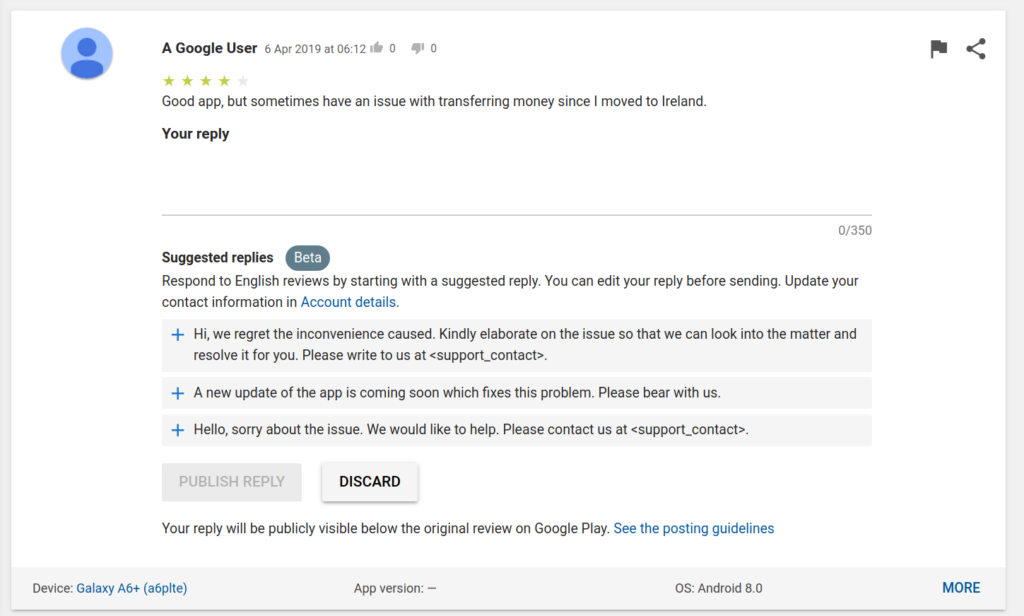 At the moment suggested replies are only available in English but further languages are rolling out soon.

Custom Google Play Store Listings
Google announced Custom Store Listings back in March at GDC 2019. Custom Store Listings allow developers to design up to 5 custom visual app listing sets to target specific audiences, such as countries.
The first announcement regarding Custom Store Listings is experiments. You're now able to carry out testing experiments using Custom Store Listings. What are the implications? Testing different visual sets across different target audiences gives you the data you need to further optimize your Play store listing. Discovering which visuals work best and with whom will introduce an uplift in installs and click throughs.
Additionally, Custom Store Listings will soon become available for install state. You'll have the ability to target Play Store visitors that:
haven't installed your app
uninstalled your app
already installed your app
If you're interested in testing out the the install state Custom Store Listing feature, sign up here.
Pre-registration
Celebrate! Pre-registration is now available for all developers. Use it to create hype around your app or game and gather a following before your app is officially released.
In order to further cultivate the Play Store, Google is bringing pre-registration rewards to the table. Great news for Android app lovers. The feature enable users who sign up for pre-registration to receive an in-app reward once they install the app after launch. During this feature's testing period, Google saw great long term retention as well as conversion from pre-reg to install.
Last for pre-registration, Custom Store Listings are available now for pre-registration as well. Here's your chance to target the right Play Store visitors and convert them into long time app users.
Games Discovery
Google research shows that for game discovery the most influential factor is app icon. This means mobile game players care about rich content and visuals. Google further noticed that the more a user dives into the Play Store levels, from search to listing page to in-app, the richer the content they see becomes.
To bring rich content directly to the Play Store instead of hiding it within apps after install, Google has introduced app screenshots, promo videos, feature graphics and Google Play Instant.
The requirements to access these features are:
3 - 16x9 app screenshots
A promo vid published on Youtube as public and with monetization disabled
Google Play Instant
Google Play Instant has already been adopted by hundreds of mobile games including big name publishers.
For anyone who has a paid game in Google Play, Google Play Instant is practically a must have. It gives store visitors a try before you buy sneak peek, which is instrumental in converting store browsers to game players. People don't like spending money on products where the value is a mystery. By offering quick playtime of your game before the purchasing decision is made, you unravel that mystery. Users are then more willing to spend a buck or two if they enjoyed the game play.
More App Metrics
The Play Console gives you more metrics now to get you on the right track towards app successes. Updated and new metrics include:
acquisition and churn
returning users
install method, such as pre-installs and peer-to-peer sharing
metric benchmarking
aggregate and dedupe from hours to quarters
app size (download size, size on device at install time)
changes compared to peers over time
tailored optimization recommendations
Success for You means Success for Google
Keep in mind that Google wants you as an app developer to succeed. Because the more business you bring in the more business Google actually gets. A big tip to getting your app to the top of the Play Store and in those featured pages. Implement these Google i/O 2019 changes as quickly as you can. They like to see app companies and developers adopt their changes and put them to use. You work in the Play Store algorithm's favor when you're operating with the latest and greatest Google updates. In short, use Google products so their users will use yours.
Looking For More?
App Radar's app growth expert team guarantees results
Contact Us Today