If you're an app developer looking to make your fintech app work for you, then you need to stay up-to-date in your highly competitive industry. With so many fintech apps available on the market, it can be hard to follow the trends. But don't worry - we've done the hard work for you.
As a part of our look at Best Money Savings Apps and Best Fintech Apps, we dug deeper into analysis of the best investment apps and the amount of their Android downloads. Curious to know which investment apps people trust the most and what data might predict? Then let's start from the beginning!
App marketing struggles of investment apps
There is no doubt that the investment apps industry is a competitive one. With so many different players in the market, each vying for a piece of the pie. But this is not the only challenge that investment apps are facing. Here are some of the biggest app marketing struggles that investment apps face:
Convincing people to invest money
Educating people about investing
Standing out investment app
Getting people to download the app
Keeping people engaged with the app
Generating positive reviews and ratings
As you can see, the challenges already starting on the top of the user acquisition funnel. Moreover, user's behaviour might be highly impacted by worldwide finance situation.
Investment apps & global crisis
2022 has been a year of global challenges for most of industries, and the fintech sector has been greatly affected as well. Our latest analysis of fintech app trends has shown a mixed picture for investment apps. From January to August 2022, the top ten apps saw an average user growth of 14.83%. At the same time, this growth was down 36% from the same period the year before.
It is not surprising that the growth of investment apps has slowed down in times of economic insecurity. The cost of living crisis is clearly weakening consumer sentiment. We've seen this pattern across other fintech sectors - most obviously in cryptocurrency trading apps. If people are worried about the economy they are more likely to save their money.
Therefore, our analysis shows that pension-related apps and those focused on money management have both continued to grow even during these difficult times. PensionBee, for example, has managed to increase its user base by 41%. At the same time, money management app Plum had a user growth of 24%. These numbers prove that it is still possible to find success in the fintech sector even during an economic downturn.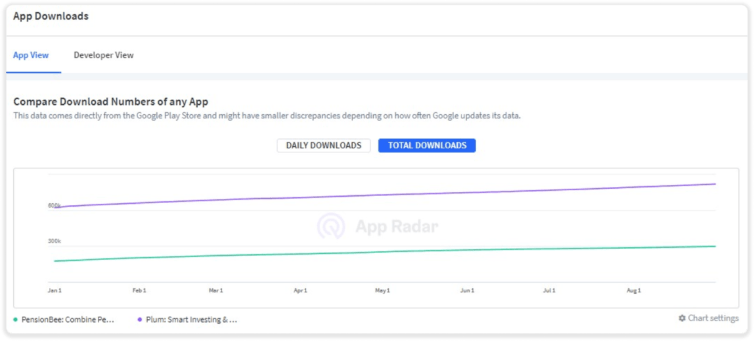 Nevertheless, in 2022 nearly 885,000 new Android users have downloaded investment apps in the UK, bringing the total number of app investor community on Android to 5.96 million. If we assume that there are a similar number of iOS users, then this means that there are now around 12 million app investors in the UK - nearly a quarter of the adult population. This tells us a few things: the investment app market is large and still growing, and there is still a significant portion of the population that has not yet downloaded any type of investment app.
How do you acquire new user for investment apps
Investment apps might therefore find themselves wondering how to increase user acquisition while the interest of the target audience has reduced. How to reach people who still don't use an investment app and are hesitant to do so?
Based on our analysis, the PensionBee data may hold the clue. There is a large proportion of the UK population that has put money aside for their pensions or other long-term savings. These people are particularly exposed to inflation. According to the forecast of the Bank of England, it could hit 18% next year. In other words, it makes sense for people to put this cash somewhere where the value may be protected.
Keep in mind that this target group of people is unlikely to be the same as the young, tech-savvy or early investor app adopters. In order to reach them, investment app companies need smart marketing approaches which take into account some of the following factors:
The best investment apps of 2022
If you already implemented the above-mentioned app marketing approaches, it is time for you to check how your competitor's user acquisition strategies resulted.
Regular market and competitor research is a crucial part of a successful marketing strategy. App Radar offers the possibility to check out Google Play Store downloads for any category and time period. Below is an overview of the apps that were analyzed for this specific article.
Google Play Store Download Estimates
APP
Lifetime downloads (until 31 Aug 2022)
YTD Aug 2022 downloads
Jan-Aug 2021
% added during Jan-Aug 2022
Freetrade: Invest, Trade, ISA
658k
87k
237k
13.33%
Hargreaves Lansdown (HL)
849k
65k
127k
7.68%
IBKR Mobile
1.6m
230k
409k
13.68%
interactive investor (ii)
74k
9k
17k
13.37%
Moneybox - Save and Invest
1.0m
94k
160k
9.04%
Nutmeg
112k
22k
22k
19.68%
PensionBee: Combine Pensions
296k
122k
55k
41.32%
Plum - Save Money and Invest
820k
200k
224k
24.42%
Wealthify Saving & Investments
237k
31k
29k
13.35%
Wombat: Investing Made Simple
191k
20k
99k
10.91%
Totals:
5.96m
884k
1.38m
14.83%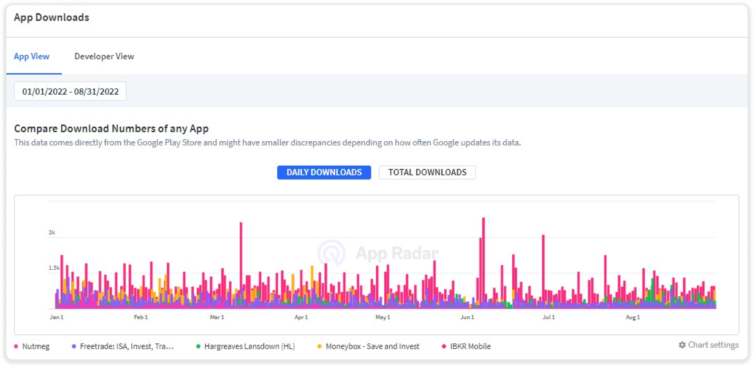 Summary of the best investment apps 2022
The current economic situation is difficult to navigate for many businesses, with a strong impact on various consumer demographics and regions. Looking into market trends regularly is an important aspect for your marketing strategy to stay alert and maintain growth. Based on our investment apps analysis, the trends in the sector can be seen as a warning sign also for other app categories.
Stay alert with market trends
Check out the download numbers of different apps with App Radar Market Intelligence.
Create Free Account