It can be tough to keep up with the competition in the money-related app category, especially when it comes to money management apps in times of global economic uncertainty.
Therefore, we did a deep dive into the data analysis and discovered interesting trends that might help you to stay ahead of the competition. So this time, we looked at the top 10 UK money management apps from January to August 2022. Let's see what we can learn from this data analysis.
Apps with money management functionality continue to grow
Our latest analysis of fintech app trends in the UK has revealed that apps with money management functionality are continuing to grow in popularity. In the period from January 1st to August 31st, 2022, these apps gained 9 million Android users. In other words, it is an average growth of 22%.
Google Play store downloads
App
Estimated lifetime downloads (31 August 2022)
Estimated downloads 1 January - 31 August 2022
Revolut
23m
5.86m
Monzo
5m
968k
Monese
3.78m
364k
Starling
2.58m
395k
Curve
2.30m
481k
Moneybox
1.04m
94k
Plum
820k
200k
MoneySupermarket
666k
125k
Uswitch
617k
18k
Chase UK
531k
496k
Top 10 UK money management apps. Source: App Radar
Moreover, we can see that it represents a 40% increase compared to the same period in 2021. In total, the top 10 money management apps we have analysed have been downloaded by 40 million people on Android by the end of August 2022.
As you can see from the table below, the most rapidly expanding apps with money management functionality in terms of Google Play Store downloads for the year to August 2022 were: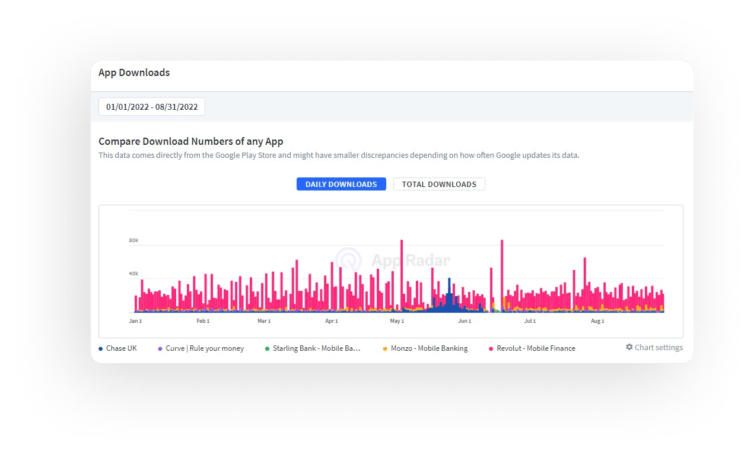 Investment apps are falling behind in growth rate
At the same time, if we take a look at the investment apps, we can see a mixed picture. From January to August 2022, the top 10 UK investment apps saw an average Android user growth of 15%. However, this growth was down 36% from the same period the year before.
Google Play store downloads
App
Estimated lifetime downloads (31 August 2022)
Estimated downloads 1 January - 31 August 2022
Freetrade: Invest, Trade, ISA
659k
88k
Hargreaves Lansdown (HL)
850k
65k
IBKR Mobile
1.68m
230k
interactive investor (ii)
74k
10k
Moneybox
1.04m
94k
Nutmeg
112k
22k
PensionBee: Combine Pensions
297k
123k
Plum - Save Money and Invest
820k
200k
Wealthify Saving & Investments
237k
32k
Wombat: Investing Made Simple
191k
20k
Top 10 UK investment apps. Source: App Radar
User behaviour of money-related apps
Based on the analysed downloads trends, we can clearly see that people are looking for ways to save money in the short term, rather than invest for the long term. The reason could be a global economic crisis and attempting to weather the cost of living crisis. Nevertheless, in 2022 nearly 885,000 new Android users have downloaded UK investment apps. This brings the total number of apps analysed on Android to 5.96 million.
We can also highlight the fact that apps related to pensions and money management have both continued to prosper during these difficult times. For example, PensionBee has managed to increase its user base by 41%. At the same time, money management app Plum had a user growth of 24% and the banking app Revolut saw a 25% expansion in users.
As our latest analysis of Best investment apps shows, when economic insecurity is high, it's not surprising that investment app growth slows down. The cost of living crisis weakens consumer sentiment, and we see this pattern across other fintech sectors - most notably in cryptocurrency trading apps. If people are worried about the economy, they're more likely to save their money, which negatively impacts the growth of money management apps.
However, as an app marketer or developer working in the finance app category, this could be seen as an opportunity. If you look at The PensionBee data, you can see that a large proportion of the UK population has money put aside for their pensions or other long-term savings. In other words, these people are especially vulnerable to inflation. The Bank of England forecasts that inflation could hit 18% next year, it makes sense to put this cash somewhere where the value may be protected. Consider this information while creating your advertising strategy.
Moreover, consider the fact that this target audience is more likely to be older and less tech-savvy than early investors in investment app companies. Therefore, in order to acquire these users you need to take new, smart app marketing approaches.
At the same time, as the cost of living crisis continues, the money management sector will become even more competitive. With more choices available than ever for consumers, companies will have to fight for new users with innovative functionality and smart marketing techniques. Only the companies that are able to attract and retain users with these strategies will survive.
Summary of the best money management apps 2022
It's difficult to say how the recession and cost of living crisis will affect different demographics, countries and sectors. However, app marketers and developers will have to be mindful of changing consumer attitudes over the next year in order to adapt accordingly. While this presents a challenge, it could also present new opportunities. Consider all the above-mentioned consumer behaviour and keep adjusting your app marketing strategy.
Stay alert with market trends
Check out the download numbers of different apps with App Radar Market Intelligence.
Create Free Account