Money saving apps see 46% year-on-year increase as more and more Europeans use apps to find better ways to manage the cost of living crisis.
As part of our look at Europe's best fintech apps and fintech app download trends, we dug deeper into interpreting what the data behind the boom of money management apps actually means. This time, we looked at the 2021/2022 Android download numbers of 16 apps that help users with money management in three areas:
banking apps with money tracking functionality
apps that help with saving and budgeting, and
deal comparison apps.
We were curious - how many downloads have they received as fuel prices are skyrocketing, and supply chain issues mean that many people are looking at ways they can tighten their belts? Could the data tell us how people were adapting to these new economic conditions?
46% Year-on-Year Success for Money Management Apps
Specifically, we looked at apps that cover money management. The data showed a clear signal: downloads have soared 46% year-on-year. This means that an estimated 10% of Europeans now use an app with a money management feature. That's around 78 million people.
Growth in Q2 was a staggering 2.8 million for Android alone - bringing the total new Google Play downloads for 2022 to 6 million.
The numbers may be even higher, as this specific analysis only took into account the top 16 apps in Europe. We broke these down into banking apps with money tracking functionality, apps that help with saving and budgeting, and deal comparison apps.
You can check out all category winners with App Radar's Download Trends

Find out which Financial app users prefer more!
Try it for 7 days for free
Budgeting and tracking your spending has never been more valuable. While consumers cannot control inflation and rising prices, they can control how they spend money.

- Silvio Peruci, MD at App Radar
Revolut leads in growth among banking apps
The fastest-growing apps in the banking area, in terms of Google Play Store downloads for the year to date, were: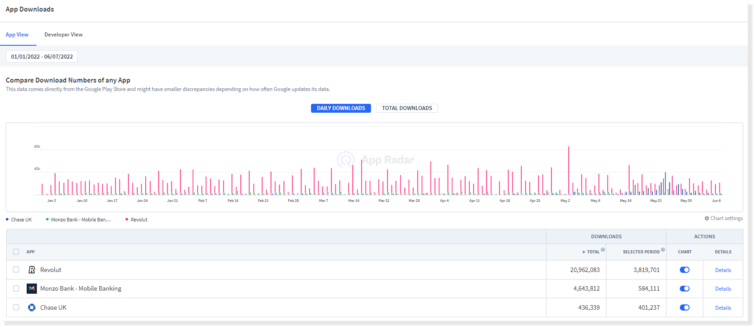 In the savings and budgeting area, Plum (131k), Snoop (122k) and Moneybox (72k) added the most users, while in the deal comparison sector, Money Supermarket (75k), Confused (44k) and Raisin (14k) led the pack.
Revolut, Monzo and Monese were the top three apps in terms of lifetime Google Play downloads (as of 7 June 2022) at 20.9m, 4.6m and 3.6m downloads respectively.
Google Play Store downloads
App
Total lifetime downloads (7 June 2022)
Downloads 1 January to 7 June 2022
Chase UK
436,339
401,791
Chip
279,347
51,480
Confused
350,980
44,789
Curve
2,146,413
330,461
Emma
405,808
52,625
HypeJar
168,117
42,188
Marktguru
573,042
38,225
Monese
3,656,493
242,402
Moneybox (Digital Moneybox Limited)
1,021,375
72,441
Money Supermarket
617,461
75,019
Monkee
63,233
13,221
Monzo
4,647,395
584,111
Plum
751,032
131,164
Raisin
58,710
14,607
Revolut
20,962,083
3,819,701
Snoop
364,948
122,317
Starling
2,446,222
257,864
uSwitch
612,899
13,238
Summary of Best Money Management Apps 2022
Money Management Apps are growing in times of economic uncertainty. 78 million people are looking for ways to better manage their money, causing a 46% YoY growth in the fintech industry based on the 16 apps we looked at.
So what can this data teach us? First, the fintech sector has matured and grown to the point where some macroeconomic and social trends can be measured directly in download data. In fact, we may get to the point where download trends can actually give us a warning of upcoming economic events.
Second, the fintech sector remains robust despite wider warnings of a slowdown in the tech market.
Third, adaptation is key. Although we can't say with 100% certainty why each person downloads an app, the numbers do strongly suggest that money management functionality is a serious incentive. Developing this solution for your existing app is going to add appeal. In fact, keeping a very close eye on download behaviors and trends is essential for any app developer to survive and thrive in an incredibly competitive market.
Innovation in functionality, ease of use are very important for consumers, but what is as important as development for this sector is marketing - and those that manage to prioritize both will emerge as market leaders in 2022.

- Silvio Peruci, MD at App Radar
Wanna stay up-to-date with trends in your app category?
Use App Radar's Market Intelligence to always get the latest date of your competitors!
Try it for 7 days for free