App Promotion Summit Berlin – Key takeaways for app marketers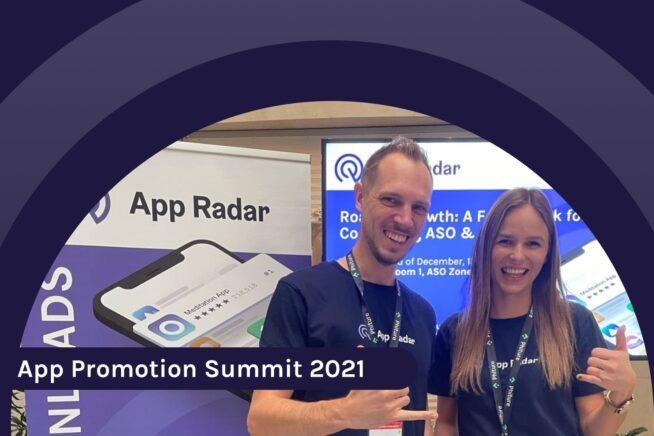 Europe's biggest app growth event - App Promotion Summit - was held on Thursday 2nd December, 2021, in-person in Berlin, and from 7 to 9th of December online. Oh, how much we enjoyed being part of it, meeting people from the app industry again in person after such a long time!
In this article, you will get some of the key takeaways that we gathered from the App Promotion Summit. From tips on how to launch your app globally, successfully combining organic and paid UA campaigns to creative ads design and ASO strategies in 2022. Let's discover the key moments of the mobile growth congress together!
A Framework for combining ASO & Paid UA
Combining app store optimization with paid UA efforts is key to success. One of the sessions at APS in Berlin was held by Thomas Kriebernegg, managing director of App Radar, and Sarah Mertes, CEO of Pupy Dog Training. They discussed how App Radar helped Pupy to build a sustainable Growth Framework.
The framework combines organic and paid user acquisition as well as in-app-store conversion rate optimization. All meant to enable a constant stream of new users while hitting performance targets. Let's go step by step to understand the focus points on each stage of the growth framework.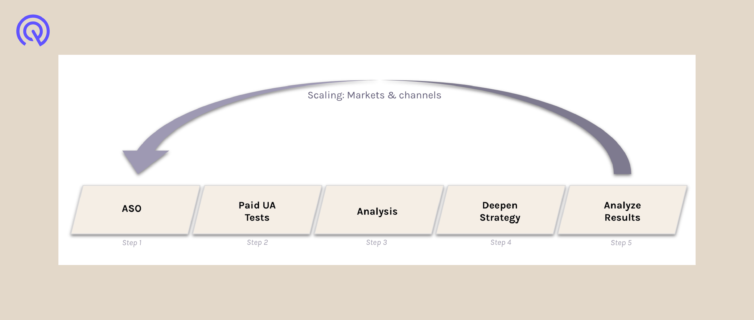 Step 1: Start with App Store Optimization
First of all, app marketers need to ensure that their app store listing is relevant, appealing, and uses every keyword opportunity. A solid app store optimization strategy should be the heart of every app growth framework. There are 4 main points to focus while optimizing your app store presence:
Research and create your app's focus keyword set. Look at keywords that describe your app in the best possible way and have relevant search volume.
Make sure that these keywords are not too competitive on the first stages of your app store optimization strategy.
Identify keywords that you already rank for and push them to the top 10.
Set up a keyword rank monitoring to follow the progress before implementing any changes.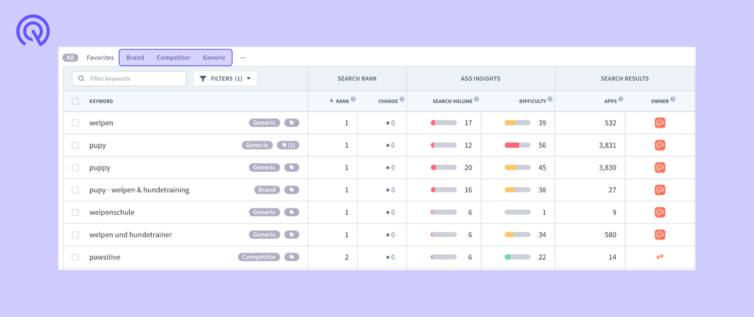 Step 2: Level up with Paid UA
Once you have laid the ground, start boosting your organic user acquisition efforts with paid UA. In this stage, it is all about identifying channels that support growth and bring relevant traffic to the store listing. Here are 3 important things to know about paid UA:
Launch various channels (starting with Apple Search Ads, Google App Campaigns, Facebook) and explore its individual impacts.
Learn which messages work best (emotional or fact-oriented) by using different creatives and messaging.
Start optimizing each channel to become more efficient.

Step 3: Be Data-driven with Comparative Analysis
An important step of each growth framework is to analyse previous steps. Find overlapping strengths and weaknesses from your organic and paid UA campaigns:
Compare your channels, gather statistically significant data and create analysis.
Invest more in one market or go broader and diversify to other markets.
Find reasons why certain markets and messages perform better.
Identify which messages and creatives in paid campaigns work the best.
Keep an eye on cannibalization of brand keywords in Apple Search Ads (eCPI).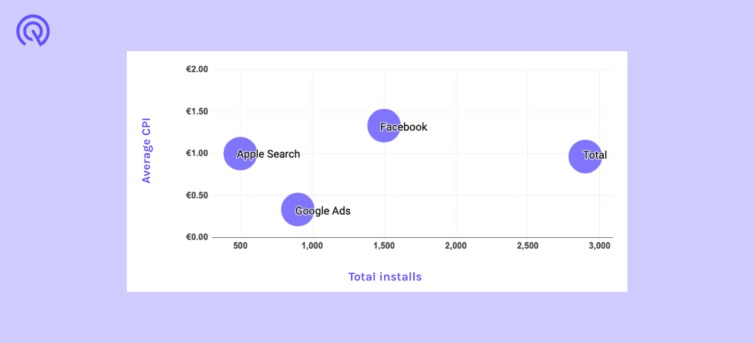 Step 4: Deepen Your App Marketing Strategy
Now, as you know what, how and why works best for your app promotion, it is time to use this knowledge and improve your strategy. Take learnings from ads and integrate them into your ASO strategy:
Optimize for eCPI (Organic + Paid UA) through higher organic share.
Transfer learnings from ads to your app store listings (ASO update).
Adjust messages based on findings from your text ads (what drives clicks and conversions).
Adjust creatives in ads and app store listings (screenshots, preview video, banner).
Push rankings of relevant keywords by changing the keyword density and/or position within your app store listing.
Look out for potential markets and localize your store listing for those languages & markets.
Scale best-performing campaigns and channels to further grow.
Step 5: Harmonize your cross-department teamwork
As was mentioned before, always analyze your previous steps. It will simply save your time and budget on inefficient actions. Evaluate key results of your analysis and build the basis for the next iteration:
Discuss your findings in weekly/monthly growth loop alignments.
Align your growth teams (ASO, UA) with your product teams.
Share findings and discuss potential optimization opportunities.
Analyze and adjust your strategy based on combined data from organic and paid UA.
Do more of what is working well for your app.
Analyze why things aren't working out and try to find ways to make them work or skip it.
Create a standardized reporting structure.
Align everybody in the team on which KPIs you are focusing and what the goals are.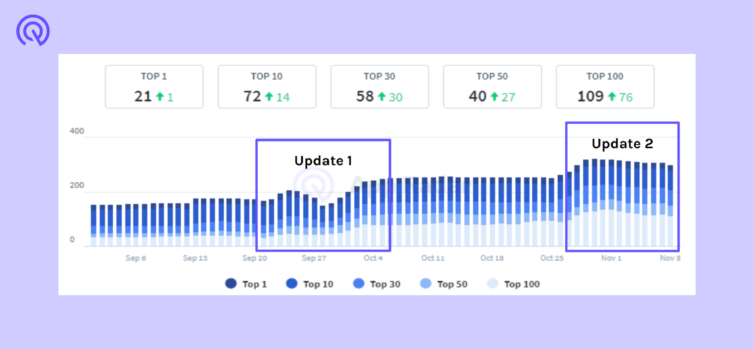 Final step: Repeat the previous steps again & scale
At the final step, take all the learnings that you gathered throughout the process and start all over again. Here also comes the scaling part of your app growth strategy into place. See which channels and markets bring the most value for your app and start scaling them. Yes, you've got it right! The growth strategy doesn't have an end, you need to scale up your previous success and set new ambitious goals.
How to go Global with your App
Even if you have a successful and well-performed strategy at the local level, you will reach the point where you want to go global. Therefore, app developers and app marketers need to develop an optimized expansion strategy to succeed in new markets.
Edouard Daunizeau, Growth Director at Yodel Mobile, shared key strategies about how to get your app on a global scene. He was diving into how to launch an app globally and localize your ASO + UA together with your creatives.
Identify Market Opportunities
First of all, Edouard suggests to evaluate if it is worth going global with your app. We have to admit that at first sight, it seems tempting. But you need to bear in mind the current market saturation and the relevancy of your app for the new market. Before developing the strategy to enter new markets, answer the following questions:
Do you have evidence of interest for your apps in the territory?
Is there space in the marketplace for your app?
Are your app's features relevant for this country?
Once you have checked all of the above, go ahead and look at the market opportunities. Here are 5 essential steps to start an app market scaling strategy:
Start with proper competitor research.
Identify market leaders, emerging players, and competitive threats.
Check how your star ratings and rating counts are compared to competitors.
Identify the leaders in terms of downloads, keyword rankings, etc.
Make sure to check that you have enough resources.
Don't underestimate the time and effort you will need for translations and optimizations of texts and creatives in different locals. App Radar is here to help you with your competitor research. Analyze downloads, top-ranked keywords, category charts, featurings, and much more for your app as well as your competitors. Start a free trial today!
Prioritize & Forecast your Global App Success
Prioritization is key to success when you want to succeed in going global with your app. Focus on the countries you want to enter by looking at:
Market size for Android/iOS.
Market opportunities based on population size.
Downloads needed to reach top 10 rankings.
Spending power based on GDP analysis and competitor revenue.
Optimization level of competitors.
Once you have prioritized your territory rollout, try to forecast your UA efforts. Look at which countries you would like to focus on and in what order. As a next step, define a timeline based on budgets and expected volume.
Learn more about How to Localize Your App and Reach a Global Audience.
Plan your Campaigns
Now, as you know where you are heading, Edouard recommends that you start planning your campaigns. Define which countries you are going to target and on which platforms. Then continue by setting up the campaigns. If your brand is still unknown in a country, you might focus first on brand awareness. Later on, you might also want to focus on retention and reengagement.
Last but not least, decide which channels will be the best to start with and define how you measure success. Early on, you might focus more on top of the funnel metrics, like CTR + install rate. However, going further, KPIs like the amount of subscriptions might be more relevant for the analysis.
Localize ASO & UA
Eduard highlighted once more the importance of localization. But remember that localization goes way beyond translation. It's as simple as that: people from different countries and cultures have different preferences when it comes to tone of voice or imagery.
Eduard has also shared a really good example of localization for an online dating app. The app was very well known in the US and wanted to continue its success in India. However, at that time the topic of online dating was simply unfamiliar to Indian culture. In other words, there was an education gap around the topic that needed to be fulfilled first. Such findings are essential to consider when building your UA strategy.
The Impact of Creativity on Paid Social
Another insightful talk at APS in Berlin was held by Natalie Rozenblat, Senior Performance Marketing Consultant, and Bella Zulli, Senior Graphic Designer, from Phiture. They discussed the impact of creativity on paid social channels in the app industry.
Find creative hits by testing unique concepts first, then extend wins with iterations.

- Natalie Rozenblat, Senior Senior Performance Marketing Consultant at Phiture
Horizontal & Vertical Testing
When it comes to creativity on paid social, Natalie stressed to start with horizontal testing. That means testing unique concepts first such as a new storyboard, a new visual design, or a new theme. After 1-2 weeks you will need to analyze the performance of your drastic redesigns.
Once a creative winner has been identified, continue with vertical testing. At this stage, it is important to look at smaller iterations. That could be format/size, colors, caption copy, intro/outro, in-app footage, and so on. An example of horizontal testing could be city, mountains, and beach themes. Continue testing smaller iterations with the winning version, such as different ad layouts.
It is important to remember that paid content competes with the best organic content for engagement. Moreover, creative hits have higher engagement and more conversions. Therefore, test your creatives as much as you can in order to find the best fit for your audience.
Tips & Tricks for Ad Creatives Strategy
Natalie and Bella have also shared essential approaches to succeed in ad creatives strategies:
Involve the whole team in research and brainstorming to get different perspectives.
Get further inspiration from previous tests & competitor research.
Start with drastic redesigns and do smaller iterations with the winning versions.
Design based on the PET Model (Persuasion, Emotion & Trust).
Leverage influencer/user-generated content.
Define a testing roadmap with ideally weekly testing frequency.
Track your hypothesis and results.
Repurpose ads from Android for iOS with slower frequency due to network limitations and privacy thresholds.
Tips for App Marketing in 2022
As a sum-up of the App Promotion Summit in Berlin, I'd like to highlight the top discussed trends in the app marketing industry in 2022.
Yodel Mobile's ASO Lead, Igor Blinov, shared the latest ASO Strategies and tips to drive impact for your apps in 2022. He highlighted the new iOS 15 features: custom product pages, product page optimization, and in-app events. His recommendation that I couldn't agree more on: make sure to use and test all available features to find and apply your competitive edge.
Check out our first learnings about iOS 15 new features and its impact on app marketing.
We all have been waiting for this for so long! Native A/B Testing has finally made its way into the Apple App Store. David Bell, CEO of Gummicube, in his session focused on A/B testing options now and in 2022. He emphasized the new A/B testing capabilities that come along with the iOS 15 features. On the one hand, product page optimization, that brings native A/B testing to the Apple App Store and helps to boost organic conversion rates. On the other hand, custom product pages that enable customized messaging and target more specific audiences.
He strongly emphasized the importance of A/B testing for successful ASO and efficient paid UA campaigns. Also, David highlighted to make sure to understand the different traffic sources of each testing platform.
Understanding the nature of each A/B testing platform, and having a well thought out strategy, will be the difference between a successful or detrimental full deployment.

- David Bell, CEO of Gummicube
For successful campaign management it is recommended to keep in mind:
The differences between the traffic sources of each testing platform.
The limitations of each testing environment.
Iterative testing.
Understanding organic & paid UA strengths.
In conclusion, the App Radar team would like to thank all APS organizers and participants for the insightful event and impact on the further development of the app marketing industry!