Responding to app reviews isn't exactly the highlight of an app marketer's day, especially if you've got a bunch of different apps in various languages.
So why not streamline the process and let technology do some of the heavy lifting for you? We are thrilled to announce the launch of a game-changing feature for all app marketers and app community managers - AI Review Replies!
With this cutting-edge addition to App Radar's Review Management Tool, managing and responding to user reviews has never been easier. Say goodbye to time-consuming manual replies and language barriers, and say hello to efficient, personalized responses that will elevate your app's reputation and ranking in app stores.
What is AI Review Replies?
AI Review Replies is a powerful feature that empowers app marketers to effortlessly manage and respond to all user reviews their app receives. By integrating the latest OpenAI multimodal language model, GPT-4, into App Radar's platform, we have taken review management to a whole new level. Now, you can generate AI replies to user feedback in the original language of the review, and all of this in just a matter of seconds.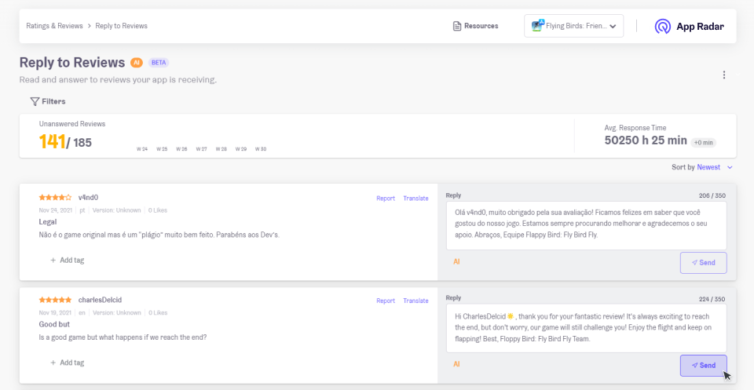 5 main benefits of using AI Review Replies
Time is of the essence in the app world, and addressing user feedback quickly is crucial to maintaining a positive relationship with your audience. We asked our users what could make their lives easier while managing app reviews, and guess what they said - automation! Therefore, the primary purpose of AI Review Replies is to streamline the process of answering user reviews, enabling app marketers to provide prompt and effective responses.
With AI Review Replies, app marketers and community managers can forget about manual responses and translations of foreign reviews. App Radar's integration with OpenAI's latest language model, GPT-4, allows analyzing your previous replies to users and adopting the same tone and manner. As a result, each response is personalized and in line with your app's brand voice.
Not only it saves app marketers valuable time, but it also ensures that every user receives a meaningful response, no matter the language of their review. Moreover, app stores reward apps that actively engage with their users, and AI Review Replies make it effortless for you to maintain that constant communication.
To sum up all the above-mentioned, with AI Review Replies, app marketers and community managers:
dramatically reduce response time and save hours with AI replies and centralized review management;
easily communicate with a global audience by accurately translating and replying to reviews in various languages;
quickly auto-generate replies that are personalized for specific app users and match the app's brand tone;
increase customer satisfaction by answering users faster and in the local language;
improve the brand image with consistent and fast review management.
Want to level up your review management skills? Check out our free Academy course 'App Rating and Reviews Optimization' & start effortlessly optimize your reviews with App Radar's Review Management Tool.
How to use AI Review Replies for App Store and Google Play?
Using AI Review Replies feature is a pretty straightforward process. All you need to do is to establish your Review Management Connection and then click 'AI' next to the answering field of review.
Remember, App Radar doesn't limit you with AI reply quotas or re-generating replies.
We find App Radar to be the most convenient tool for app review management! It allows us to manage app reviews on Google Play Store and Apple App Store in one place, use tags to save time and increase efficiency.

Romano Pravdic from Cashews Finance.
What's else new at App Radar's Review Management?
App Radar is dedicated to providing app marketers with cutting-edge technology that sets us apart from the competition. Therefore, we have also optimized our Review Management connection process and Review Management Tool.
Review Management Connection
There is no longer a need to wait for connection approval, as we have a new automated review management connection process with Apple App Store and Google Play Store. New connection establishment is now easier and faster and can be done by non-tech users.
Check out App Radar's FAQ for App Store and Google Play review management connection.
Upgraded Review Management Tool
Besides AI Review Replies, App Radar's team has also revamped the Review Management Tool, making it more user-friendly and informative. Key advantages of the upgraded Review Management Tool are:
Advanced filtering that includes:

Review language
Time period
Number of stars on reviews
App-version
All/ Not replied / Replied reviews
Customizable tags

Average response time
Highlighting amount of unanswered reviews on a weekly basis
Advanced review translation
Dark and light mode page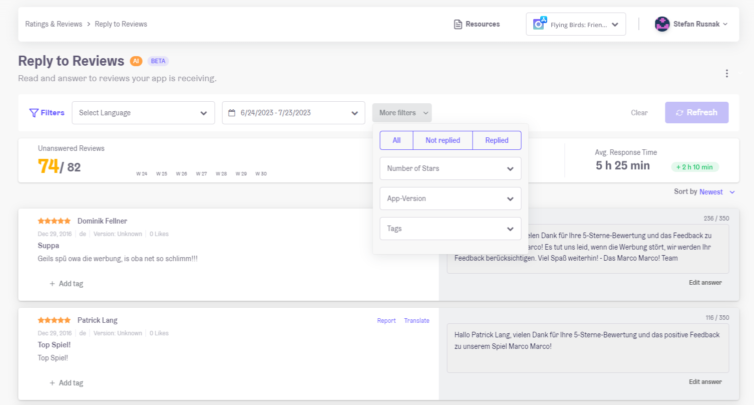 Empower your team's success with tools that make high-volume review management easy!
App Radar is a great tool that helps us to answer the reviews about our client's app, which is important to keep their satisfaction at high levels and understand possible problems. App Radar is easy to use and has a good cost-benefit.

Carolina Canossa from Bites.
Key takeaways
The launch of AI Review Replies marks a significant milestone in the evolution of mobile app review management. By leveraging the power of OpenAI's GPT-4, App Radar's team has created a feature that revolutionizes how app marketers and community managers engage with their users.
Experience the future of review management today by transforming how you interact with your users, improving your app's ranking, and fostering a thriving community of satisfied users. Embrace the power of AI and elevate your app to new heights of success!
Improve Your App Ratings & Reviews with App Radar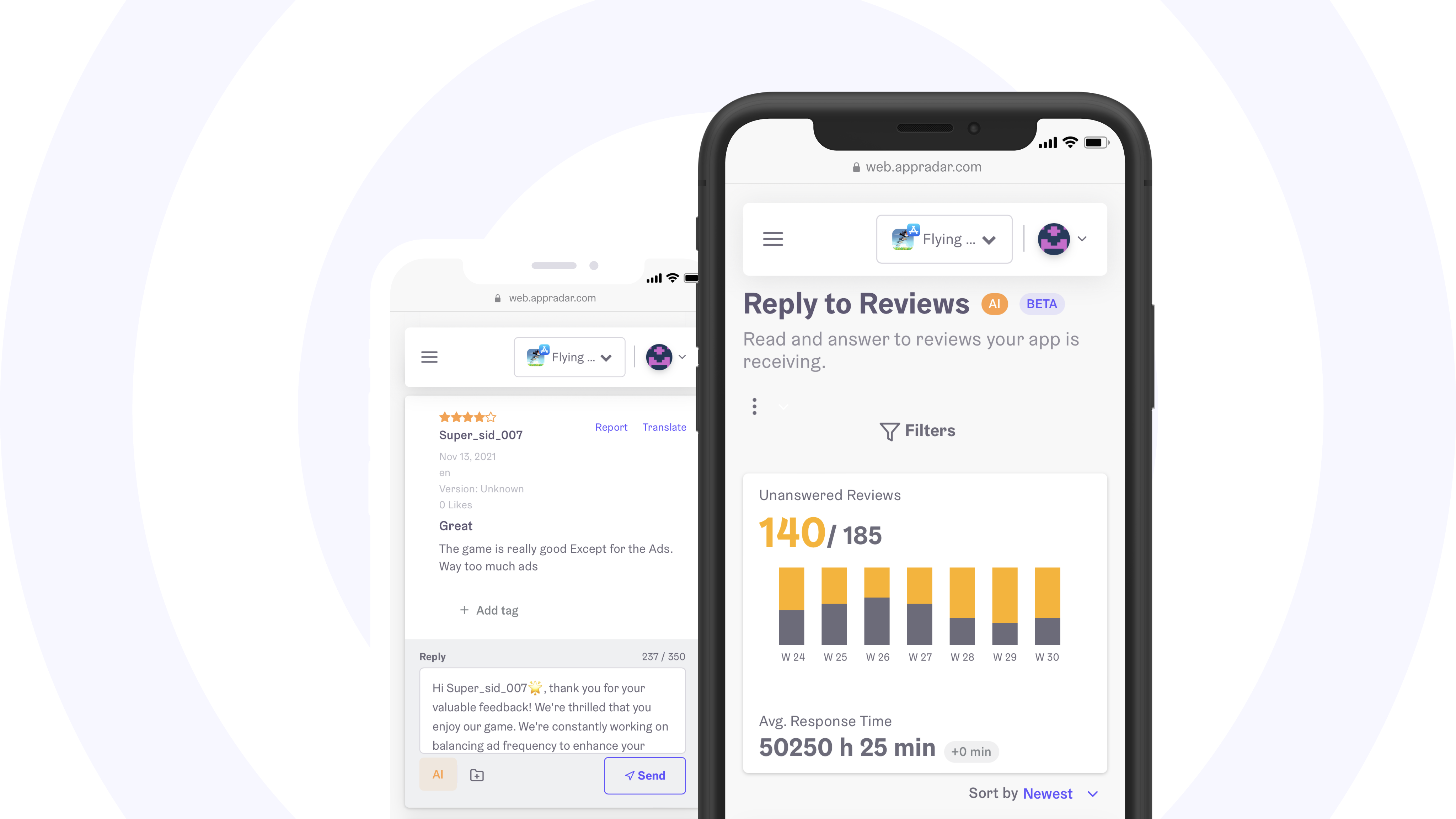 Start Free Growth Trial