What would make you go inside a store? You check from the outside, the store looks pleasing, and it has the thing you need because you can spot it before entering it, right? App Screenshots are the same; they invite the user inside.
One can say that screenshots do not influence ASO, but this is wrong. It might not affect your app store ranking directly, but it carries a significant role in conversion optimization, which is a vital part of App Store Optimization. The right screenshots can make your conversion rate 18% higher.
Why Screenshots Are Important for App Store Optimization
App preview videos and screenshots allow you to demonstrate the functionality and interface of your app. They were displayed on the app's details page on Google Play and iTunes (Apple App Store). Moreover, they help potential users make the decision, whether the app is a fit for their needs. Additionally, proper app screenshots avoid "test run"-traffic on your app page as users already have an idea of what the app looks like and how to use it.
Regardless of how you bring potential on your app listing page, they all set eyes in a certain way on your screenshots. One of the most important and striking elements on your app listing or search rank is your screenshots.

Although visuals have no direct impact on your app's store ranking, the screenshot set and video preview are powerful tools to convince users. They will be the main determinant for most of your users to download your app. In fact, 50% of users make their purchase decisions based on the first impression, so your screenshots must have the best appearance. Every second user decides about purchasing an app based on the first impression only.
There are various ways to design screenshots. No matter if you choose feeling-oriented, feature-oriented or art-oriented design, your users should be attracted by those images.
All in all, screenshots demonstrate the functionality, look & feel of your app. Well designed and pleasing previews give users a glimpse of the app. They are great tools to create an immersive story with and to humanize your app for users (visual storytelling). Commonly, screenshots describe the best features of an app. They are welcomed by users, as a majority will not read through the whole app description to find out, what your app is about.
App Screenshots for Apple App Store
Let's remember that iOS 11 brought a whole new app store layout, which made app screenshots appear slightly different in App Store search and on the product page now.
In iOS 11 search, the screenshots appear on a smaller scale, which means that the resolution of the images must be perfect. Plus, the text font must be large enough, so the potential user can read straight from the app search page.
In addition, three screenshots are shown on the app search page, which is great. It makes easier to create a story sequence or create a whole image using three screenshots.
Thanks to the new layout, you can see more than one app for a scroll in iOS 11 search results. You can see one whole app with its three screenshots, plus a second one almost entirely.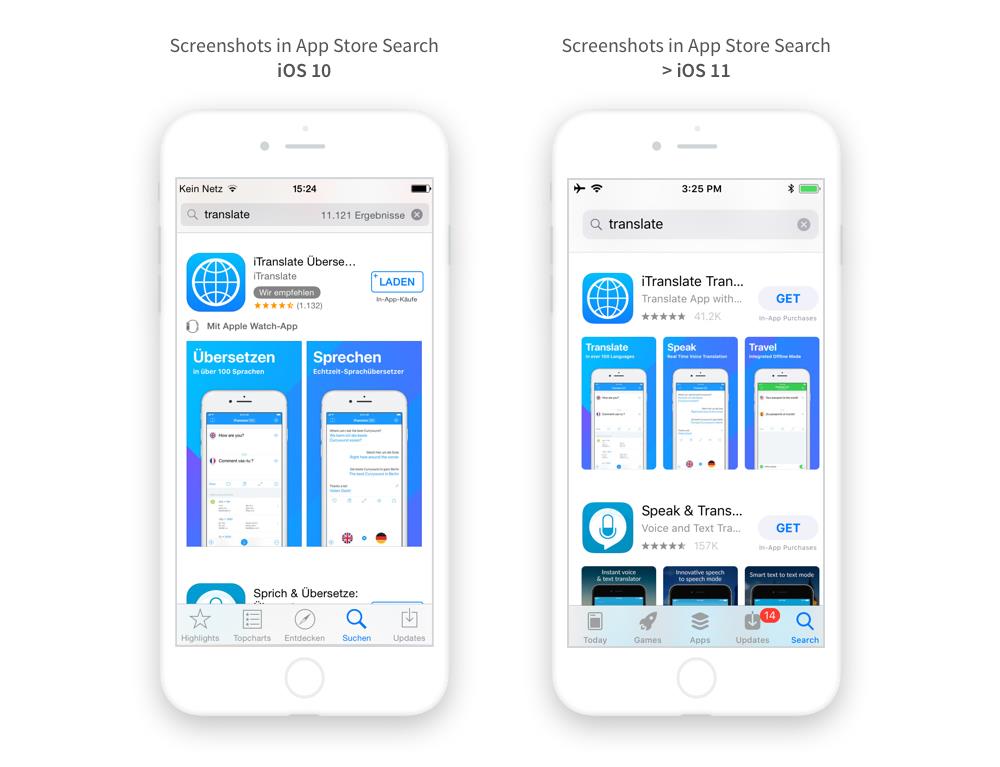 Your screenshots should draw attention so that the potential user focuses on you and not on the other app that is sharing the page with you. Bear in mind that if you are using landscape screenshots, only one will be shown on the app search page. If you are using a video, it will be shown in the first screenshot and will autoplay straight on the search page.
The app store design has changed a lot, and it is crucial that your app fits the new store. Harmony is comfortable for the eye, it is an extra motivation for the user to go to your app page.
SEE ALSO: The Ultimate Guide for App Store Screenshots
The Simple Way to Manage App Screenshots
Upload app screenshots for each locale in 1 quick click. Drag and drop to rearrange. Publish changes directly to the App Stores.
Create a Free Account
Requirements for Screenshots in the Apple App Store
On Apple App Store one screenshot per localization is required and up to ten more screenshots are optional to add.
App screenshots have to be flattened JPEG or PNG RGB image files with 72 dpi resolution and without transparency. Additionally, on the Apple App Store they have to respectively fit the specific screen resolutions summarized below.
iOS iPhone App Screenshot Sizes
iPhone 4s (3.5 inch)

640 x 920 pixels (portrait without status bar)
640 x 960 pixels (portrait with status bar)
960 x 600 pixels (landscape (without status bar)
960 x 640 pixels (landscape with status bar)

iPhone SE (4 inch)

640 x 1096 pixels (portrait without status bar)
640 x 1136 pixels (portrait with status bar)
1136 x 600 pixels (landscape without status bar)
1136 x 640 pixels (landscape with status bar)

iPhone 6 + 6s + 7 + 8 (4.7 inch)

750 x 1334 pixels (portrait)
1334 x 750 pixels (landscape)

iPhone 6s Plus + 7 Plus + 8 Plus (5.5 inch)

1242 x 2208 pixels (portrait)
2208 x 1242 pixels (landscape)

iPhone X + + Xs+ 11 Pro (5.8 inch)

1125 x 2436 pixels (portrait)
2436 x 1125 pixels (landscape)

iPhone 11 Pro Max, iPhone 11, iPhone XS Max, iPhone XR (6.5 inch)

1242 x 2688 pixels (portrait)
2688 x 1242 pixels (landscape)
When your iOS app runs on an iPhone, you'll need to provide screenshots for all of the specs we just listed.
Screenshot sizes also need to be added for iPad specs if your app runs on iPad too. iPad screenshot sizes are:
12.9 inch (3rd generation iPad Pro)

2048 x 2732 pixels (portrait)

2732 x 2048 pixels (landscape)

12.9 inch (2nd generation iPad Pro)

2048 x 2732 pixels (portrait)
2732 x 2048 pixels (landscape)

11 inch (iPad Pro)

1668 x 2388 pixels (portrait)
2388 x 1668 pixels (landscape)

10.5 inch (7th generation iPad, iPad Pro, iPad Air)

1668 x 2224 pixels (portrait)
2224 x 1668 pixels (landscape)

9.7 inch (iPad, iPad mini)

high resolution

1536 x 2008 pixels (portrait without status bar)
1536 x 2048 pixels (portrait with status bar)
2048 x 1496 pixels (landscape without status bar)
2048 x 1536 pixels (landscape with status bar)

standard resolution

768 x 1004 pixels (portrait without status bar)
768 x 1024 pixels (portrait with status bar)
1024 x 748 pixels (landscape (without status bar)
1024 x 768 pixels (landscape with status bar)
Apple's guidelines are very specific about showing your app in use. You can have a screenshot only made up of text, and use text on your screenshots. However, you must have at least one screenshot showing the app itself. You should always show data from a fictional person as you are responsible for all the rights of the material used on your app screenshots
Use mockup sites such as Placeit.net, to better visualize how your screenshots will look like on different screen sizes.
You can add up to 10 screenshots for the Apple App Store. We definitely recommend utilizing every spot. Each screenshot is an added opportunity to show off what your app can do.
Also, the iOS 13 update enables apps to utilize Dark Mode. If your app takes advantage of this feature, make sure you highlight it in your app screenshots too.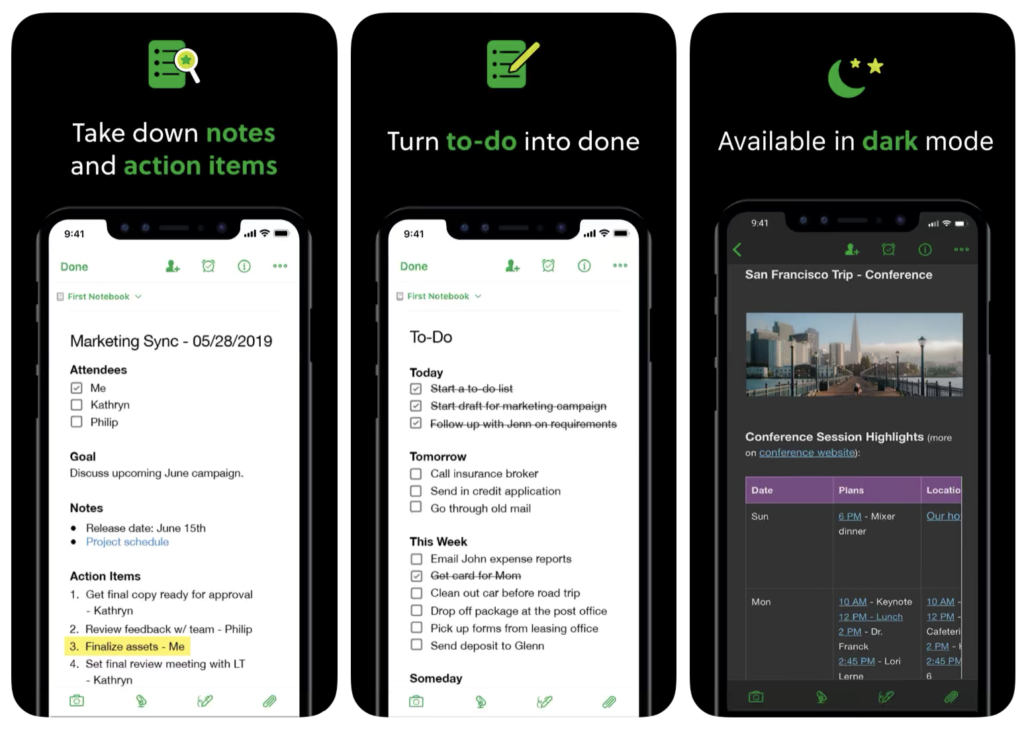 App Screenshots for Google Play
In contrast to the Apple App Store, your app screenshots in Google Play will be only visible inside your app page (store listing). The screenshots will only be shown at the search results, if the user search specifically for that app.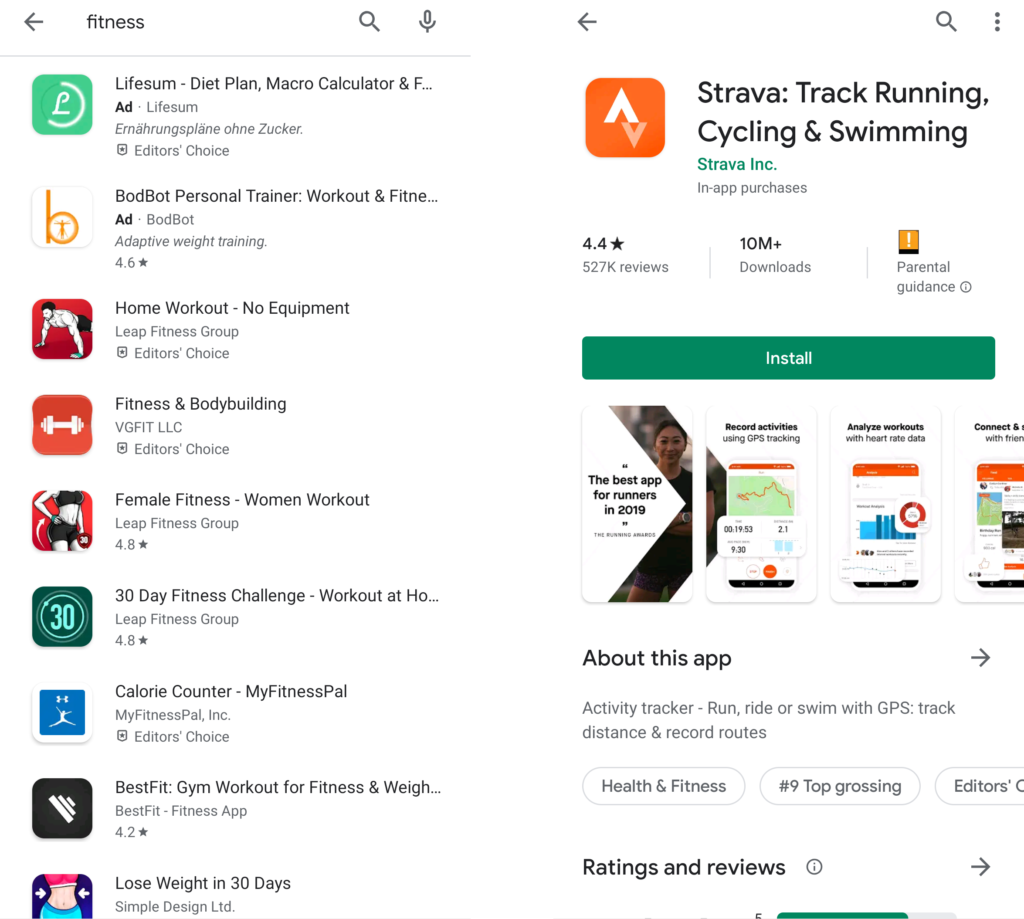 Android App Screenshots Below the Fold in the Past
In the past, app screenshots were below the fold on a Google Play app listing page. So people would have to scroll down to see the screenshots. Because of this, mobile users focused more on the feature graphic and short description.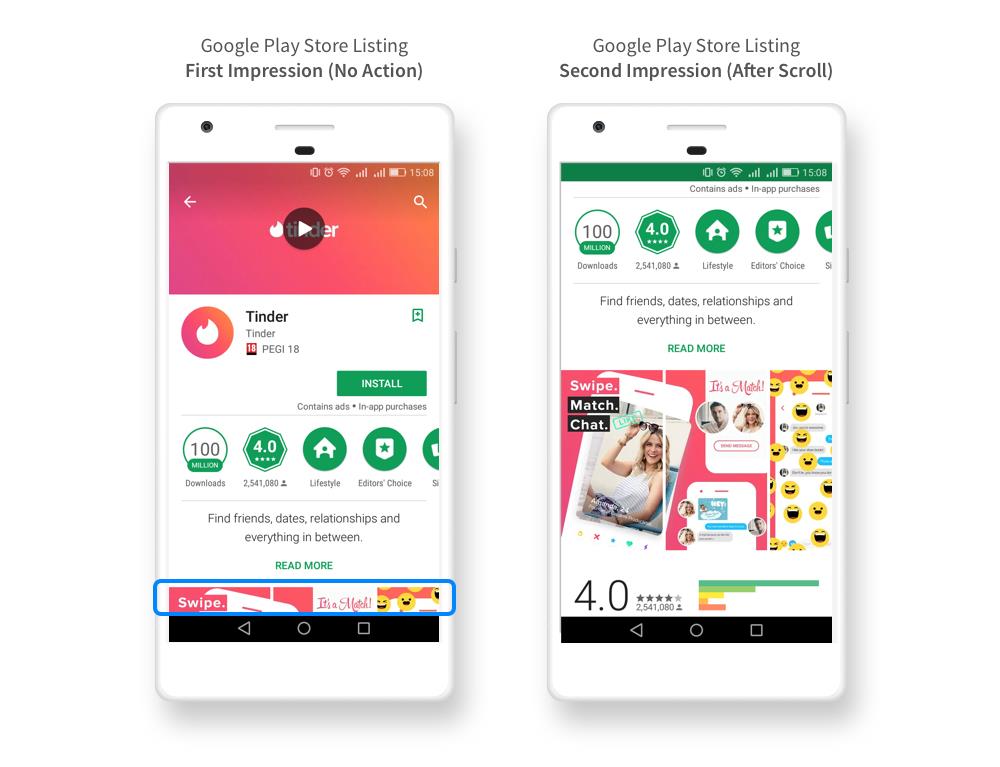 Now, Android App Screenshots are More Prominent
Google has since updated their Play Store layout, including an entire redesign of Google Play app icons.
The new layout, gives your app screenshots a more prominent place in your app listing. They are now visible above the fold, which drives more attention to them. That makes your Android app screenshots a crucial part to getting more downloads.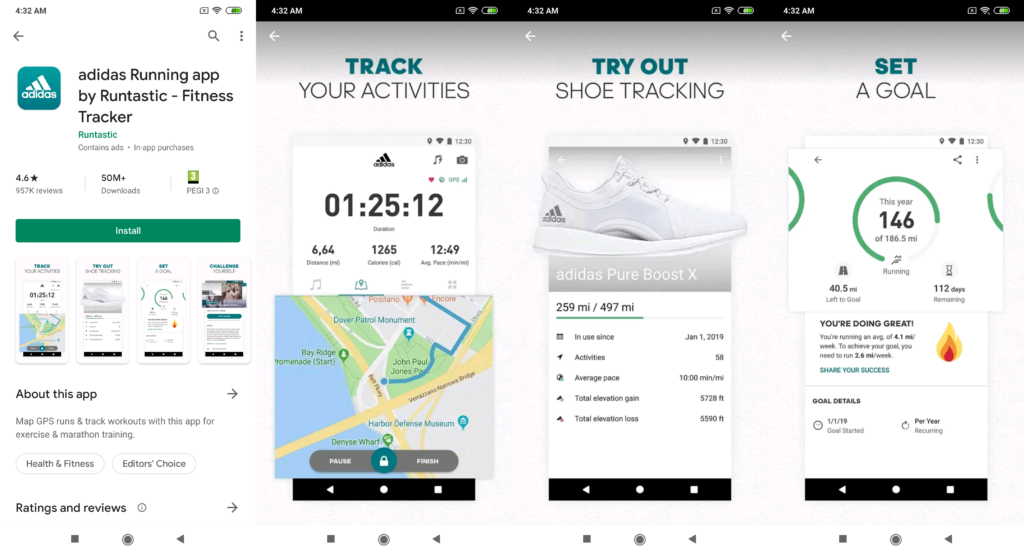 Once in your app listing page, people can click into the screenshots to see them in more detail. Ensure that you're using high quality images that highlight your app's best features to make a lasting first impression.
Screenshot Requirements for Google Play
On Google Play Store up to 8 screenshots for each supported device type can be added onto an app page. This means it is possible to add app screenshots for Smartphones, Tablets (7 in and 10 inch), Android TV and Android Wear. To publish a store listing for your app, there have to be at least 2 screenshots provided.
Screenshot requirements for Android apps are not as strict as they are for iOS Apps. Google Play Store demands the following requirements for Screenshots:
JPEG or 24-bit PNG (no alpha)
Minimum dimension: 320 px
Maximum dimension: 3840 px
The maximum dimension of a screenshot can't be more than twice as long as the minimum dimension
Good to know: Some sections of Google Play Store shows recommend games by using their screenshots, but the game must have at least 3 screenshots in landscape orientation (16:9 aspect ratio).
How to Design Amazing App Store Screenshots + Best-Practice Examples
App screenshots are an extremely important factor when it comes to both ASO and Conversion Rate Optimization (CRO). Most App Store visitors make the decision to install an app based off of their first impression.
What elements make up the first impression for apps? That's easily the creative assets or visuals. Your app listing's visuals (app icon, app screenshot, and preview video) are the elements that immediately catches someone mid-scroll.
To ensure that you're making the best first impression possible and converting from an impression or page view to an install, here are the best ways to design your app screenshots.
1) Show them how your app looks and behaves
The main purpose of app screenshots on an app listing page is to show what the App Store visitors what your app looks like and what its main functions are. App Store visitors want a quick visual sneak peek into your app and its features before they decide to install it. That's why you should use all available screenshot slots to clearly show how your app benefits its users.

Screenshots like those of Instagram, are the easiest form of providing this impression. They use standalone screenshots without any additional text, background or images. With these type of screenshots, App Store visitors can quickly ascertain what the app is about. Although, such minimal screenshots do not work for every kind of app. This strategy fits well for Instagram because of their extremely well-established brand.
2) Describe your app's main features
Besides showing visitors how your app looks like, also make sure to highlight its main features. Users should quickly know what your app's main purpose is. Remember when you started your ASO process? You can describe the screenshots with some of the chosen keywords.

WhatsApp follows this rule. As the app's purpose mainly is about real-time messaging, they put the screenshot describing this feature at first place. They added text to clearly describe the visualized feature on the particular screenshot.
3) Tell a story
Screenshots are a very powerful tool to keep potential users on your app page. In fact, the term "screenshot" by now is a bit misleading. The most successful app pages do not only upload random screens but use rich imagery to visually tell a story. This means you should try to reach your visitors with powerful screenshots so that you can engage them to download your app. The story that you should tell is, how your app is going to solve the potential user's issue.

Skyscanner did some great job designing their screenshot gallery. They not only provide well-designed app visualizations but use them to tell a story. The first screenshot entices App Store visitors to tap through with the phrase "Find your next adventure". The first screenshot addresses human emotions with compelling imagery and text. Then the following screenshots explain exactly how Skyscanner is going to help its users find their next adventure.
4) Localize your images
On App Store and Google Play, one screenshot per localization is required and up to four (App Store) / seven (Google Play) more screenshots are optional to add. This means if you offer your app for different localization with different languages, you should make sure to offer your screenshots in the correct language. If you don't want to take screenshots in different languages, you should at least adjust the additional text in the screenshots.
Remember that localizing is more than translating. Check which feature of yours is more important for a certain country. Apart from that, Asian countries have more interest for images with animes or cartoons, so, how your screenshot should be designed for each audience.
A good example for this is 1Password. They really put effort into their screenshots and provide different screenshots adjusted to different countries.
5) Use the right dimensions
Different mobile devices mean different screen resolutions. While Google Play only demands a minimum and maximum dimension for screenshots, Apple makes this whole story a lot more complicated. Offering your app within the Apple App Store, you have to add your screenshots for every possible iOS screen size. This might get very time consuming if you want to take a screenshot of your app on every available iOS device. A possible workaround could be seen in the following example.

Snapchat, for example, uses a very efficient approach of providing screenshots for different screen dimensions. They put simple screenshots into matching devices surrounded by an abstract, colored frame. This classic frame delivers a high recognition value and keeps you flexible in designing your screenshots for different screen dimensions. Of course, this imagery especially works excellent, because Snapchat already established its branding.
See also
The Simple Way to Manage App Screenshots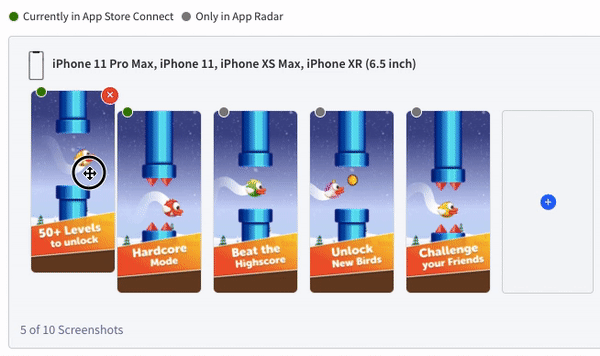 Upload app screenshots for each locale in 1 quick click. Drag and drop to rearrange. Publish changes directly to the App Stores.
Create a Free Account