With more than 900k monthly active users, the Google Play team is happy to announce a new version of the Google Play Console. It will be globally rolled out on November 2, 2020. In this article, I'll be covering the main changes to the Google Play Console and which impact they have on you, as an app developer or app manager.

What are the main changes in the new Google Play Console?
Visual update & modern interface
New menu structure and easier navigation
Easier app releases and better overview
How to master growth: App Radar & Google Play Console
Further links
Visual update & modern interface
For a long time, Google Play Console was one of the only Google products which was not based on the Google Material Design language. With this new version, the Google Play Console switches to this design system as well and incorporates all its benefits. For example, it adopts responsive design - so it doesn't matter if you are sitting in front of a 4K monitor or your smartphone.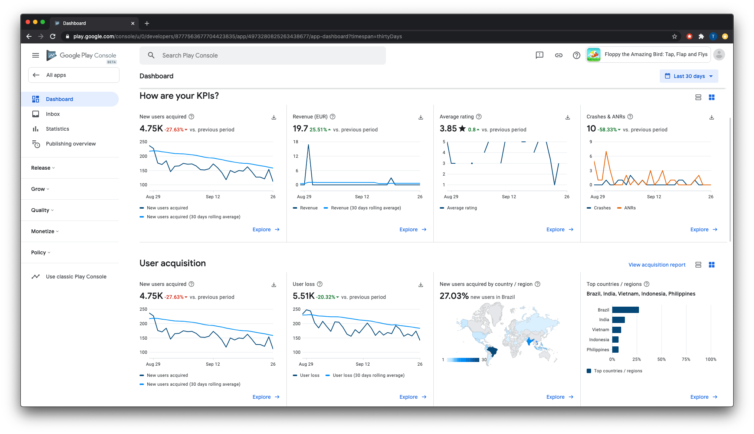 New menu structure and easier navigation of Google Play Console
The new Google Play Console navigation nicely groups distinct features together. The logic is based on different focus areas of an app company. The main navigation layers are:
Release (easier testing and staged roll-out based on the logic of release flow)
Grow (focus on user acquisition and optimization of your store listing with A/B tests, analytics for app store performance, conversion rates)
Quality (app user feedback together with crash analytics)
Monetize (configuration of in-app purchases, promotional codes and financial analytics)
Policy (compliance with Google Play Developer Program policies)
Easier app releases and better overview
The section "Release" has got a complete makeover with the new Google Play Console. The release overview allows you to check the release status of your app very easily and fast. It is important to know that the Google Play Console supports 3 different testing states and one production stage which guarantees you a safe release.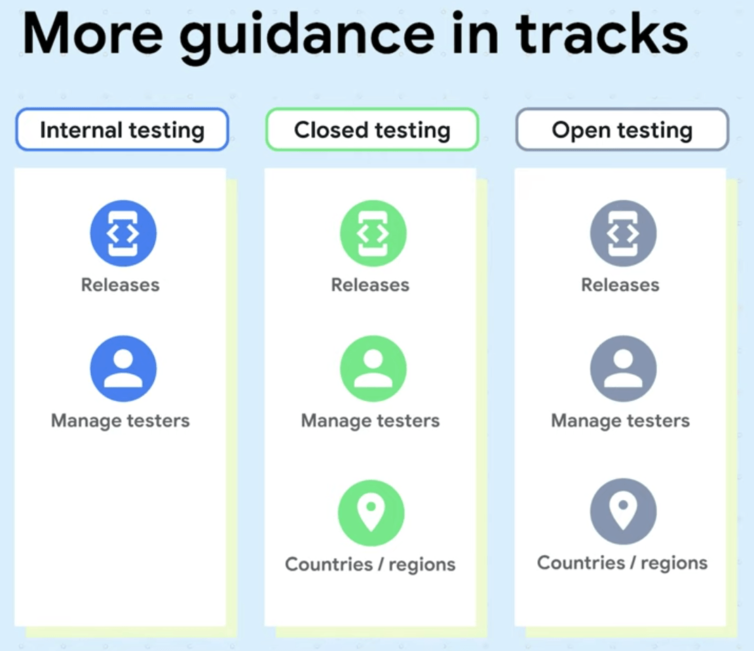 If you want to learn more about this topic, check out this video from Google.
How to master app growth: App Radar & Google Play Console
As an app developer, I highly appreciate that the new layout and navigation of Google Play Console brings in more clarity in their product. I can still remember the old days sitting in front of the console and madly clicking around to find the information that I was looking for. But during my first tests with the new console, I already experienced these frustration levels being dramatically reduced!
However, even if the new Google Play Console makes it easier for app developers to find information, it's still missing many features. That's why the combination of third party tools like App Radar with console is important for your app growth.
Benefits of combining App Radar & Google Play Console
Benefit 1: Keep an eye on your competitors
The new Google Play Console does not provide information on your competition. If you'd released your app 10 years ago, not examining your competitors might have been acceptable. However, app stores, especially the Google Play Store, are nowadays one of the most competitive marketplaces. So if you're not keeping a very close eye on your competitors, chances that you're not succeeding are very high. Basic aspects that you should know about your main competitors:
How often are they pushing updates?
Which features are they releasing?
In what countries are they having more app store top charts visibility than you?
How often are they doing ASO updates?
Did they change their title? When?
Benefit 2: Keep an eye on your keyword rankings
Since the release of the new Google Play Console, Google is combining organic traffic and search traffic initiated through Google App Ads under the traffic source "Google Play search". This is very important for every UA & ASO manager to pay attention to. At first, it seems handy, but it will actually make our lives as UA & ASO managers a bit harder. Simply because we still need to split the traffic up into organic and paid attribution.
That's where a combination with a third party tool helps again, as with App Radar you can easily find out which keywords bring you installs (organic & paid) and also find out how you are ranking for those keywords on a global level.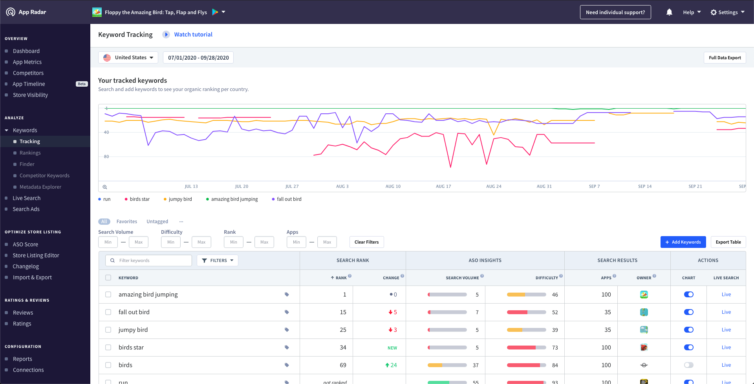 Benefit 3: Track your own and competitors' metadata changes
When using the App Radar tool, you automatically document all the changes that you are doing to your app store listing. By doing so, you can analyze how the changes you did to your store listing have an impact on your app metrics. And you can do this not only for your own app but also for your competitors.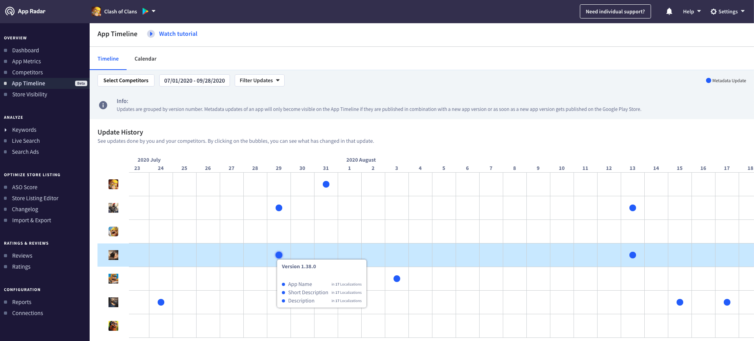 More information about Google Play Console
We recommend watching this video walkthrough by Daniel White who is the Engineering Lead for the new Google Play Console.